News & Blogs you want to read!
Missing out? You keep hearing about what a great time your friends had at Wine Wednesday, the new wine class they just took, how they got to taste wine before it was released, and how they bought up the last of a vintage? Don't miss out anymore. We want you in our inner group!
Welcome to the 40 Knots Vineyard & Estate Winery blogs. Here is where we will be highlighting events and news from around the winery. Keep up to date of the latest trends, the happenings of the winery, learn how we farm and make wine, and get the inside scoop of our new releases and events.
Our Bloggers
Layne Robert Craig
Janitor & Blogger

Megan Thiel
Wine Sales, Tour Guide & Blogger

Michael Johnson
Self-proclaimed Sipster

Stabilizing and Clarifying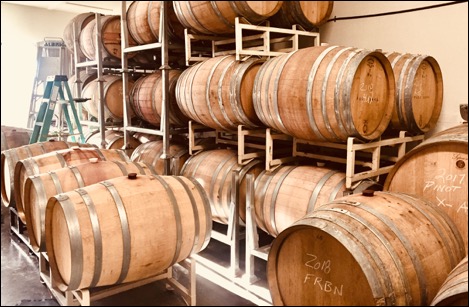 In the 40 Knots cellar, it's quiet. Our estate grown wine is well past the fermentation stage and is relaxing well into the New Year. Layne's hard work for 2018's vintage is mostly behind him, and our close to final product is ready for testing by our consulting chief winemaker Michael Bartier from the Okanagan Valley. http://http://www.bartierbros.com/index.php/the-brothers At this stage, our cool climate wine undergoes sensory analysis and grading. Michael's suggestions help us push boundaries to ensure you're receiving the highest quality. Through our biodynamic practices and green farming techniques, we aim to offer you the absolute best of what Vancouver Island has to offer.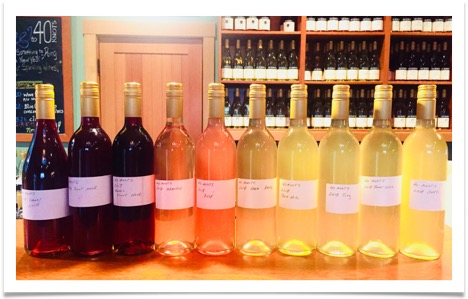 Just as this time of the year calls for quiet reflection, so is the stage of a wine's life. We're ultimately at the fine-tuning stage, where a young wine prepares to either age or become bottled. There are a few methods to help separate the last naturally occurring unwanted components; clarifying and stabilizing.
Clarification is achieved through two methods:
FINING
Fining is the process in where a substance is added to the wine to help it bond with unwanted particles, such as grape fragments or dead yeast cells. Some common agents are animal based, egg whites and fish bladders to name a few. 40 Knots is proud to offer you vegan and gluten-free wine, using none of these products. Our fining methods are achieved by way of bentonite addition; a clay compound notable for absorbing protein and bacteria.
FILTERING
Where our red wine is unfiltered, the filtering process is reserved for our white's. A biodegradable sheet filter is used to gently run through, polish and ensure sterility of the wine.
Stabilization is achieved through manually lowering temperatures:
COLD STABILIZATION
This takes place with our white and orange wine. Tartaric acid is the most prominent acid found in wine. This tends to bind with tannins and lees during fermentation and when the wine is inevitably cooled down before consumption, there is potential for crystallization. This has the appearance of glass, which appears unappealing to the naked eye. These are commonly referred to as "wine diamonds" and are 100% food safe! Cooling down our stainless steel tanks through cold stabilization helps to shake down these crystals before the wine hits consumers mouths.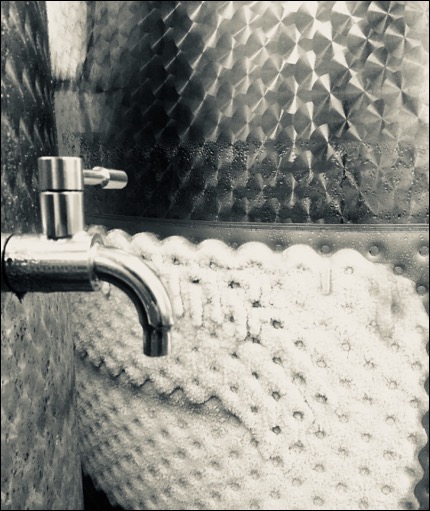 *UPDATE* Absolute excitement for our 2018 vintage, stay tuned for release date announcements!
Guests coming into town for a visit? Looking for exciting new opportunities for your family and friends? Keep your eyes peeled for our upgraded 40 Knots Tour Program! Stay tuned on our Facebook page or website for updates.
https://www.facebook.com/40KnotsWinery/

What's in 40 Knots Wine:
This entry is dedicated to learning about what it is that we're drinking when we pick up that delicious glass of vino. Wondering what is specifically in 40 Knot's wines? Read on!
What's NOT in 40 Knot wine? No chemical or unnatural preservatives are used. No added flavoring is used. Our wines are vegan and gluten-free. We achieve our GOLD for our efforts. And we often have customers come to us, surprised, and say they can drink wine again with no adverse effect.
Wine-making methods: First and foremost, there are conventional methods. Sulfites, eggs, milk, and fish are sometimes found in the conventional process of winemaking. Although by law these additions must be stated on the label, this is not always the case, so if this is important to you, read the label or ask the winery. The next level is the certification of organic. It costs a lot of money to get certified and it doesn't always guarantee that what you're drinking is 100% preservative free or that the methods are good for the environment. Us at 40 Knots? Well, we're above organic standards. The term biodynamic has come up a lot over the last couple of years, and while we're working towards fully achieving this certification, you can always rest assure that what you're drinking out of our 40 Knots Cellar is clean, natural, and rooted in our cool climate to give you fruit forward juicy and elegant wines.
What's found in All Wine:
Now let's take a look at a broader scope and discuss the components found in all wine all over the world.
The number one ingredient found is actually water. No, water is not added, this is the natural "water" found in the grape. Around 75% of wine in fact. Shocking, right? Following this is alcohol, typically ranging anywhere between 8-16%. Doesn't leave much left. But this is where it gets interesting.
Traditional wine is always made out of a few strains of winemaking grapes. Vitis-vinifera is the most common type used. So when people say they taste blackberries, cherries, or spices- this doesn't normally mean that those flavors have been added. Although some producers do sneak flavoring into wine, 40 Knots does not. Each grape varietal brings out different characteristics, depending on soil and climate. The only other way that different kind of fruits would be used, would be where the producer would state that what they carry is a "fruit wine" or country wine, as they define it in Europe. So rest easy, you are always drinking juices from grapes that have been affected by a fermentation process!
So moving on, let's look at what makes up the rest of that 5-10%.
Acids - this is naturally derived from the grape skins. White wines will typically have more acids than reds. There is also a small amount of amino acid found. Volatile acidity, mostly acetic acid, is what would give the wine its vinegar taste if gone bad.
Acetaldehyde - this is a volatile compound that is created when a wine starts to slightly oxidize. It sometimes gives off aromas of yellow apple. Some winemakers purposely oxidize before bottling if they are looking for a result of these flavors, but mostly only found with very old wines.
Glycerol - this is a sugar alcohol that is not technically sugar and gives wines their sweetness. Sugar is also found when the grapes don't ferment all the way, leaving the wine with residual sugar, or RS for short. Dry wines will have less, typically 0-8 g/liter, off-dry will typically have 8-15 g/liter, and sweet wines will have 20+g/liter.
Higher Alcohol - these are found in very small amounts and will help aid in the wine's primary aromas.
Minerals - calcium, zinc, iron, magnesium, potassium, and manganese. Get your daily dose by drinking some wine!
Esters and Phenols - these are compounds that give off aromas of a wine.
Sulfites - this is a naturally occurring preservative of all fruit (easily seen as the white on blueberry skins), and something of a conversation piece. Levels of sulfites range in a wine, but they all have it. Most have an addition of sulfites to help preserve it, especially if being shipped from other countries, or if it is a big commercial winery, or if the wine is packaged in a lesser stable container like tetra boxes or boxes with spouts. Even VQA wines are allowed to have large volumes of sulfites added. People claim that sulfites are what create headaches, this is up for debate. Some people say its the histamines. Varying countries have different histamines and the person's reaction might come from certain parts of the world and not others. If an Australian wine gives you a headache, try Italian. Easier yet, if you get a headache from wine, perhaps it's simply dehydration! Best using the one to one method. One glass of wine, one glass of water etc.
Antioxidants and healing properties? Just google "is wine good for you", and you will come up with many, many claims that it is. Articles say that a daily glass of wine can help with brain function, heart function, ovary function, blood clots, stress, and the list goes on. Hmmmm... is that why it is common to cheer "here's to your health"?!
And so we took this to the road! Spreading the love most recently at the Hopscotch Festival in Vancouver. Soleil Rose - Love is Love (supporting the LGBTQ community) was a major hit!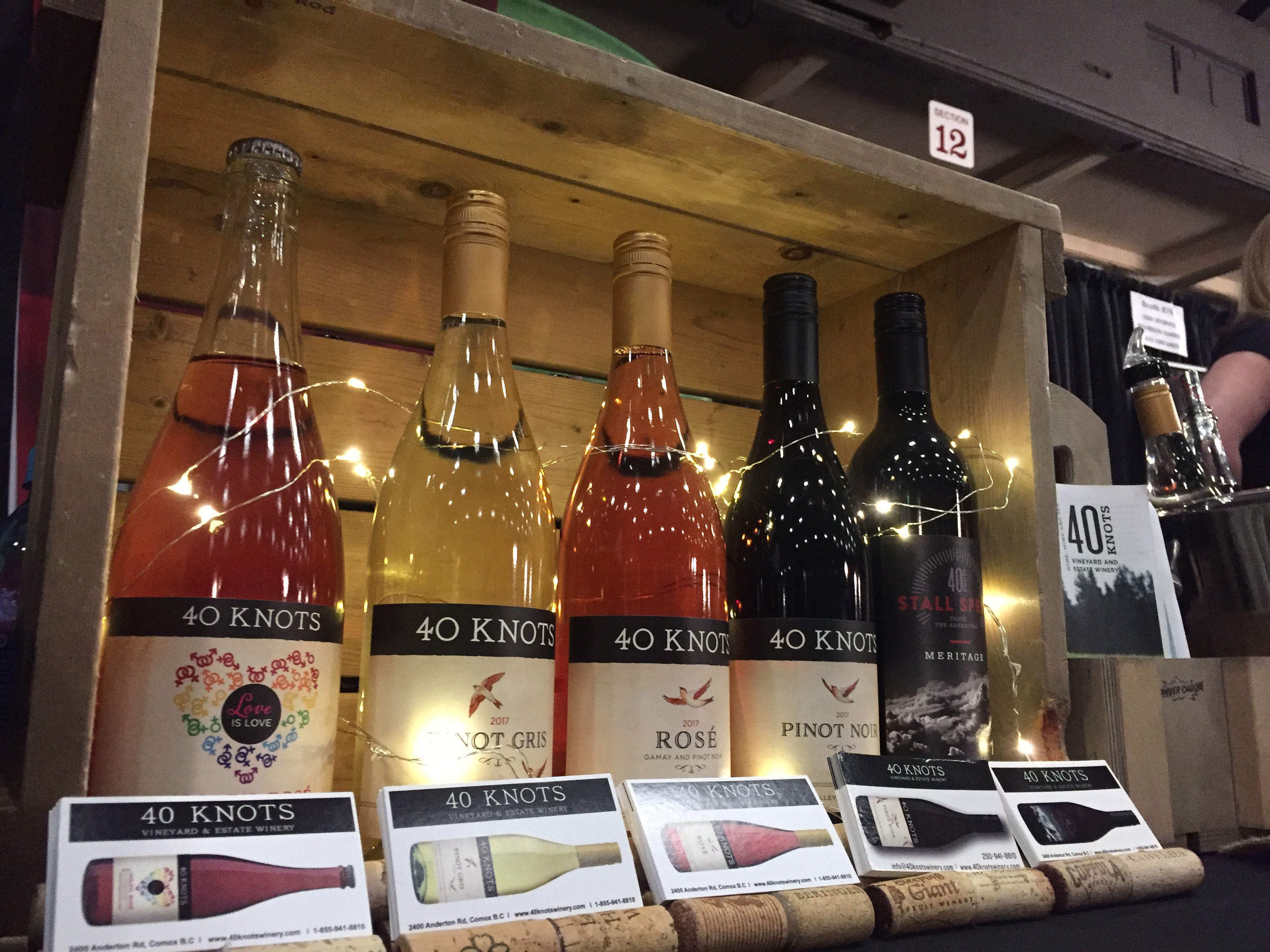 40 Knots grows and crafts high quality, ethical, clean wines that are distinct to Vancouver Island.

WINE, WIND AND SEA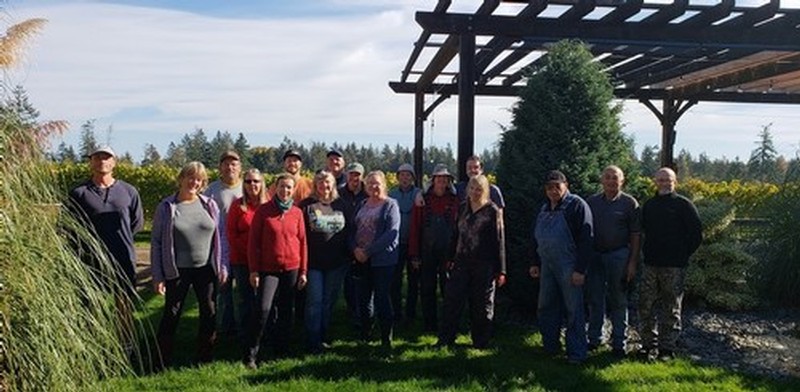 Gentle hand harvesting has been completed by our local harvesters. Our crew was the best. They worked long hard days and we sincerely thank them for their dedication, getting our grapes off at the perfect time.
We thank Yasir for his guidance as we work towards biodynamic certification. Our grapes are very healthy with no disease and our highest yield to date. They required very little irrigation and little food. No synthetics were used and the grapes are above organic standards. Leaves are now falling off the vines in preparation for a 5 month dormancy period.

Into the cellar, the grapes go, and this is where we reap the rewards from biodynamic farming. The grapes go to work making the wine, with little to no intervention from us. Fermentation is slowed with temperature control which results in fruit forward and natural flavors.
Whites will continue to ferment anywhere from two weeks to three months, leaving on their lees for a creamy body. Lees is life, this is where the profile, taste, mouthfeel, and structure come from. We expect to bottle as early as February, however, each wine will finish on their own time, and it will take a studious eye and palate to know when they finish.
Reds are fermenting on their skins and pips. Reds take a shorter period for the first fermentation and ferment at a higher temperature. We have moved many of the wines now off their skins and pips, into Amphora and Burgundy oak. Now we wait while the wine matures, and watch for the second fermentation, known as malolactic. More about the malolactic fermentation in my next blog.
"My goal is to have all our wine aging in Amphora". Layne Craig, owner. Stainless steel aging is airtight and imparts zero flavor. Oak aging imparts just that- oak flavor. Amphora, however, allows that slight oxidation to soften wines and add complexity.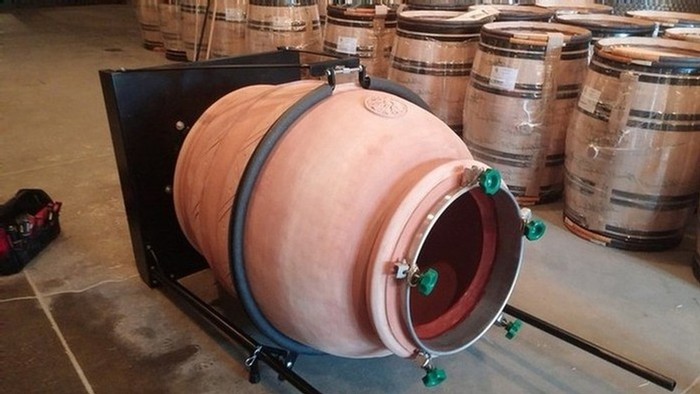 REPURPOSE TO VINO-CARE - Vino Therapy Skin Care: Grape skins and stems, full of anti-oxidants, will be saved for use in our Vinocare skincare line. As we once again receive GOLD in Green Tourism Green Step, an international program, reusing these nutrient-packed bi-products of wine is a no-brainer for reducing our footprint. Partnered with Michelle from Royston Soap works, we have a full line of products that provide anti-aging and gentle skin healing for all skin types. My personal favorite picks for these upcoming cold winter months:
Halo Blu body scrub: made of granulated sugar- a powerful exfoliator that polishes and cleanses away dead skin cells, leaving the skin super silky smooth and incredibly (seriously) nourished
Ruby Moon facial soap: this natural cream soap is a detoxifier that provides hydration while helping improving skin texture. It contains lactic acid which has anti-aging components. This stuff leaves your skin feeling slightly tingly and incredibly refreshed!
Halo Blu body lotion: I totally love the smell of this one. Like the Halo Blu body scrub, its fresh ocean breeze aroma is super pleasant and long-lasting. The lotion is light and doesn't leave a thick creamy residue on your palms.
Looking for an early Christmas present for your loved one? Check out our beautiful birchwood cases holding the entire line. Choose your favorite scent: Kadence Rose or Halo Lily Blu.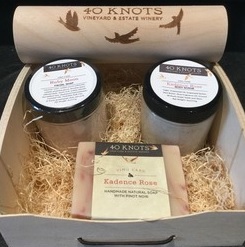 Want an evening of Class? Wine Class? Looking for something fun to do in these dreary winter months? Book us for Wine School! We offer beginner to intermediate and specialty classes such as food pairing and proper wine service.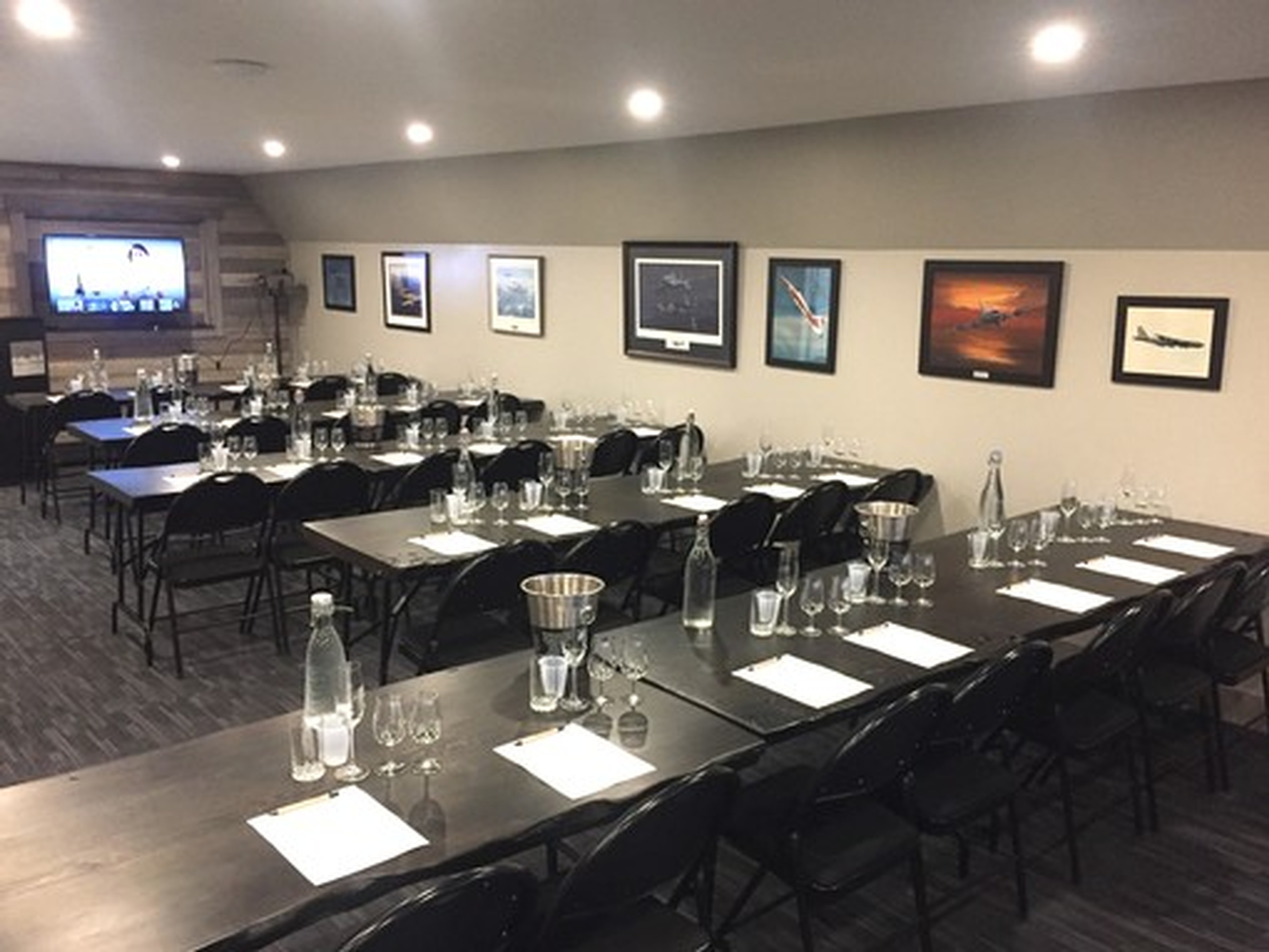 Want to Party? Or just get out of the office? Stall Speed Lounge rents out for business meetings, Christmas Parties, Birthday parties, and any other reason you may find for a reason to get your crew together. info@40knotswinery.com
Next Blog: What is in wine?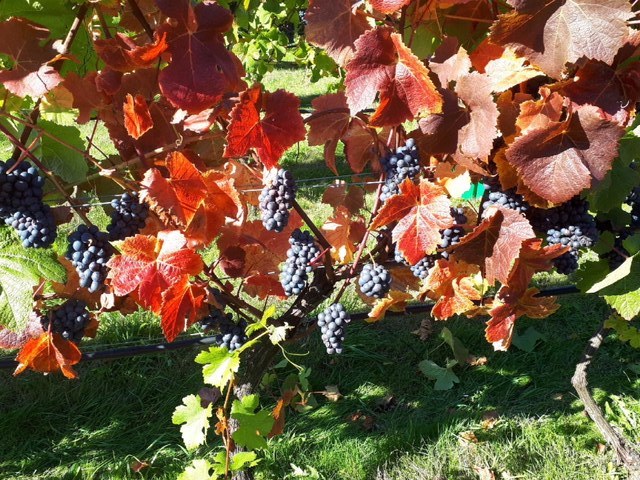 Wine, Wind, Sea, and the bounty surrounds us! We are smack dab in the middle of harvest here in our 40 Knots vineyard. The fall colours, brisk mornings, the way that the yellow sun reflects off of the orange and red leaves can't help but leave a feeling of nostalgia. We've been harvesting our Pinot Noir and Gamay Noir for our Rose. We harvest them a tad earlier to retain a little acidity. For our Pinot Noir and Gamay Noir stand alone red wine, grapes are left on the vine to get a little more concentration of fruit. The juices will be pressed off after 24 hours, the typical timeframe for our Rose, to grab just a touch of colour from the grape skins.
When we make these two grapes into a red wine, the juices remain on the skin for 2 or 3 weeks to grab more colour and tannin structure and then transferred to Burgundy oak. For our Pinot Noir clone 115 Amphora driven wine, the juice is left on skins in Amphora for up to four months. Thereafter, the skins are pressed off and the wine is returned to Amphora to continue aging. Stay tuned for our 2017 Pinot Noir Amphora driven wine to be released in the New Year!
When visiting our tasting room during this time of year, you will be surrounded by the delicious smells of the wine beginning its fermentation process. Here's a snapshot of wine fermenting in burgundian oak barrels: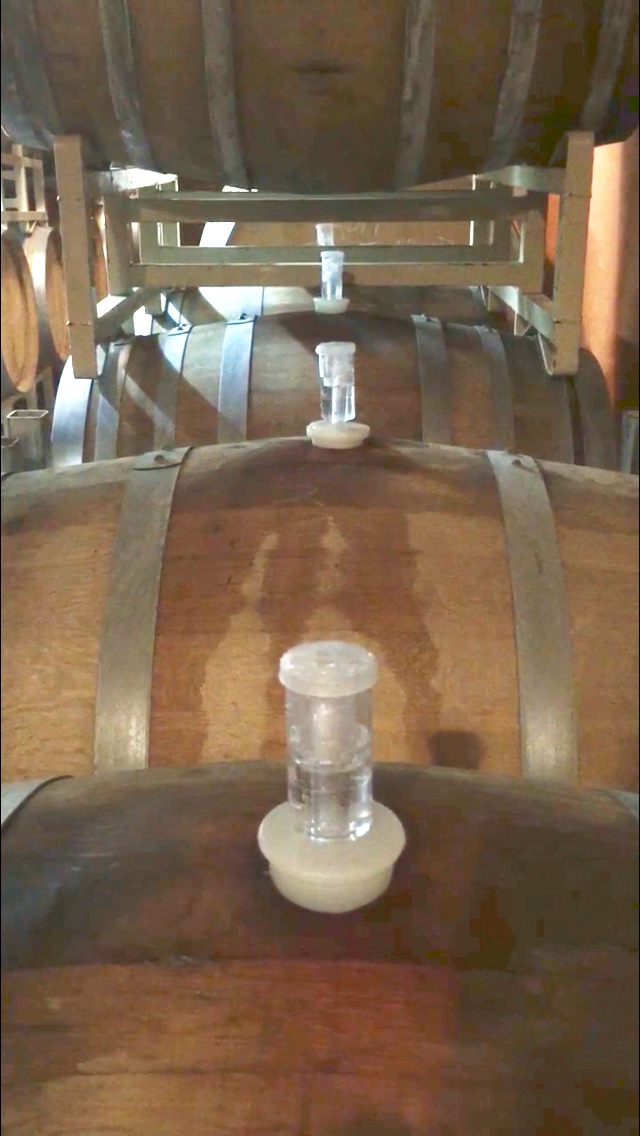 The gases emitted during harvest can actually be quite dangerous. Our 40 Knots cellar is equipped with a C0² monitoring system, air evacuation and purge systems to ensure safety. During this fermentation process, yeast will eat the sugars and convert it into alcohol. This process will typically take a week unless the vat has been cooled down to elongate the process. This is common for the majority of our delicious 40 Knots white wine's. The natural temperature of fermenting wine can get in excess of 30 degrees C. This is quite volatile for a wine. By cooling it, or calming it down, we retain all of the beautiful juicy aromatics and help to showcase each individual grape at its full capacity. There are essentially two ways to ferment a wine, one being inoculation with a certain strain. This is the safest bet and will produce safe, consistent product. Some of our wine is fermented through a process called wild or indigenous fermentation. The choice is made on the day of harvest which direction he is going to go and there are many considerations. Wild fermentation is the old school way to get the job done, and the riskier one. There are no guarantees with wild yeast. It is typically found hanging out around the winery. On clothes, on walls. Many winemakers swear by wild yeast fermentation. On the other hand, many swear at it because of its unpredictability. Choosing this route though will create depth of character, complexity and bigger fruit notes. This is the risk that we're willing to take.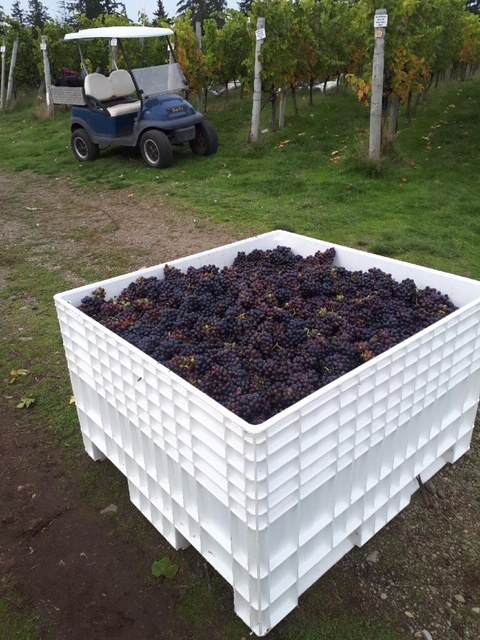 We are in the middle of grape ripening season. The Comox Valley's wonderfully warm spring lead our German varietals to achieve early ripeness as we kicked off harvest in our 40 Knots Vineyard on Monday with the Schonberger and Siegerrebe. Our Schonberger is typically found in the locally favoured White Seas blend and L'Orange Blend aged in Amphora. Our Siegerrebe; Sieger meaning victory, rebe meaning vine - pronounced Tsee-ga-ray-buh, or "Ziggy" is a stand-alone wine and also the name of our famous winery dog, Ziggy! Check her modelling pose on the front cover of the Winery Dogs of BC, sold down at the winery.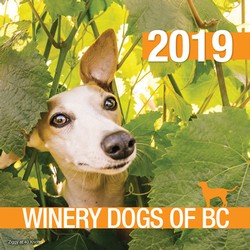 Our L'Orange wine is also being invited into very high end restaurants. It is a great example of old world tradition meeting new world wines. What makes this wine special is indeed the traditonal farming methods and using the best grapes, but it is also the aging in our rich salt air and our terracotta amphora that make it a Star.
"What is so special about this Terracotta?" The centuries-old world renowned Impruneta clay has a unique blend of natural ingredients found exclusively in this region of Italy. It has a long history of use in the preservation of wine since the Etruscan civilization around 7th century BC. Later on, the Romans abundantly used amphorae for the fermentation and preservation of wine, as can be seen today in the remains of Pompei.
The Terracotta is a neutral vessel with similar characteristics of concrete tanks because it allows macro-oxygenation, but it goes further as its much more natural and allows the fruit to express its full potential better than any other material for the following reasons:
1- It's primarely made of minerals similar to those in a vineyard soil so the grapevine roots have been feeding on those elements their whole life. Now the grapes feel just like at home during fermentation and aging. The Amphora will exalt your wine's mineral and earthy tones.
2 - It allows for natural micro-oxygenation due to the porosity of the walls.
3- It has an extraordinary thermal insulation capacity that will keep cool whats in it by evaporating excess heat. The fermentation will be slightly slower than you may be used to in other materials, steady and without heat spikes.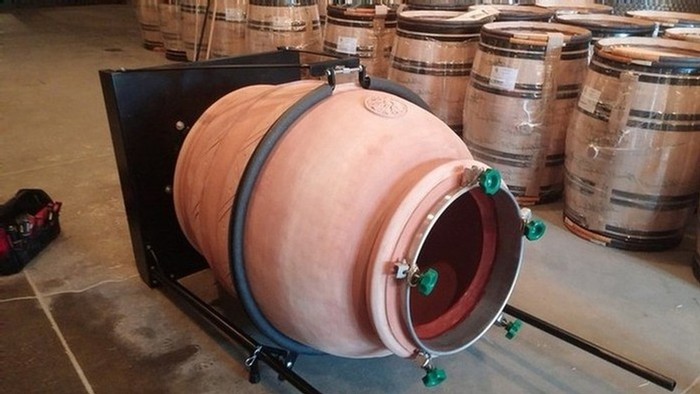 German wines typically sold in Canada are a different representation of what Germany actually has to offer. As with most countries they do not export their best. Commonly seen in Canada are the sweet and acidic Rieslings. But there are dry wine regions in Germany that represent the beautiful terroir through minerality and liveliness that you wouldn't see sold here on the liquor store shelves. Unlike many European countries with strict wine laws, such as varieties allowed to be planted, irrigation and wine making practices, Canada has not instituted these strict wine laws as of yet. We have it within our grasp to grow whatever suits our climate and through this, we can achieve some wonderful, traditional old world European styles without paying an arm and a leg or hopping on a plane. We are located on the same latitude as the majority of Germany's wine regions, so quite a few German varietals grow here with great success. In fact, through the government-run Duncan Project back in the 80's, the German Ortega grape was one of the achievers that helped prove that we could, in fact, grow wine grapes on Vancouver Island successfully. And for us at 40 Knots, we have one of the best Ortega wines. It boasts stone fruit notes of peaches and nectarine, and has an earthiness with softness.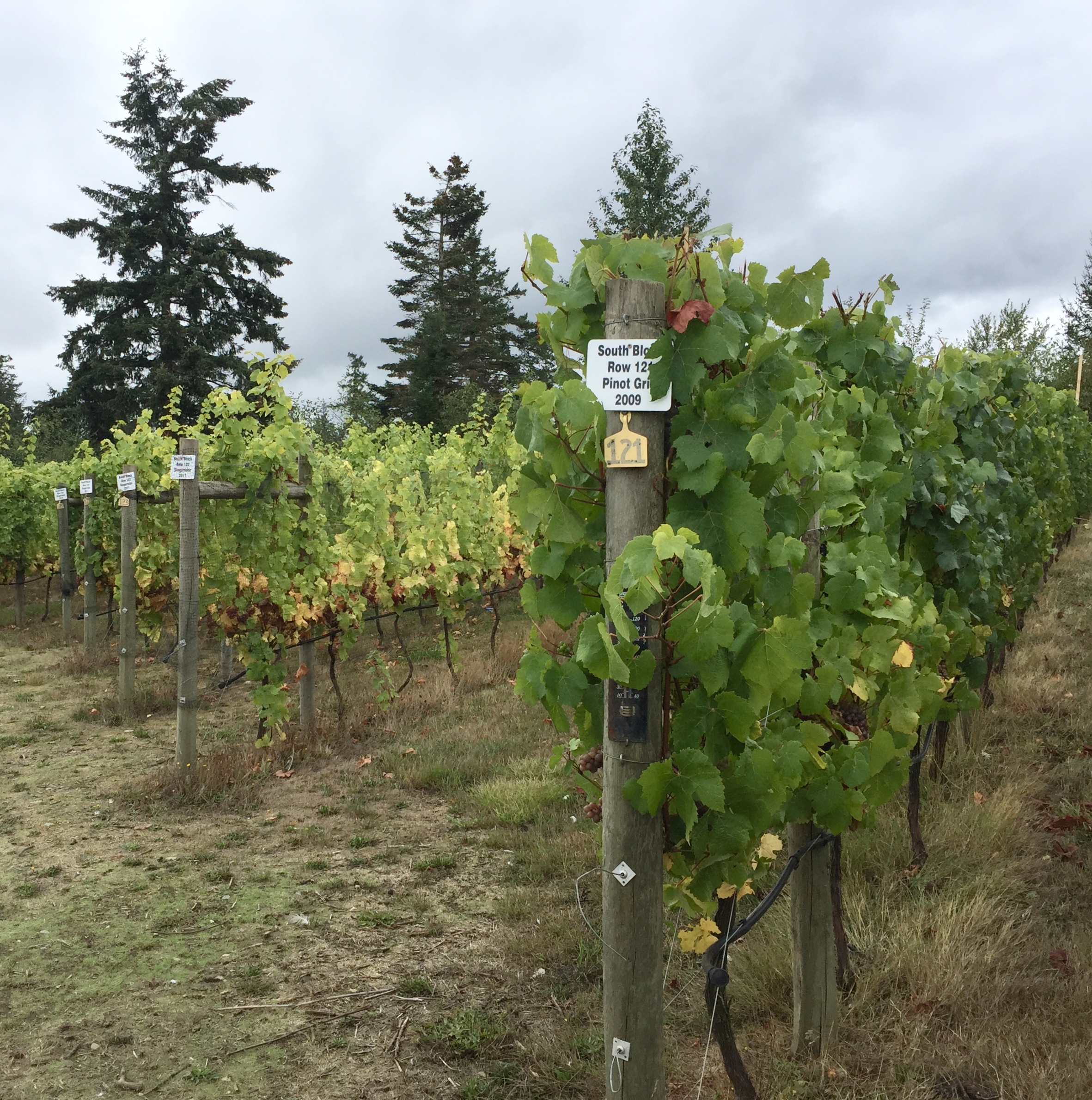 The leaf colouring in this photo truly showcases how each varietal is affected by the climate. Siegerrebe, on the left, has its autumn ready yellow leaves, higher Brix (or natural sugars), then its neighbour the Pinot Gris. It suits cool climate locations because budburst is late and fruit ripening is very early. Not unlike us here in the Comox Valley, Germany's early ripening has brought them the earliest harvest on record. Champagne and Alsace were not far behind them. For us, watching each varietal ripen at a different period offers us a staggered timeframe to hand harvest each bunch.
Keeping it local, we only hire locals to harvest our grapes. Is it on your bucket list to harvest grapes and watch the fruit of our labour come into our cellar? We can always use an extra hand. info@40knotswinery.com or 855-941-8810. Come in today to enjoy our GUIDED vineyard tours!
40 Knots grows and crafts high quality, ethical, clean wines that are distinct to Vancouver Island.

Wine, Wind and Sea.
Harvest is on the horizon. We've had a full season with excellent heat units here in the Comox Valley to promote our vine growth. Our grapes are on their way to becoming ripe and ready to hand harvest. Once again this year we see our grapes and vines are favoring our biodynamic methods.
Veraison Stage: All grapes start out a bright green colour- but it's this time of year that the denseness disappears, the skins begin to soften, and to the untrained eye- they start to turn from green to their variety's skin color. Veraison is the process of grape ripening, bringing on sugars and lowering acids. As the acidity decreases, hexose sugars start to rise and the grapes become more concentrated. Physiologically, the sugars have the potential to increase to around 25 percent from sugar development. As we hold off any irrigation, the grapes are becoming concentrated in sugars as well. Veraison usually takes 5-7 days and from that point, will reach full ripeness and be ready to harvest.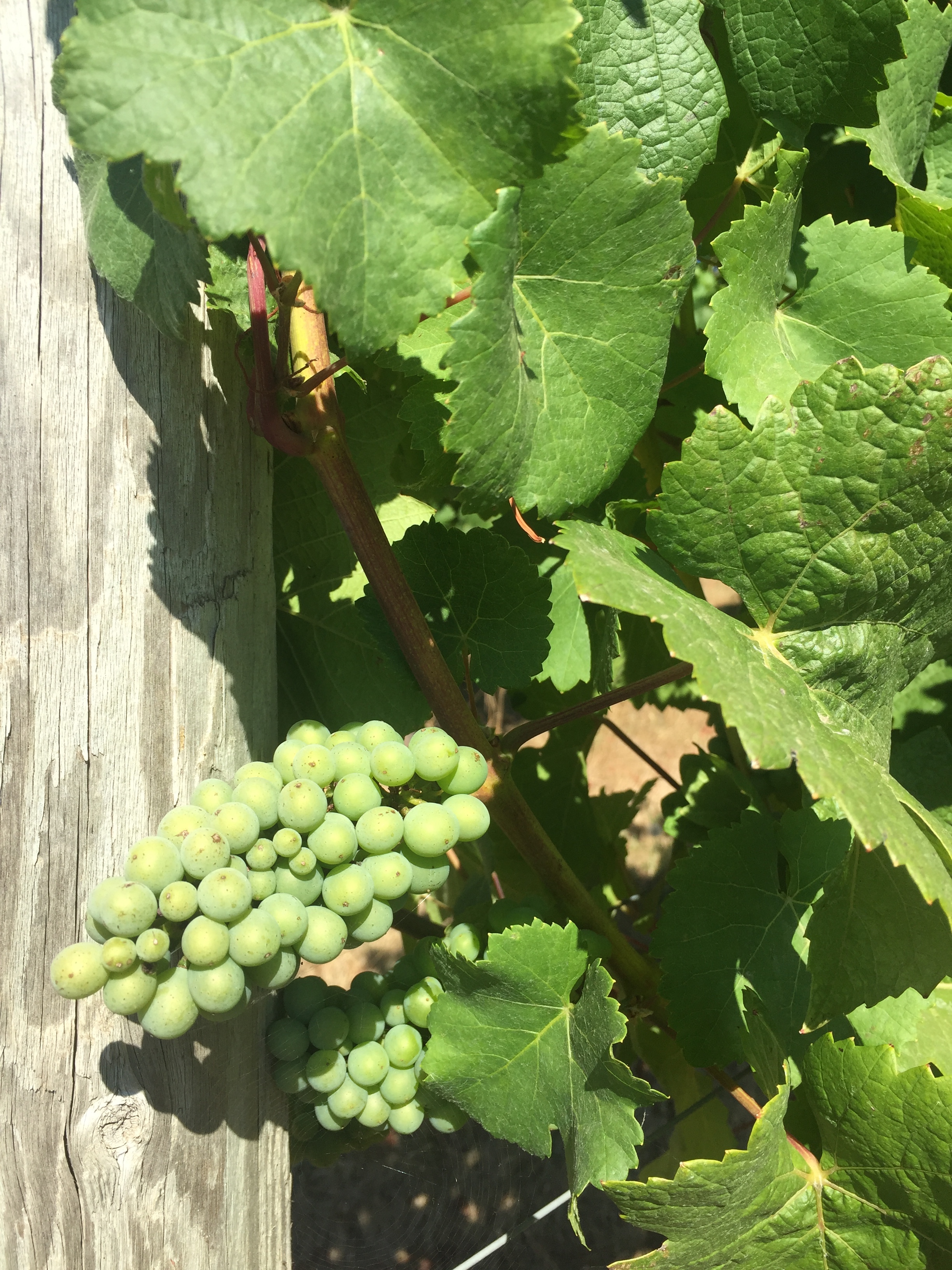 As ripening continues, the fruit becomes attractive to animals due to changes from acidic to sweet. This is the stage in which we will be gently placing our netting down to avoid any grape damage. You may also see some of our staff on foot as we gently coax the deer to leave. Our resident deer know very well when this happens and we are often greeted by them at the gate expecting us to open up for them.
Another effect of veraison is that the grapes change colour as the chlorophyll begins to break down. The grape skin is what gives wine colour and tannin structure. So for a white wine, the grapes will be harvested and typically pressed right away and passed into stainless steel tanks or terracotta pots. For red wine's though, the grapes are harvested and left on their skin's and stems for several weeks to allow the wine to absorb its colour and tannins.
Some grapes such as Pinot Gris have two-toned colours that will start showing up on their skins. This typically white wine has purpled-greyish colour grapes (gris translates to grey) when it's time to harvest. Some winemakers will choose to leave Pinot Gris juices on their skins for a period to grab a champagne type hue for the final product. And the colour of Rose? Well, that comes from red wine grapes left on their skins for a short period of time- for our 40 Knots Rose it's 24 hours from Pinot Noir and Gamay Noir (Noir translates to black). Rest assured, a wine's colour does not come from food colouring or additives- it's all from the grape skins!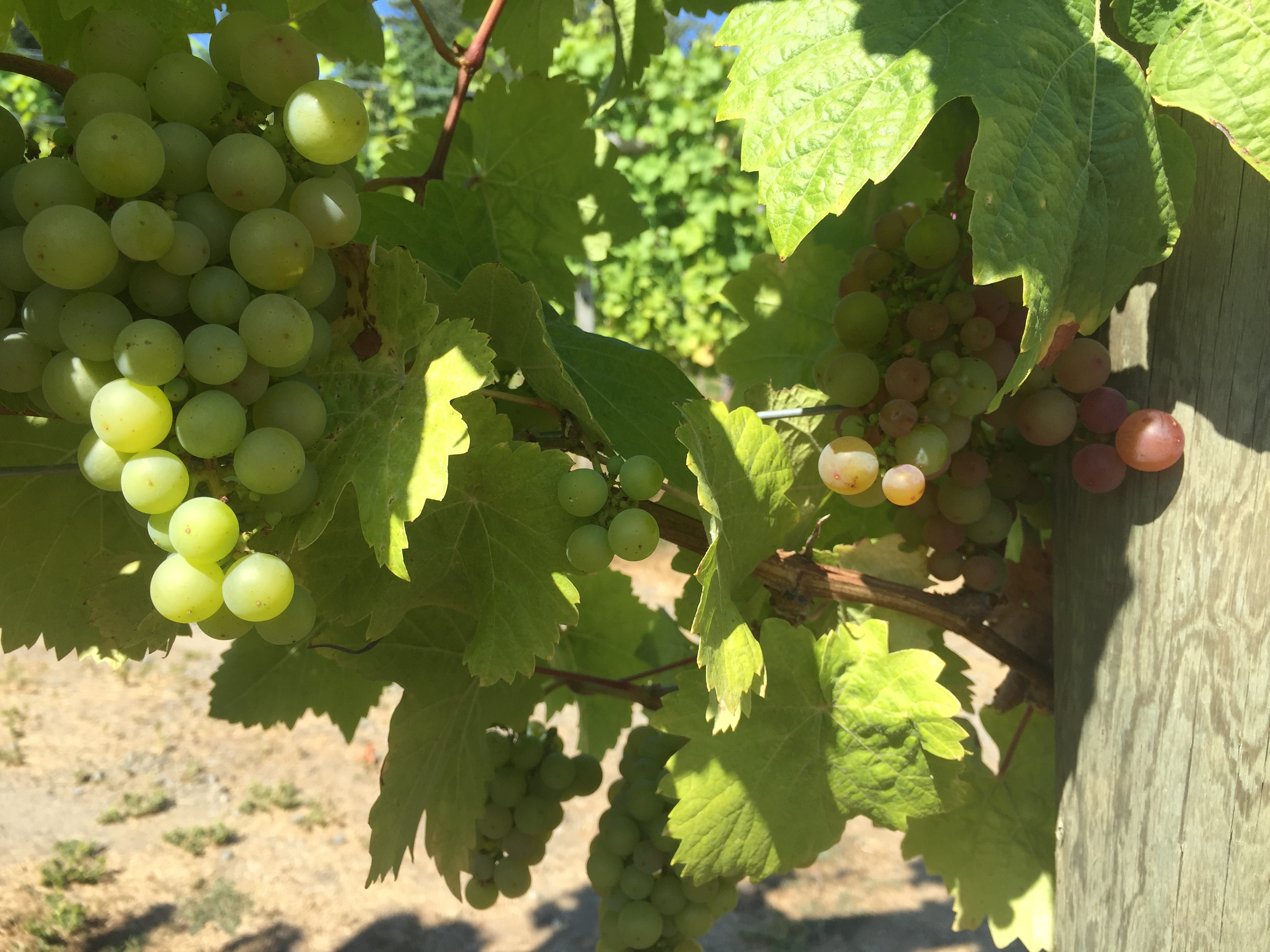 (Pinot Gris grapes)
It's a wonderful time to pop down to the winery to check out the grapes in all their beautiful colours! Including our zero skin contact Pinot Gris, our 24-hour skin contact Rose with red wine grapes and our 2-month skin contact L'Orange wine made with white wine grapes!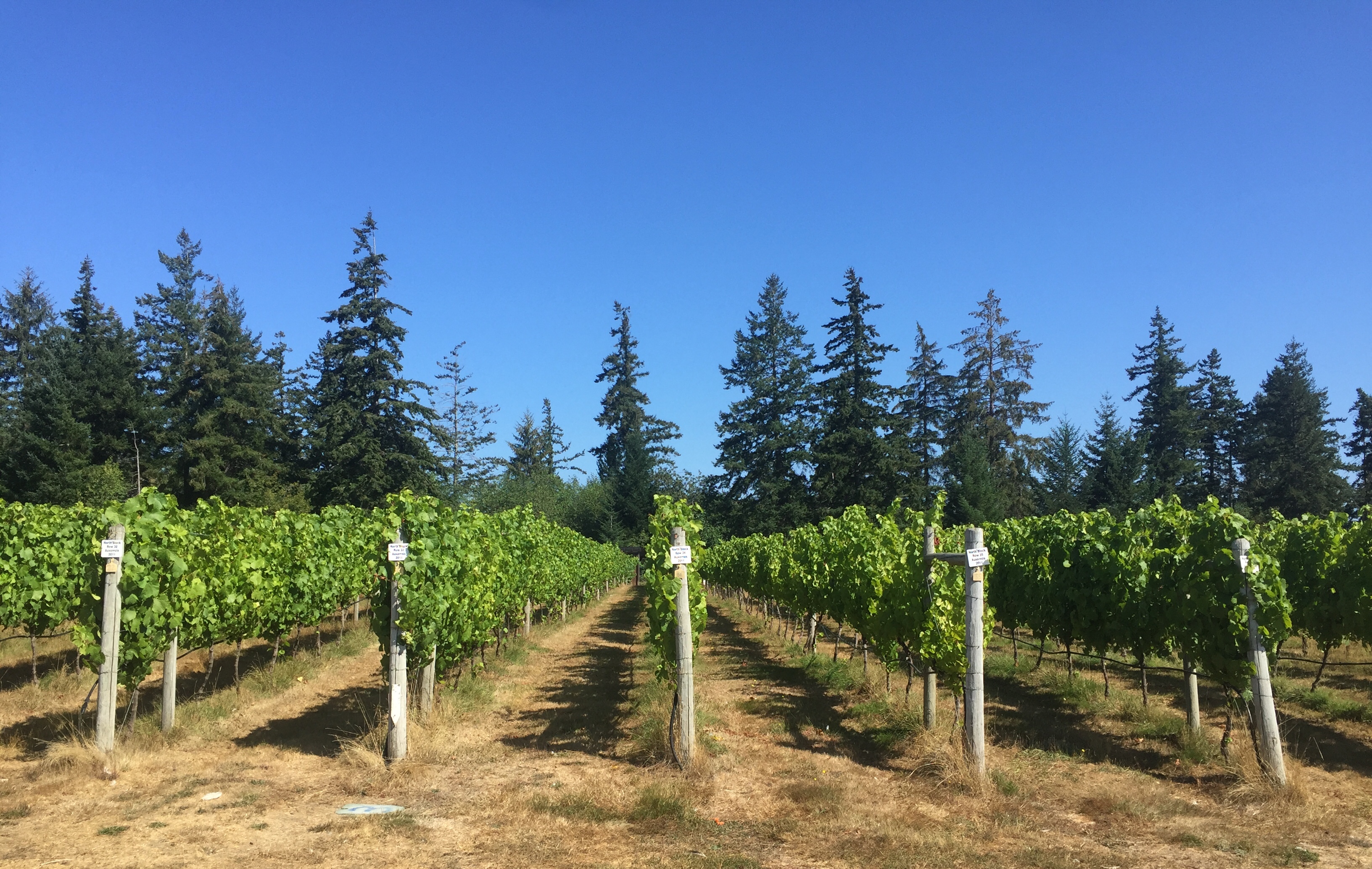 40 Knots grows and crafts high quality, ethical, clean wines that are distinct to Vancouver Island.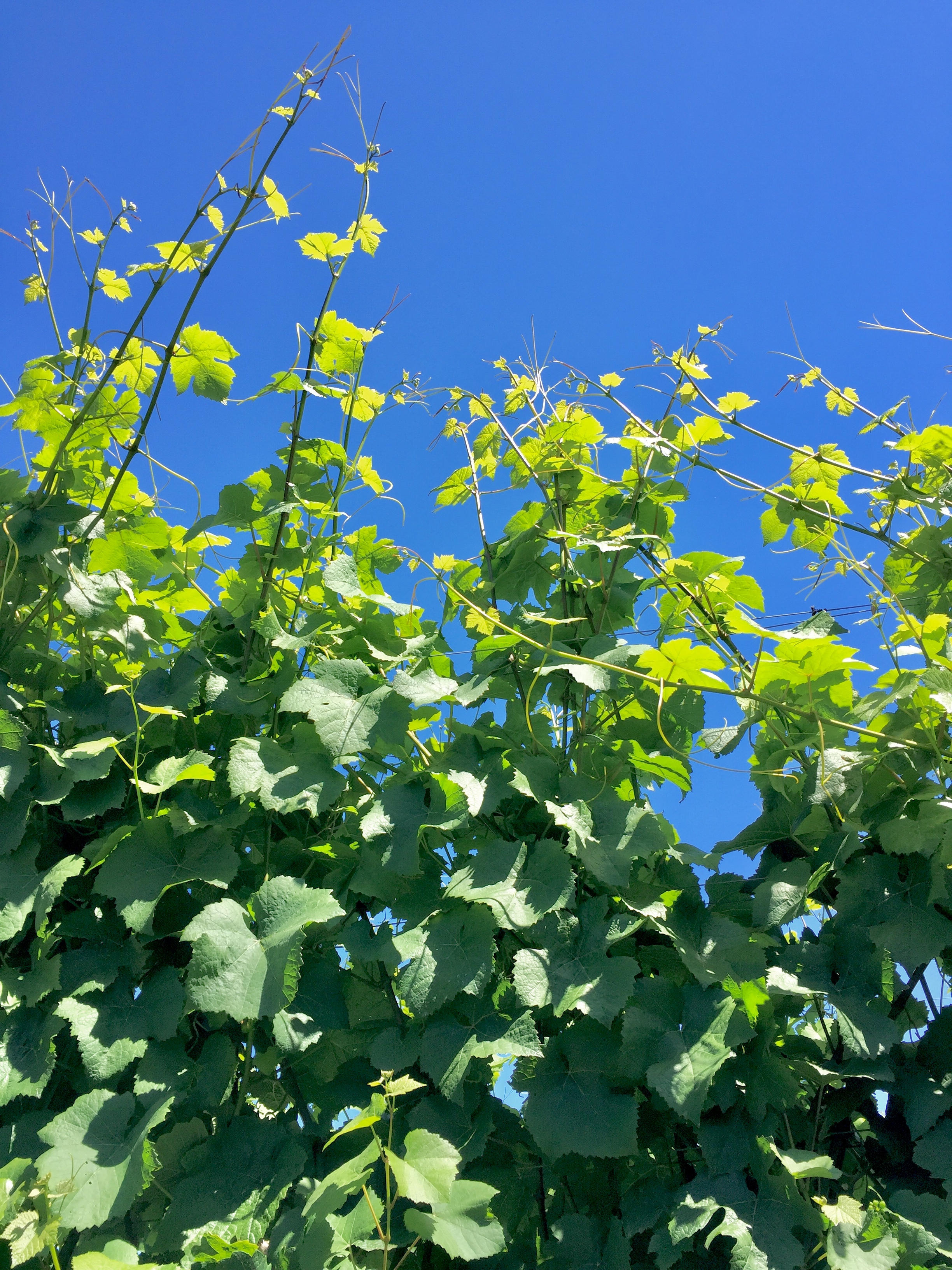 Wine, Wind and Sea.
The heat wave is upon us!! Our 40 Knots vineyard has experienced the highest heat on record since the new ownership of Layne and Brenda 4 years ago. The vines have seen exponential growth since our cool spell in June. We had shoot ends 2 feet above our top wire. With this excellent level of health, we've simply got to manage the growth and keep the vines in check. The last few weeks we've been tucking and hedging. It's been all hands on deck! What's tucking and hedging you might ask? Let's delve deeper.
Tucking is the process of pulling the vines through a trellis system called vertical shoot positioning (or VSP) so that they create those neatly managed rows that you have perhaps walked through once or twice before while strolling in our Vineyard Interpretive Trail /Visit-Us/Vineyard-Tour . It's a system of 5 levels of wires where the leaves grow above and the fruit grows below at about 3 feet from the ground. We keep them neat and manicured so that they provide a perfect canopy for the grapes swelling up below them. The bottom aptly called the cordon wire, is where the fruit will grow and thrive. VSP is a good canopy management system in cool-climate viticultural parts of the world as it helps to enable buds and fruit to receive proper sunlight. Moving upwards are the movable catch wires that are clipped in to actually "catch" and train the upward growing vines. We have surpassed the "shotgun" phase, where the grapes are the size of just that.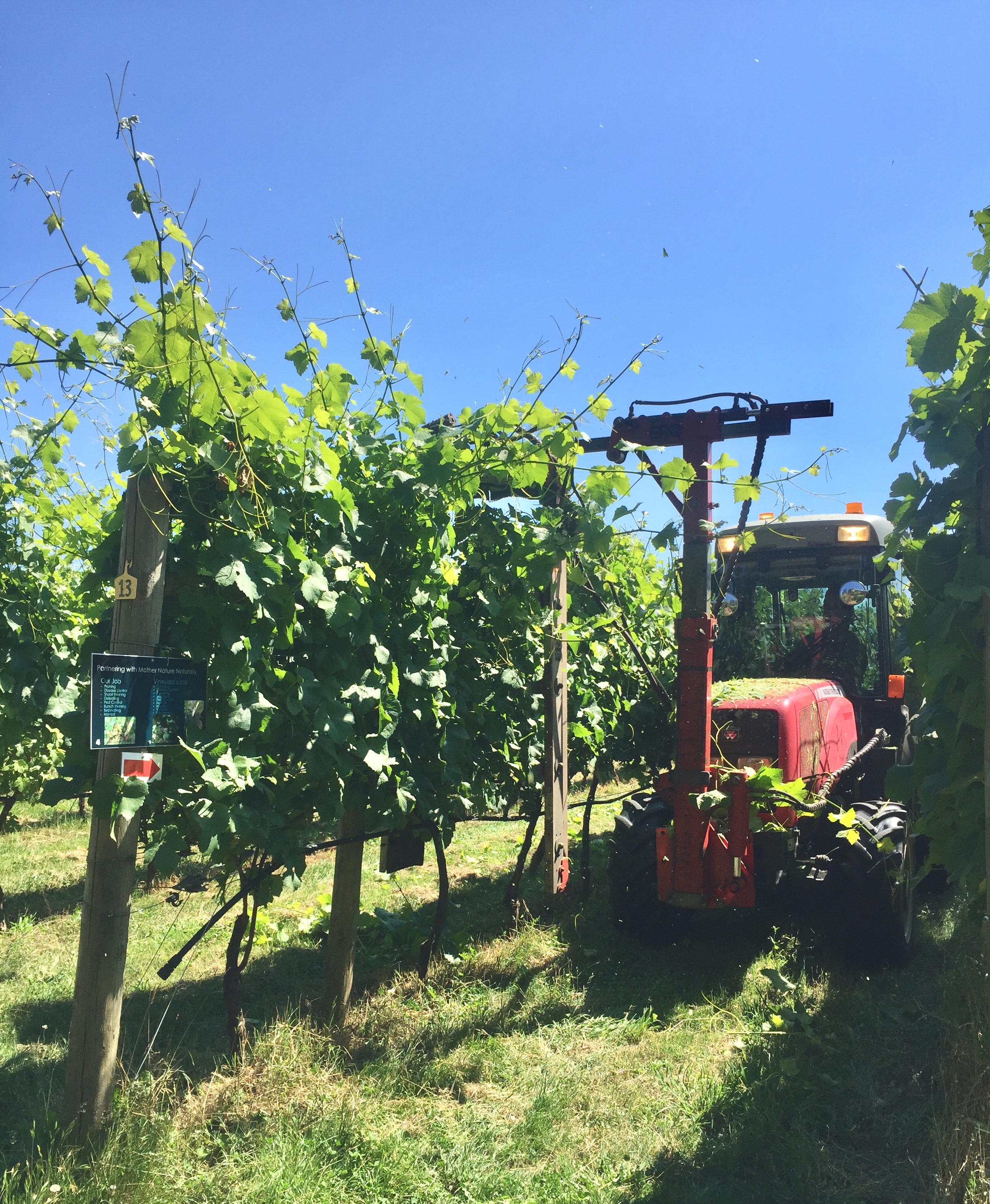 Hedging is a pruning method of removing the tops of the shoots that grow above the trellis system. It essentially depresses vine growth vigor, allowing the vines to focus on fruit ripening as opposed to leaf growth. Once they're tucked and secured with the final wire clipped in at the top, then our 6 bladed machine is driven through each row to take that manicure to the next level. Hedging is essentially giving our vines a buzz cut.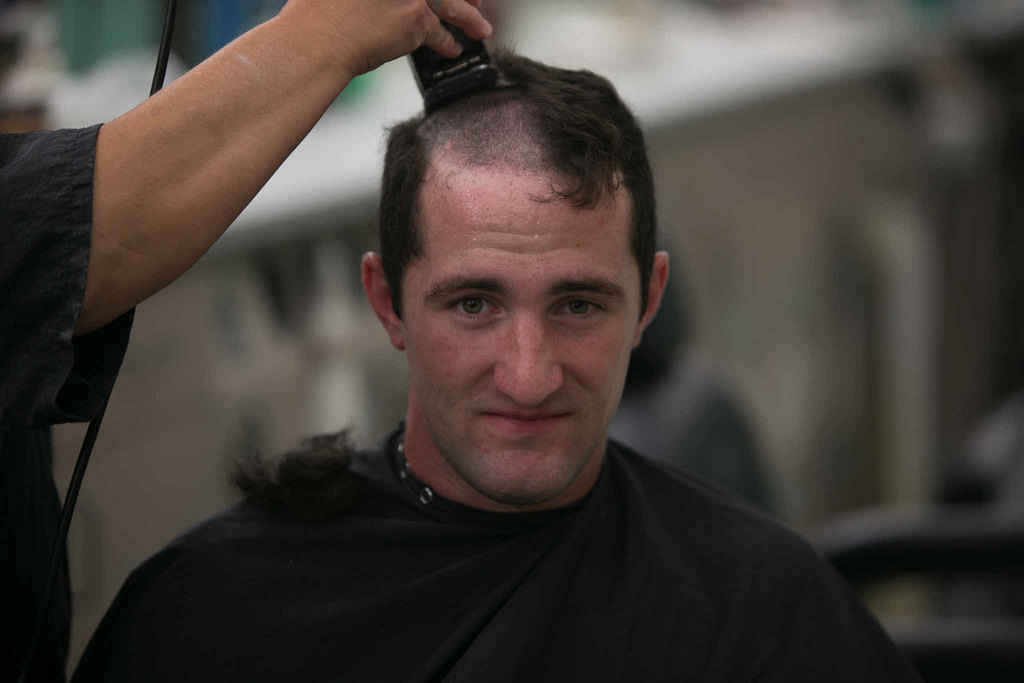 We achieve wonderful health of vines and green farming by not spraying with any pesticides whatsoever. Mustard seed oil and baking soda are all we need for a healthy environment and proper vine management. This controls disease and bugs and is completely biodynamic. Organic calcium is used for fungal spray. For fertigation, or the drip system used to insert fertilizers into the soil, we use liquid organic kelp a couple times a year and that's all it takes to keep the roots happy- a little liquid goes a long way when you've got roots this deep. We're so proud of our healthy Comox Valley vines, our methods are so natural, you could literally grab a leaf from the vine and eat it!
A wonderful slightly chilled BC red wine for the summertime is our coveted and recently bottled Gamay Noir. Beat the heat and come on by for a tasting!
*************** JUST RELEASED FOR SUMMER******************

40 Knots grows and crafts high quality, ethical, clean wines that are distinct to Vancouver Island.

Wine, Wind and Sea.
Well let's hope that June-uary has finally passed and we can get back to our patio excursions and pretend summer. It's like May stole June's weather in toddler fashion and won't give it back. Our vine's have had a tremendous early spring as we saw record growth with that early short's weather stint but I think we're all ready to finally put our winter clothes back into that crawl space for good. Comox Valley's ocean breezed micro-climate environment create some of the island's best kept hidden gems. Long summer hour nights and 900-1200 growing days make for an extended and steady growing season, producing quality grapes through green organic farming and in turn, beautiful red and white wines.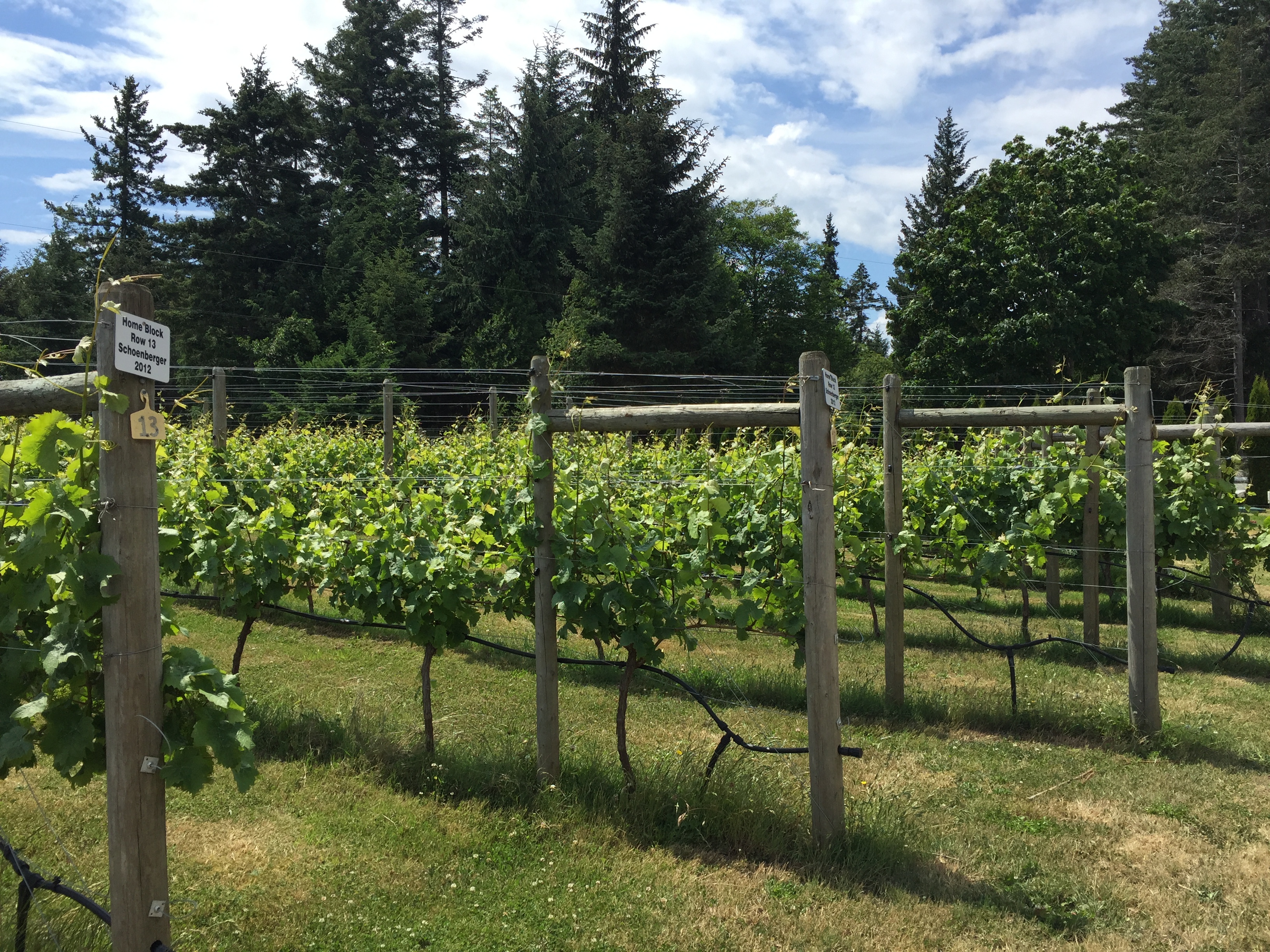 Layne Robert-Craig, Owner "We currently sit above our five year average for growing degree days. Our vines are growing into glacial till soil, which is not typical of this landscape but fell into our micro-climate here in this "banana" belt over time. We have a high pressure/low pressure ridge loop happening, creating straight and constant airflow." What does this mean for us? Red and White wine's with special characteristics all unto their own. There's nowhere else in the Comox Valley, or Vancouver Island for that matter, that sit quite in an environment that our vines do.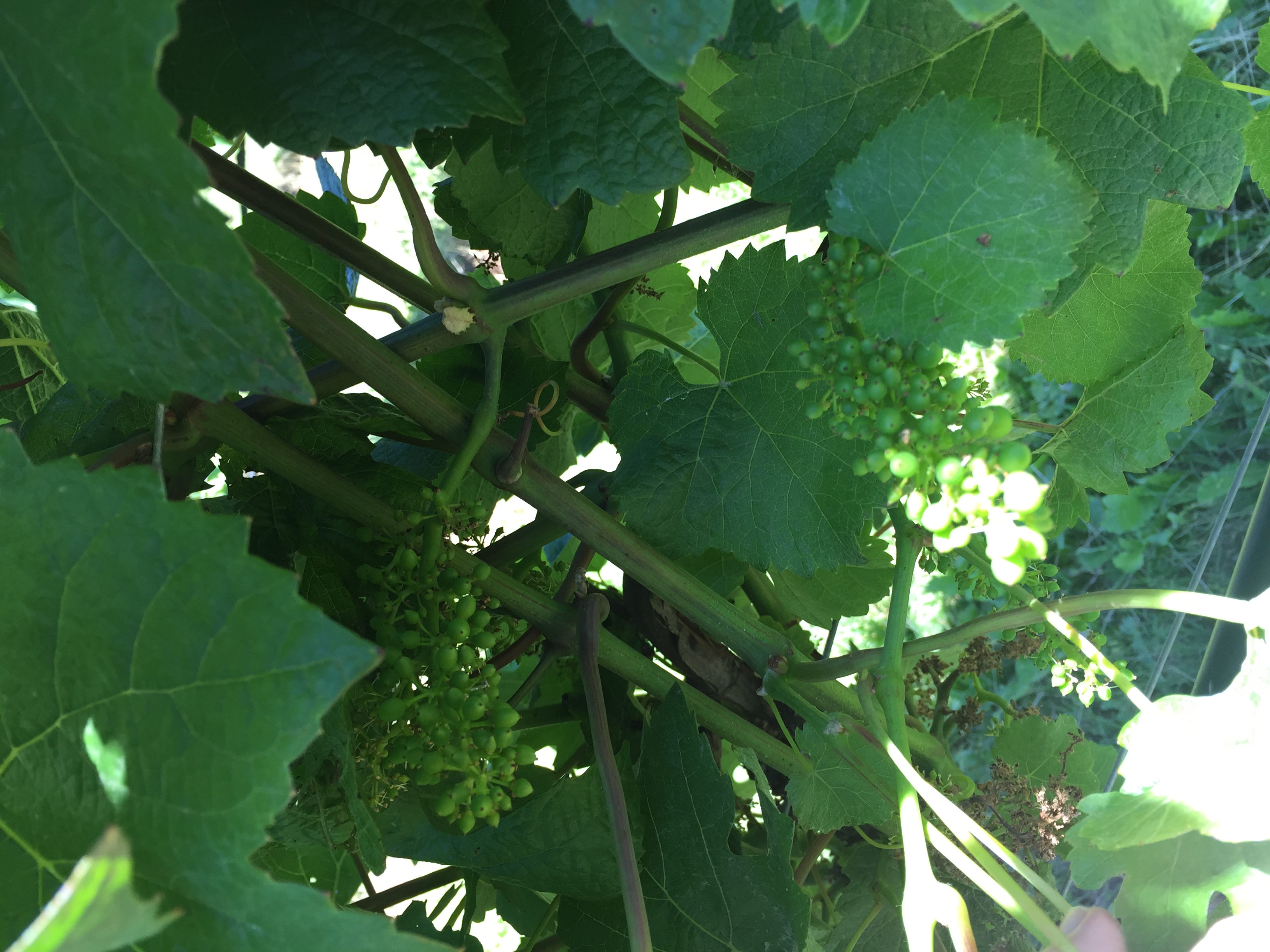 Pinot Noir and Gamay Noir combined make up our Rose, which is close to that dry Provence style that you would typically see coming from the South of France; where they undoubtedly practice what we at the 40 Knots tasting room preach "Rose all day". Our Pinot Noir on it's own though, shows beautiful signs of an absolutely elegant Burgundian version of the red wine varietal; showcasing wonderful strawberry and sour cherry aromas with a beautiful white pepper finish. Two BC wines that are recommended to have on hand coming into these Summer months.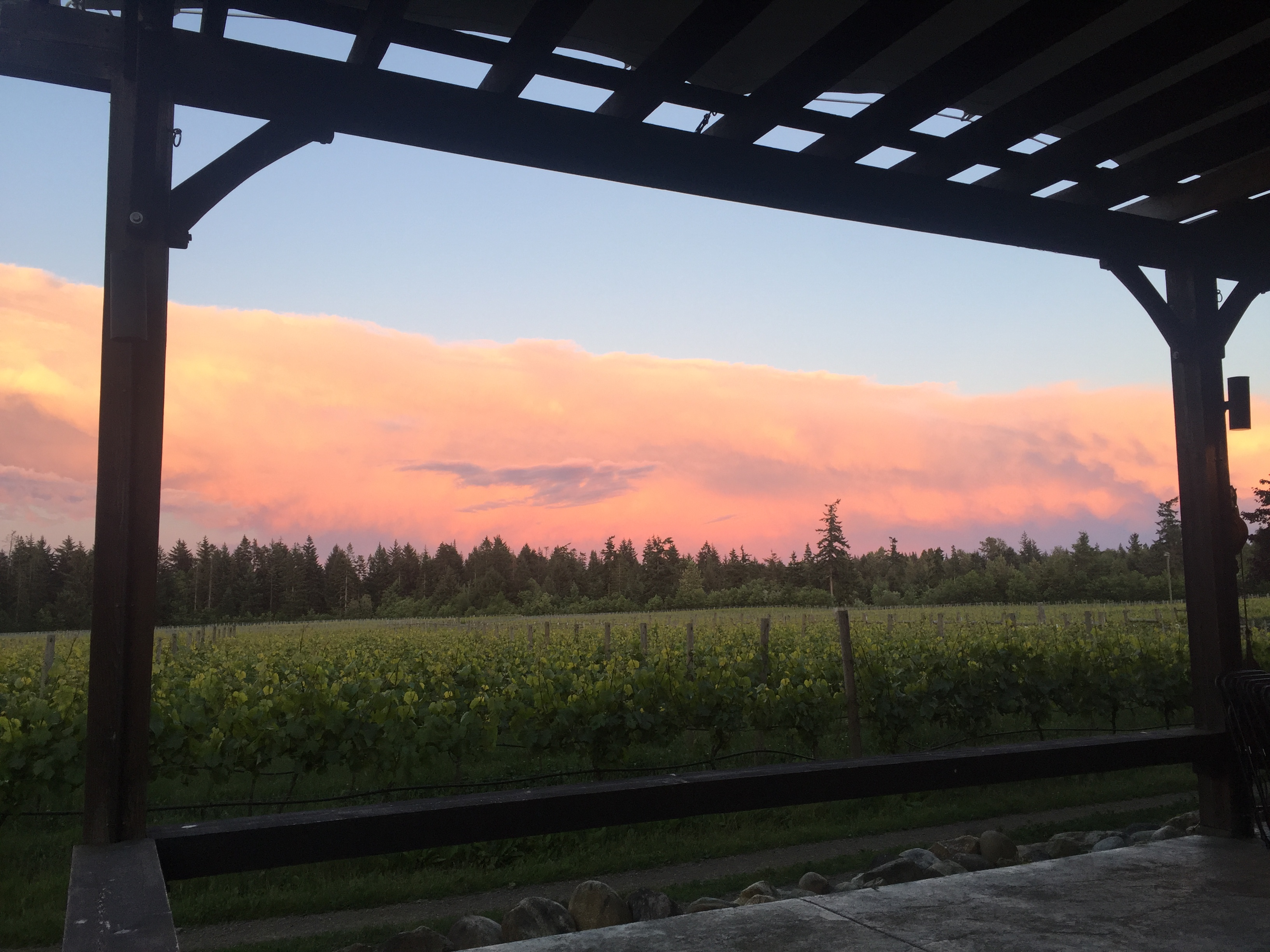 40 Knots grows and crafts high quality, ethical, clean wines that are distinct to Vancouver Island.

WINE, Wind and Sea...
with 40 Knots Winery. Located on our own little banana belt micro-climate here in the Comox Valley. I'd like to take you on a journey through each step that the Vitas vinifera vine's in our 40 Knots vineyard take to produce the fruit that creates our delicious biodynamic red and white wines. What better time to start than in the Spring with bud burst! The first stage in the growth is when our vine's come out of hibernation and start to show some green; kicking things off and preparing for the oncoming growth spurt. This is where not only the green thumbs but the local deer get excited. Good thing our fences are secure!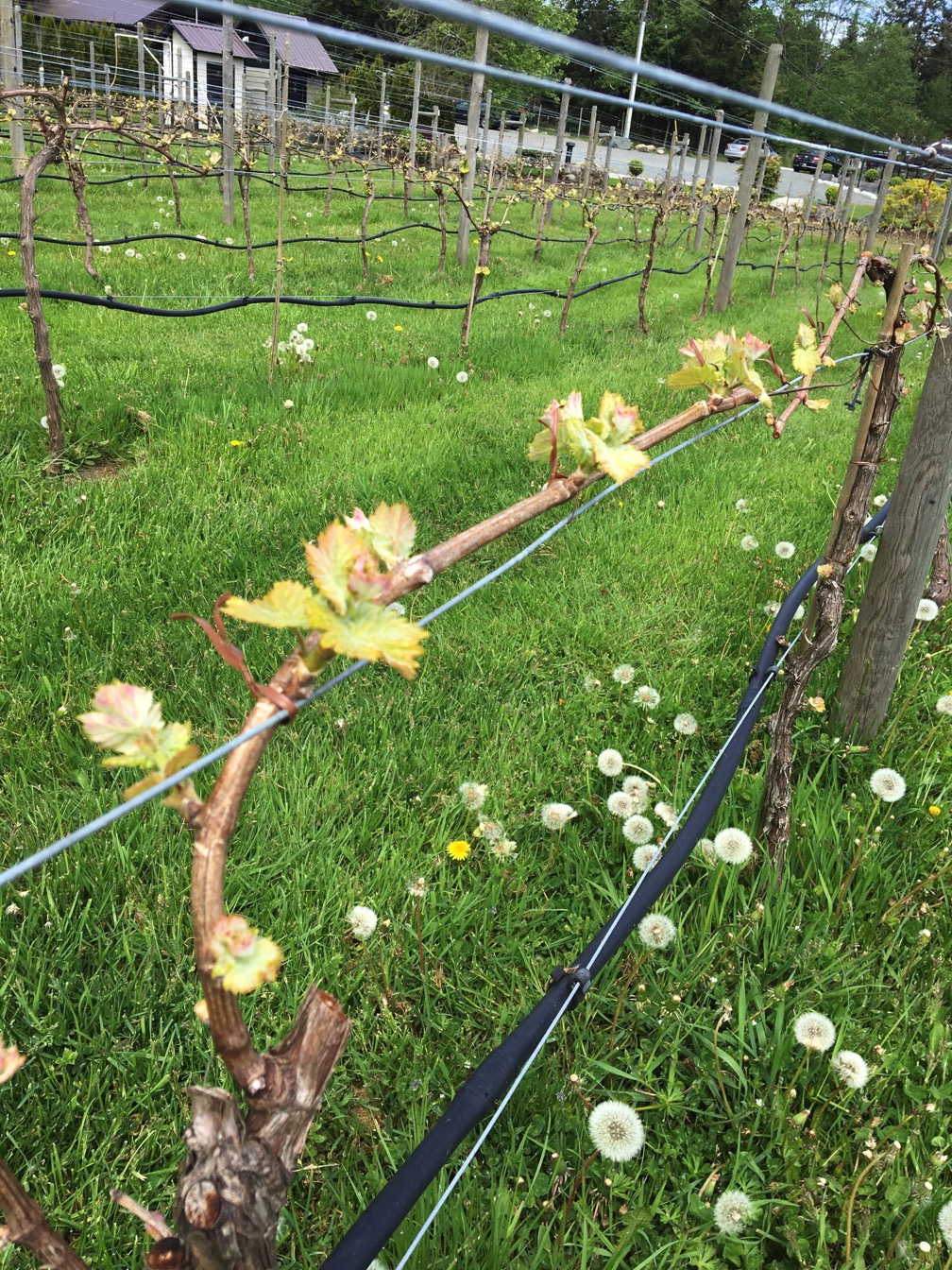 Our wonderful micro-climate here in the Comox Valley is producing some fabulous, ocean-swept wines with a lively, refreshing palate. We slow, cold ferment; bringing out the wonderful aromatics of each individual varietal. We aim to intrigue you with wine's that showcase our version of some of the best French and German grape's true fruit potential while keeping our residual sugar components relatively low. Our beautiful Chablis style Uncloaked Chardonnay, crisp refreshing Pinot Gris and light, tropical patio wine Ziggy (Siegerebe) are just a few examples of wines that really showcase our green farming and organic style.
Layne Robert-Craig, Owner "The vineyard had a slow start with a long cool spring. We completed our digs in the glacier till deposit soil to examine the roots (an annual event) and take soil samples for analysis. Worm and ladybug counts are above average and continuing to grow every year. The set of doves are back, and nesting. Our geese have hatched their eggs. And a cougar paid a visit, to the misfortune of one of our sheep. Yet, that's just a cougar, being a cougar. I wish him no harm. Moreover, a good balance is in on the vineyard for the start of the growing year. Farming is luck and karma. Let's hope for both."

The vineyard workers and tasting room associates alike have come together to prepare the vineyard for the inevitable growth period by training and tying the cordons to the trellis system. They will be steady now to hold the weight of the shoots when they grow upwards towards the sun, creating a canopy for the grapes that will eventually cultivate underneath them. We just need some of that warm weather to make it happen. So bring on the sunshine and that delicious BC wine!
40 Knots grows and crafts high quality, ethical, clean wines that are distinct to Vancouver Island.

What are Cool Climate Wines?
Vancouver Island is considered a cool climate in which 40 Knots Vineyard & Estate Winery produces cool climate wines. The type of grapes that we have in our Vineyard are Chardonnay, Auxxerous, Sieggerrebe, Pinot Gris, Gamay Noir and Pinot Noir. We also crop share 10 acres of Epicure and Petit Millot. Each type of varietal thrives in our vineyards. The cool climate helps us to produce wines of finesse, juiciness, and elegance.
Grapes that are grown in the world's warmer regions ripen quickly and make for sweet, big wines that are low in acid and high in alcohol. Grapes that are grown in cooler regions such as ours will ripen and accumulate their flavor slowly (think of it as marinating a juicy meat for quite some time). The wines tend to be complex and balanced, with higher acidity and more mineral flavors making them very much food-friendly wines. With the abundance of fresh locally grown food and seafood here, 40 Knots wines pair beautifully with Vancouver Islands cuisine.
Though we feel blessed with the effects of our cool climate it can also put us on edge we have to monitor the weather, pH and brix daily so that we can pick the best quality grapes, which may cause us to lose quantity. The winter frost won't damage them and spring and summer rainfall won't dampen the flavors? Layne has learned to work with the climate to bring you the freshest, tastiest most complex wines.
---