December 6, 2019 | New Blog
To Age Wine or Not to Age, That is the Question
To Age Wine or Not to Age, That is the Question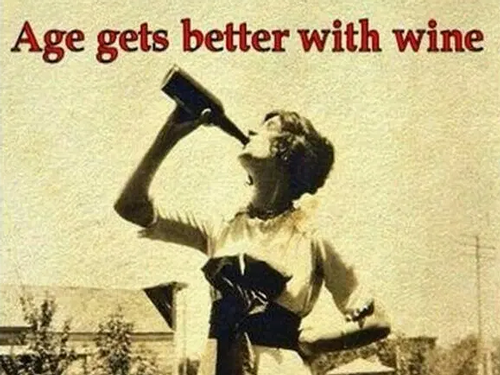 "Just like a fine wine, you keep getting better with age". We've all seen this Birthday Card for sale on the rack. The common misconception is that all wine surely does get better with age. This statement, however, is only true for a small number of wine types found around the world.
It is estimated that 90% of the wine is meant to be enjoyed within a year of production, and 99% of wine within 5 years.
For some of you, the goal is to drink wine when in the prime of its life. For most of you, it's as soon as you bring it to an awkward family dinner party. Back in the day, the Old World regions (aka. Europe) were notorious for releasing wine that demanded a minimum 5-10 year lay down (think astringent, high tannin Barolo's). Nowadays, you will find more and more European styles following New World regions (aka. anywhere that isn't Europe) with wine that is ready to drink now.
Studies have shown that the average person waits 21 minutes between purchasing and opening a bottle of wine.
With our ever-changing, fast-paced society, the insurgence of the New World creating wine drinkable earlier has the impatient wine lover saying "yippee!" and the Old World vying to catch up.

Tannin and acidity are structural elements that act as naturally occurring preservatives, allowing the wine to evolve without falling apart. Sugar and alcohol also factor in, but the body must be supported by tannin and acidity.
Because white wine grapes rarely go through skin contact after harvest, the lack of grape skin tannin is your first clue that white wine doesn't have much age-ability (with the exception of Orange Wine). Many Chardonnay's, however, have seen some barrel aging. This adds tannin from the oak barrel and creates the potential to lay that bottle down for several years. Because of current wine trends, an unoaked style of Chardonnay is quite popular in today's market.
---
40 Knots White Wine
With all of our white wine grapes grown right here on Vancouver Island, our crisp and dry style white's are a perfect pairing with anything that comes out of our local ocean.
USUALLY BEST IN THE FIRST THREE YEARS
ONE FOR YOU AND FIVE FOR THE CELLAR, ENJOYABLE EVERY YEAR FOLLOWING
---
40 Knots Red Wine
Unlike wine from warmer climate regions, our estate reds are light in body and have soft tannins and moderate acidity.
STICK THIS ONE IN YOUR CELLAR!
Drinkable now and try on each year for the next 6-8 years. Prime is expected 3-5 years after vintage year.
---
DRINK NOW OR SAVE FOR MANY, MANY YEARS.
Sparkling bubbles will become very refined and soft with a baked brioche flavour, Trie Emily will be soft and deeply luscious, drink Safe Haven in 10 years while you sink deeply into your armchair and reminisce.
---
Stall Speed Collection Red Wine
These reds boast grapes coming in from the Okanagan Valley where the climate is slightly warmer.
DRINK NOW!
At 40 Knots we have already done the aging process for you, with vintages ranging between 2008 and 2011.
---
If you DO decide to lay something down for a period of time, be sure that it is away from sunlight, vibrations, and temperature fluctuations. A cool basement emulates a cellar, so this is your best bet.
Ready to cross some Christmas gift purchases off of your "to-do" list? Visit us in the tasting room and get your custom gift basket- wrapped with your choice of goods, to your price point.
To barrel or not to barrel, to amphorae or not to amphorae: what are the different aging techniques BEFORE a wine is bottled? Stay tuned for my next blog post.
Comments
Commenting has been turned off.