November 22, 2018 | Ziggy Ziggy
What Wine are YOU Drinking?
What's in 40 Knots Wine:
This entry is dedicated to learning about what it is that we're drinking when we pick up that delicious glass of vino. Wondering what is specifically in 40 Knot's wine? Read on!
What's NOT in 40 Knot wine? No chemical or unnatural preservatives are used. No added flavoring is used. Our wines are vegan and gluten-free. We achieve our GOLD for our efforts. And we often have customers come to us, surprised, and say they can drink wine again with no adverse effect.
Wine-making methods: First and foremost, there are conventional methods. Sulfites, eggs, milk, and fish are sometimes found in the conventional process of winemaking. Although by law these additions must be stated on the label, this is not always the case, so if this is important to you, read the label or ask the winery. The next level is the certification of organic. It costs a lot of money to get certified and it doesn't always guarantee that what you're drinking is 100% preservative free or that the methods are good for the environment. Us at 40 Knots? Well, we're above organic standards. The term biodynamic has come up a lot over the last couple of years, and while we're working towards fully achieving this certification, you can always rest assure that what you're drinking out of our 40 Knots Cellar is clean, natural, and rooted in our cool climate to give you fruit forward juicy and elegant wines.
What's found in All Wine:
Now let's take a look at a broader scope and discuss the components found in all wine all over the world.
The number one ingredient found is actually water. No, water is not added, this is the natural "water" found in the grape. Around 75% of wine in fact. Shocking, right? Following this is alcohol, typically ranging anywhere between 8-16%. Doesn't leave much left. But this is where it gets interesting.
Traditional wine is always made out of a few strains of winemaking grapes. Vitis-vinifera is the most common type used. So when people say they taste blackberries, cherries, or spices- this doesn't normally mean that those flavors have been added. Although some producers do sneak flavoring into wine, 40 Knots does not. Each grape varietal brings out different characteristics, depending on soil and climate. The only other way that different kind of fruits would be used, would be where the producer would state that what they carry is a "fruit wine" or country wine, as they define it in Europe. So rest easy, you are always drinking juices from grapes that have been affected by a fermentation process!
So moving on, let's look at what makes up the rest of that 5-10%.
Acids - this is naturally derived from the grape skins. White wines will typically have more acids than reds. There is also a small amount of amino acid found. Volatile acidity, mostly acetic acid, is what would give the wine its vinegar taste if gone bad.
Acetaldehyde - this is a volatile compound that is created when a wine starts to slightly oxidize. It sometimes gives off aromas of yellow apple. Some winemakers purposely oxidize before bottling if they are looking for a result of these flavors, but mostly only found with very old wines.
Glycerol - this is a sugar alcohol that is not technically sugar and gives wines their sweetness. Sugar is also found when the grapes don't ferment all the way, leaving the wine with residual sugar, or RS for short. Dry wines will have less, typically 0-8 g/liter, off-dry will typically have 8-15 g/liter, and sweet wines will have 20+g/liter.
Higher Alcohol - these are found in very small amounts and will help aid in the wine's primary aromas.
Minerals - calcium, zinc, iron, magnesium, potassium, and manganese. Get your daily dose by drinking some wine!
Esters and Phenols - these are compounds that give off aromas of a wine.
Sulfites - this is a naturally occurring preservative of all fruit (easily seen as the white on blueberry skins), and something of a conversation piece. Levels of sulfites range in a wine, but they all have it. Most have an addition of sulfites to help preserve it, especially if being shipped from other countries, or if it is a big commercial winery, or if the wine is packaged in a lesser stable container like tetra boxes or boxes with spouts. Even VQA wines are allowed to have large volumes of sulfites added. People claim that sulfites are what create headaches, this is up for debate. Some people say its the histamines. Varying countries have different histamines and the person's reaction might come from certain parts of the world and not others. If an Australian wine gives you a headache, try Italian. Easier yet, if you get a headache from wine, perhaps it's simply dehydration! Best using the one to one method. One glass of wine, one glass of water etc.
Antioxidants and healing properties? Just google "is wine good for you", and you will come up with many, many claims that it is. Articles say that a daily glass of wine can help with brain function, heart function, ovary function, blood clots, stress, and the list goes on. Hmmmm... is that why it is common to cheer "here's to your health"?!
And so we took this to the road! Spreading the love most recently at the Hopscotch Festival in Vancouver. Soleil Rose - Love is Love (supporting the LGBTQ community) was a major hit!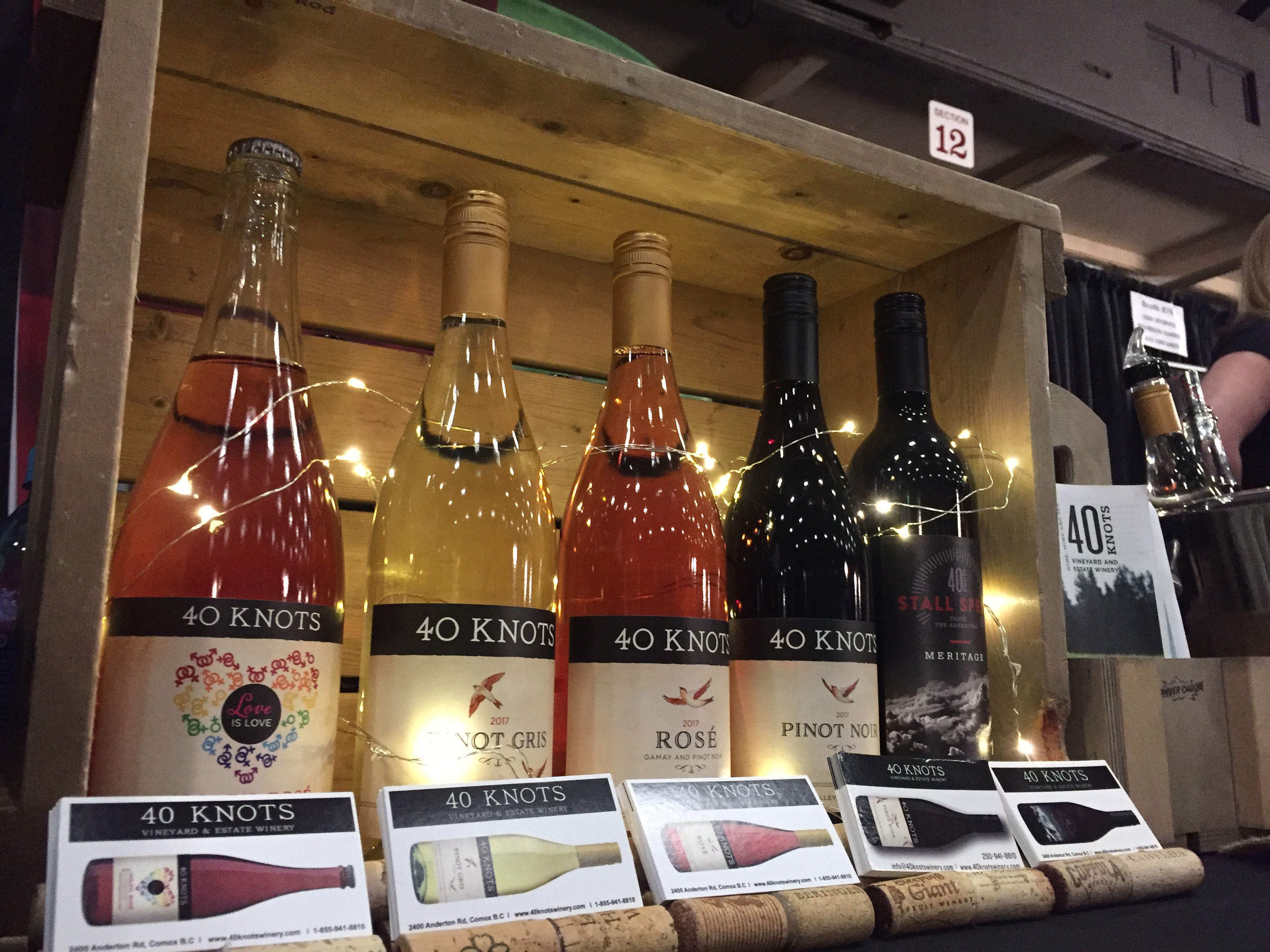 40 Knots grows and crafts high quality, ethical, clean wines that are distinct to Vancouver Island.
Comments
Commenting has been turned off.