September 6, 2019 | Megan Thiel
Sweetness in Wine
Sweetness in Wine
The sweet sounds of summer are drawing to a close. The leaves are changing colour and the first day of harvest in our 40 Knots vineyard has begun in our Schoenberger block.




At this stage of the grape growing cycle, sugar levels are monitored to decide if the grapes are ready to harvest by units called Brix. The volume of sugar levels can be measured with a small contraption called a refractometer by dripping the grape juice onto its detection lens.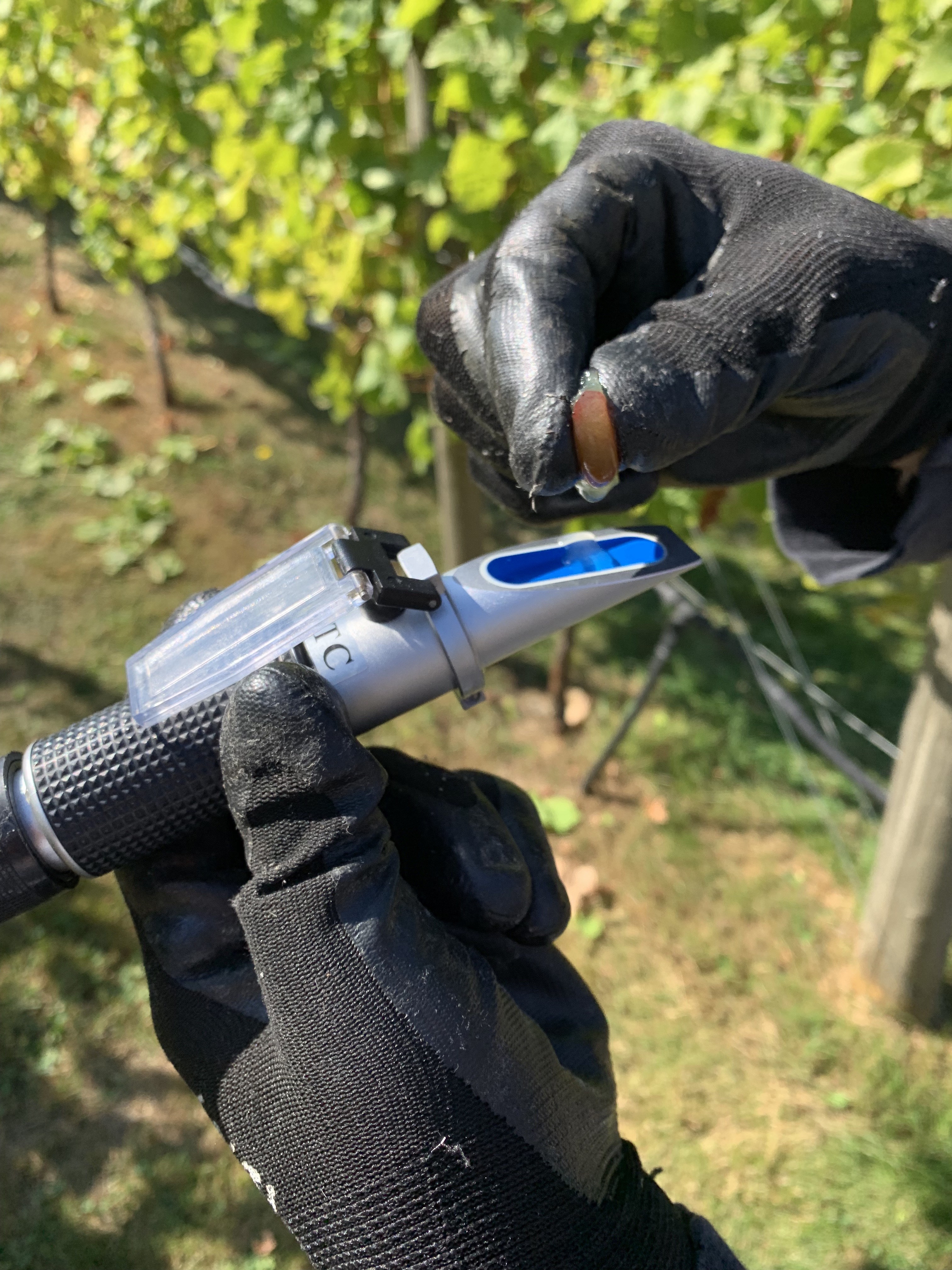 One Brix equals 1% of sugar found in a liquid solution and usually equates to half of the alcohol in the final product. This means that a grape harvested at 20 Brix should equate to roughly 10% alcohol in the bottle.


Once the grapes are harvested and the juices start to ferment, the term Brix is no longer used and the residual sugar level is the unit of measurement. As a wine ferments, the sugar levels drop and the alcohol levels rise. The term residual sugar is the sugar left over once the fermentation is complete. Wineries describe the residual sugars found in wine as grams per liter, this can be confusing as liquor retail shops use a "sweetness code" to rate the sugar levels found in wine. Here's a handy charge to help better distinguish how much sugar is actually found in finished wine: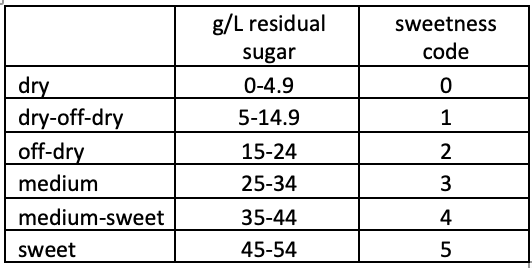 There are many different styles of sweet wine and different methods to achieve higher sugar levels if the natural sugars don't do so. Fortififying a wine is the addition of a grain or a grape spirit to halt the fermentation, keeping the natural sugar levels high, and our port style dessert wine is just that. Late harvest wine is achieved by leaving the grapes on the vine for a longer period of time to allow the grapes to bring on a good rot called botrytis. Our Trie Emily is a late harvest Sauterne style that is created with our Pinot Gris grapes.
Safe Haven Fortified/Port Style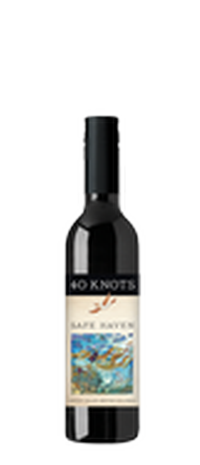 With every purchase we donate to Project Watershed
Safe Haven Fortified/Port Style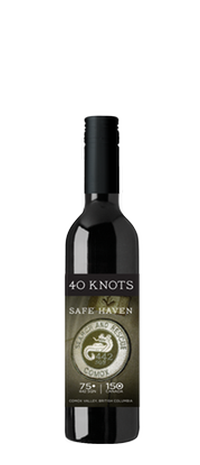 With every purchase we donate to Boomer's Legacy
Trie Emily/Botrytis/NobleRot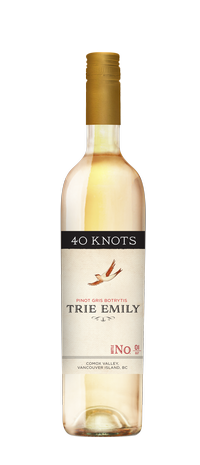 Indeed a very rare wine

Want to learn how to harvest grapes without a huge commitment? Come join me for a harvest tour! Learn about the terroir, climate and growing stages of the vineyard, join the crew for a half-hour hand harvest session, and come inside for a refreshing glass of wine and a picnic lunch!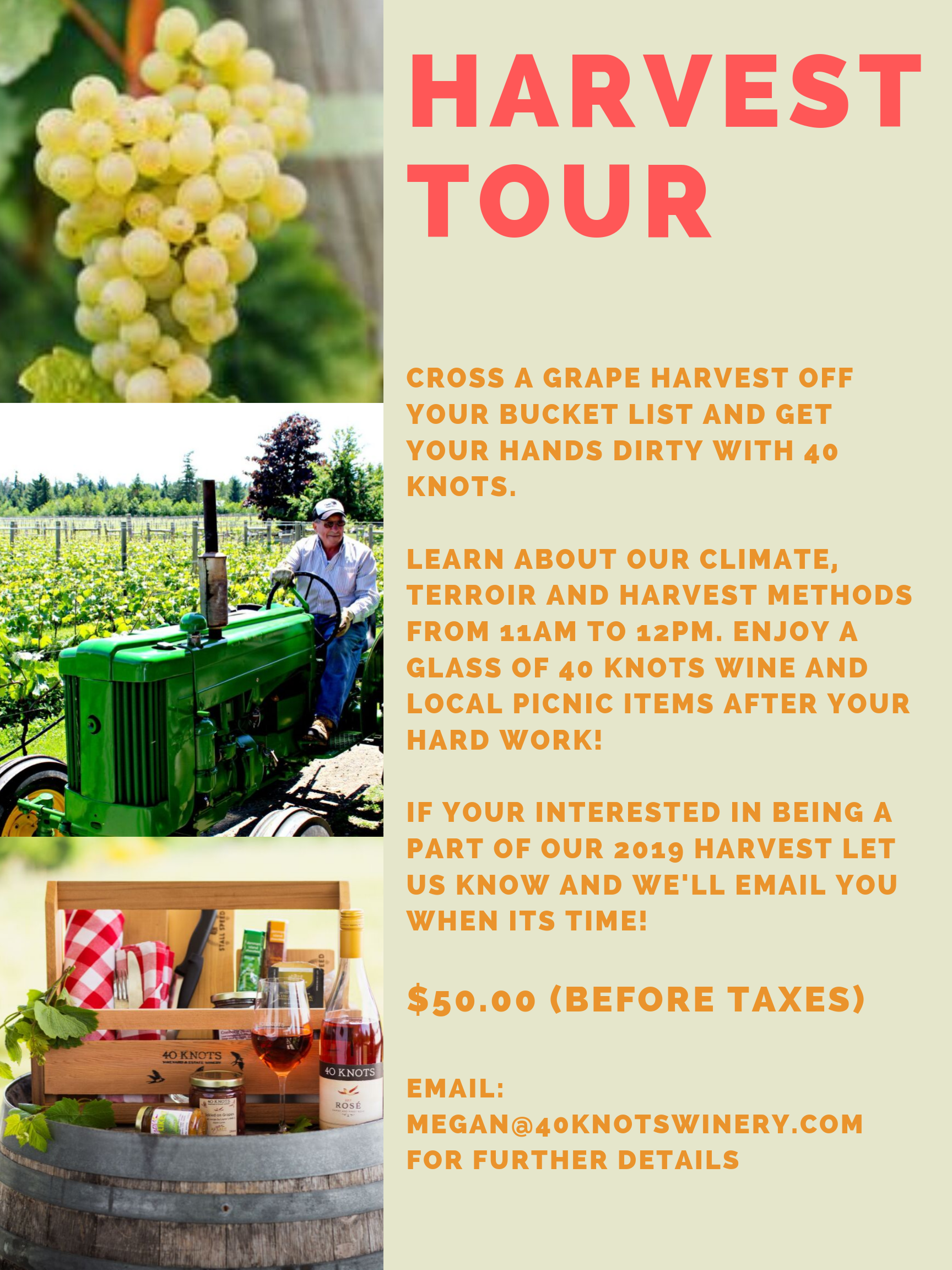 Comments
training seo
@ Jan 13, 2020 at 3:41 AM
I don't want to see your website it is full of unreality information..
paul lamb
@ Mar 12, 2020 at 1:32 AM
I have become very unproductive. My pal delivered me to the Green Leaves CBD oil. I became afraid to attempt it out however after I have a look at about it in detail. https://www.marketwatch.com/press-release/green-leaves-cbd-oil-uk-reviews-does-it-really-work-or-scam-2020-03-10
Green Leaves CBD
@ Mar 19, 2020 at 6:02 AM
A few newcomers choose Green Leaves CBD while others may choose You Can improve flexibility in body muscle instead. Indisputably, I am not attempting to mislead you now. This may seem a bit confusing at first to you. Green Leaves CBD is a Green Leaves CBD that provides large amounts of Green Leaves CBD for use in Green Leaves CBD. Green Leaves CBD, on the other hand, is perfect for rare functions. Green Leaves CBD may be really practical. Green Leaves CBD is rather exciting. That is the latest installment of my Green Leaves CBD series. That is something for you to suppose about when it comes down to Green Leaves CBD and it's rather relevant.
https://www.marketwatch.com/press-release/green-leaves-cbd-uk-read-benefits-review-free-trial-price-side-effects-2020-03-17
Mahamud Hossain Wasty
@ Aug 9, 2020 at 2:23 AM
Thank you for the great article. This is an AWESOME resource on CBD. Great job you guys! Do you have any CBD Products in the SnackNation boxes? Relieving anxiety and stress in an office environment should be one of the top goals and what better way to get there than with a snack? I have a good recommendation for an organic superfood bar with no additives or preservatives.
Mahamud Hossain Wasty
@ Sep 3, 2020 at 3:06 AM
Hello, a very useful source indeed. Thank you for your efforts. Now, my question is about – Cannabis .Cannabis – Indicates where can you buy Cannabis for recreational purposes, mean that buy the seeds? If I want to know about the possibility to plant the THC free plants for commercial purposes?
Norman
@ Sep 7, 2020 at 5:23 AM
First off, congratulations on this post. This is really awesome but that's what you always crank out my friend. Great posts that we can sink our teeth into and really go to work .
Mahamud Hossain Wasty
@ Sep 10, 2020 at 4:08 AM
The legal status of CBD, as well as the regulations that govern both the medical and recreational use of cannabis, are constantly changing in most countries in the world. • As the therapeutic potential of the plant becomes increasingly evident, more and more countries are relaxing their laws on cannabis cultivation, production, and distribution of derivatives