VinoSpa Natural Beauty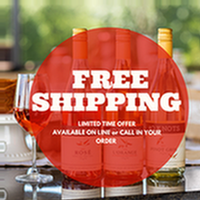 With your first purchase of VinoSpa products, ask to sign up to VinoSpa Natural Beauty Club. Enjoy Loyalty Points redeemable on VinoSpa, wine or events, and FREE SHIPPING. Extend your Loyalty Points and FREE SHIPPING when adding wine to your order.
40 Knots proudly brings you our very own VinoSpa skincare line. These naturally beautiful and healing products are manufactured on-site using lees, pips, skins and wine in all VinoSpa products. 40 Knots traditional and ethical farming of these grapes naturally contain high nutrient levels of polyphenols, procyanidols and antocyanosides. These are proven to exert more antioxidants or anti-free radicals than Vitamin E.
Experts the world over believe that skin products with grapes such as our VinoSpa will improve blood circulation, reduce wrinkles and revitalize skin by restoring collagen and elastic fibers. Other benefits are clearing blemished skin, soothing the nervous system and building up the immune system. So go ahead, pamper yourself and see the benefits.
"VinoSpa has thoughtfully crafted a line of natural skin care products of superior quality made in part from the by-products of the grapes and wines produced on their farm. The ingredients used fit the strict quality criteria for what I put on, and in, my body. I particularly enjoy the Renew and Rejuvenate cleanser, toner, and moisturizer. My face feels refreshed and energized with every application."
Michel Duhaime MEng R.Ac. DTCM
QA consultant
Visit Level 10 Eurospa and ask about VinoTherapy wine baths and full body treatments
About the Artist of our Label and painting "Waves of Tranquility"