March 18, 2015 | Layne's blog | Layne Robert Craig
March, Mowers, and Mulching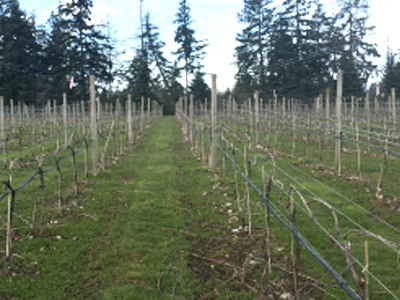 Even though the 20th of March is the official day, it is clearly spring. We can hear the sea lions barking with excitement, the Robins are bathing themselves to look good, woodpeckers have found the loudest piece of manmade tin to rattle against, and so many of our flowers are in bloom. Sorry Easterners, it's awesome on the West Coast.
Our vineyard and winery chores also know it's spring.
When I posted last, we were making our pruning cuts. Now, we are pulling the wood out of the trellis wires and tying the new canes down that will produce this year's grapes. We are at 50% complete on this last step. All will be completed by April Fool's day. My bet is on March 27th for bud burst.
Over a one day period, wood is pulled, canes are tied, and rows are flailed and mulched. We don't burn our last year's wood, it is all mulched back into the rows.
After the field personnel leave at night, the rotary flail does the first pass, making wood flat and in smaller 4 to 8 inch pieces. Next, the Kubota zero-turn mower, with a mulching kit, goes over the row. This machine is amazing. Sold to us last year from Russell at North Island tractor, it has cut our mowing times by 1/8. Fine cutting around the winery, or mulching down the row, it will do all of that at lightning-fast speeds, significantly reducing fuel use and increasing quality of mulched organics to the vineyard.
No, I don't own a Kubota dealership, just excited about efficiency and reducing our footprint.
All the varieties are looking awesome! The original owner, Bill Montgomery, did a fantastic job choosing the some 50,000 root stock, 85% from a nursery in France. Thank you, Bill.
Next time, winery talk.
Cheers,
Layne
Comments
Commenting has been turned off.