October 23, 2019 | New Blog
Wine Alcohol
Wine Alcohol
With harvest behind us, the 40 Knots cellar is a bustle of activity as our grapes now begin their journey to become wine. With a hands-off approach to winemaking, Layne's job is to coax natural fermentations where yeasts now convert natural sugars into alcohol.
The amount of alcohol in our wine is actually determined by the sugar levels in the grapes at the time of harvest. 40 Knots is known for the soft, easy-drinking wines with naturally lower alcohol levels, avoiding "hot" and unbalanced wine. Our styles are reminiscent of old-world natural wines. We allow a natural fermentation process converting sugars into alcohol, and finishing at the point of natural balance.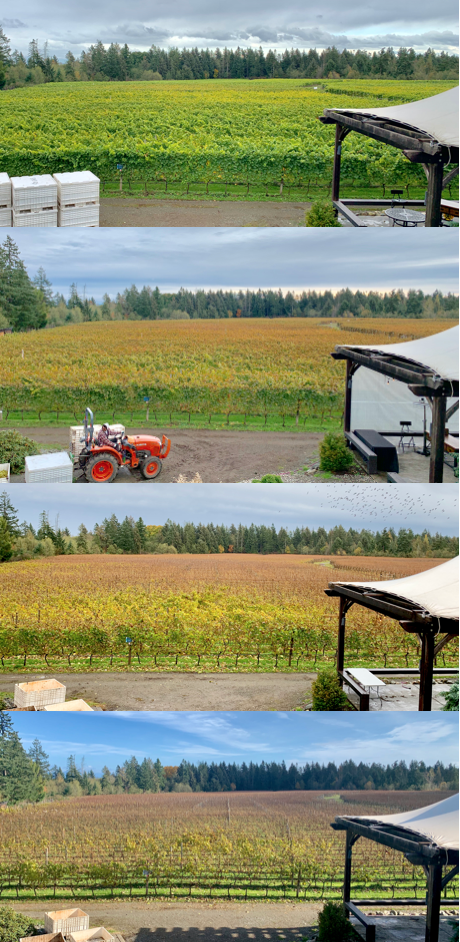 Over the last few months, I have posted about the main components found in wine – acid, tannin, sweetness and alcohol. I close off my four-part series now with Alcohol. So how do we decide on how much alcohol should go into the bottle? Well, we don't. The natural fermentation process will carry on through converting sugars into alcohol, and quit at the point of natural balance. If a winemaker so chooses, there are techniques to add alcohol, including a process called fortification*. This will create a dessert wine of high alcohol and high sugar. Fortified wine's include sherry, brandy and port*. There are also ways to reduce alcohol, such as boiling it off. This, however, will drastically reduce quality. If a winemaker decides to cultivate a wine with naturally low alcohol, the grapes can be harvested earlier when less sugar has yet to form.


So how do we test the alcohol level in our lab? Seen in the picture below is a traditional instrument, invented by the French, called an Ebulliometer. An Ebulliometer measures the current boiling point of water and then matches that with the boiling point of the wine in question. With the orbital slide calculator, you determine the % ethanol.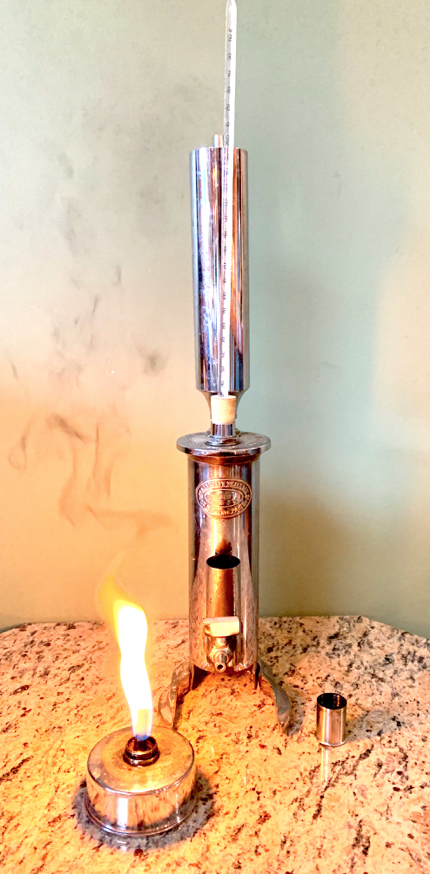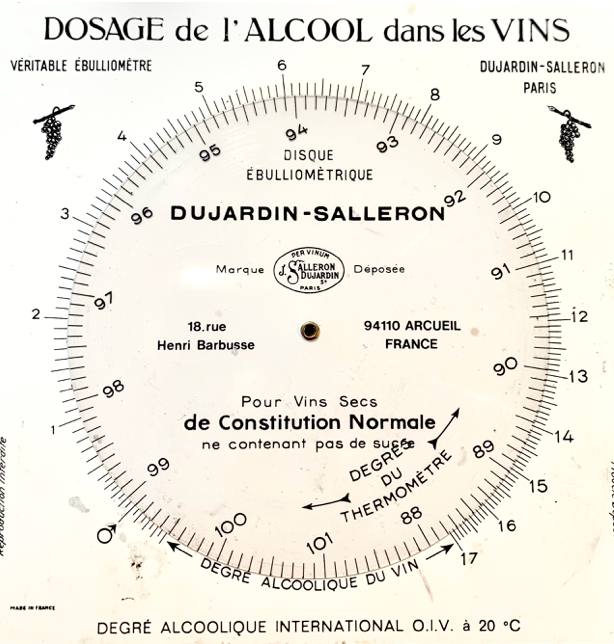 The proper alcohol percentage is essential for balance and structure of the final product. With all components in harmonious balance, you will find a wine of wonderful drinkability. At 40 Knots, we thrive upon balance both in the vineyard and the cellar. With our minimal intervention approach, we aim to craft wine of natural quality. This is our continued 40 Knots promise.

40 Knots French Traditional sparkling wines have naturally lower alcohol percentages as the grapes are harvested earlier than for still wine, with lower brix levels. With sparkling wines, this style goes through primary fermentation in a stainless steel tank and secondary fermentation in the bottle. First fermentation results in a lower alcohol, so when secondary fermentation takes place, it will not drive a high alcohol content, and thus resulting in a balanced wine. Spindrift, as an example, results in less than 10% in the primary fermentation, and finishing at a elegant 11% alcohol. Chardonnay for still wine is then harvested later in the season, with higher brix and pH which can result with the same alcohol percentage as our finished sparkling wine.


As an example, in our cool climate, a brix sugar level in our grapes of 20 will convert to just short of 11% alcohol. In a region such as California, with their big reds, where their grapes may exceed 30 brix when they harvest, this converts to an excess of 15% alcohol. Some wine in California even goes through a de-ethanization process to reduce the amount of alcohol.
In some styles of wine, usually where a very high residual sugar level is desired, such as a sweet dessert wine, the natural sugars from the grape may be retained in the bottle without adding sucrose, by stopping the fermentation early. Traditionally and today in Portugual, their port wine and our port-style, uses high percentage spirit addition that stops the yeast in the fermentation process.

*fortification is the addition of a spirit while fermenting wine is still naturally high in sugar, thus halting the fermentation process by keeping the sugar levels naturally high. Our *port style dessert wine is a delicious accompaniment to dark chocolate. But don't take my word for it, come try it out for yourself! Our 40 Knots tasting room is open all year round. Come enjoy a glass of port while taking part in our Music Trivia Nights, every Saturday night at 6:00pm.
But don't take my word for this. Check out our balanced wine for yourself! We are open all year for you to come and taste these wines for yourself, or bring your friends and join us in our Music Trivia Nights, every Saturday night at 6:00 pm.
with the growing demand for natural wine, have you ever wondered what in fact it actually is? Check out my next blog post to find out!
Comments
Commenting has been turned off.