News & Blogs you want to read!
Missing out? You keep hearing about what a great time your friends had at Wine Wednesday, the new wine class they just took, how they got to taste wine before it was released, and how they bought up the last of a vintage? Don't miss out anymore. We want you in our inner group!
Welcome to the 40 Knots Vineyard & Estate Winery blogs. Here is where we will be highlighting events and news from around the winery. Keep up to date of the latest trends, the happenings of the winery, learn how we farm and make wine, and get the inside scoop of our new releases and events.
Our Bloggers
Layne Robert Craig
Janitor & Blogger

Michael Johnson
Self-proclaimed Sipster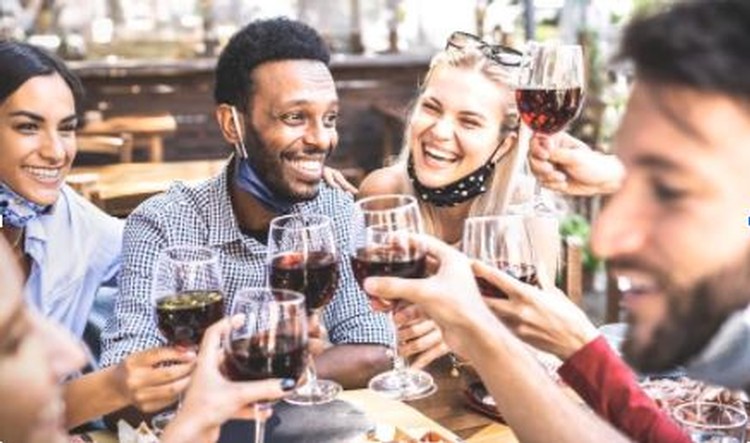 Ah, wine. Whether you're just cultivating your wine knowledge or you're a seasoned, wine-loving expert with a cornucopia of adjectives at the ready like "leathery" and "dark berry", a wine tasting party is a great way to mix up your entertaining game at home.
Wine tasting parties can be casual events, despite what visions might pop into your head when you picture an evening like this. Yes, you absolutely can go all out and rent expensive glassware, hire a sommelier, chef, and musical entertainment. Or, you can keep it casual and go potluck-style where all of your guests bring a bottle or two of wine for the group to taste. Wine tasting parties are flexible and should look and feel like the host—that's you!
The Basics
Regardless of what your personal style is, there are a few things that will make your wine tasting a success:
At least one corkscrew. Probably a few, to be safe. That way, you can have a helper open wine with you.
Good quality glassware. It not only looks pretty, but good glassware helps to bring out the best qualities in the wines you're tasting. While there are many different types of wine glasses, some great all-around options can work for all different kinds of wine. If you don't want to invest in a set of nice wine glasses, consider renting from an event company.
A decanter or two. This will allow you to decant one wine while pouring your current one for tasting. There are a lot of schools of thought from different sommeliers on how long to decant the wine for, but on the conservative end, sommeliers like Amanda McCrossin recommend no more than 25-30 minutes.
Neutral, simple palate cleansers. This should be something like water crackers or simple bread. Even things with butter or salt can distort your palate.
A bucket for getting rid of unwanted wine. Depending on your crowd, this might be considered sacrilege, but hey. Better to be safe!
Plenty of water. Make sure your guests stay hydrated.
Helpers to pour wine with you. If you have 8-10 people, it can take several minutes to make it around a room or table. Much easier with two people!
Glass charms or wine glass markers. If you're going to be mingling around, these can be handy to make sure you do not have to wash glasses every two minutes, but if you'll be seated, it's probably not necessary.
Chillers for white wines. Ensuring your wines are served at the right temperature is critical to getting a good read on them.
Pen and paper for each guest. Making tasting notes is fun and can be helpful to your guests the next time they're pondering their wine selections. Encourage them to take notes on paper and take a photo of their notes at the end of the evening, so they have it to reference on their phones.
Everyone Loves a Theme Party (Right?)
Just kidding, this isn't your eighth grade 70's themed birthday party coming back to haunt you. Choosing a theme for your wine tasting event is less to do with costumes and more about what type of wine you'll be featuring.
Here are a few ways you can narrow down what your selection will be for the evening
By region – Choose your favorite region, or hit up your local wine store and ask for an expert recommendation on where a great place to start would be based on their selection. Some great regions that will give you a lot of variety are BC Canada, California, Argentina, South Africa, Italy, and France.
By varietal – If you tend towards a specific varietal like Cabernet Sauvignon, Pinot Gris, or Gamay, go with what you love! It's always interesting to find new favorites.
By winery – Many wineries have a diverse selection that you might not necessarily know about if you get your wine from the same store each time. Check out their online selection and see what you can have shipped or ordered for you.
By value – This one is fun because it keeps things equal. Good wine isn't necessarily expensive, so offering your guests the opportunity to try wines within a reasonable price bracket gives everyone the chance to find new wines they can afford.
Old World vs. New World – Basically, the Old World refers to Europe, and New World, everywhere else. This nomenclature is considered a bit dated by some parts of the wine community, but you'll still see it used in many stores.
Potluck! – If this is your first time hosting a wine tasting event and you want to test the water, having your guests each bring a bottle is a perfect way to host while still keeping costs manageable. Plus, you get to learn your friends' taste in wine!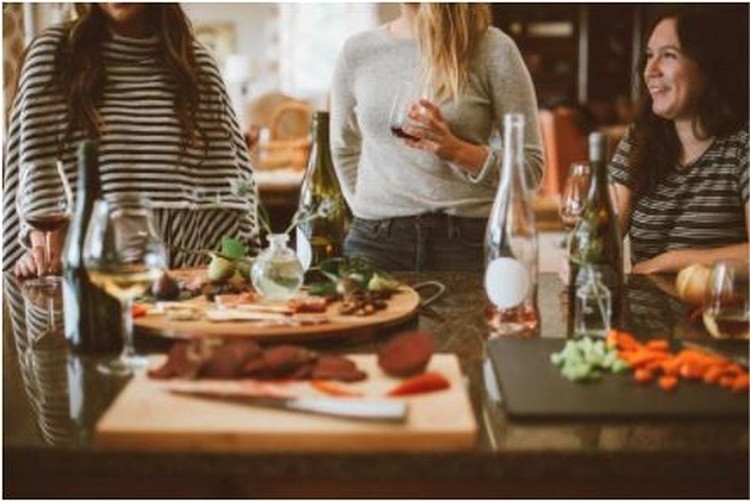 How many guests should I invite?
An ideal number is ten or fewer guests because of the amount of wine in each bottle. If you're pouring two-ounce testers, you can expect to have one bottle cover ten guests. There is some room in here for inexact pours or guests asking for a re-taste, which will happen. If you want to have more than ten guests, you'll have to prepare to double up on bottles.
How many wines should I taste?
Ideally, you'll taste five wines during your tasting party. This is enough for your guests to enjoy a variety of wines without the tasting becoming too long and cumbersome. Also, the timing of this is best at twenty-minute intervals. This way, you'll still give your guests time to mingle and chat after the tasting.
How much wine do I need?
If you're thinking of a lighter tasting, you can plan for half a bottle per person, but a more reasonable expectation will be closer to one bottle per guest.
What temperature do I serve the wine at?
Each type of wine has an ideal range for drinking that allows the characteristics of the wine to be showcased best. You can ask specifically about the wine you choose at your wine store, but generally, bubbles 40-45 degrees, whites 40-50 degrees, and reds 55-65 degrees. If you are drinking 40 Knots wine, simply check out the back label.
Should I hire a sommelier? Give 40 Knots a call. Perhaps one of our people is available, or we can recommend one that we know.
Music and Atmosphere
The music of your wine tasting party is completely customizable to your taste. Whatever genre of music you and your guests will enjoy will enhance your experience. Just because you're drinking wine doesn't mean you have to wear a tailcoat and listen to classical piano. Be yourself! That being said, your music and lighting choices should allow your guests to hold a conversation between multiple people without having to be right next to each other. You want to create an environment of sharing and discussion, so make sure it's not too loud or dark.
Food Pairing
Chances are unless you're a whiz in the kitchen, it'll be easier for you to put out small appetizers rather than have a seated meal while doing your wine tasting. But, if you're thinking of dessert wines, that can be a great way to finish a seated meal.
One of the golden rules of choosing food for wine tasting parties actually has nothing to do with the type of appetizers you pick and everything to do with the amount. Plan for more food than you think—you'll be giving your guests plenty of wine, so you want to make sure that they also have enough food to soak it up!
Call one of the experts at 40 Knots if you want some advice, or partake in the 40 Knots Perfectly Pairing Class.
Do's & Don'ts Of Hosting a Wine Tasting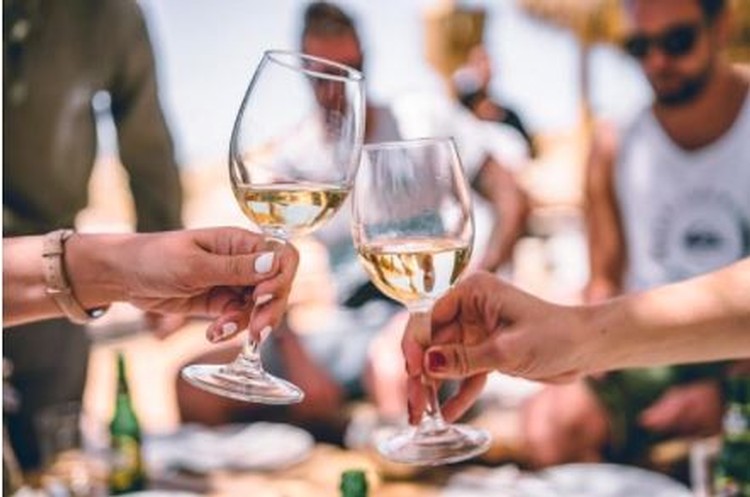 Here are three do's and don'ts to help ensure your wine tasting party is a smash hit.
Do's:
Give your guests time to mingle before the tasting. Nothing is worse than having a distracted crowd trying to catch up while you're struggling to get their attention.
Make sure you have enough glassware. You can bet that glasses will be confused or misplaced, and you'll want to have spares on hand.
Provide your guests with the info on where you got the wines from so they can purchase their favorites after.
Don'ts:
Light scented candles. The same goes for having aromatic flower arrangements. The smell is a large part of wine tasting, and you don't want anything overpowering the wine.
Rush your guests out right after you're finished. So much of a wine tasting is about the conversation! You'll want to plan to start your party early enough that when you're done with the structured tasting part, your guests have plenty of time to share their experiences.
Choose wines that are too far out of most guests' price range for your first event. We all love trying an expensive wine, but your first wine tasting party should make wine more accessible to your group.
There you go—you're all set to host a smash hit of a wine tasting. The only thing you'll have to worry about now is all of your friends asking you when the next one will be!
Originally posted on Porch.com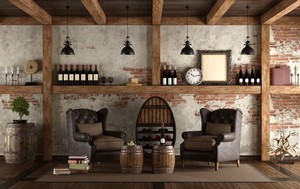 For those who appreciate a good glass of wine, having the right storage makes pouring a nice glass of vino easy. A wine cellar will provide you with a place to organize your favorite bottles for easy access and stylish organization. Before wine lovers can celebrate this new addition, it's important to decide what type of cellar you want. Whether it's a secret stash of wine under the kitchen counters or a custom wine bar, you need to pick a spot where your wine will be stored. Think about the location, functionality, and aesthetics of your new wine cellar to help you design the ultimate spot. Read on for some tips that will help you create the perfect wine cellar at home.
Location and Other Considerations
Once you decide that a wine cellar is right for you, there are a few key things to consider. First, think about the location of your wine cellar and how much space it will take up in your home. If you have a basement, this can be a perfect spot for a new wine cellar. If you're limited on space, you'll need to find a designated part of your home where you can store a few bottles. A separate part of your kitchen can be a perfect place for a small wine cellar. You can even use the space under a staircase for unique wine storage. Make sure you take the location into consideration and choose the coolest area of your home or an area with higher levels of humidity. If the new wine cellar will be a major addition to your home, take the scope of the project into account. If you're adding onto your home, think about structural changes like installing soffits and wall studs and putting up new drywall which can be costly and time-consuming.
Things to Consider Before You Build
Once you're ready to build your wine cellar, there are a lot of crucial things to examine before you commit. Here are some key considerations to think about before you start designing your new cellar:
How will you use the wine cellar? Will it be a place where you can entertain friends or just a storage space for your favorite wines? Make sure you declutter the space and clean it thoroughly before you work on adding new elements to the structure.
Understand how to store and maintain your wine properly. Without the right storage conditions, wine can go bad which means your treasured bottle of vintage red wine could be wasted.
Look into adding specific components like the right insulation, a vapor or moisture barrier, and find ways to ensure that your wine cellar has an airtight seal.
Think about the materials you plan to use for your wine cellar. Glass may look nice, but it's not a good insulator. If you have your heart set on a glass door, make sure it's double glazed or that it features an argon-filled portion between two panes to keep the room insulated. Concrete is often used for basement walls, but it will need additional insulation if you plan to store wine there. Use plywood to cover existing walls or to build new walls since it can withstand moisture better than drywall.
Invest in a good, high-quality cooling unit to keep the temperature at an optimum level. While this may cost you a bit more upfront, it's wise to invest in something high-quality to save you money in the long run. Basements tend to be extremely hot without the right cooling equipment in place.
You can build your own custom wine rack or choose a prebuilt rack that will accommodate your desired number of bottles.
Wine bottles come in a variety of shapes and sizes, so don't forget to install racks or shelving that are adjustable or that feature different designs to fit different bottles.
Make sure you plan your budget in advance and try not to go over your limit. Talk to several contractors and get a few estimates if you don't think you can stay within your budget by doing things DIY.
Maintaining Your Wine Cellar
While you definitely want your new wine cellar to look fabulous with some chic décor, it's also important that you maintain it, so your bottles of wine remain in good condition. Here are some tips to ensure that your wine cellar is taken care of the right way:
The temperature and humidity levels need to be consistent for wine to stay fresh, so invest in a good digital thermometer and hygrometer. A hygrometer reads the humidity levels in the air to help you monitor the conditions in your wine cellar. Look for new products that feature wireless capabilities so you can check the status of your wine cellar from your phone.
Keep your wine cellar clean, and don't let dust accumulate on the bottles. If a bottle breaks or something spills, clean it up immediately to prevent pests from making your wine cellar their home.
Install some soft lighting in your wine cellar so you can see everything clearly. Recessed lighting is a good choice for basements since they won't take up too much space. Choose lightbulbs that emit a soft, warm light and avoid harsh ultra-bright lights that could compromise the integrity and flavor of your wine. LED lights are a good option since they don't produce a lot of heat.
If possible, choose an area of your home that doesn't have direct sunlight. If your wine cellar has windows, make sure you cover them with a good set of blinds or some quality room darkening curtains.
Wine Storage Guide
Maintaining your wine cellar is important, but you also want to make sure that your wine is stored properly.
If wine is exposed to sunlight, the amino acids can oxidize and change the flavor. Keep your wine in a cool, dark place out of direct sunlight and away from fluorescent lights. White wine is especially vulnerable to sunlight since most wineries bottle it in clear glass. Smell your wine when you open it and look for any unpleasant smells which could mean that it has already become oxidized.
Store wine bottles with corks on their side instead of upright. This will slow down the oxidation process and keep the cork moist, so it doesn't rot or fall apart. You can store twist-top bottles upright, but ideally, all wine should be laid in racks horizontally.
Once you open a bottle of wine, it doesn't typically last more than a week. White wine and rose can last about five to seven days in the fridge if it's re-corked. Red wine should last about three to five days if you replace the cork and store it in a cool, dark place.
You may be surprised to learn that wine can actually absorb strong odors. If wine is exposed to things like onions or even the trash can in your kitchen, those odors can permeate the cork and get into the wine over time. Avoid exposing your wine to strong odors by keeping it separated from everything else in your home. Adding a door with an airtight seal will help to keep unpleasant odors from seeping into your wine cellar.
Your wine racks can be made of anything you like including solid wood or metal. It's easy to make DIY wine racks yourself if you want to save money. You can even choose your favorite type of wood and finish it in your desired color for a custom look. Just make sure you make enough racks to hold plenty of bottles with room to spare.
Store and Care for Your Wine in Style
A custom wine cellar is a great way to keep your wine safely stored. Look for some unique inspiration online to add décor and lighting to this space, especially if you plan to use it for entertaining or tastings. You can create your wine cellar DIY or hire a contractor if you're planning to make major changes to your home. If you're just choosing a small space like an area under a staircase, creating your own wine cellar DIY should be a fairly easy process. Make sure you follow these tips about how to store your wine properly so that it lasts for many years until you're ready to open it.
Creating a custom wine cellar in your home is a great way to enjoy your favorite bottles of wine while keeping them protected. Look for unique design ideas and inspiration that will help you add a personal touch to your storage space. Keep wine bottles out of direct sunlight and check the air temperature and humidity levels to ensure they're always at a consistent level. With these simple tips, your new wine cellar is sure to be the envy of the neighborhood.

Grape Vine and Fruit Tree Pruning
The ideal time for Grape Vine and Fruit Tree Pruning is when they are dormant, to give them their best chance at. producing for you. What you do this winter will affect your fruit yield for the next two years.
At 40 Knots, we listen to our customers. Our service goes beyond serving a glass of wine. We are proponents for traditional responsible farming, and nothing gets us more excited than chatting with a fellow farmer. Whether you own a backyard or many acres, we love to help. Farming is our passion. Caring for the environment and leaving it better than what we found it, is in our blood.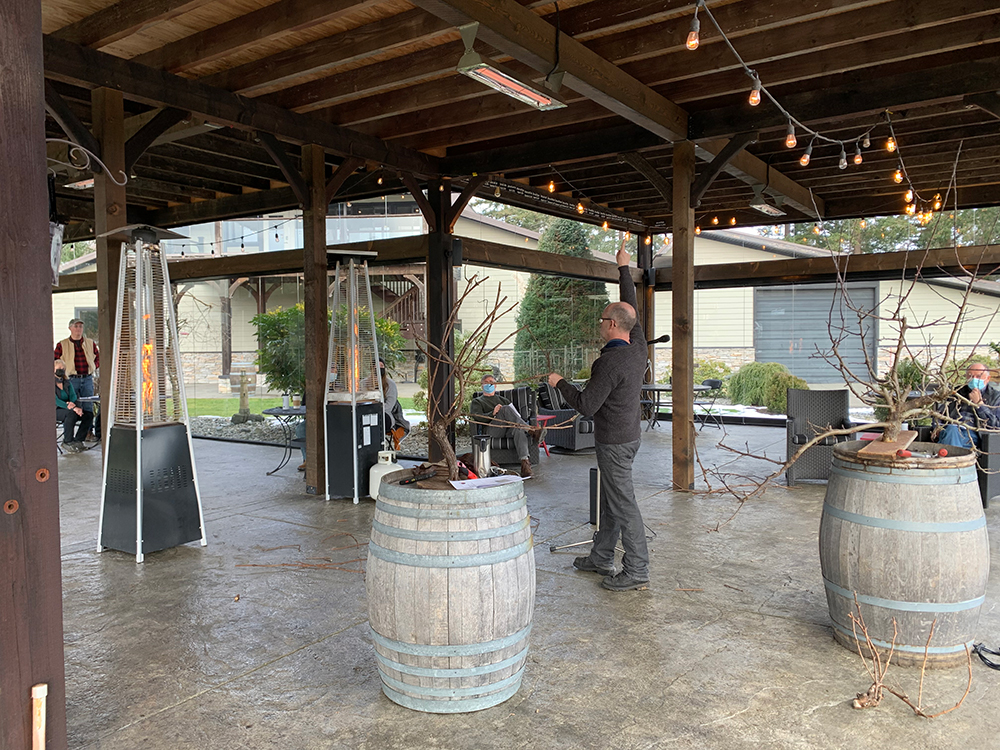 A few years ago, we started delivering free workshops to those in our community. With a Viticulturist and Aborist on staff, you are in great hands. I think we have a total of about 120 years of experience in our small Crew. Our workshop leaves you feeling confident. And we leave feeling great about our contribution to farming on Vancouver Island. We love hearing from those that attended about their great harvest and increase in yields and quality of fruit.
If you missed our annual workshop, here are a few Cole's notes:
Fact: No fruit grows on old wood. If you want more fruit, you need to prune.
Fact: A vigorous grapevine can produce 150-200 feet of linear new growth a year.
Fact: Pruning is best when trees and vines are dormant. In Vancouver Island, it is usually after Christmas.
Fact: To prepare for dormancy ensure you supply food and water to protect
Safety Equipment: Buddy up if you are needing to use a ladder. Always wear gloves, eye protection, and proper footwear.
Tools: Use sharp tools and if you notice any disease, use peroxide to disinfect your tools before moving to another branch or vine. You can actually pass disease if you don't do this.
Design: Choose a design, and don't be scared. Especially with vines. In some countries, they are considered a weed and they are very resilient. You can find many designs on the internet. I would list them all here, but it is a blog after all.
Age: Young trees should be at least 3 years old before pruning.
Canopy: Consider that you will need sunlight and protection, and this is where canopy management comes in. You will be a good balance of vegetative growth to ripen the crop yet sufficient fruitful buds to provide adequate yield.
Suckers and Dead Wood: Always remove suckers and deadwood. If there is only one thing you do for your trees and vines, this is the one.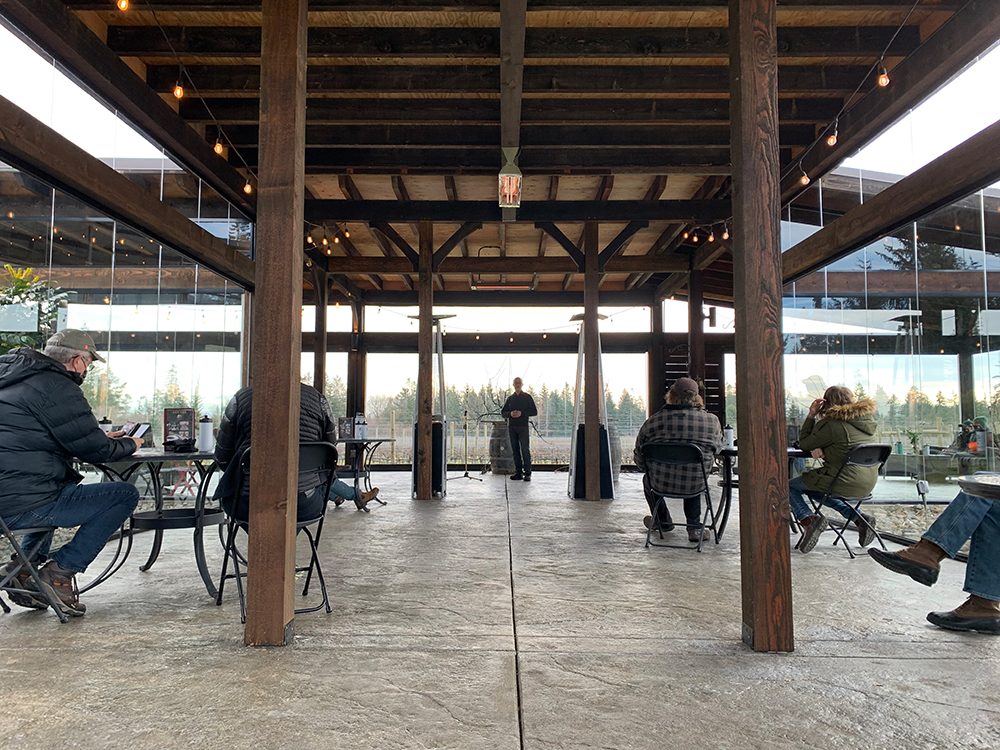 Meet Andy on Youtube as he explains apple tree pruning:
Sign up to 40 Knots newsletter HERE so you are the first person to hear about any community workshops.
Sign up to be a 40 Knots Farmer during our harvest HERE.


This is a big, big topic. And we are not experts. But we do know, that we have choices. 2020 has taught us many things. We consume less, we buy what we need, and we buy Local first. When purchasing, we consider the carbon footprint of the goods. (What is the impact on those plastic forks shipped here from a factory in China?)
What does it mean to be Net-Zero? There is a lot of information out there. We chose to be a Gold Certified member of Green Step Tourism for their guidance and because of their very tough certification process, which assists us to be continuously diligent. We are not experts, but we like what we have experienced since becoming members in 2016.
And we continue to research and learn. I came across this blog. Sadly, I don't see Canada mentioned.
And then I found a calculator! Right or wrong, I used this one. I was super happy to see how low my carbon (paw) footprint was but was shocked to see how high our country's carbon footprint was.
If 2020 showed us anything, it showed how we could use less and use smarter.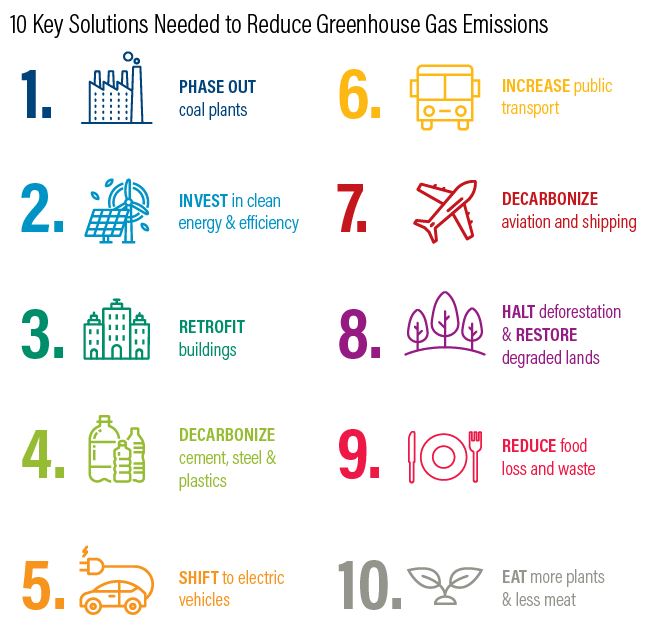 And so in 2021, I commit to doing my part.
I Declare a Climate Emergency
40 Knots Winery has signed up to Tourism Declares, an initiative that supports tourism businesses, organizations, and individuals in declaring a climate emergency and taking purposeful action to reduce their carbon emissions as per the advice from The Intergovernmental Panel on Climate Change (IPCC) to cut global carbon emissions to 55% below 2017 levels by 2030.
Like all signatories, we have committed to the following five actions:
1. Develop a 'Climate Emergency Plan' within the next 12 months, which sets out our intentions to reduce carbon emissions over the next decade.
2. Share an initial public declaration of our 'Climate Emergency Plan', and update on progress each year.
3. Accept current IPCC advice stating the need to cut global carbon emissions to 55% below 2017 levels by 2030 in order to keep the planet within 1.5 degrees of warming. We'll ensure our 'Climate Emergency Plan' represents actions designed to achieve this as a minimum, through delivering transparent, measurable, and increasing reductions in the total carbon emissions per customer arising from our operations and the travel services sold by us.
4. Encourage our suppliers and partners to make the same declaration; sharing best practice amongst peers; and actively participate in the Tourism Declares community
5. Advocate for change. We recognize the need for system change across the industry to accelerate a just transition towards carbon-free tourism.
The Crew at 40 Knots Winery
Are you a Tourism Business? Join us HERE

Becoming a Sipster vol. 4
Hello my friends, greetings, and salutations to you all on this auspicious day. The seasons, they are a-changing. Usually, I'd follow up with "where has the time gone?" or "this year is flying by" but that would be a big fat lie. It has been a long year for all of us and it's not over yet. In fact for us at 40 Knots the year is only ramping up. This sipster is pumped for harvest time!
This will be my first harvest so I am looking forward to really getting into it and learning as much as I can. By the time harvest is over I hope to have a few stories for volume 5 but first I need to get out there! I've been told it is hard yet rewarding work. Equal parts toil and celebration. So it's pretty much just like the rest of life. And like life, you don't always get what you want, but if you try, sometimes you might just get what you need. Okay, I stole that from the Stones but the sentiment is true. You don't always get what you want when it comes to harvest. Something all farmers know and the rest of us take for granted is that you can do everything right and still not get the harvest you want. Mother nature is a fickle mistress. Weather, bugs, gremlins, all manner of forces conspiring to decimate the fruits of our labor. Time itself is against us! In the face of such insurmountable odds, it would be easy to give up yet we perceiver. Our wine, our time, it's all worth it. Because someday very soon we will have all the turkey and drink we want! We will give cheers and celebrate this...interesting year.
Whether its growing grapes, raising a family, or working in an office, we might not always get the reward we expect for the amount of time we put in. But if we are present and we really try, I think you will find, you might just get what you need.
Speaking of not always getting what I want but definitely getting what I need my wife Alana has agreed to help me with a wine tasting tonight!
Mike: "Hey, thanks for helping me with this tasting tonight, first off what are we drinking, I meant 'tasting'?"
Alana: "This is our 2019 White Seas. Literally the fruits of our labor in one bottle."
Mike: "Literally how?"
Alana: "Well, when you pour a glass of White Seas your sampling a blend of six of our very own varietals grown right here on the farm. You're experiencing our biodynamic farming methods, our terroir, and our climate. White Seas is a beautiful representation of 40 Knots as a whole. It says a lot about us."
Mike: "Soooo now we drink?"
Alana: "No first we look." Alana tilts the glass at 45 degrees above the white table cloth. "What do you see?"
Mike: Mimics Alana. "What do you see first?"
Alana: "I see a pale gold horseshoe. It's clear in the center and gold around the outside."
Mike: "Oh I see it! Now we taste?"
Alana: "No, we smell." Alana swirls the wine glass and inhales the bouquet with her dominate nose hole(she means nostril)
Mike: Mimics Alana "I smell fruit and rain!"
A: "That's a good way to explain it, the fruit is coming from the varying characteristics of each varietal. The rain...minerality from our glacier tilled soil."
M: "Seen it smelt it, now can we have a taste?"
A: "Yes."
M: Takes a sip makes an obnoxious slurping sound.
A: "How does it feel on your palate?"
M: "Like little bubbles maybe?"
A: "That's the effervescence from our bottling process. (CO2?)
M: "Interesting, what else?"
A: "Try this, take a good sip swirl it around then tilt your head forward. Pay attention to your saliva glands. This is a good way to taste the acidity or lack thereof. My mom taught me that."
M: Follows instructions, drools saliva on leg. "So is that a good thing?"
A: "Yes! We are fortunate to have a cooler climate which means higher acidity. Which makes it easier to balance the wines acid and sucrose levels." (FACT CHECK) What else do you taste?
M: "I guess maybe some apple, like a tart granny smith apple. But at the same time kind of peachy?"
A: "Tropical fruit, tart lemon, spice. The spice comes from the pinot noir. Juices pressed off the skins. Add spice to the finish. Similar to Gewurtztraminer."
M: "Gesundheit!"
A: "Very funny. It might seem like a lot but its really about each person's own palate and enjoyment. There isn't really any right or wrong answer, do you like it or don't you?"
M: "I love it actually. I love you and thanks for trying to teach me a few things about White Seas!"
I thank you for reading this, we encourage you to pick up a bottle of White Seas and taste for yourselves. Maybe you agree maybe you have another opinion. Share it with us and my wife will be happy to argue...with anyone...anytime...anywhere.

Welcome back, friends! This is Part 3 of my ongoing foray into grape life as a self-proclaimedSipster. It has been a tough few months for all of us, yet here we are and I am very thankful. I'm thankful for health and safety of our friends and families. I'm thankful that I was able to continue to work this whole time. I am thankful to all the frontline workers who had our backs throughout! I'm sending a huge shout out to everyone who donated community cups. It was a pleasure delivering them to the R.C.M.P. officers, the Comox by-law offers and the hospital and ambulance essential workers. A lot of love was shared over the past several months and I think it was the positivity and support that floated us through. I know that we as a local business couldn't have done it without all the local support and the support of our wine club members everywhere. Thank you!

Some things have changed, there were hoops to jump... I mean regulations to follow in order to re-open safely. All the extra steps have slowed some of the services but increased the safety of our customers and staff exponentially. So I'd say it's a fair trade. I wanted "Slow and in control helps keep the corona low!" on our chalkboard but I couldn't sell it. I'll work on some more slogans.
What I think is most important now, is that we can celebrate again. Wine Wednesdays are back, our employees are back and the tasting room is opened! In fact, one of the good things to come of all of this was the new format for tastings. My wife Alana says the tastings have become more intimate with more storytime and more sharing. More leisurely like wine should be.

Sounds nice right? I wouldn't know. I've been sweating away in the vineyard here as well as the vines on Quadra! Yes, we are farming another vineyard on Quadra island, complete with an apple orchard. As well we are farming another orchard to the south of us. Rumour has it we might be dabbling in some traditional sparkling apple wine. But first I have to get through harvest.
If you haven't been out to the winery lately, our vines are growing like crazy. I'll add some pictures for you of both vineyards and see if you can guess which is which. The toiling is paying dividends because we got little baby grapes or "bapes" peeking out everywhere.

I keep meaning to do a smoldering exposé on how we make our traditional Brut and Soleil Rose but I'm always playing catch up with so much stuff going on! I do want to give a shout out to the amazing people who were on the bottling line the past couple of weeks, we couldn't do it without you and I had fun popping all those bottles. I can't express enough how much support and dedication it takes to keep a winery as large as 40 Knots going. It literally takes a whole community. That's why I'm so proud when we are able to give back. The donations to our frontline workers or Agriculture for Autism initiative Brenda and Layne have been involved in for six years or the open vocal support of our LGBTQ community, I'm going to put an, etc here because I could go on and on but that's what being part of a community is. I for one am proud of our not so little farm. We are cultivating grapes and love. Come by and visit soon, bring your whole family.

Becoming a Sipster Vol.2
Everything changes.
This was my mantra while I was trying to figure out how to write Volume 2 of becoming a Sipster. I am now reconciling the person I have become, with the one I was, when I started the first blog. I had some grandiose ideas back then. I had a planned trajectory for how this series of little stories would transpire. There have been at least four months between Sipster Volume 1 and now. I have learned much more about the art of winemaking and the joy of sustainable farming.
Everything changes.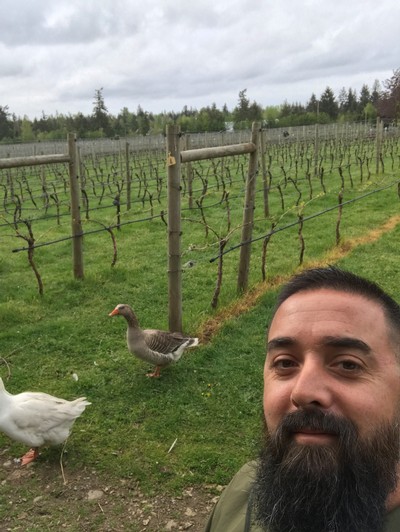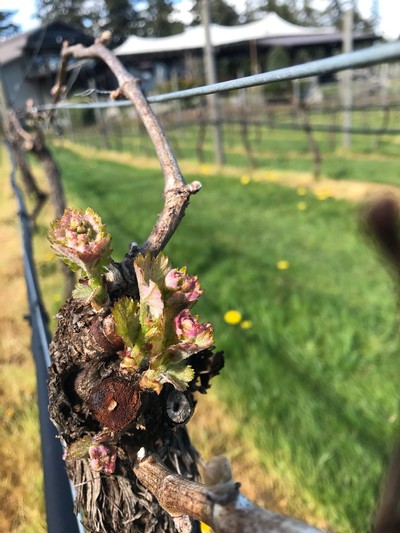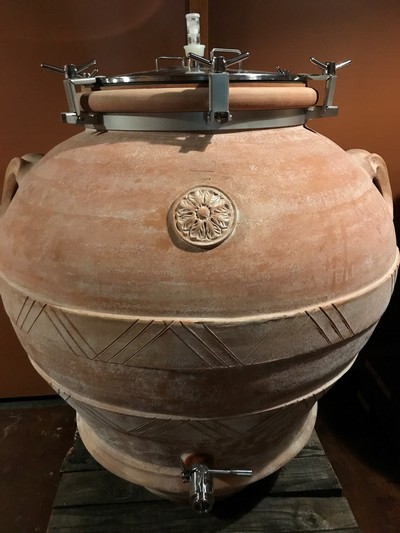 A lot of parallels can be made between life and wine. I'm sure better writers than me can really wax-poetic about the life cycle of grapes and how it symbolizes the life of a human being. But that's cheese and I'm not in the cheese-making business. Although as a side note Natural Pastures are true artisans. I digress.
A lot of parallels can be made between life and grapes. Both are subjected to mother-nature and both have some of their own control. At the same time, they differ on the most fundamental level. Making wine is structured, carefully planned, and well thought out, followed by concise execution. Life is chaos with many more effects beyond our control.
As I drive through the vineyard on my repurposed golf cart, hauling organics to the compost pile, I marvel at the rows upon rows of precisely pruned vines. Their twin cordons just now sprouting little fuzzy buds at almost the exact time they did last year and the year before that. The symmetry of the careful spacing and design matched by the symmetry of their growth from all the years they existed on our land at 40 Knots. It's beautiful and their wonder isn't lost on me. There is something pure about all those acres teeming with new life. I am beginning to understand their life cycles, and how to support them through what Layne is teaching me. I can honestly say I learn something new every day.
Winemaking seems daunting. Foremost is the time it takes. Some of our wines have been in aging for years. And wine does not just lay around, many exciting things are happening in their vessel. Back before I even started at 40 Knots, those vines had been pruned, the grapes were harvested, crushed, filtered, and gently set to rest, year after year.
I sampled the Pinot Noir 2018 from amphora yesterday and it filled me with appreciation. This ambrosia had started its life as little fuzzy buds years ago and now it was in my glass. Soon it will be in bottles so that you may experience it in your glass. As you sip, I encourage you to think of this cycle and the history that this wine has experienced.
As I sip this history, I think about how everything changes. In a few short months, how uncertain things became. All the while this wine from out of time has just been doing its thing, impervious to the chaos of our lives.
"Clean ethical wines are our promise. Great wines are not made in the tank and the barrel. Great wines come from the vineyard." I now understand why Layne believes this. You have to believe in the product you put into those tanks, barrels, or amphoras. It will be months to years before you know the result. More important than belief is knowledge, it's not enough to throw it all together and hope for the best. That's where best practice and tradition comes in. Wine has been around for thousands of years and by studying the best practices of other countries and other winemakers, we can stand on the backs of giants and make a great wine that's rooted in tradition yet uniquely ours. Even so, I suppose it's not always perfect. Sometimes a batch doesn't turn out the way you expect it.
Then there are all the times that bottle of vino exceeds our expectations. We come together as friends and family around the dinner table to share what man and nature have created together. Upon looking around the table, we understand that man and nature have also created energy and love around the table. Yes, we have experienced lesser wines and lesser moments. All the more reason to celebrate finer wines and special moments.
Everything changes.

My Quest to Become a "Sipster."
Chapter 1: Two Types of Wine.
Not long ago I thought there were only two types of wine, expensive and cheap. Even the color made little difference to me when I was expected to grab a bottle for some dinner or another at a friend's place. I picked one that was in the middle of the road for pricing and hoped for the best. If someone at dinner recognized it and paid it a compliment, then I would take credit for the choice. If they complained I said that the person at the liquor store recommended it. So it went for many a year, buying wines at random, sometimes winning sometimes losing. I had no emotional stake in wine whatsoever. Back then I valued alcohol quantity over quality. A 24 of beer could be purchased for the same price as single bottle of wine. Economical!
Then in 2014 my mother and father in law bought a winery. Out of nowhere two very influential people, renowned in their professions, gave their notice then sold their assets in Fort St. John BC to buy a winery on Vancouver Island! You can't make this stuff up. Needless to say, my wife Alana was a little excited at the prospect. I seen in her eyes the reflection of vines and waves, the spark of a dream she hadn't dared dream but was now a possible reality. Suddenly I was being sent to the liquor store with concise instructions. Words like 'pairing' and 'pinot something or other' were becoming relevant to what I was purchasing. Yet I held firm, I was a bearded beer drinking man from the wild Canadian west and wine was fancy people drink.
The years passed as they tend to do and I found myself being forced to try more wine in order to be polite. I watched with feigned interest as they swirled their glasses then gingerly sniffed at what they called aroma or made comments about the clarity. "When in Rome" I thought as I copied them in order to fit in. It was a farce at first then suddenly out of nowhere I was pleasantly punched in the palate by Layne's Pinot Noir, 2014 I believe. I couldn't begin to quantify it. Like when I was a young lad and saw Michelle Pfeiffer as Catwoman for the first time, something fundamental that I didn't yet understand changed inside of me. A veil fell from my eyes and I was rocked by the first of many startling revelations, people didn't just drink wine to get drunk, it could taste good! Not only that but it could be used to enhance the taste of my food or the light of a sunset. I felt like I had been holding my golf club the wrong way all these years and was suddenly able to mitigate my slice. A wind from the west coast had blown clear a hidden path and to my chagrin I truly wanted to follow it.
So my quest for ambrosia began and fortunately for me I had a head start. If you haven't yet guessed my in laws Brenda and Layne purchased 40 Knots winery and I can attest it has been a true labour of love for them. My wife Alana began spending summers at the winery helping and before long we were moving to the coast. I signed on full time December 2019 and will never look back. Everyday I learn a little more of the style and science it takes to craft fine wine and its as interesting as it is tasty. I had been missing out and I don't want any of you to make the same mistake. Therefore, I am reaching out to all my brothers and sisters who may harbour a booze bias. Like you I love beer & whiskey, I've just learned that wine offers different yet equally enjoyable experience. Wine is a potent potion of love or enchanting flavour enhancer for dinner when selected correctly. It's something you should equip in your arsenal for 2020 ladies and gents.
In closing allow me to give you this parting advice. If you think wine is something fancy for 'other' people, then like me you just haven't had the proper experience. It can be as accessible or extravagant as you desire. It might also be daunting when you are just starting out, so I recommend taking the easy way like I did and learning from people who are not only knowledgeable but passionate about their product. Take the first step by coming in to 40 Knots for a free tasting. You have nothing to lose and you might just be surprised.
Tell them Mike sent you or ask for me personally, I'll be the guy with the big black beard smiling because when you love what you do, you never really work a day in your life…maybe leave that part out if you talk to my boss.
Stay tuned for Chapter 2: Riddle Me This!
A bit of History
Gamay Noir a Jus Blanc originates back to the 1300s, with first traces found out of the Burgundy region of France. Its DNA shows that it is indeed a descendant of the Pinot Noir noble grape.
After the Gamay grape revived the Burgundy economy during the Black Death Plague, The Duke of Burgundy "Philip the Bold", banned its production in the 1300s, citing that Pinot Noir was a more elegant and sophisticated choice. This forced the migration of Gamay to the southern French region of Beaujolais.
In the 1980s, Gamay Noir was center-stage as producers and growers alike reveled in the demand for Beaujolais Nouveau wine's, and held parties to celebrate the young wine before aging. If you haven't taken in a Beaujolais Nouveau celebration, watch for the release on the third Thursday in November every year.
Nowadays, most plantings are found in Beaujolais and the Loire valley with remnants remaining in Burgundy. In Canada, it can be found in Prince Edward County, the Niagara Peninsula, The Okanagan Valley and here on Vancouver Island.
Gamay is gaining respect and interest as a serious wine. Styles vary across wine regions in the world, as well as flavors. Some are kept in stainless steel and some are oaked. Warmer climate regions tend to produce Gamay Noir with bubblegum and cotton candy notes whereas cooler climates like ours offer a tart, red fruit component.
40 Knots Gamay
40 Knots grows the Gamay clone 509. This rootstock was purchased from France in 2007 and 2008. Although there are currently 38 Gamay clones in France, this particular 509 clone is known to produce more full-bodied, balanced and aromatic wine that some other Gamay clones. It thrives in cool climate regions like ours here in the Comox Valley, has large clusters, and is a bit less fussy to grow than Pinot Noir.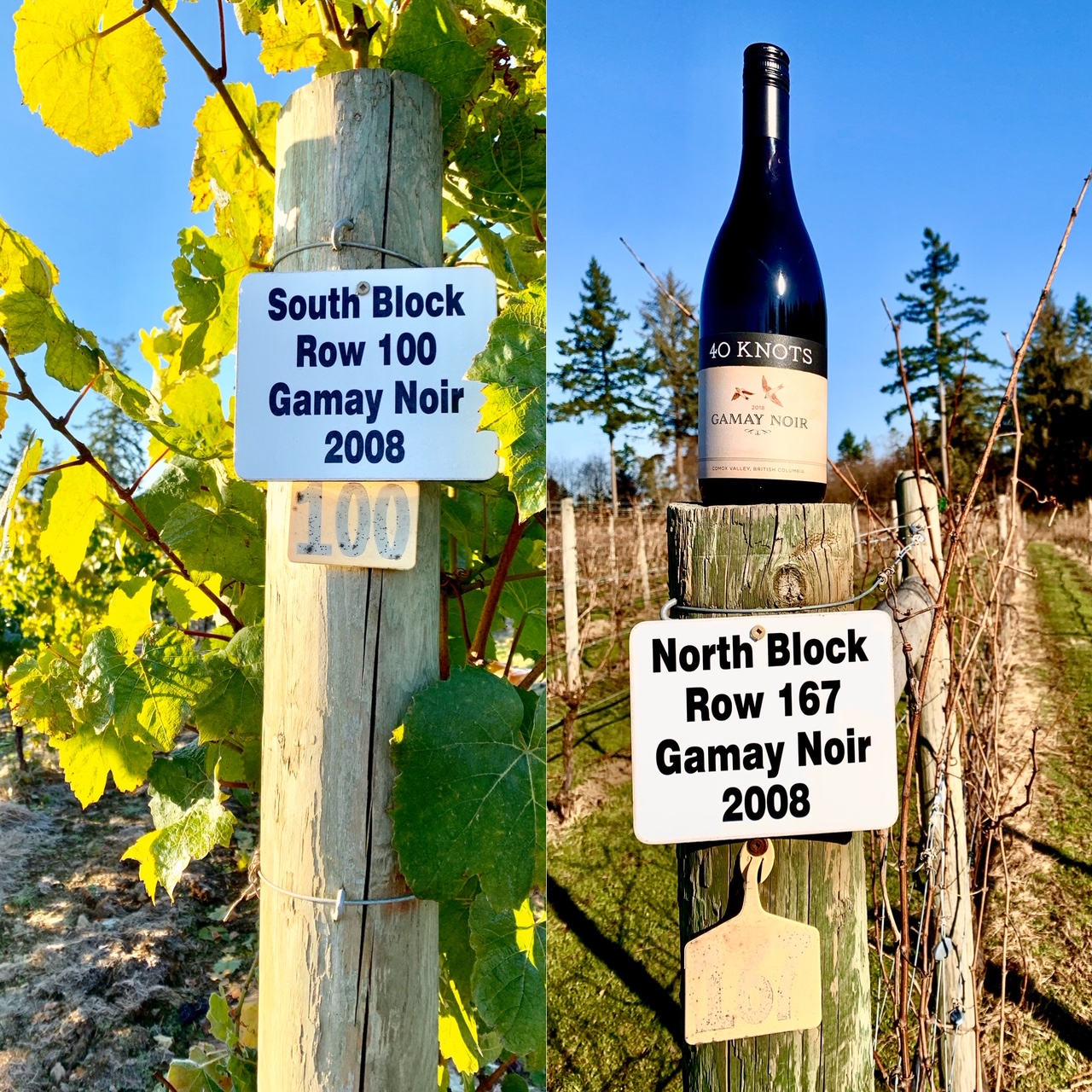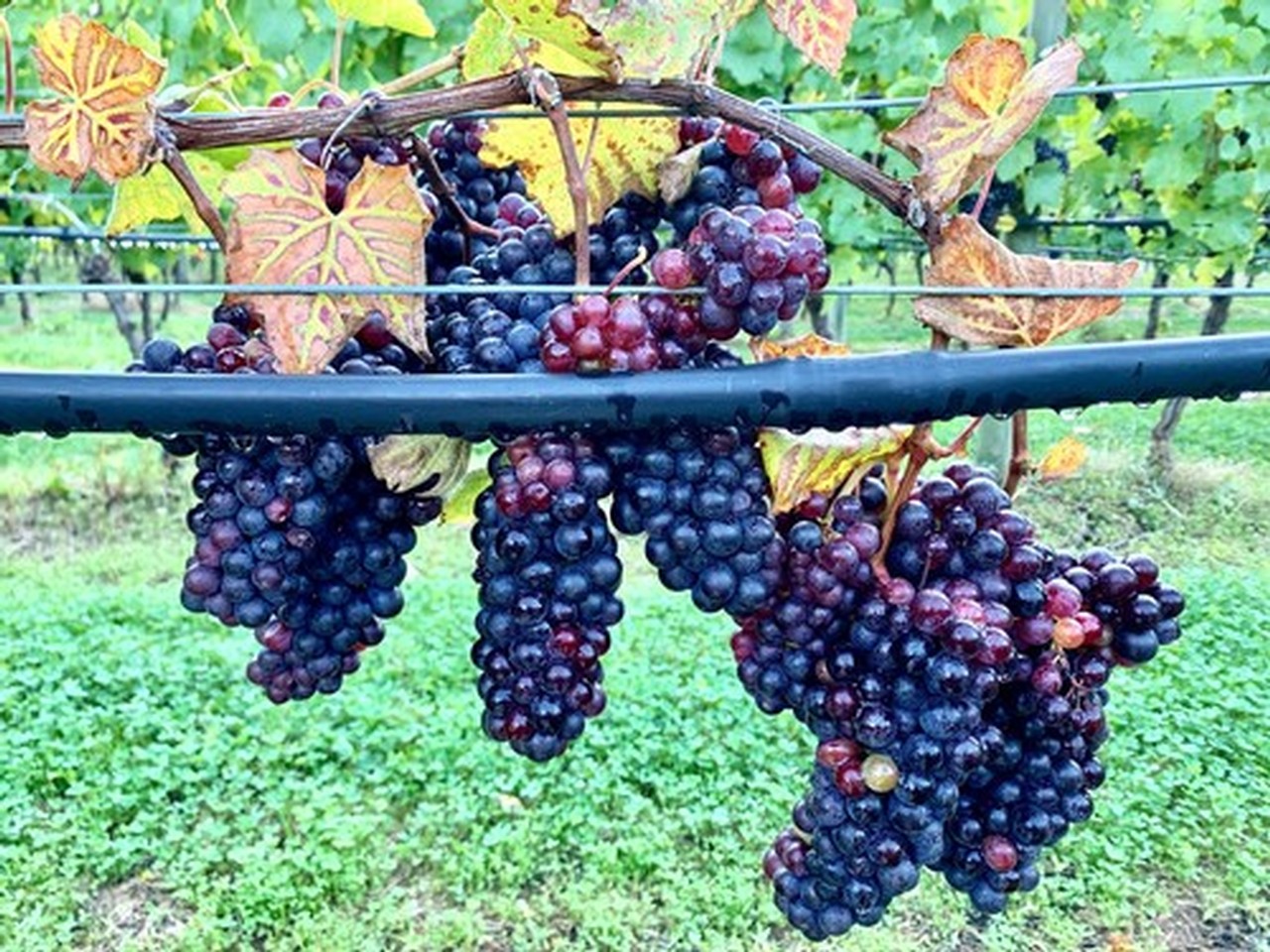 thick, juicy Gamay Noir grape clusters from the 40 Knots 2019 harvest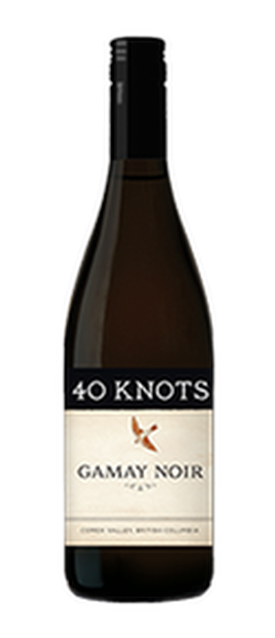 This elegant Gamay is harvested from September to October. The first fermentation is in stainless steel and then moved to neutral Burgundy oak barrels, where the wine continues to soften and age, until bottling between June and August.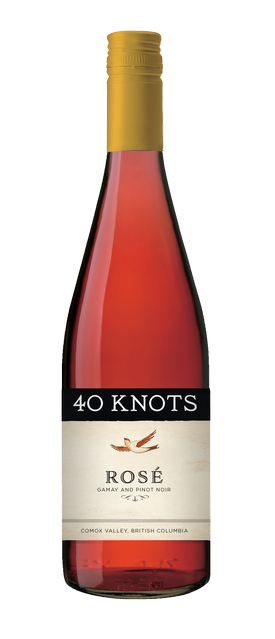 Our traditional Rosé is made of Gamay and Pinot Noir co-fermented in stainless steel. This beautiful Rosé is dry and bursting with flavors, perfect for the barbecue, brunch or sipping with friends.
At the 40 Knots cellar door, the newly released 2018 vintage has a hint of spice on the finish, something not seen in previous years. Boasting naturally acidity and uncomplicated notes of raspberry, sour cherry, and white pepper, this rustic wine is perfectly paired with a wide variety of dishes, including roast turkey and salmon and is served best with a light chill. If you like red wine but don't enjoy heavy oak and harsh tannins, this wine is most certainly for you!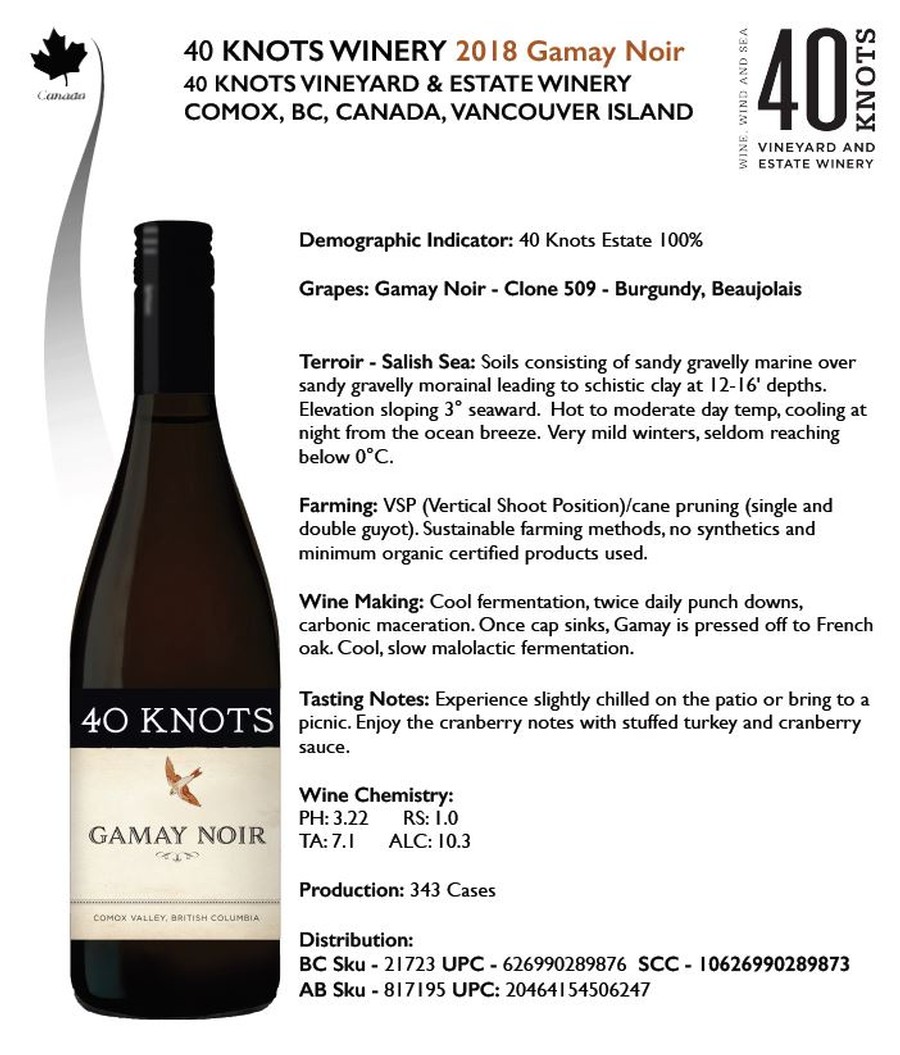 With the crocus's emerging, we wait indoors and anticipate warmer days and longer daylight hours. Now is the time to trim back our 40 Knots vines in preparation for the Spring budburst! There are numerous styles of vine pruning that suit many different regions. The vineyard layout, climate and soil composition will help determine the appropriate method for proper vineyard structure.

Cane Pruning
Cane pruning is the main style found in the 40 Knots vineyard. This is the best option for #cooler climate regions with minimal growth left out in the elements and reduces the opportunity for negative effects of cold winter weather. A selection of last year's strongest canes will replace growth from the year before with one cane left on either side of the crown of the vine. In most cases, it is important to leave a couple of canes on either side as insurance against the cold. This insurance vine can be cut back in the Spring when there is no more threat of frost damage.

Depending on the location and the climate, pruning one or two weeks later could potentially push budburst later into Spring. This is especially helpful for cooler climate regions where the exposure of late frost is a strong likelihood.
---
In some parts of the world, vines are considered weeds- they are incredibly hardy and can withstand up to -28°C degree temperatures with roots shooting down 15-20 feet. Good news for you backyard growers concerned about making a wrong move!
---
With the pruning complete and more that ¾'s of the growth cut back, the vines will look rather bare. The cane that is left over will be tied down along the crown of the vine and to the bottom "fruiting" wire on the trellis system, with a twist tie, thin wire, or the old school way- by slowly and carefully twisting the cane to hold it into place. The canes will snap if manipulated too quickly, so patience is a virtue in this case!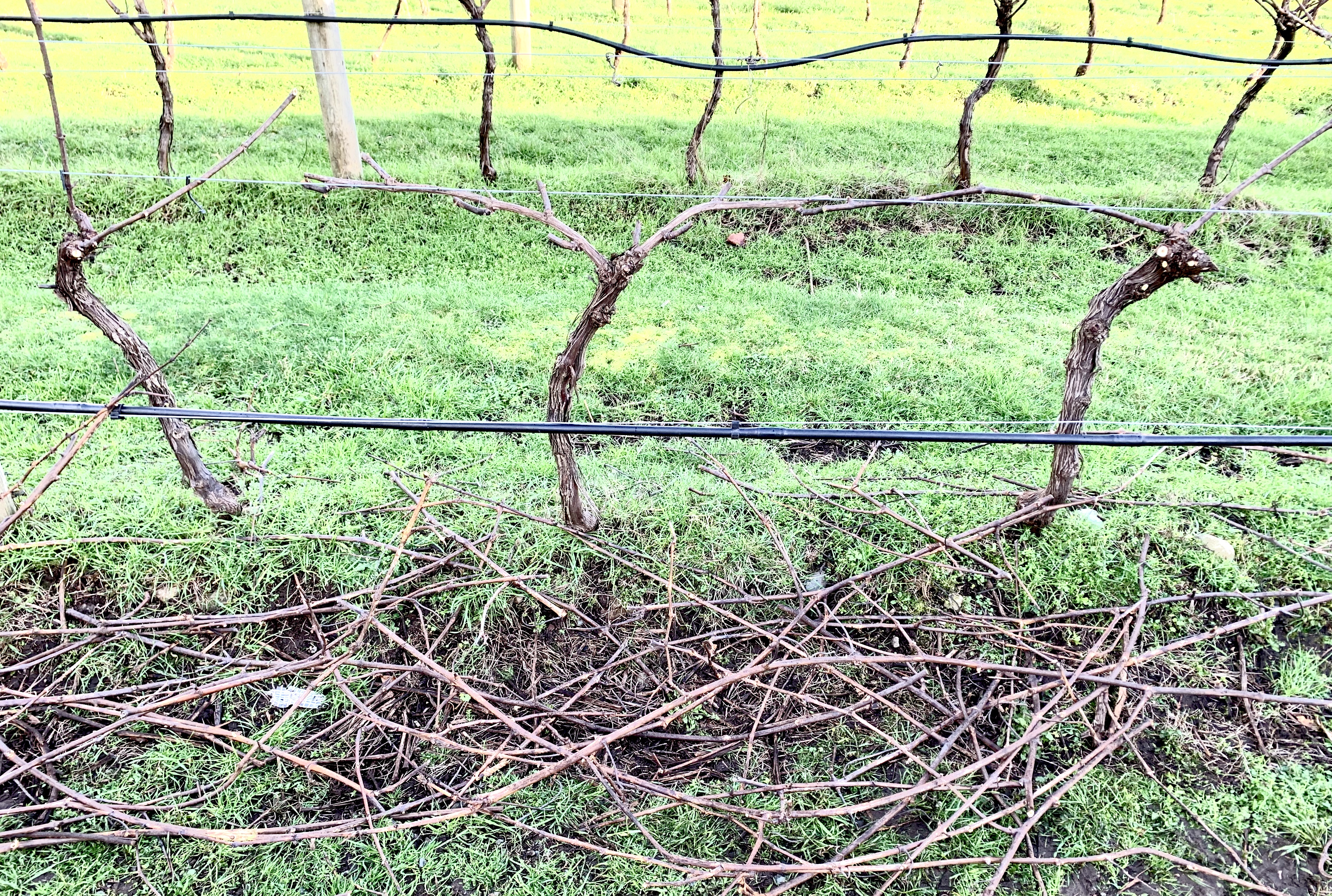 With a great turnout to our Community Pruning class here at the 40 Knots Winery, we have some informed backyard growers going home a little wiser!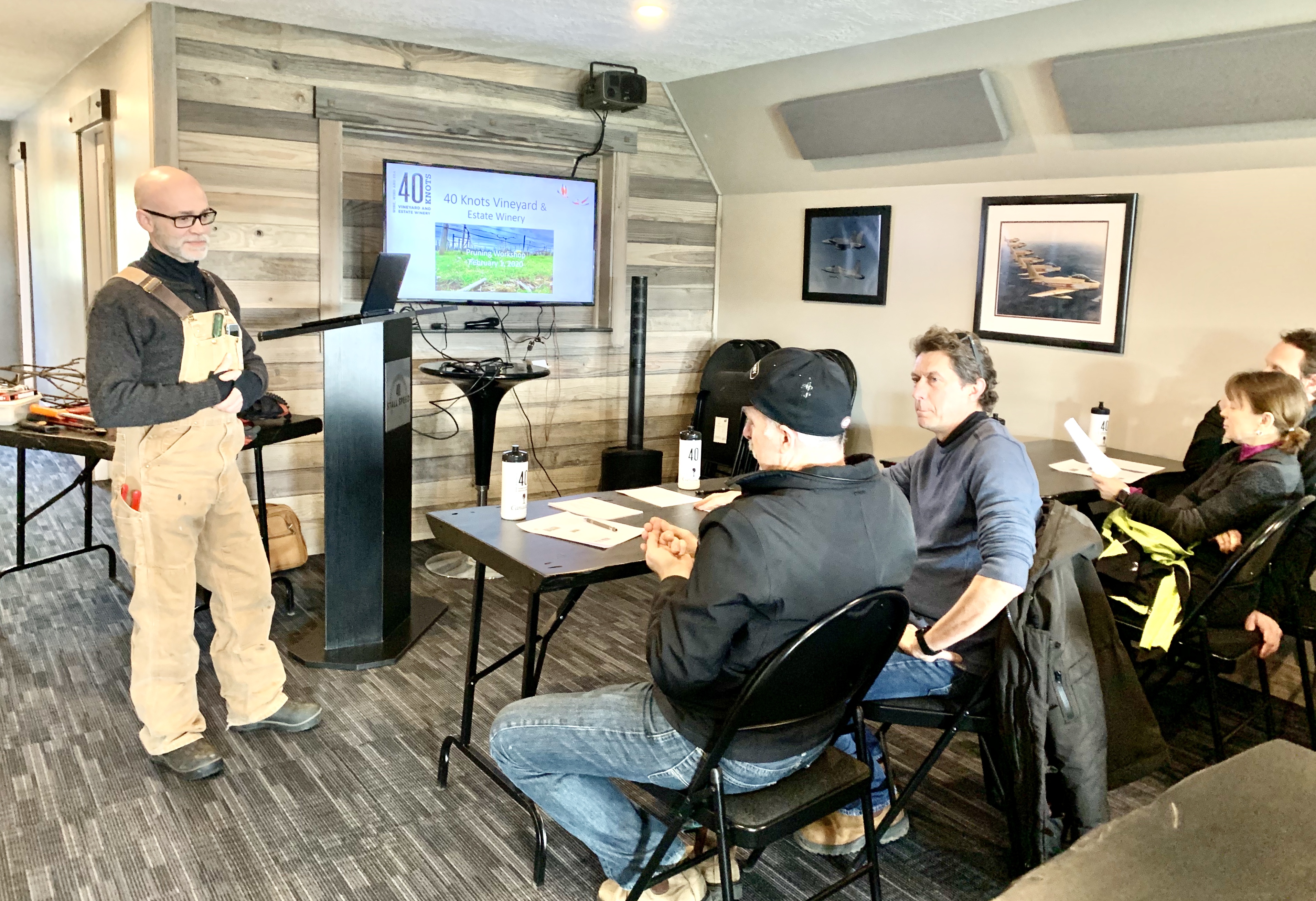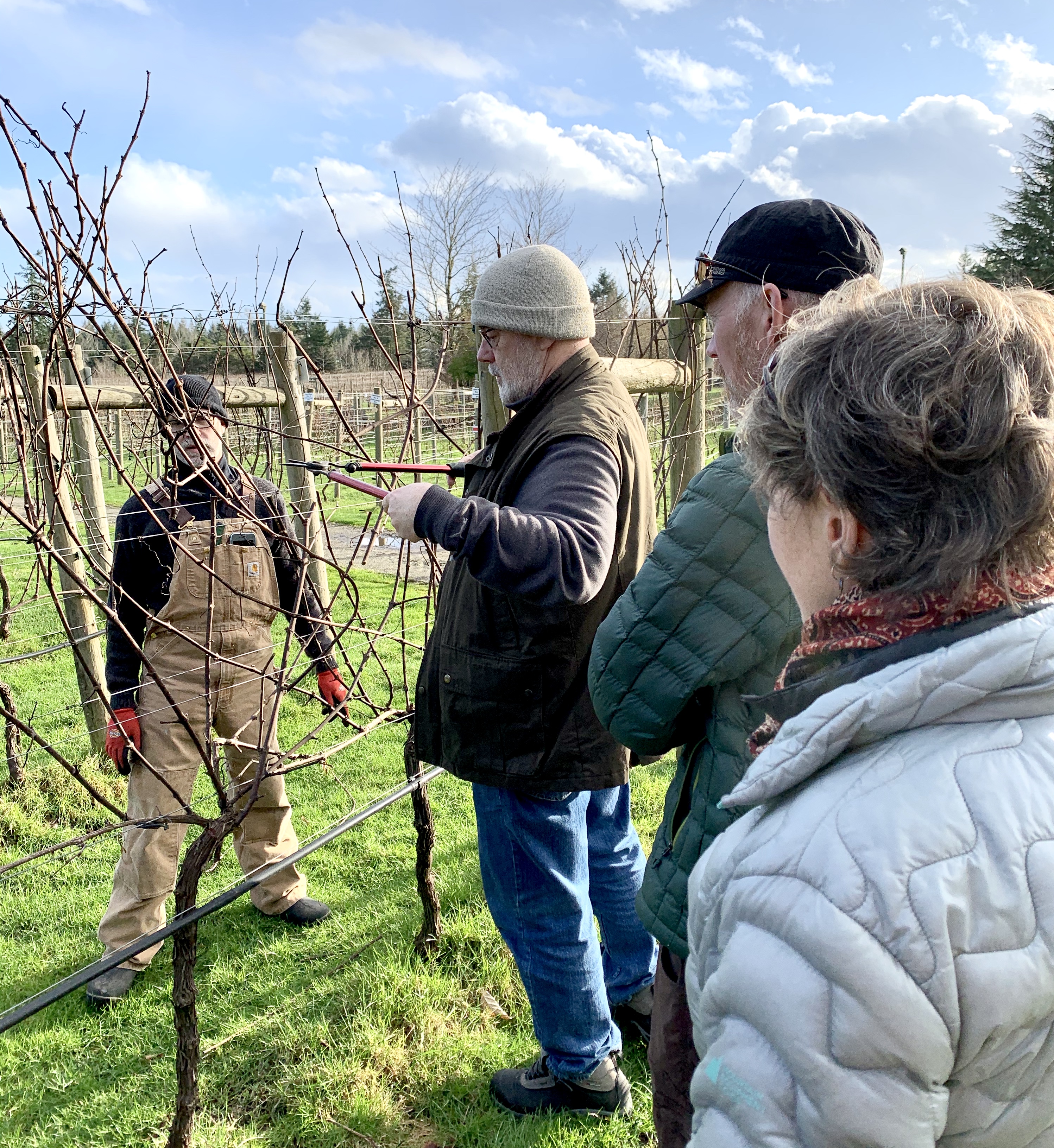 Join me next time, when I dive deeper into one of our estate red wine's and focus in on our Gamay Noir. How it grows, how it drinks and what food to pair with it!
Cheers