Thanksgiving - Take 6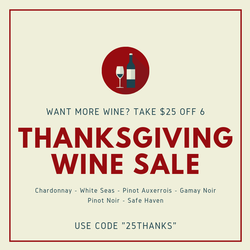 Paired perfectly for indulgence in the Thanksgiving dinner bounty. As friends and family join around the table, enjoy the clean flavors of 40 Knots Chardonnay, White Seas, Pinot Auxerrois, Gamay, Pinot Noir and Safe Haven.
It is our way of saying THANKS on Thanksgiving. We are so very grateful for our customers.
Use coupon 25THANKS for $25 off
Wine club members use coupon 25THANKS WCLUB to purchase for only $120
Offer expires October 13th, 2019