Dine Around - Bon Appetit
Dine Around - Bon Appetit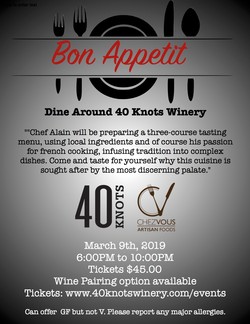 Chef Alain will be preparing a three-course tasting menu, using local ingredients and of course his passion for French cooking, infusing tradition into complex dishes. Come and taste for yourself why this cuisine is sought after by the most discerning palate.
A wine pairing option will be available at the winery the night of the event.
Gluten Free is an option.
Please let us know of any food allergies prior to purchasing a ticket.