VIOLET - A Polar Bear Story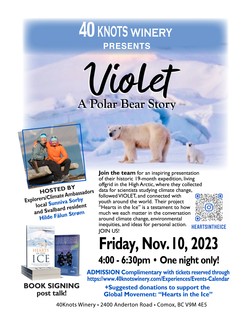 Everyone Welcome, Admission is complimentary
Date - November 10th 2023
Time - 4:00 pm to 6:30 pm
Where - Aurora Vineyard Terrace at 40 Knots Winery
One night only. Join local Sunniva Sorby and Svalbard resident Hilde Falun Strom for an inspiring presentation of their 19-month expedition, living off-grid in the High Arctic, where they collected data for scientists studying climate change and connected with youth around the world. There will be a special screening of a 13 min film called Violet- a Polar bear they followed. Copies of their book "Hearts in the Ice" will be available for sale. Admission is complimentary with suggested donations to support the Global Movement: "Hearts in the Ice." Wine & beer are available for purchase during the event.
www.heartsintheice.com
Facebook: heartsintheice
Instagram: @heartsintheice
Linkedin: heartsintheice, sunnivasorby
Use #hashtags: #bamsebu #heartsintheice
Product Reviews
sunniva sorby
(Nov 9, 2023 at 3:08 PM)
Hello everyone- sorry we are sold out for this event! If you wanted to purchase a book post event please email me and we will sort that out! Thanks x Sunniva
Susan
(Nov 15, 2023 at 5:28 PM)
Great event & great venue!