Pinot Noir 2017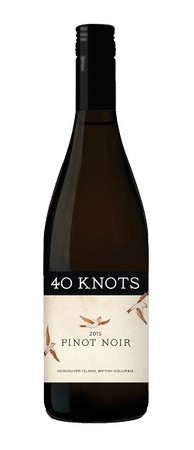 Oops, too late! check specialty stores, or check back for our next vintage.

Wine Specs
Appellation
British Columbia
Vineyard Designation
40 Knots Vineyard
Wine Profile
Tasting Notes
Experience the sensuous balance of silky tannins and romantic spice while sliding into the moments of awe.
Awards
Rick Vansickle of Niagara wines says this: 40 Knots Pinot Noir 2016 ($30, 89 points) — A lovely nose of wild raspberry, pure cherry, strawberry, cranberry and light spice. It's silky smooth on the palate with savoury red fruits, cedar and subtle toasted spice notes. John Schreiner says this: 40 Knots Pinot Noir 2016 ($29.90 for 398 cases). The low alcohol (10.6%) gives this estate-grown Pinot Noir a refreshing lightness. It has aromas and flavours of cherry mingled with a peppery spice. 88.
Vineyard Notes
Root stock planted 2005 - 2007 from France on glacier till soil facing the Salish Sea. The perfect climate to this perfect Pinot terroir. Warm days and cool evenings with rich salt air for superior aging.
Winemaker Notes
Pinot Noir developed intense ripe fruit with outstanding concentration and depth of flavors.
Food Pairing Notes
Cheese, chicken, lamb and pork.
Product Reviews
Charlene Wallace-Dille
(Nov 13, 2017 at 9:08 AM)
I absolutely love the Pinots you release year after year- never disappointed, except with myself for not putting more bottles away. A great wine that doesn't need any special pairing, pretty well goes with everything and anyone😀
Judy
(Nov 13, 2017 at 3:39 PM)
Pinot Noir is my all-time favourite red wine of BC. I like a lighter wine and more fruit forward, especially black cherry or currant.
Connie
(Nov 14, 2017 at 9:06 PM)
I didn't like red wine, until I tried this one It's now my favourite
Bryan Hartley
(Jul 11, 2018 at 3:57 PM)
Very nice spot, great people, excellent wine . Meritage was the champ.
Lindsay
(Aug 11, 2018 at 12:02 PM)
Nice Pinot character, very light and smooth