Picnic for 2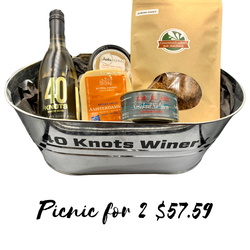 Picnic for 2 completed with perfectly paired 40 Knots White Seas.
Whether you are sitting on the patio, taking this to the beach, or cozy inside enjoying an intimate conversation, our picnic baskets are sure to delight. Each item has been locally sourced to provide you with a delicious experience for the most serious foodies.
375 ml White Seas
Natural Pastures Cheese
Salish Sea Food Smoked Salmon
Conscious Crackers
Justo's Craft Hummus
Customizations and add'ons always welcome.
Product Reviews
Rebecca
(Feb 19, 2022 at 12:42 PM)
Not only was the gift well received but the customer service was outstanding!
Marie-Josée Lebel
(Feb 26, 2022 at 9:51 AM)
Il s'agissait d'un cadeau offert à ma fille pour son anniversaire. Elle m'a dit que le fromage offert dans le panier était excellent. Le choix du vin était vraiment en accord avec les produits. Elle pense s'en procurer un éventuellement.