ClassPass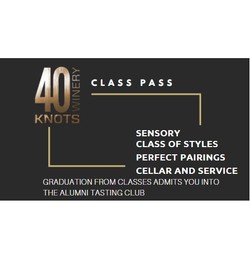 TAKE ALL FOUR CLASSES at your pace and save! Wine Club members receive Class Pass at 50% off.
LIFE IS SHORT
DRINK GOOD WINE
SENSORY
IN THIS ONE HOUR CLASS, WE GUIDE YOU THROUGH THE SENSORY APPROACH TO WINE EXAMINATION. YES, YOU WILL FIND FAULTS. YOU WILL IDENTIFY QUALITY, AND THERE WILL BE LOTS OF PRACTICING. THIS IS A GREAT CLASS TO START WITH, AND IT LOADS OF FUN.
THE CLASS OF STYLE
IN THIS TWO HOUR CLASS, WE WILL STUDY THE FARMING OF VINEYARDS, TERROIR
CONSIDERATIONS AND OENOLOGY STYLES (WINEMAKING) AND SENSORY TASTINGS.
PERFECT PAIRING
IN THIS TWO HOUR CLASS, YOU WILL LEARN HOW TO EFFECTIVELY PAIR WINE TO FOOD, AND HOW THE MAJOR COMPONENTS ARE CONSIDERED. LOTS OF GOOD EXPERIMENTS!
WINE SERVICE
IN THIS TWO HOUR CLASS, LEARN EVERYTHING YOU NEED TO KNOW TO PURCHASE, ORDER, CELLAR, AND SERVE. LEARN WHEN AND HOW TO USE WINE TOOLS INCLUDING DECANTING AND AERATING.
AND OF COURSE, PRACTICING WILLBE INVOLVED BECAUSE PRACTICE MAKES PERFECT.
Product Reviews