40 Knots Wine Class for two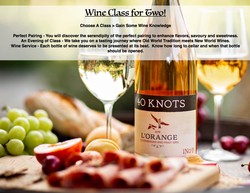 You have never had so much fun in a classroom as the classes at 40 Knots Winery. Choose from:
Evening of Class - We take you on a tasting journey where Old World Tradition Meets New World Wines. After this class, you will have confidence in selecting wine for purchase, and evaluating wine's quality. You will discover different winemaking methods from around the world, learn what is actually in wine.
A perfect pairing - Easily make decisions of whether to match or contrast flavors and acidity. You will discover the serendipity of the perfect pairing to enhance flavors, savory and sweetness. Also included is how to cook with wine for poaching, pan deglazing, sauces, and marinades. Join us by signing up for one of these classes.
Cellar and Serve - Each bottle of wine deserves to be presented at its best. Know how long to cellar and when that bottle should be opened. Learn how to serve the perfect bottle of wine, the proper temperature, the proper glassware, the proper tools for opening,and the proper pouring. We will delve into aerating and decanting, and you will get to taste the difference.
Product Reviews