Mustard Lady Mustard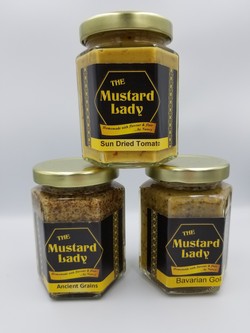 Nancy Takes Flavour to a New Level
She likes tasty food, enjoys cooking, and wanted to minimize her intake of preservatives and chemicals. That's how Nancy Farey, owner of The Mustard Lady, got her start making mustards in her Courtenay kitchen in 2011 as a hobby. First she shared her creations with family and friends, who gave her mustards rave reviews. Like many entrepreneurs, she was encouraged by these fans to make her mustards available on the retail market. And so she did. The owner of Interiors By Nancy used her spare time to experiment and tweak her recipes in preparation for a test market in the Comox Valley. She got her FoodSafe certification and complied with VIHA specifications so she could safely make and package mustards in a variety of flavours.
Originally presenting her mustards under the name, Mustards By Nancy, she found that the Comox Community Market at the Little Red Church and other various craft fairs were great venues to get her products out there and to get on-the-spot feedback as people tasted her flavours from the display samples. The positive feedback and amount of repeat customers propelled Nancy into full production in time for that year's gift-giving season. In October 2013, Nancy officially introduced the business to market under the name, The Mustard Lady.
In January of 2017, Nancy opened a store on Duncan Street in Courtenay. In addition to providing a convenient location for her customers to purchase her mustards, it also has an on-site commercial kitchen which allows Nancy to continue to create the mustards you love.