Int'l Women's Day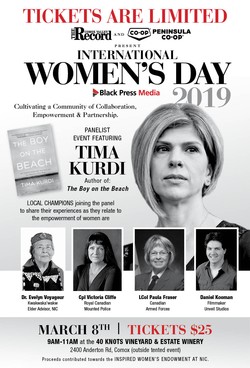 ---
Black Press and Co-op Peninsula present our first panelist event in honor of International Women's Day on March 8th at 40 Knots Winery.
Meet our "Change Champions", people who have embraced their personal experiences,
whether tragic or celebratory and made them powerful and empowering.
Each of them in their own way, have embraced those experiences that had a profound
effect on them and found the courage for self-empowerment and positive change.
During this panel discussion, we hope you too will learn ways to inspire yourself and
make change.
When experience motivates change, it becomes empowering.