Community Cup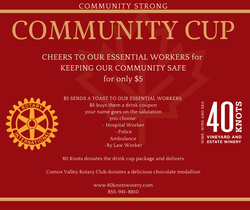 Cheers to our essential workers for keeping our community safe.
For only $5, you can buy an essential worker a drink!
Your name goes on the THANK YOU!
Choose where your community cup goes:
- Hospital worker
- Police
- Ambulance
- Bylaw Worker
40 KNOTS donates the drink cup package and delivers.
Comox Valley Rotary Club donates a delicious chocolate medallion made by Hot Chocolates.
Total value is $30!
Get them fast, there is a limited supply.