Newsletters and Blogs you want to read!
Missing out? You keep hearing about what a great time your friends had at Wine Wednesday, the new wine class they just took, how they got to taste wine before it was released, and how they bought up the last of a vintage? Don't miss out anymore. We want you in our inner group!
Sign up here for our newsletter.
Welcome to the 40 Knots Vineyard & Estate Winery blogs. Here is where we will be highlighting events and news from around the winery. Keep up to date of the latest trends, the happenings of the winery, learn how we farm and make wine, and get the inside scoop of our new releases and events.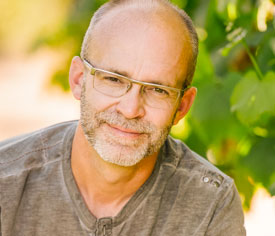 Layne Robert Craig, Janitor and Blogger
As co-owner with his wife Brenda Hetman-Craig, Layne spends his days enjoying getting back to his family roots of traditional farming. You may see Layne out in the vineyard, at charity events, delivering wine or giving guests special attention as he takes them through the cellar for an in-depth look into how 40 Knots is able to make such delicious clean wines by using traditional methods. Layne's passion for flying is evident. With the vineyard directly below planes turning final for YQQ, it does appear that indeed Layne has found his sanctuary. Contact Layne for anything vineyard or winery.
---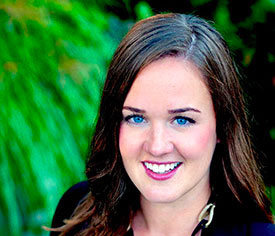 Megan Thiel, Wine Sales, Tour Guide and Blogger
Megan has a passion for all things wine- from vineyard to tank to bottle. Her passion led her to an extensive apprenticeship with a German winery where she acquired a humbled appreciation for the vines. She comes to us with her WSET 3 accreditation and a comprehensive background; including a season with an Okanagan winery. Having recently moved from Vancouver, she is excited to become a part of the Comox Valley community.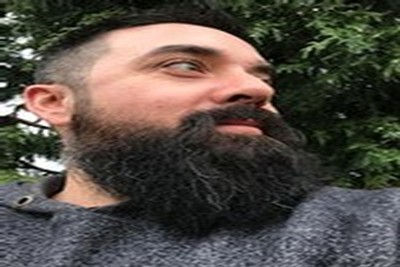 Michael Johnson, Vineyard and Cellar, self-proclaimed sipster
A self-declared sipster, most unlikely to have become a wine lover. Read about my adventures in the vineyard and cellar, as my palate goes into training to become as honed as my wife's palate.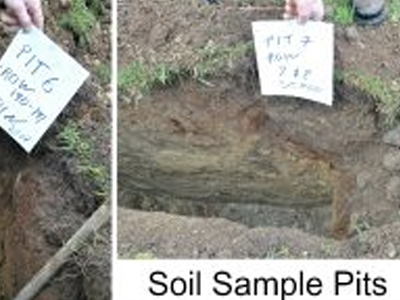 Welcome to Tsolum. Or, welcome to Comox Valley earth and sub soils, and some agri-science about growing grapes.
The Norm
The general Comox Valley area is predominant to "Tysolum" earth. Our slightly rolling hills have medium to moderate glacial deposits and/or glacial till below the surface, and coarse fluvial deposits near the surface. It's finalized with a frosting of 4 to 12 inches of organic marine-rich top soil.
What does that mean?
Historically, it means it is great for growing Douglas fir, western red cedar, alder, maple and grand fir trees, supported with an abundance of wild berries like leg-tearing blackberry vines.
However, with rich peat soils and great water retention during early season, and drainage in late, it creates amazing growing areas in the lower lying areas in the Comox Valley, especially for vegetables, fruit, hay crops, and even malt-grade barley.
Variable
So what the hell does that have to do with Grapes? Even more, what does it have to do with grapes from a "Noble variety" vs. those that have been breed to grow in our climate?
For lack of a better term, our little property sits at the tip of an iceberg, just 925 meters from the Salish Sea, where the Powell River ferry lands. The deep harbour was created, in part, by a glacier. The bonus, is that the historic event deposited a more than average amount of till, sand, and rocks on this small area, which is now above the sea some 120 meters.
Poor soil for the general farming activities in the Valley, our 25 acres does not grow blueberries, cranberries, or corn, very well at all.
The plus side - great drainage, mineral contact, and sloping land towards the sea provide in part, a small piece of rare land in the Valley that can sustain noble variety grapes - Pinot Gris, Pinot Noir, Gamay Noir, Chardonnay, and Auxerrois.
Not without its difficulties, with great drainage comes stripping of nutrients. Pedicle testing and soil sampling is a must. With the slow road of composting, and adding that back to the soil, diligence and patience will be a virtue.
The terroir itself benefits from so much more. This small micro climate inside a micro climate generally boasts 3.6 degree Celsius higher temps than the recorded temperature.
The Facts
Our viticulturist, Theo Siemens, has spent considerable time working with Pedro Perra, a Chilean wine terroir expert, and Dr. Scott Smith, from the Pacific Agri-Food Research Centre. Theo is applying his experience and knowledge to the 40 Knots terroir, and has a great go-forward ethical plan for us to work with.
Here are some of Theo's thoughts and recommendations.
"Comox Valley soil types typically fall into the Tsolum Soil profile with a Gleyed Humo Ferric Podzol subtype. Factors that most influence viticulture practices on these soil types are:
1) Humid
2) Temperate
3) Acidic
4) Leached
5) Sedimentary rock profiles
6) Rich in iron oxidized soils
7) Presence of granite rock brought from coastal mountains by glaciation
8) Soil texture (loamy, sandy, till)
40 Knots soils, rich in iron and aluminum, are oxidized by acids and water, while sub soils are seasonally saturated (liquefied) by the high water table. The results are leached soils rich in iron and aluminum, with low PH. Historic fertilizing practices suggest that the disconcerting anemic soil-sample results are due to leaching and not under-fertilizing. In other words, while fertilizers have been applied by the previous owner (last application in 2012), they are being consumed by plants and/or being washed away by rain.
There lies the crux of your challenge.
It is my strong belief that compost application is the solution for the long term health of the vineyard. As compost breaks down slowly (25% first year, 50% second year and 25% third year), it is the perfect and almost complete time-release fertilizer. Compost, depending on composition, tends to be more alkaline, therefore balancing the soil PH as well. While composts tend to be low in nitrogen, this can be adjusted easily by way of cover cropping, which is already being completed with white clover, or by applying organic fertilizers."
The Evolution
Focusing on ethical and sustainable farming practices, composting, mulching, adequate cover crops, specific irrigation regime (going towards little to none), we are, in Theo's words, "creating an evolution in our vineyard, not a revolution."
Is that it, all done?
Not even close.
Knowing what you have for earth is the beginning. Establishing a realistic plan to be sustainable is next. Being willing to commit to a very long term ethical and sustainable farming model is going to be the hardest decision, or the easiest.
For me, it's easy.
It is how I grew up farming. As a kid, I saw the benefits in the land and the product.
How could I not see it now?
Cheers,
Layne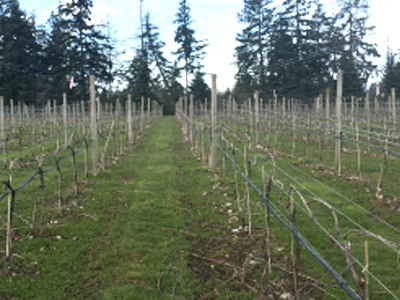 Even though the 20th of March is the official day, it is clearly spring. We can hear the sea lions barking with excitement, the Robins are bathing themselves to look good, woodpeckers have found the loudest piece of manmade tin to rattle against, and so many of our flowers are in bloom. Sorry Easterners, it's awesome on the West Coast.
Our vineyard and winery chores also know it's spring.
When I posted last, we were making our pruning cuts. Now, we are pulling the wood out of the trellis wires and tying the new canes down that will produce this year's grapes. We are at 50% complete on this last step. All will be completed by April Fool's day. My bet is on March 27th for bud burst.
Over a one day period, wood is pulled, canes are tied, and rows are flailed and mulched. We don't burn our last year's wood, it is all mulched back into the rows.
After the field personnel leave at night, the rotary flail does the first pass, making wood flat and in smaller 4 to 8 inch pieces. Next, the Kubota zero-turn mower, with a mulching kit, goes over the row. This machine is amazing. Sold to us last year from Russell at North Island tractor, it has cut our mowing times by 1/8. Fine cutting around the winery, or mulching down the row, it will do all of that at lightning-fast speeds, significantly reducing fuel use and increasing quality of mulched organics to the vineyard.
No, I don't own a Kubota dealership, just excited about efficiency and reducing our footprint.
All the varieties are looking awesome! The original owner, Bill Montgomery, did a fantastic job choosing the some 50,000 root stock, 85% from a nursery in France. Thank you, Bill.
Next time, winery talk.
Cheers,
Layne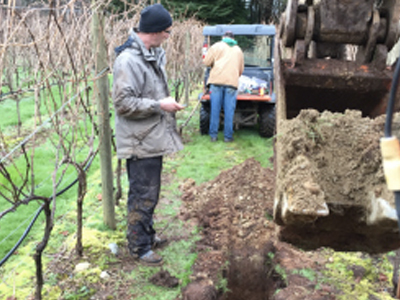 No, it's not really spring, yet. We have no control over this warm weather, so we are pruning very fast.
In just eight work days, we have completed 80% of the pruning cuts. And, we converted from cordon pruning to cane. Cordon pruning brings vines out of old wood, while cane pruning brings vines out of last year's growth. This style will prevent any old, woody taste to the grapes, keeping the fresh and lively, ultra-premium wine we strive for.
The vines are also attempting to push buds, but with a little weeping from the cuts they have slowed back and will avoid any damage, if a forsaken frost shows itself.
Viticulture expert Theo Siemens, of Okanagan Crush Pad, recently visited our vineyard to analyse our structure, so we can forge on with sustainable farming methods, and ethical organic practices. Besides training all staff in pruning techniques and canopy management, he performed an assessment of our four horizons of soils, right down to the mother rock.
Within the four horizons, we find distinct, non-typical earth for this area. These zones are respective to a glacier deposit, or till.
1st horizon - very little peat, and four to eight inches of top soil
2nd & 3rd horizon - sand, some large rock, gravel and pebbles, with some loose dry clay
4th horizon - very hard layered clay with mother rock.
We are seeing root formations from the vines, in most cases, down to the 4th horizon. That's great news! What we don't see is any water holding, or pooling in these layers, even after the substantial amount of rainfall we have had. More awesome news.
The contact with minerals for the roots, and great permeability and drainage in the soils, gives us a great terroir opportunity to have complex and distinct tastes in our wines.,
If you'd like to know more about our operation, and the lifecycle of our vines, pop in to our Cellar Tasting Lounge, or shoot me an email, at Layneat40KnotsWinery@gmail.com.
Cheers,
Layne