February 25, 2014 | Layne's blog | Layne Robert Craig
Good Soil & Pruning Equals Happy Grapes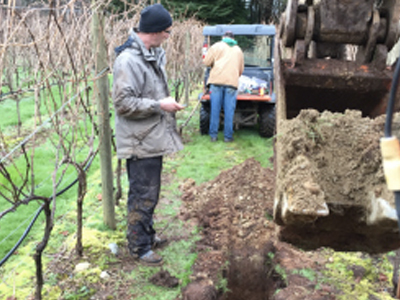 No, it's not really spring, yet. We have no control over this warm weather, so we are pruning very fast.
In just eight work days, we have completed 80% of the pruning cuts. And, we converted from cordon pruning to cane. Cordon pruning brings vines out of old wood, while cane pruning brings vines out of last year's growth. This style will prevent any old, woody taste to the grapes, keeping the fresh and lively, ultra-premium wine we strive for.
The vines are also attempting to push buds, but with a little weeping from the cuts they have slowed back and will avoid any damage, if a forsaken frost shows itself.
Viticulture expert Theo Siemens, of Okanagan Crush Pad, recently visited our vineyard to analyse our structure, so we can forge on with sustainable farming methods, and ethical organic practices. Besides training all staff in pruning techniques and canopy management, he performed an assessment of our four horizons of soils, right down to the mother rock.
Within the four horizons, we find distinct, non-typical earth for this area. These zones are respective to a glacier deposit, or till.
1st horizon - very little peat, and four to eight inches of top soil
2nd & 3rd horizon - sand, some large rock, gravel and pebbles, with some loose dry clay
4th horizon - very hard layered clay with mother rock.
We are seeing root formations from the vines, in most cases, down to the 4th horizon. That's great news! What we don't see is any water holding, or pooling in these layers, even after the substantial amount of rainfall we have had. More awesome news.
The contact with minerals for the roots, and great permeability and drainage in the soils, gives us a great terroir opportunity to have complex and distinct tastes in our wines.,
If you'd like to know more about our operation, and the lifecycle of our vines, pop in to our Cellar Tasting Lounge, or shoot me an email, at Layneat40KnotsWinery@gmail.com.
Cheers,
Layne
Comments
Commenting has been turned off.