Wine Cranberry Sauce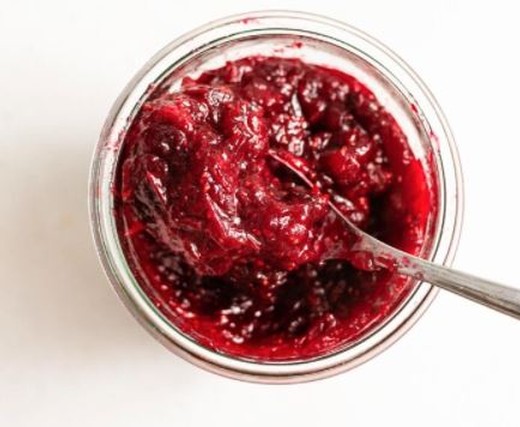 Recipe Date:
October 23, 2021
Measurements:
Imperial (US)
Jazz up your cranberry sauce with a secret ingredient - 40 Knot's very own Pickled on Grapes aged in our own estate wines. This recipe was inspired by the warm spices in the brine of our Pickled on Grapes. Pickled on Grapes are not only great on a cheese plate, check out our top 12 cocktail recipes. This cranberry sauce is sure to be the talk of the table.
Ingredients
1/2 cup brine from a jar 40 Knots Pickled on Grapes
grapes from a jar of 40 Knots Pickled on Grapes
12 ozs bag of fresh cranberries
2/3 cup dark brown sugar
1 tbsp honey
1/4 tsp black pepper
Directions
In a medium pot over medium heat, combine the brine and grapes from Pickled on Grapes, cranberries, sugar, 1/2 cup water, and honey.
Simmer gently until most of the cranberries have popped and the sauce is thick and syrupy about 20-30 minutes.
Stir in the black pepper.
Chill thoroughly before serving.
Serve with roasted turkey or ham.
Use leftovers in desserts such as coffee cakes, swirl cakes, loafs and cornbread.
Accompany fried red cabbage, melted brie, or French Toast with cream cheese.