Tuna and Black Olive Farfalle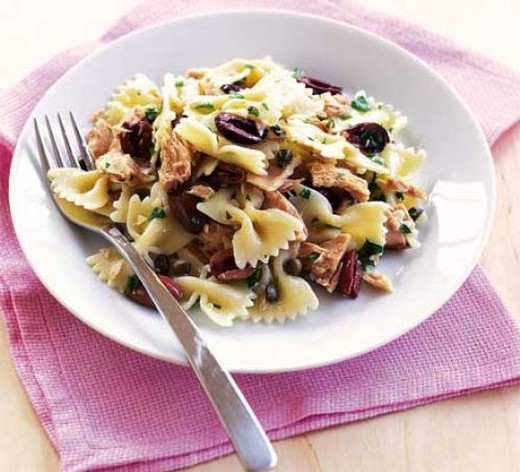 Recipe Date:
June 19, 2017
Measurements:
Imperial (US)
Pinot Gris and Schonberger fermented and aged in amphora. The method originating in the country Georgia where the earliest proof of man making wine was found. Enjoy a taste of the Mediterranean, Vancouver Island style with fresh tuna brought in to our marina.
Ingredients
1/4 cup olive oil
8 large garlic cloves, halved
1/4 tsp cumin seeds
3 tbsps chopped fresh parsley
3/4 lb dried farfalle
3 anchovy fillets, rinsed and chopped
1 cup pittled black olives, chopped
1/2 cup 40 Knot's L'Orange
1/2 tsp fennel seeds, crushed
1 pinch red pepper flakes
10 ozs cooked tuna
1 tbsp capers
1 tbsp grated lemon zest
Clever Crow sea salt and fresh ground pepper
Directions
1. heat the olive oil in a large sauce pan over medium-low heat. Add the garlic, cumin seeds and 2 tbsp of parlsey. Cook for about 20 minutes while sipping a glass of L'Orange, or until the garlic is tender. Don't allow the garlic to brown or it will become bitter.
2. Meanwhile cook the farfalle according to the directions on the package. Reserve 1/2 cup of the pasta water, then drain and set the pasta aside in a covered pot to keep warm.
3. Add the anchovy fillets, olives, L'Orange, fennel seeds, reserved pasta water and red pepper flakes to the garlic mixture. Stir well and cook for 1 minute before removing from the heat.
4. Any L'Orange left? Sip while stirring in the tuna, capers, remaining tbsp of parsley and lemon zest. Add Clever Crow sea salt and pepper to taste. Divide the hot pasta among individual pasta bowls and top with the sauce. Enjoy with a glass of 40 Knot's L'Orange... now, aren't you sorry you didn't buy two bottles?
Troy Townsin, Wine Feast, Polyglot Publishing. 2011.