Farmhand Highball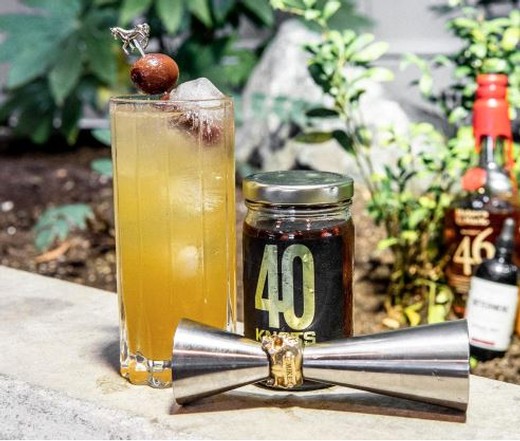 Recipe Date:
November 3, 2021
40 knots winery is heavily rooted in their land and their hard-working staff. Terroir generally means " a sense of place" and you can tell that in every bottle of wine created by 40 knots, the wildlife, the land, and the people are represented in each of the different varietals. These values listed are the bedrock on which 40 creek operates and represent the highest form of hospitality. As a bartender, I wanted to follow suit. I hope with this drink I can extend a little piece of myself, and my experiences in cocktail form, and share it with all the hard-working staff at 40 Knots Winery. This drink is for the workers, and it is based off of my favourite classic cocktail "The Manhattan." I immediately thought of the brandied cherry when seeing the pickled grape garnish, but I wanted to mix it up, and add a refreshing element to my cocktail. It is meant to be enjoyed after a long day on the winery or farm. It is also a lower ABV beverage so it is more sessionable compared to the classic Manhattan cocktail. The bourbon relates to horses and the countryside. The golden raisin cordial is in place of a sweet vermouth, the mole bitters pair beautifully with the spice of the garnish, and of course the flavours of that pickled grape contribute to the taste of the botanicals you would find in sweet vermouth. The Dry Vanilla soda ties everything together, and the contrast between drink and garnish is meant to feel like a mini culinary experience. This drink is a token of appreciation for all the hard work 40 knots put into their craft. I hope the pickled grape takes off as a new garnish in the bartender toolbox, and I hope the contributions from this competition help it get there.
Ingredients
2 Dash Bittermens Xocolatl Mole
45 ml Makers Mark 46
30 ml Golden Raisin Cordial *
90 ml Dry Vanilla Soda
500 g bleached cane sugar
500 ml filtered h20
250 g organic seedless golden raisins
13 g Tartaric acid powder, or (0.5 g tartaric per 30 ml syrup)
3 40 Knots Pickled Grapes
Directions
Method: Freeze or chill Collins or Highball glass, and build cocktail over 1x1 ice cubes in order
of recipe above excluding soda. Once built, take ribbed bar spoon, place it into the glass and
gently pour the Dry Vanilla soda down the spoon into the bottom of the glass. Sir 3 times.
Garnish: Three 40 Knots pickled grapes on a horse skewer
Glassware: Collins or Highball
Served: On 1x1 rocks
* Golden Raisin Cordial: 500 g bleached cane sugar, 500 ml filtered h20, 250 g organic
seedless golden raisins, 13 g Tartaric acid powder, or (0.5 g tartaric per 30 ml syrup)
Method: Add all ingredients into pot, stir over medium heat until sugar is dissolved, add syrup
and raisins into blender, blitz, fine strain, measure out volume of syrup, add 0.5 g Tartaric acid
per 30 ml syrup. Store in food-safe container in the fridge.