VinoSpa Rejuvenate Kadence's Facial Moisturizer
Hydratant pour le visage Kadence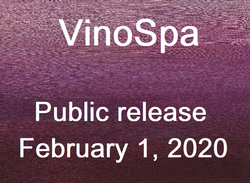 Sold Out - New stock coming soon!
Nourishes the skin, energizes and stimulates circulation. Rich in fats for excellent emollient and moisturizing. Protects against environmental damage without clogging pores so that skin begins to naturally retain healthy moisture and balance sebum production. Rich with vitamins A and E. Improves skin elasticity, anti-inflammatory, and anti-aging. Naturally occurring light SPF. Essential oils may aid in reducing stress and migraines
Net weight: 45 g
Product Reviews
Megan
(Nov 2, 2018 at 4:28 PM)
I absolutely love the smell of this lotion, it's super light as well- doesn't leave a greasy feel.