Picnic for 4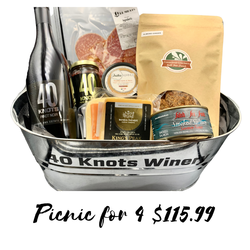 Picnic for 4 completed with perfectly paired 40 Knots Pinot Noir.
Whether you are sitting on the patio, taking this to the beach, or cozy inside enjoying an intimate conversation, our picnic baskets are sure to delight. Each item has been locally sourced to provide you with a delicious experience for the most serious foodies.
750 ml 40 Knots Pinot Noir
40 Knots Pickled on Grapes
Natural Pastures Cheese
LL Meats Charcuterie
Conscious Crackers
Salish Sea Foods Smoked Salmon
Justo's Craft Hummus
Customizations and add'ons always welcome.
Product Reviews