REBUILD Ruby Moon Facial Scrub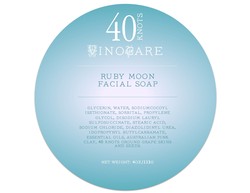 Sold Out - New stock coming soon!
This natural cream soap can be used every day as a wonderful skin cleanser. It contains Australian Pink clay, which is a detoxifier and provides hydration while helping improve skin texture, fine lines, etc. It also contains Lactic Acid that is an anti-aging treatment to help slough off dead skin cells and gently exfoliate the skin. The addition of ground 40 Knots Grape Seeds and Skins and Therapeutic Essential Oils makes this a truly spa like cleanser.
Wet your face and put a dime-sized amount of soap in the palm of your hand. Rub hands together to emulsify. Apply in a circular motion to your face and rinse off with warm water.
Contains: Purified water, Stearic Acid, Glycerin, Saponified Olive and Coconut Oils, Boric Acid (natural thickener), Lemongrass, Lime and Clary Sage Essential Oils, Australian Pink Clay, Ground 40 Knots Grape Seeds and Skins.
Net Weight: 4oz/113g
Product Reviews
paige
(Oct 26, 2018 at 5:38 PM)
This stuff is amazing, it's so soft and gentle on the skin but leaves you feeling squeaky clean and not dried out! it also smells like a citrusy black tea. I love it!
Alana
(Oct 29, 2018 at 1:23 PM)
Love, love, love and cannot live without. So gentle on my sensitive skin. Love the texture when applying. Leaves my skin feeling soft and hydrated.
Megan
(Nov 2, 2018 at 4:24 PM)
This scrub leave my face feeling tingly and super soft and clean! Big fan.