Stuffed Chicken Breast with White Wine Sauce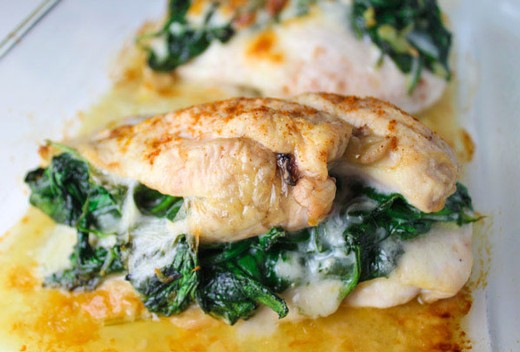 Recipe Date:
February 20, 2018
Measurements:
Imperial (US)
Tender, juicy chicken stuffed with spinach and cheese, and then topped with a scrumptious white wine sauce. This is gourmet cooking made simple - a restaurant-style dish that can easily be prepared at home.
Ingredients
1 cup 40 Knots Pinot Gris
1 cup frozen spinach, thawed and drained
1 cup ricotta cheese
1/2 cup Swiss cheese, grated
1 egg
2 tbsps olive oil
4 large skinless, boneless chicken breast halves
1 cup chicken stock
1 tbsp Dijon mustard
1 tsp lemon juice
salt and pepper to taste
Directions
1. In a medium bowl combine spinach, ricotta, Swiss cheese, egg, salt and pepper. Set aside.
2. Place 1 chicken breast half between two layers of plastic wrap or wax paper, boned side up. Starting in the centre of the breast, gently pound the chicken with a rolling pin or the flat side of a meat hammer until breasts are around 1/4 inch thick. Repeat with the remaining chicken breast halves.
3. Season the meat with salt and pepper. Divide the spinach mixture in 4, placing a pile in the centre of each flattened breast. Wrap the breast arouind the spinach mixture like a parcel and use toothpicks to secure.
4. Heat the oil in a large pan over medium heat. Add the chicken parcels and fry for approximately 3 minutes on each side. Reduce the heat to low, cover the pan and cook for a further 6-7 minutes or until meat is cooked through. Do not overcook or the meat will dry out. Remove chicken and let it stand for 5-6 minutes.
5. Heat 40 Knots Pinot Gris and stock in a saucepan over high heat, stirring frequently. Once it boils, reduce heat and simmer, reducing mixture by about one-third. Add mustard and lemon juice and stir through.
6. Cut chicken parcels into thick slices and top with the sauce. Serve immediately with your favourite vegetables or salad.
Contributed by: Troy and Cheryl-Lynn Townsin found in Cooking with BC Wine