Steamed Mussels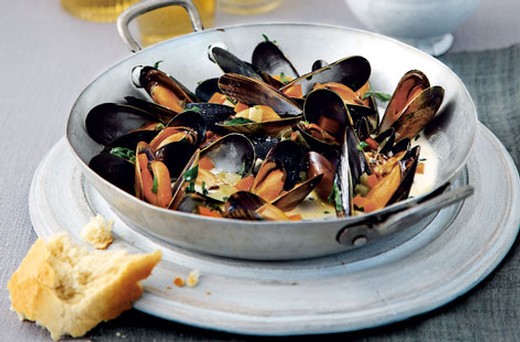 Recipe Date:
June 18, 2017
Measurements:
Imperial (US)
There is evidence that mussels, or moules as they are known in many parts of the world, have been served in gourmet feasts since the time of the Pharaohs in ancient Egypt. This is a simple dish that is guaranteed to please.
Ingredients
1 1/2 cups Uncloaked Chardonnay
1 tbsp butter
1/2 small onion, chopped
1 garlic clove, chopped
1 40 fresh mussels, beards removed
1/2 cup cream
1/2 lemon, juiced
1 small bunch flat leaf parsley, chopped
salt and pepper to taste
1 loaf of crusty bread
Directions
1. Melt the butter in saucepan over medium-high heat. Sweat the onions and garlic until they become translucent, about 4-5 minutes.
2. Add the mussels and then pour in the 40 Knots uncloaked Chardonnay. Stire once and cover so that mussels will steam. Leave covered for 2-3 minutes until they have all opened. Discard any mussels that do not open. Transfer the mussels to individual serving bowls.
3. Add cream to the suace along with lemon juice, salt and pepper to taste. Allow mixture to reduce until it becomes slightly thicker.
4. Remove the sauce from the heat an stir in fresh parsley. Pour sauce over the mussels and serve with a wedge of crusty bread for mopping up leftover sauce.
Enjoy with a glass of 40 Knots Uncloaked Chardonnay.
Troy Townsin, Wine Feast, Polyglot Publishing, 2011