Oysters with a Sparkling Wine Sauce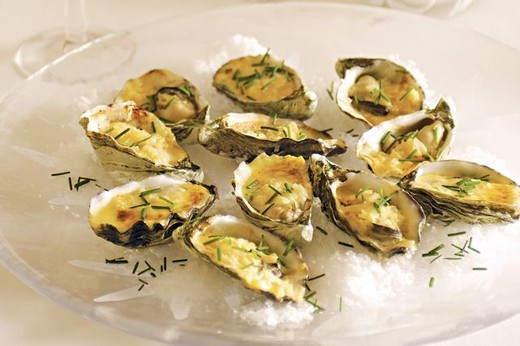 Recipe Date:
January 16, 2018
Measurements:
Imperial (US)
Ingredients
1 cup Spindrift Extra Brut Sparkling Wine
2 tbsps Olive Oil
2 Garlic Cloves Crushed
1 lb Small Oysters, liquor reserved
1/2 cup Whipping Cream
1 lb baby spinach
1 tbsp Butter
1 tbsp Flour
Salt and Pepper to taste
Directions
1. Heat oil in a saucepan over medium heat. Saute the garlic for about 30 seconds before adding the reserved oyster liquor, Spindrift Extra Brut Sparkling Wine, and cream. Simmer and reduce the liquid by 1/3
2. Add the oysters and top with baby spinach. Cover and cook for 1-2 minutes until the spinach has wilted. It is important not to overcook the oysters. In a seperate saucepan over medium heat, melt the butter, add flour and combine to form a roux. When well combined, set aside.
3. Remove the spinach and divide it evenly amongst the serving plates. Carefully remove the oysters and place them on the beds of spinach.
4. Add the roux to the sauce to thicken it. Stir well and then pour the sauce over the oysters.
Contributed by: Troy and Cheryl-Lynn Townsin found in Cooking with BC Wine