Local's Mignonette for Fanny Bay Oysters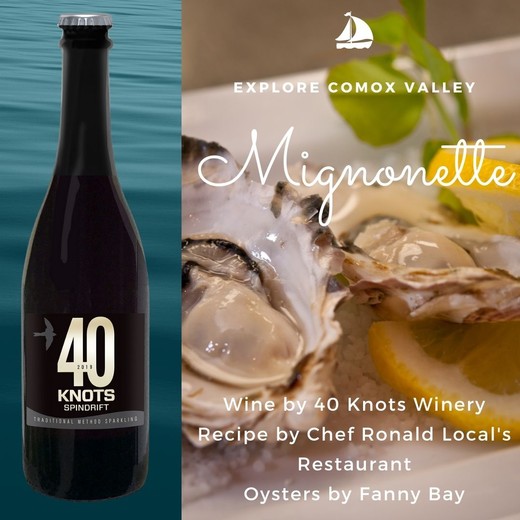 Recipe Date:
April 22, 2021
What grows together, goes together, and it doesn't get any better when Local's Restaurant owner and Chef puts it all together. Enjoy this Mignonette Sauce over Fanny Bay Oysters with 40 Knots Spindrift Brut. An elegant classic.
Ingredients
250 ml 40 Knots Spindrift Brut
35 ml White Wine Vinegar
75 g Shallots, finely chopped
3 ml salt
3 ml cracked peppercorns
10 ml Chives finely sliced (can use some chive blossom as well if available)
36 Fresh Fanny Bay Oysters extra small
Directions
Dice shallots and chive finely. Put in a small stainless steel bowl and add the remaining ingredients. Mignonette should be prepared at least 30 minutes before serving so the flavor can develop. Set aside in your serving dish.
Meanwhile, clean and shuck your oysters. make sure to clean any particle of shell or sand that may be on the edge of the shell cup.
Serve oysters on crushed ice to keep them fresh with the mignonette on the side.
Bon Appetit!
Chef Ronald St-Pierre CCC