Love & Sympathy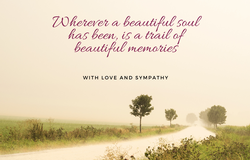 Let them know you are thinking of them with this beautiful card.
"Wherever a beautiful soul has been is a trail of beautiful memories."
Our Greeting Cards are 4.6" x 7.2" horizontal on premium matte 16 pt cardstock. The back is beautifully designed with music notes and the lyrics from the 40 Knots jingle in soft greys on white.
Product Reviews