Gift Basket w/Wrapping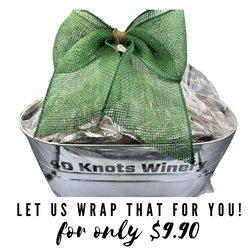 It's a wrap! You have chosen the perfect gifts. Let us wrap that up for you in a tin wine cooler and deliver them!
And don't forget to choose a greeting card!
Product Reviews
Patti TeWinkel
(Dec 22, 2021 at 2:29 PM)
We were a little disappointed that the picnic baskets we received were in wooden boxes, we were expecting the picnic baskets to be in the tin wine coolers as depicted on the website.