VinoSpa Renew Ruby's Healing Body Scrub
Gommage pour le corps Ruby's Healing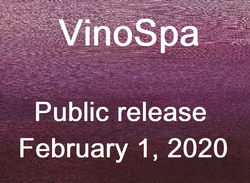 Sold Out - New stock coming soon!
This solid exfoliating scrub contains alaea salt and 40 Knots grape skins and seeds, a gentle, but powerful and healthy way to exfoliate dead skin cells and remove toxins and pollutions, leaving skin soft and silky smooth. The fats hydrate, nourish and improve skin elasticity, reducing appearance of wrinkles, varicose veins and stretch marks. This scrub will boost blood flow to skin and tighten and tone. Vitamin A and E with a light SPF. Essential oils fight cellulite and stimulate circulation. Leaves your skin with a protective barrier without being greasy.
Use in the shower. After cleansing with Halo's Shampoo and body bar, scoop a teaspoon at a time into palm, cup hand and rub into skin until salt has melted away. Rinse with water, pat dry. May be used weekly or daily depending upon your skin type.
Recommended for all skin types and particularly for those with skin sensitivities.
Net Weight: 120 g