Newsletters and Blogs you want to read!
Missing out? You keep hearing about what a great time your friends had at Wine Wednesday, the new wine class they just took, how they got to taste wine before it was released, and how they bought up the last of a vintage? Don't miss out anymore. We want you in our inner group!
Sign up here for our newsletter.
Welcome to the 40 Knots Vineyard & Estate Winery blogs. Here is where we will be highlighting events and news from around the winery. Keep up to date of the latest trends, the happenings of the winery, learn how we farm and make wine, and get the inside scoop of our new releases and events.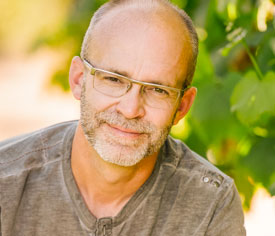 Layne Robert Craig, Janitor and Blogger
As co-owner with his wife Brenda Hetman-Craig, Layne spends his days enjoying getting back to his family roots of traditional farming. You may see Layne out in the vineyard, at charity events, delivering wine or giving guests special attention as he takes them through the cellar for an in-depth look into how 40 Knots is able to make such delicious clean wines by using traditional methods. Layne's passion for flying is evident. With the vineyard directly below planes turning final for YQQ, it does appear that indeed Layne has found his sanctuary. Contact Layne for anything vineyard or winery.
---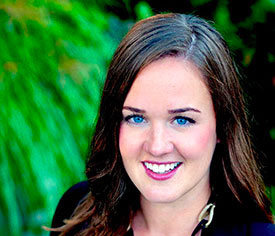 Megan Thiel, Wine Sales, Tour Guide and Blogger
Megan has a passion for all things wine- from vineyard to tank to bottle. Her passion led her to an extensive apprenticeship with a German winery where she acquired a humbled appreciation for the vines. She comes to us with her WSET 3 accreditation and a comprehensive background; including a season with an Okanagan winery. Having recently moved from Vancouver, she is excited to become a part of the Comox Valley community.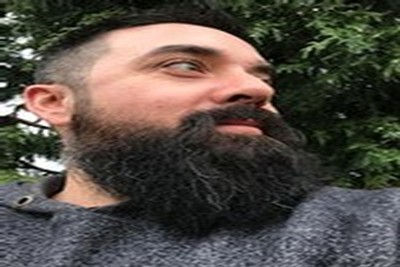 Michael Johnson, Vineyard and Cellar, self-proclaimed sipster
A self-declared sipster, most unlikely to have become a wine lover. Read about my adventures in the vineyard and cellar, as my palate goes into training to become as honed as my wife's palate.


Here at our 40 Knots Vineyard, located on the 49th parallel, we are #rootedincool. Our climate is similar to the Northern part of France and many of the German wine regions. The varieties proven over centuries in these areas thrive in our terroir.
With food trends moving towards more white meats, fish, vegan and vegetarian, our Estate wines naturally pair well. With wine trends moving towards lower alcohol, lower residual sugar, and higher acidity, our Estate wines are increasingly popular. Cool climate grape varietals are wonderfully suited to our location here in the Comox Valley. Pinot Gris with crisp bright green apple notes, Chablis style Chardonnay with soft hay and pineapple on the palate. White Seas, a local favorite, offers balance with juicy aromatics and mouth-watering acidity.
If you are looking for those bold reds, big tannins, high alcohol that cut through fat in a steak like no other wines, then we do have those too, under our Stall Speed brand. These grapes come from "warm climate" areas such as Naramata Bench and the Black Sage Bench in British Columbia.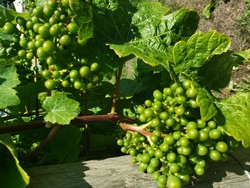 Young grapes
July 15 201920190715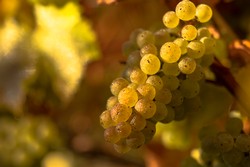 Fully ripe Chardonnay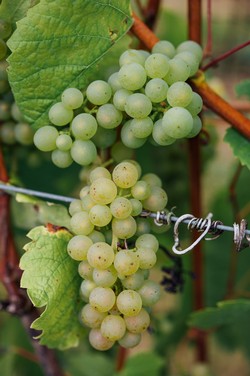 Veraison - color change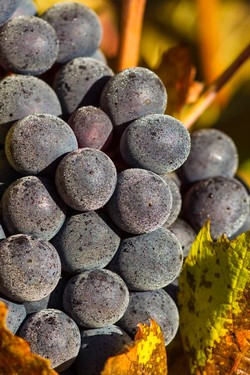 Fully ripe Pinot Noir
Balance
Balance is a term used quite frequently in the wine world. At 40 Knots, we are able to achieve perfect balance without intervention in the cellar. Each fall, each row of vines of each variety are carefully checked daily for pH and Brix (sugar level). The day of harvest for each vine is decided by these levels and the forecast. This is not the easiest harvest using this method, however, when the grapes are perfect, intervention is not necessary. This is where cool climate regions have a leg up to create the perfectly and naturally balanced wine.
Tannins
Tannins develop naturally as grapes grow in the vineyard. They begin accumulating during fruit set and continue until veraison (when the grapes change color). Different grape varieties have different levels of tannins. Tannins, in part, function as grape's sunscreen—the more light that reaches a grape's surface, the more tannins the skins produce. Light intensity is a major influence in the development of skin tannins at higher altitudes. Because light intensity is lost as light travels through the atmosphere, the light reaching higher-altitude vineyards is more intense and therefore contributes to conditions that yield more intensely tannic wines.
At 40 Knots, canopy management is important. We have the ability to influence the type and amount of tannins that develop in our grapes. It is a balance of providing protection from sunburn, allowing airflow to keep grapes dry, allowing the sun to create tannin, and avoid irrigation so grapes and small and contain more tannin.
Visit our grapes!
Want to check out for yourself what stage the tannins are at? Take a stroll in our interpretive trail and join us in guided tasting/tour:
Or... not feeling that adventurous, taste the tannins in our tasting room. Our staff will walk you through taste comparisons of tannins.
Looking for a super ripe and juicy wine that is bone dry? This week we will be releasing Sieg, just being bottled today.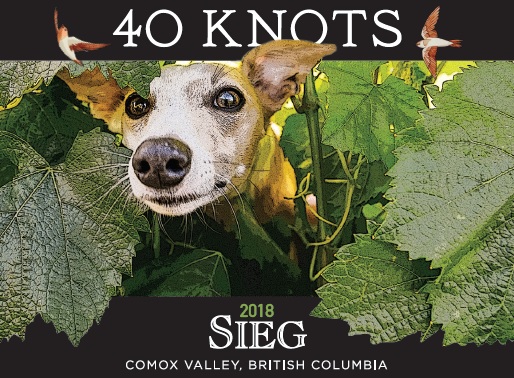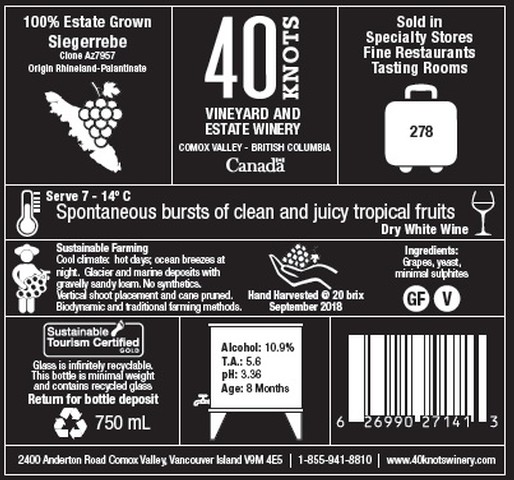 In our next blog, we will take a closer look at the naturally occurring acids in wine: tartaric acid, malic acid, and citric acid.

The Swallow
(Stelgidopteryx serripennis)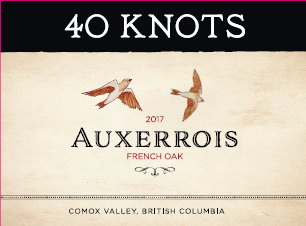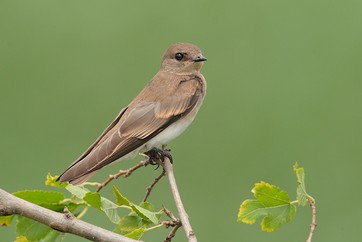 If you've ever purchased a bottle of 40 Knots wine from our cellar door, you may have noticed the Northern Rough-Winged Swallow that adorns our Estate label. These swallows are endemic to our area and frequent our vineyard. Each year we celebrate their arrival because, for us, they are not only our friends but a part of our biodynamic crew. Swallows will only live in areas that surround biodynamic balance and their presence speak volumes that our clean, green vineyard practices are working. Swallows are an excellent bug predator. Unlike other species of birds, they will never harm our grapes. 40 Knots Vineyard is surrounded by farming land and swallows always nest near other farm animals. Next time you're here, perhaps during a guided or self-guided vineyard tour, keep your eyes peeled for swallow birdhouses built to keep the birds safe and give them a home to return to every year.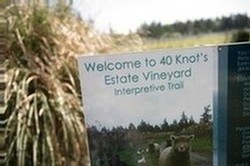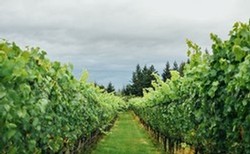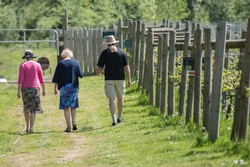 Swallows are also songbirds, and in maintaining balance it is believed that sound vibrations are important to vine health. Italy has been piping opera out into their vines for many years, and the proof shows that vines closer to the music are the healthiest in the vineyard. At 40 Knots, our version of this is offered not only to our vines but to our guests as well. If you haven't yet had a chance to partake in one of our vineyard terrace Wine Wednesday events, better book now before reservations fill up!
40 Knots is just a stone's throw away from the Salish Sea. Because our land was created by a glacier, our vines are reaching down through glacier till soil. The rich salt air flows through our vines keeping them aerated, healthy and strong, and the salt air imbeds our oak providing beautiful aging that cannot be accomplished in dry wine regions. While walking the interpretive trail or sipping on our vineyard terrace or balcony overlooking the vineyard, you can hear the swallows singing alongside the sea lion's barking at the arrival of the new day.
Swallows are an important friend of sailors and are believed to be a good omen. Sailors will often get a swallow tattoo to show off their sailing experience. According to one legend, one swallow symbolizes successful journeys adding up to 5,000 nautical miles, two swallows symbolize 10,000 nautical miles and so on. Another legend is that since swallows always return to the same land each year to mate and nest, the swallow will guarantee the sailor returns home safely. Sailors also believe that if they were to drown, the swallow will carry their soul to heaven.
40 Knots believes that all of us have the right to love and be loved. This is showcased with our gold medal winning Soleil Rose French Traditional style. The label, "Love is Love", supports the LGBTQ2 community. We believe that all are equal and we share the responsibility to support this belief. Even our swallows live with a similar motto. The female and male swallow not only look almost identical, but they also share in responsibilities of the daily chores and protecting their family. Once they mate, they mate for life. This is another quality we give great importance to. We practice loyalty to our community, our family, our friends, and our environment.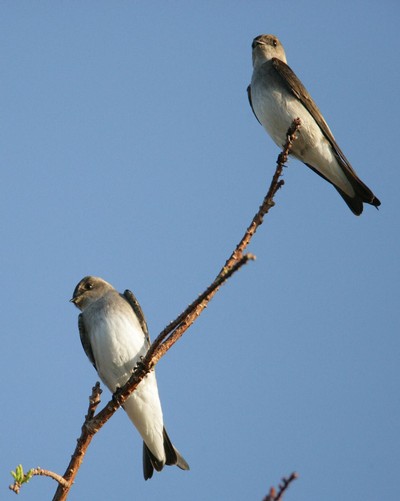 Awaiting our much-loved swallows, budburst in the near future and the days lasting a little bit longer, you better believe that we're dusting off that patio set! Come visit us Tuesday through Sunday between the hours of 11 am and 5 pm for a tasting, a glass (or bottle!) and a picnic.
#See you soon in our Vineyard Terrace!

-Marmalade is a big word
Marmalade is a big word. So is sustainability, biodynamic and lutte raisonnee to mention a few. The environmentally friendly wine scene abounds with all kinds of words. It is not easy to know what the terms mean, and sometimes they are carelessly bandied about by producers, consumers and reviewers alike. But alas, there are control agencies monitoring compliance with a diversity of rules. The most talked about is biodynamic, and 40 Knots Vineyard and Estate Winery is excited to be working towards certification. In fact, we have been since the owners purchased the property in 2014. And in fact, it was how their grandparents always farmed before there was a name for it.
So what is biodynamic? Basically, it is quite straightforward... just as marmalade is another word for jam... biodynamic is respect for the environment. It means using products which are not harmful to humans, flora, and fauna. It is about a hands-off approach to farming and allowing Mother Nature to do her thing, and for us, to learn how to work in harmony with her.
Chardonnay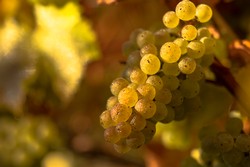 Hard Working Pilgrims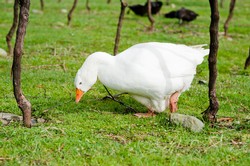 Interpretive Trail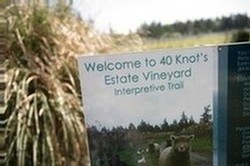 At 40 Knots, all of our crew works with Mother Nature in mind. Each has a deep respect for the vineyard and every task they do. And one doesn't have to go far on Vancouver Island to find like-minded farmers and customers. In fact, it is well recognized how forward thinking our community is, and their deep care for this land. It is a big reason why the owners chose this area to farm. When 40 Knots won the 2018 Comox Chamber Award for Sustainability, it was indeed recognized that we could not have done this without you. Check out our video below of Layne giving the "Marmalade" speech.
So what is everyone else doing? Trends are showing that in France, organic wine producing acreages went up 39% in two years, and as of 2012, 8% of wine growing acreage was biodynamic or organic. But is it possible, to ever get the land back to how Mother Nature intended? Some say that it will be for the New World wines such as ours. However, some say that some European vineyards that copiously used lead and arsenic (arseniate de plomb in French) as an insecticide during the twentieth century are beyond repair. As is the high lead content in soils in Bordeaux that may be due to lead arsenate.
Great wines are not made in the tank and the barrel. Great wines come from the vineyard.
So, what about all the fluffy, weird burying of horns and following the moon? It may sound like some sort of witchcraft and some may balk at the idea that moons can have any effect. Well then, we call upon all you non-believers to take the:
Lunar Challenge
Following a lunar calendar is not only the main direction for biodynamic farming, but it can actually help your wine taste better! Have you ever wondered why one day your favorite bottle of wine can taste glorious whereas other days not so much? Studies have proven that the moon can affect the way wine tastes. Following this calendar states that there are root days, fruit days, flower days and leaf days.
There are lots of references to this on the internet, and at 40 Knot's we all love Wine Folly. Check out their link to the Wine Lunar Calendar: https://winefolly.com/update/biodynamic-calendar-fruit-day-wine-tasting/
---
Fruit Days: The best day for drinking your favorite bottle of 40 Knots wine!
Root Days: Good days for plant development. Wine flavors not at their best
Flower Days: Good days for tending to your flowers and drinking your floral wines such as Ziggy
Leaf Days: good days to prune back your vine's, don't break out the expensive bottle of wine...
---
We want to hear back from you after you have completed the Lunar Challenge. Let us know what wines were most affected by the moon, and which wines you think are best left for Root and Leaf days. Leave a comment below, and I will be excited to learn alongside you as we discover together.
Want to connect with our little slice of Mother Nature's heaven? I will be guiding guests through a vineyard tour where you can sip the wine among the vines that created them. Book for yourself and your loved ones! Offered throughout the Spring and Summer on selected dates and times.
40 Knots grows and crafts high quality, ethical, clean wines that are distinct to Vancouver Island.

What's in 40 Knots Wine:
This entry is dedicated to learning about what it is that we're drinking when we pick up that delicious glass of vino. Wondering what is specifically in 40 Knot's wines? Read on!
What's NOT in 40 Knot wine? No chemical or unnatural preservatives are used. No added flavoring is used. Our wines are vegan and gluten-free. We achieve our GOLD for our efforts. And we often have customers come to us, surprised, and say they can drink wine again with no adverse effect.
Wine-making methods: First and foremost, there are conventional methods. Sulfites, eggs, milk, and fish are sometimes found in the conventional process of winemaking. Although by law these additions must be stated on the label, this is not always the case, so if this is important to you, read the label or ask the winery. The next level is the certification of organic. It costs a lot of money to get certified and it doesn't always guarantee that what you're drinking is 100% preservative free or that the methods are good for the environment. Us at 40 Knots? Well, we're above organic standards. The term biodynamic has come up a lot over the last couple of years, and while we're working towards fully achieving this certification, you can always rest assure that what you're drinking out of our 40 Knots Cellar is clean, natural, and rooted in our cool climate to give you fruit forward juicy and elegant wines.
What's found in All Wine:
Now let's take a look at a broader scope and discuss the components found in all wine all over the world.
The number one ingredient found is actually water. No, water is not added, this is the natural "water" found in the grape. Around 75% of wine in fact. Shocking, right? Following this is alcohol, typically ranging anywhere between 8-16%. Doesn't leave much left. But this is where it gets interesting.
Traditional wine is always made out of a few strains of winemaking grapes. Vitis-vinifera is the most common type used. So when people say they taste blackberries, cherries, or spices- this doesn't normally mean that those flavors have been added. Although some producers do sneak flavoring into wine, 40 Knots does not. Each grape varietal brings out different characteristics, depending on soil and climate. The only other way that different kind of fruits would be used, would be where the producer would state that what they carry is a "fruit wine" or country wine, as they define it in Europe. So rest easy, you are always drinking juices from grapes that have been affected by a fermentation process!
So moving on, let's look at what makes up the rest of that 5-10%.
Acids - this is naturally derived from the grape skins. White wines will typically have more acids than reds. There is also a small amount of amino acid found. Volatile acidity, mostly acetic acid, is what would give the wine its vinegar taste if gone bad.
Acetaldehyde - this is a volatile compound that is created when a wine starts to slightly oxidize. It sometimes gives off aromas of yellow apple. Some winemakers purposely oxidize before bottling if they are looking for a result of these flavors, but mostly only found with very old wines.
Glycerol - this is a sugar alcohol that is not technically sugar and gives wines their sweetness. Sugar is also found when the grapes don't ferment all the way, leaving the wine with residual sugar, or RS for short. Dry wines will have less, typically 0-8 g/liter, off-dry will typically have 8-15 g/liter, and sweet wines will have 20+g/liter.
Higher Alcohol - these are found in very small amounts and will help aid in the wine's primary aromas.
Minerals - calcium, zinc, iron, magnesium, potassium, and manganese. Get your daily dose by drinking some wine!
Esters and Phenols - these are compounds that give off aromas of a wine.
Sulfites - this is a naturally occurring preservative of all fruit (easily seen as the white on blueberry skins), and something of a conversation piece. Levels of sulfites range in a wine, but they all have it. Most have an addition of sulfites to help preserve it, especially if being shipped from other countries, or if it is a big commercial winery, or if the wine is packaged in a lesser stable container like tetra boxes or boxes with spouts. Even VQA wines are allowed to have large volumes of sulfites added. People claim that sulfites are what create headaches, this is up for debate. Some people say its the histamines. Varying countries have different histamines and the person's reaction might come from certain parts of the world and not others. If an Australian wine gives you a headache, try Italian. Easier yet, if you get a headache from wine, perhaps it's simply dehydration! Best using the one to one method. One glass of wine, one glass of water etc.
Antioxidants and healing properties? Just google "is wine good for you", and you will come up with many, many claims that it is. Articles say that a daily glass of wine can help with brain function, heart function, ovary function, blood clots, stress, and the list goes on. Hmmmm... is that why it is common to cheer "here's to your health"?!
And so we took this to the road! Spreading the love most recently at the Hopscotch Festival in Vancouver. Soleil Rose - Love is Love (supporting the LGBTQ community) was a major hit!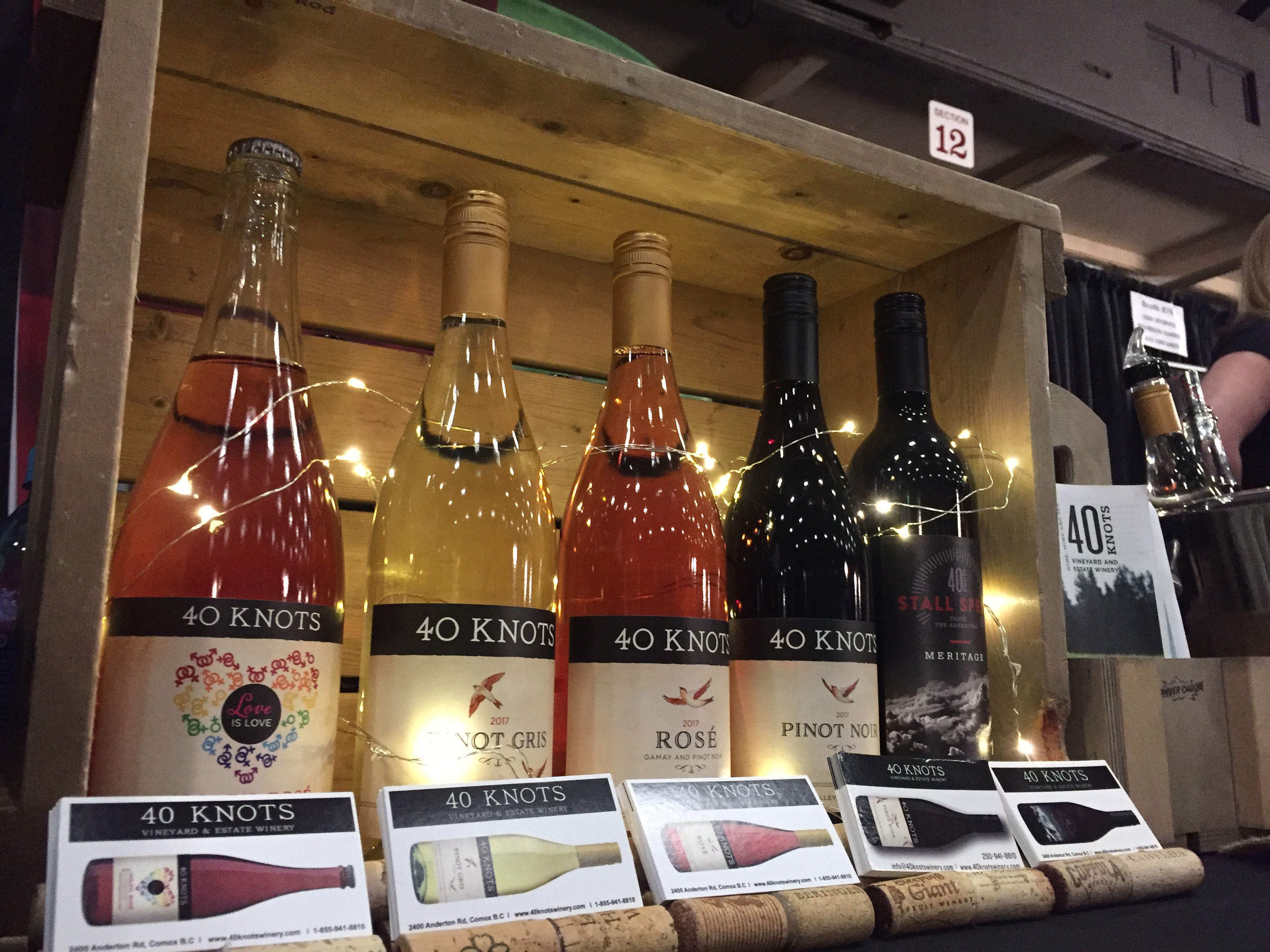 40 Knots grows and crafts high quality, ethical, clean wines that are distinct to Vancouver Island.

WINE, WIND AND SEA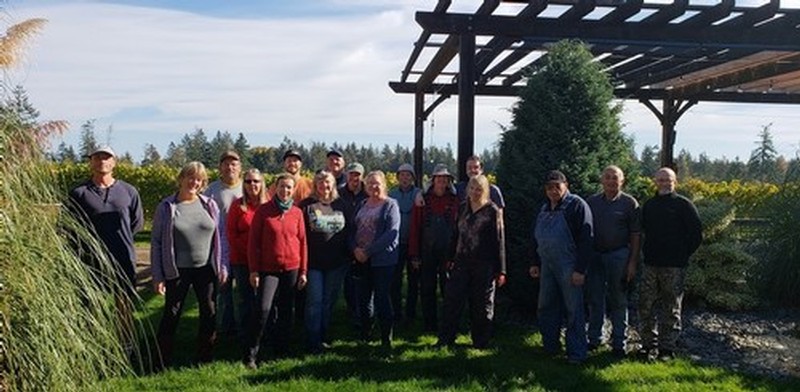 Gentle hand harvesting has been completed by our local harvesters. Our crew was the best. They worked long hard days and we sincerely thank them for their dedication, getting our grapes off at the perfect time.
We thank Yasir for his guidance as we work towards biodynamic certification. Our grapes are very healthy with no disease and our highest yield to date. They required very little irrigation and little food. No synthetics were used and the grapes are above organic standards. Leaves are now falling off the vines in preparation for a 5 month dormancy period.

Into the cellar, the grapes go, and this is where we reap the rewards from biodynamic farming. The grapes go to work making the wine, with little to no intervention from us. Fermentation is slowed with temperature control which results in fruit forward and natural flavors.
Whites will continue to ferment anywhere from two weeks to three months, leaving on their lees for a creamy body. Lees is life, this is where the profile, taste, mouthfeel, and structure come from. We expect to bottle as early as February, however, each wine will finish on their own time, and it will take a studious eye and palate to know when they finish.
Reds are fermenting on their skins and pips. Reds take a shorter period for the first fermentation and ferment at a higher temperature. We have moved many of the wines now off their skins and pips, into Amphora and Burgundy oak. Now we wait while the wine matures, and watch for the second fermentation, known as malolactic. More about the malolactic fermentation in my next blog.
"My goal is to have all our wine aging in Amphora". Layne Craig, owner. Stainless steel aging is airtight and imparts zero flavor. Oak aging imparts just that- oak flavor. Amphora, however, allows that slight oxidation to soften wines and add complexity.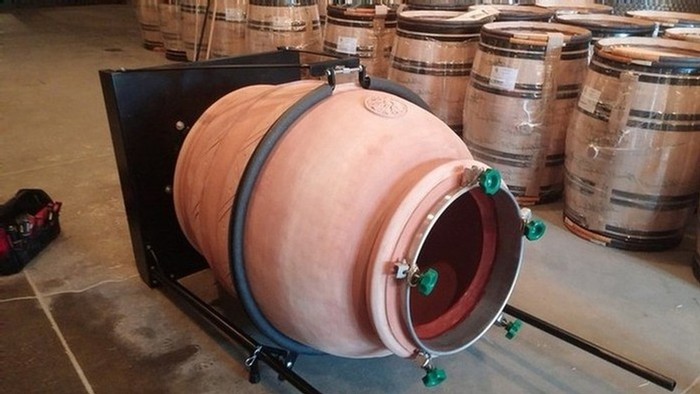 REPURPOSE TO VINO-CARE - Vino Therapy Skin Care: Grape skins and stems, full of anti-oxidants, will be saved for use in our Vinocare skincare line. As we once again receive GOLD in Green Tourism Green Step, an international program, reusing these nutrient-packed bi-products of wine is a no-brainer for reducing our footprint. Partnered with Michelle from Royston Soap works, we have a full line of products that provide anti-aging and gentle skin healing for all skin types. My personal favorite picks for these upcoming cold winter months:
Halo Blu body scrub: made of granulated sugar- a powerful exfoliator that polishes and cleanses away dead skin cells, leaving the skin super silky smooth and incredibly (seriously) nourished
Ruby Moon facial soap: this natural cream soap is a detoxifier that provides hydration while helping improving skin texture. It contains lactic acid which has anti-aging components. This stuff leaves your skin feeling slightly tingly and incredibly refreshed!
Halo Blu body lotion: I totally love the smell of this one. Like the Halo Blu body scrub, its fresh ocean breeze aroma is super pleasant and long-lasting. The lotion is light and doesn't leave a thick creamy residue on your palms.
Looking for an early Christmas present for your loved one? Check out our beautiful birchwood cases holding the entire line. Choose your favorite scent: Kadence Rose or Halo Lily Blu.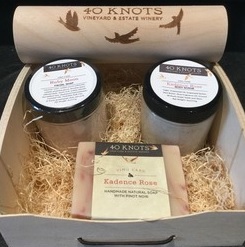 Want an evening of Class? Wine Class? Looking for something fun to do in these dreary winter months? Book us for Wine School! We offer beginner to intermediate and specialty classes such as food pairing and proper wine service.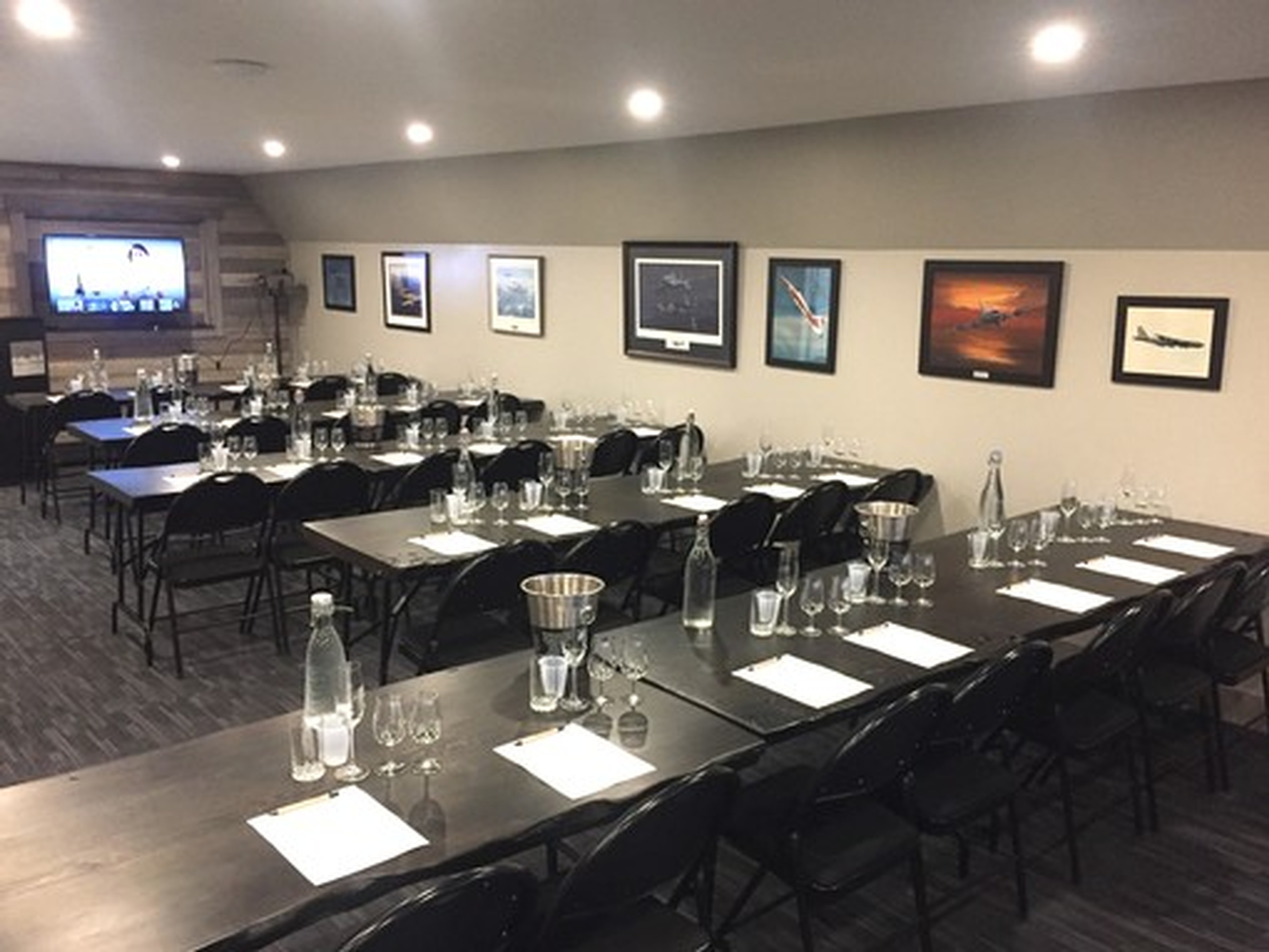 Want to Party? Or just get out of the office? Stall Speed Lounge rents out for business meetings, Christmas Parties, Birthday parties, and any other reason you may find for a reason to get your crew together. info@40knotswinery.com
Next Blog: What is in wine?

What are Cool Climate Wines?
Vancouver Island is considered a cool climate in which 40 Knots Vineyard & Estate Winery produces cool climate wines. The type of grapes that we have in our Vineyard are Chardonnay, Auxxerous, Sieggerrebe, Pinot Gris, Gamay Noir and Pinot Noir. We also crop share 10 acres of Epicure and Petit Millot. Each type of varietal thrives in our vineyards. The cool climate helps us to produce wines of finesse, juiciness, and elegance.
Grapes that are grown in the world's warmer regions ripen quickly and make for sweet, big wines that are low in acid and high in alcohol. Grapes that are grown in cooler regions such as ours will ripen and accumulate their flavor slowly (think of it as marinating a juicy meat for quite some time). The wines tend to be complex and balanced, with higher acidity and more mineral flavors making them very much food-friendly wines. With the abundance of fresh locally grown food and seafood here, 40 Knots wines pair beautifully with Vancouver Islands cuisine.
Though we feel blessed with the effects of our cool climate it can also put us on edge we have to monitor the weather, pH and brix daily so that we can pick the best quality grapes, which may cause us to lose quantity. The winter frost won't damage them and spring and summer rainfall won't dampen the flavors? Layne has learned to work with the climate to bring you the freshest, tastiest most complex wines.
---