Newsletters and Blogs you want to read!
Missing out? You keep hearing about what a great time your friends had at Wine Wednesday, the new wine class they just took, how they got to taste wine before it was released, and how they bought up the last of a vintage? Don't miss out anymore. We want you in our inner group!
Sign up here for our newsletter.
Welcome to the 40 Knots Vineyard & Estate Winery blogs. Here is where we will be highlighting events and news from around the winery. Keep up to date of the latest trends, the happenings of the winery, learn how we farm and make wine, and get the inside scoop of our new releases and events.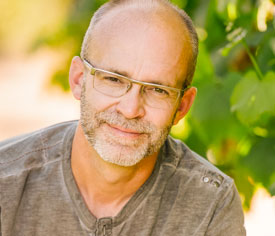 Layne Robert Craig, Janitor and Blogger
As co-owner with his wife Brenda Hetman-Craig, Layne spends his days enjoying getting back to his family roots of traditional farming. You may see Layne out in the vineyard, at charity events, delivering wine or giving guests special attention as he takes them through the cellar for an in-depth look into how 40 Knots is able to make such delicious clean wines by using traditional methods. Layne's passion for flying is evident. With the vineyard directly below planes turning final for YQQ, it does appear that indeed Layne has found his sanctuary. Contact Layne for anything vineyard or winery.
---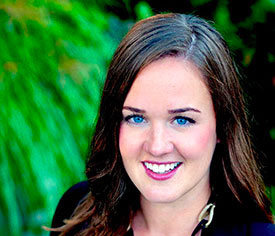 Megan Thiel, Wine Sales, Tour Guide and Blogger
Megan has a passion for all things wine- from vineyard to tank to bottle. Her passion led her to an extensive apprenticeship with a German winery where she acquired a humbled appreciation for the vines. She comes to us with her WSET 3 accreditation and a comprehensive background; including a season with an Okanagan winery. Having recently moved from Vancouver, she is excited to become a part of the Comox Valley community.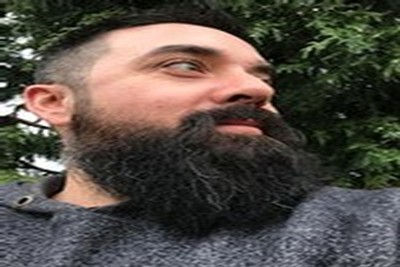 Michael Johnson, Vineyard and Cellar, self-proclaimed sipster
A self-declared sipster, most unlikely to have become a wine lover. Read about my adventures in the vineyard and cellar, as my palate goes into training to become as honed as my wife's palate.


The Swallow
(Stelgidopteryx serripennis)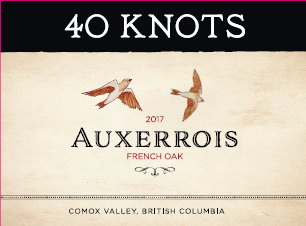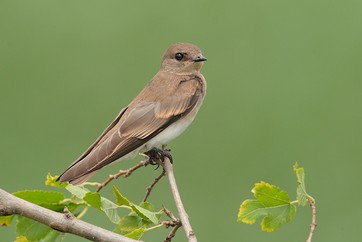 If you've ever purchased a bottle of 40 Knots wine from our cellar door, you may have noticed the Northern Rough-Winged Swallow that adorns our Estate label. These swallows are endemic to our area and frequent our vineyard. Each year we celebrate their arrival because, for us, they are not only our friends but a part of our biodynamic crew. Swallows will only live in areas that surround biodynamic balance and their presence speak volumes that our clean, green vineyard practices are working. Swallows are an excellent bug predator. Unlike other species of birds, they will never harm our grapes. 40 Knots Vineyard is surrounded by farming land and swallows always nest near other farm animals. Next time you're here, perhaps during a guided or self-guided vineyard tour, keep your eyes peeled for swallow birdhouses built to keep the birds safe and give them a home to return to every year.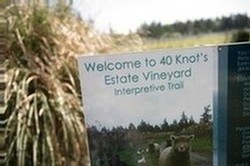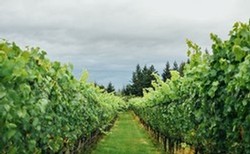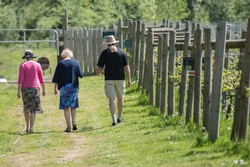 Swallows are also songbirds, and in maintaining balance it is believed that sound vibrations are important to vine health. Italy has been piping opera out into their vines for many years, and the proof shows that vines closer to the music are the healthiest in the vineyard. At 40 Knots, our version of this is offered not only to our vines but to our guests as well. If you haven't yet had a chance to partake in one of our vineyard terrace Wine Wednesday events, better book now before reservations fill up!
40 Knots is just a stone's throw away from the Salish Sea. Because our land was created by a glacier, our vines are reaching down through glacier till soil. The rich salt air flows through our vines keeping them aerated, healthy and strong, and the salt air imbeds our oak providing beautiful aging that cannot be accomplished in dry wine regions. While walking the interpretive trail or sipping on our vineyard terrace or balcony overlooking the vineyard, you can hear the swallows singing alongside the sea lion's barking at the arrival of the new day.
Swallows are an important friend of sailors and are believed to be a good omen. Sailors will often get a swallow tattoo to show off their sailing experience. According to one legend, one swallow symbolizes successful journeys adding up to 5,000 nautical miles, two swallows symbolize 10,000 nautical miles and so on. Another legend is that since swallows always return to the same land each year to mate and nest, the swallow will guarantee the sailor returns home safely. Sailors also believe that if they were to drown, the swallow will carry their soul to heaven.
40 Knots believes that all of us have the right to love and be loved. This is showcased with our gold medal winning Soleil Rose French Traditional style. The label, "Love is Love", supports the LGBTQ2 community. We believe that all are equal and we share the responsibility to support this belief. Even our swallows live with a similar motto. The female and male swallow not only look almost identical, but they also share in responsibilities of the daily chores and protecting their family. Once they mate, they mate for life. This is another quality we give great importance to. We practice loyalty to our community, our family, our friends, and our environment.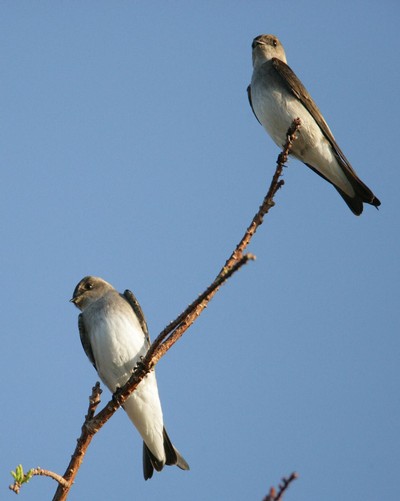 Awaiting our much-loved swallows, budburst in the near future and the days lasting a little bit longer, you better believe that we're dusting off that patio set! Come visit us Tuesday through Sunday between the hours of 11 am and 5 pm for a tasting, a glass (or bottle!) and a picnic.
#See you soon in our Vineyard Terrace!

-Marmalade is a big word
Marmalade is a big word. So is sustainability, biodynamic and lutte raisonnee to mention a few. The environmentally friendly wine scene abounds with all kinds of words. It is not easy to know what the terms mean, and sometimes they are carelessly bandied about by producers, consumers and reviewers alike. But alas, there are control agencies monitoring compliance with a diversity of rules. The most talked about is biodynamic, and 40 Knots Vineyard and Estate Winery is excited to be working towards certification. In fact, we have been since the owners purchased the property in 2014. And in fact, it was how their grandparents always farmed before there was a name for it.
So what is biodynamic? Basically, it is quite straightforward... just as marmalade is another word for jam... biodynamic is respect for the environment. It means using products which are not harmful to humans, flora, and fauna. It is about a hands-off approach to farming and allowing Mother Nature to do her thing, and for us, to learn how to work in harmony with her.
Chardonnay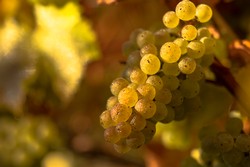 Hard Working Pilgrims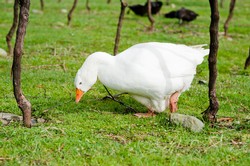 Interpretive Trail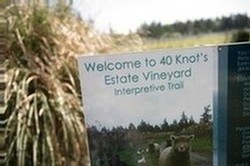 At 40 Knots, all of our crew works with Mother Nature in mind. Each has a deep respect for the vineyard and every task they do. And one doesn't have to go far on Vancouver Island to find like-minded farmers and customers. In fact, it is well recognized how forward thinking our community is, and their deep care for this land. It is a big reason why the owners chose this area to farm. When 40 Knots won the 2018 Comox Chamber Award for Sustainability, it was indeed recognized that we could not have done this without you. Check out our video below of Layne giving the "Marmalade" speech.
So what is everyone else doing? Trends are showing that in France, organic wine producing acreages went up 39% in two years, and as of 2012, 8% of wine growing acreage was biodynamic or organic. But is it possible, to ever get the land back to how Mother Nature intended? Some say that it will be for the New World wines such as ours. However, some say that some European vineyards that copiously used lead and arsenic (arseniate de plomb in French) as an insecticide during the twentieth century are beyond repair. As is the high lead content in soils in Bordeaux that may be due to lead arsenate.
Great wines are not made in the tank and the barrel. Great wines come from the vineyard.
So, what about all the fluffy, weird burying of horns and following the moon? It may sound like some sort of witchcraft and some may balk at the idea that moons can have any effect. Well then, we call upon all you non-believers to take the:
Lunar Challenge
Following a lunar calendar is not only the main direction for biodynamic farming, but it can actually help your wine taste better! Have you ever wondered why one day your favorite bottle of wine can taste glorious whereas other days not so much? Studies have proven that the moon can affect the way wine tastes. Following this calendar states that there are root days, fruit days, flower days and leaf days.
There are lots of references to this on the internet, and at 40 Knot's we all love Wine Folly. Check out their link to the Wine Lunar Calendar: https://winefolly.com/update/biodynamic-calendar-fruit-day-wine-tasting/
---
Fruit Days: The best day for drinking your favorite bottle of 40 Knots wine!
Root Days: Good days for plant development. Wine flavors not at their best
Flower Days: Good days for tending to your flowers and drinking your floral wines such as Ziggy
Leaf Days: good days to prune back your vine's, don't break out the expensive bottle of wine...
---
We want to hear back from you after you have completed the Lunar Challenge. Let us know what wines were most affected by the moon, and which wines you think are best left for Root and Leaf days. Leave a comment below, and I will be excited to learn alongside you as we discover together.
Want to connect with our little slice of Mother Nature's heaven? I will be guiding guests through a vineyard tour where you can sip the wine among the vines that created them. Book for yourself and your loved ones! Offered throughout the Spring and Summer on selected dates and times.
40 Knots grows and crafts high quality, ethical, clean wines that are distinct to Vancouver Island.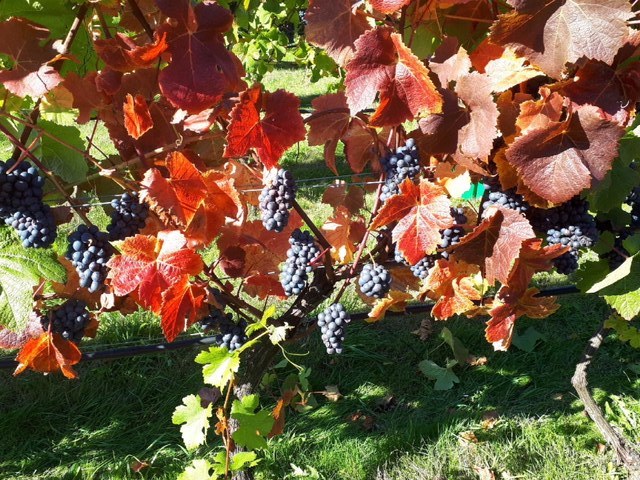 Wine, Wind, Sea, and the bounty surrounds us! We are smack dab in the middle of harvest here in our 40 Knots vineyard. The fall colours, brisk mornings, the way that the yellow sun reflects off of the orange and red leaves can't help but leave a feeling of nostalgia. We've been harvesting our Pinot Noir and Gamay Noir for our Rose. We harvest them a tad earlier to retain a little acidity. For our Pinot Noir and Gamay Noir stand alone red wine, grapes are left on the vine to get a little more concentration of fruit. The juices will be pressed off after 24 hours, the typical timeframe for our Rose, to grab just a touch of colour from the grape skins.
When we make these two grapes into a red wine, the juices remain on the skin for 2 or 3 weeks to grab more colour and tannin structure and then transferred to Burgundy oak. For our Pinot Noir clone 115 Amphora driven wine, the juice is left on skins in Amphora for up to four months. Thereafter, the skins are pressed off and the wine is returned to Amphora to continue aging. Stay tuned for our 2017 Pinot Noir Amphora driven wine to be released in the New Year!
When visiting our tasting room during this time of year, you will be surrounded by the delicious smells of the wine beginning its fermentation process. Here's a snapshot of wine fermenting in burgundian oak barrels: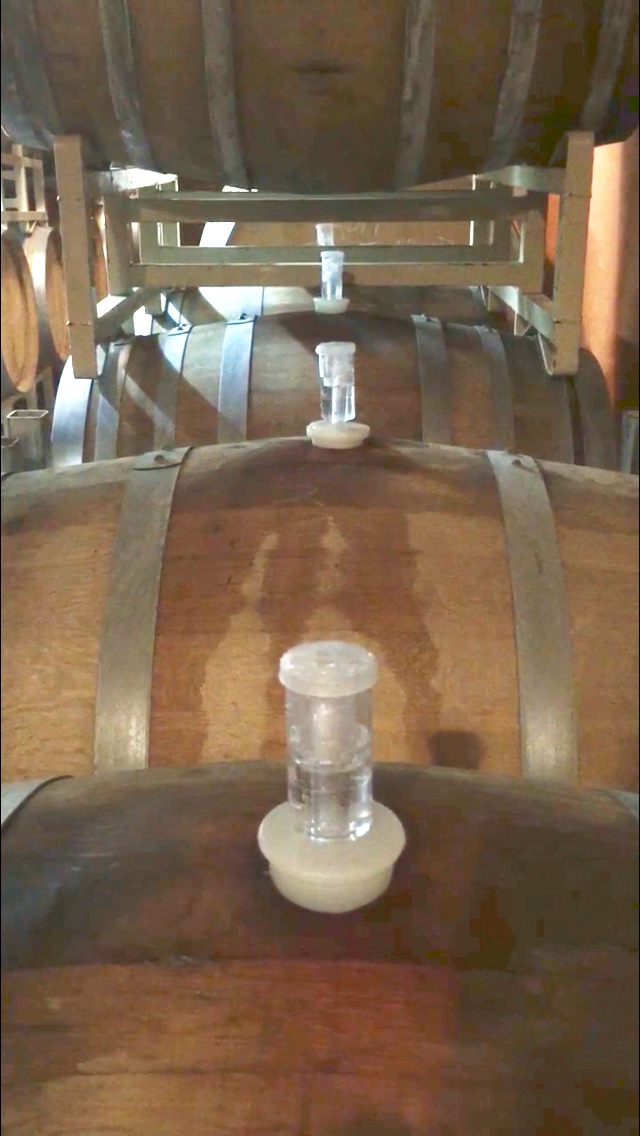 The gases emitted during harvest can actually be quite dangerous. Our 40 Knots cellar is equipped with a C0² monitoring system, air evacuation and purge systems to ensure safety. During this fermentation process, yeast will eat the sugars and convert it into alcohol. This process will typically take a week unless the vat has been cooled down to elongate the process. This is common for the majority of our delicious 40 Knots white wine's. The natural temperature of fermenting wine can get in excess of 30 degrees C. This is quite volatile for a wine. By cooling it, or calming it down, we retain all of the beautiful juicy aromatics and help to showcase each individual grape at its full capacity. There are essentially two ways to ferment a wine, one being inoculation with a certain strain. This is the safest bet and will produce safe, consistent product. Some of our wine is fermented through a process called wild or indigenous fermentation. The choice is made on the day of harvest which direction he is going to go and there are many considerations. Wild fermentation is the old school way to get the job done, and the riskier one. There are no guarantees with wild yeast. It is typically found hanging out around the winery. On clothes, on walls. Many winemakers swear by wild yeast fermentation. On the other hand, many swear at it because of its unpredictability. Choosing this route though will create depth of character, complexity and bigger fruit notes. This is the risk that we're willing to take.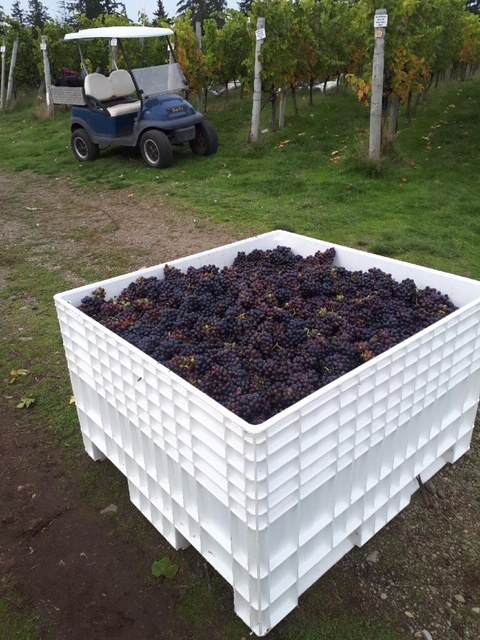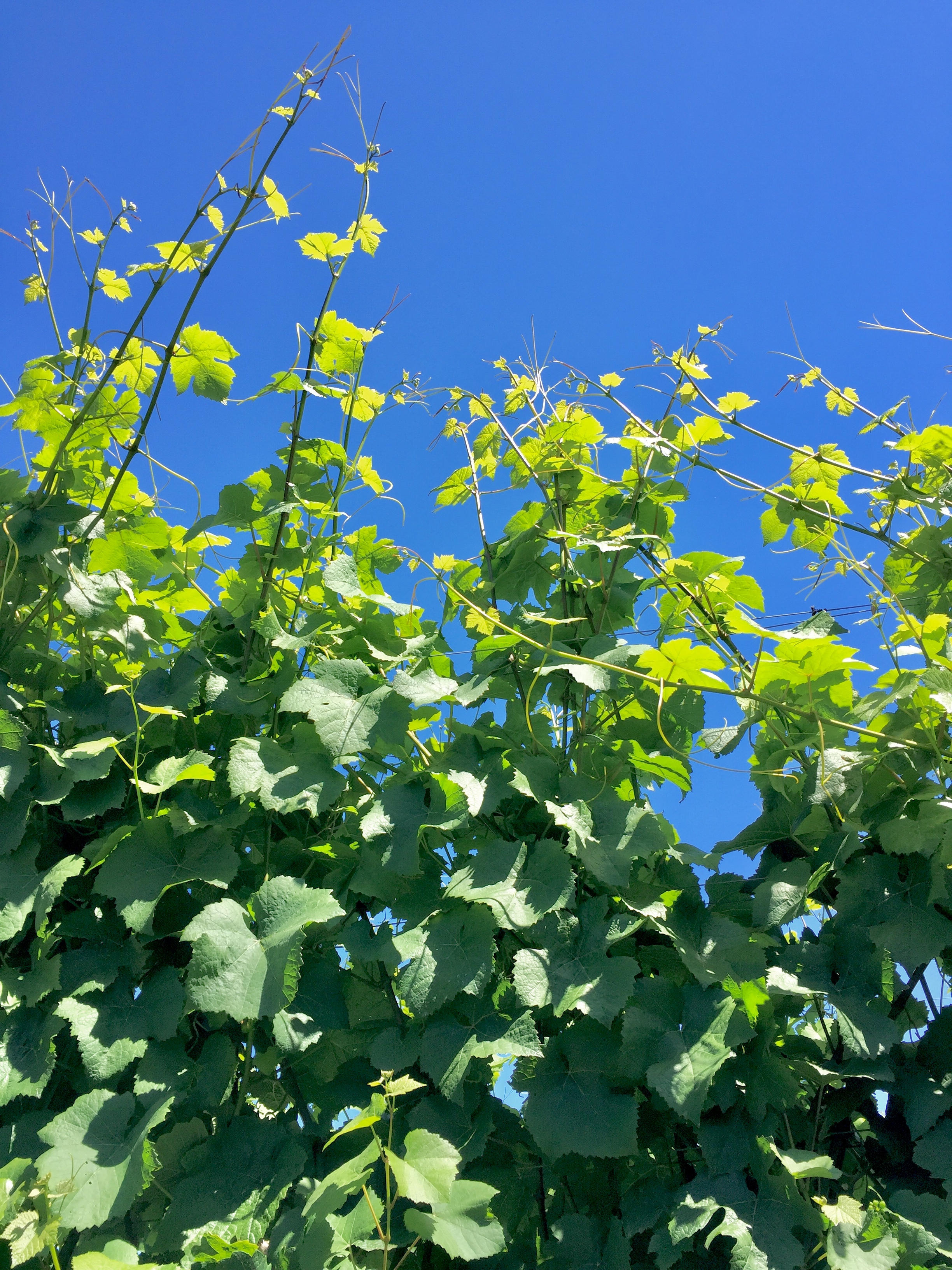 Wine, Wind and Sea.
The heat wave is upon us!! Our 40 Knots vineyard has experienced the highest heat on record since the new ownership of Layne and Brenda 4 years ago. The vines have seen exponential growth since our cool spell in June. We had shoot ends 2 feet above our top wire. With this excellent level of health, we've simply got to manage the growth and keep the vines in check. The last few weeks we've been tucking and hedging. It's been all hands on deck! What's tucking and hedging you might ask? Let's delve deeper.
Tucking is the process of pulling the vines through a trellis system called vertical shoot positioning (or VSP) so that they create those neatly managed rows that you have perhaps walked through once or twice before while strolling in our Vineyard Interpretive Trail /Visit-Us/Vineyard-Tour . It's a system of 5 levels of wires where the leaves grow above and the fruit grows below at about 3 feet from the ground. We keep them neat and manicured so that they provide a perfect canopy for the grapes swelling up below them. The bottom aptly called the cordon wire, is where the fruit will grow and thrive. VSP is a good canopy management system in cool-climate viticultural parts of the world as it helps to enable buds and fruit to receive proper sunlight. Moving upwards are the movable catch wires that are clipped in to actually "catch" and train the upward growing vines. We have surpassed the "shotgun" phase, where the grapes are the size of just that.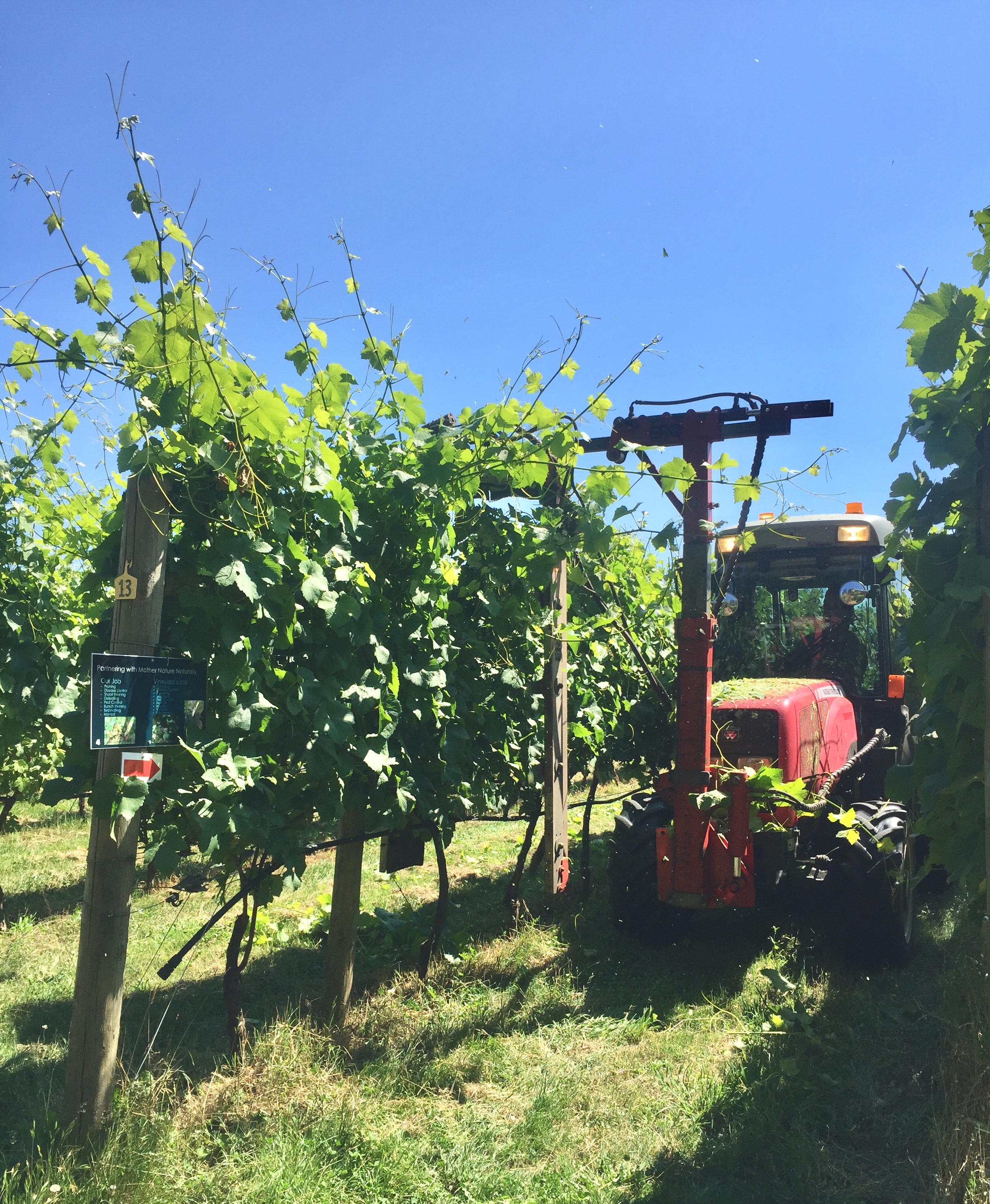 Hedging is a pruning method of removing the tops of the shoots that grow above the trellis system. It essentially depresses vine growth vigor, allowing the vines to focus on fruit ripening as opposed to leaf growth. Once they're tucked and secured with the final wire clipped in at the top, then our 6 bladed machine is driven through each row to take that manicure to the next level. Hedging is essentially giving our vines a buzz cut.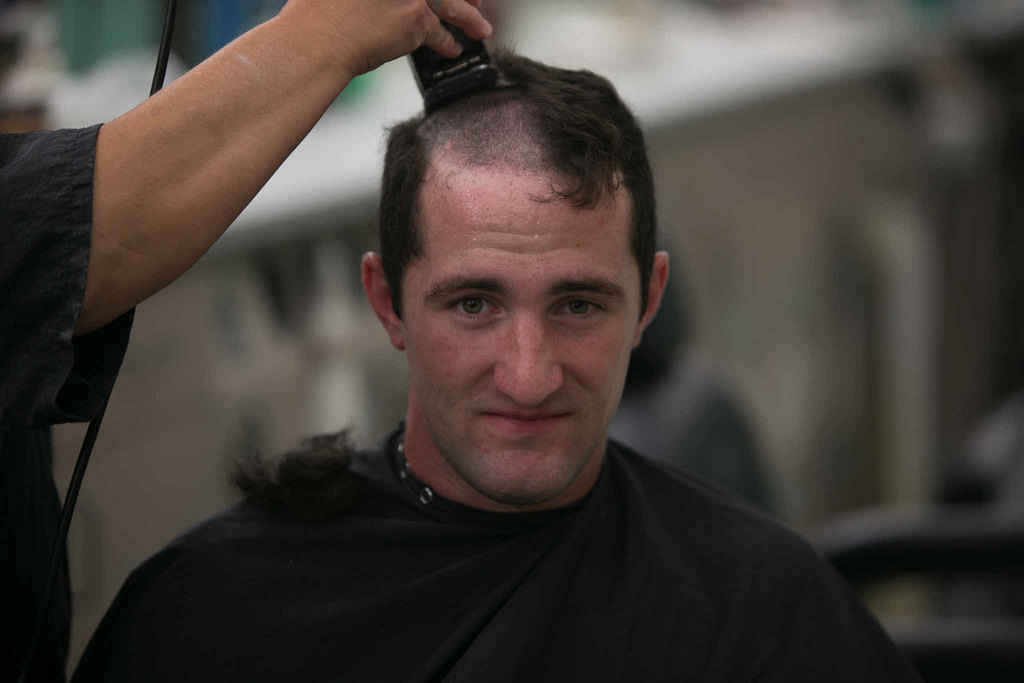 We achieve wonderful health of vines and green farming by not spraying with any pesticides whatsoever. Mustard seed oil and baking soda are all we need for a healthy environment and proper vine management. This controls disease and bugs and is completely biodynamic. Organic calcium is used for fungal spray. For fertigation, or the drip system used to insert fertilizers into the soil, we use liquid organic kelp a couple times a year and that's all it takes to keep the roots happy- a little liquid goes a long way when you've got roots this deep. We're so proud of our healthy Comox Valley vines, our methods are so natural, you could literally grab a leaf from the vine and eat it!
A wonderful slightly chilled BC red wine for the summertime is our coveted and recently bottled Gamay Noir. Beat the heat and come on by for a tasting!
*************** JUST RELEASED FOR SUMMER******************

40 Knots grows and crafts high quality, ethical, clean wines that are distinct to Vancouver Island.

Wine, Wind and Sea.
Well let's hope that June-uary has finally passed and we can get back to our patio excursions and pretend summer. It's like May stole June's weather in toddler fashion and won't give it back. Our vine's have had a tremendous early spring as we saw record growth with that early short's weather stint but I think we're all ready to finally put our winter clothes back into that crawl space for good. Comox Valley's ocean breezed micro-climate environment create some of the island's best kept hidden gems. Long summer hour nights and 900-1200 growing days make for an extended and steady growing season, producing quality grapes through green organic farming and in turn, beautiful red and white wines.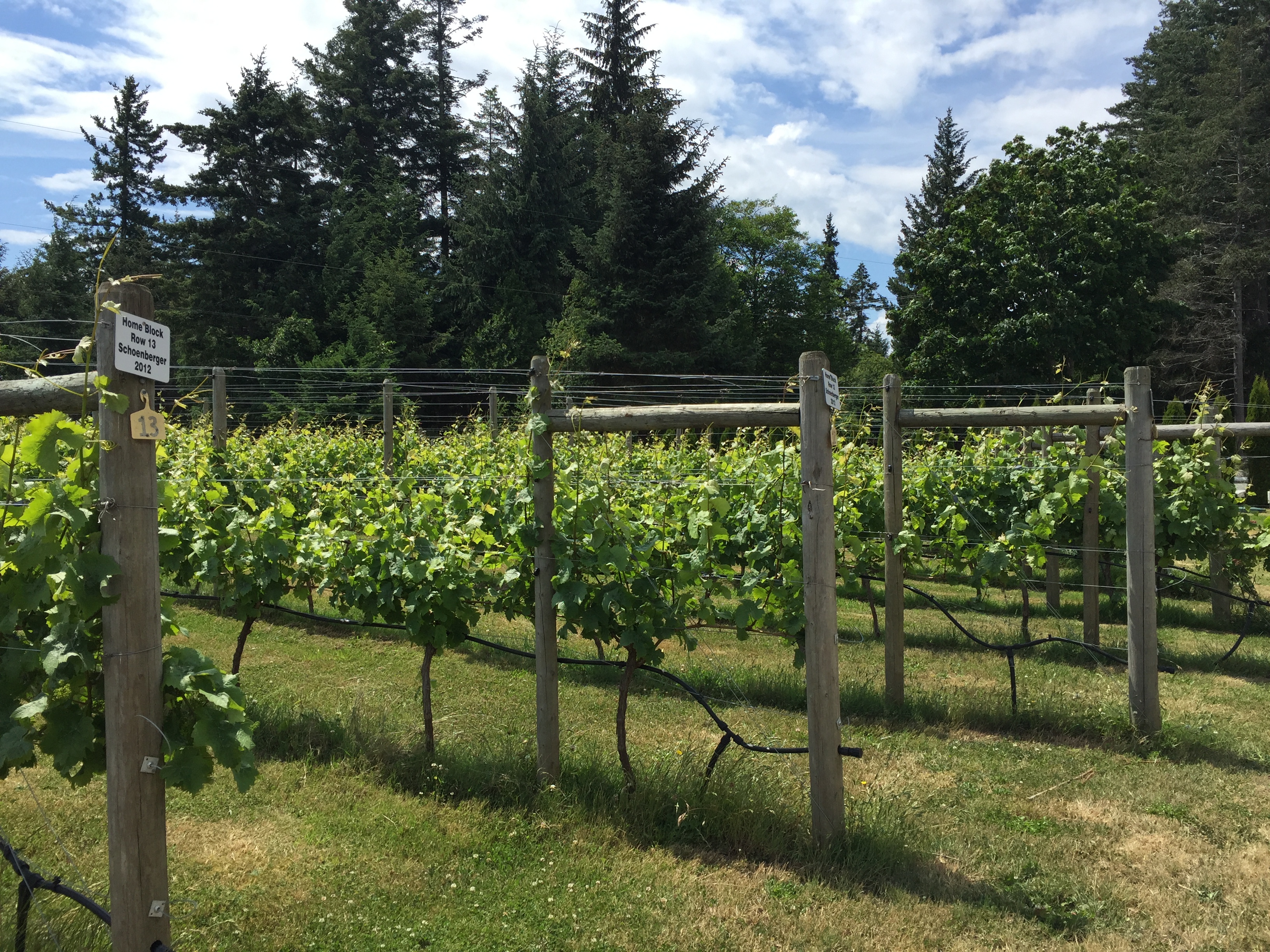 Layne Robert-Craig, Owner "We currently sit above our five year average for growing degree days. Our vines are growing into glacial till soil, which is not typical of this landscape but fell into our micro-climate here in this "banana" belt over time. We have a high pressure/low pressure ridge loop happening, creating straight and constant airflow." What does this mean for us? Red and White wine's with special characteristics all unto their own. There's nowhere else in the Comox Valley, or Vancouver Island for that matter, that sit quite in an environment that our vines do.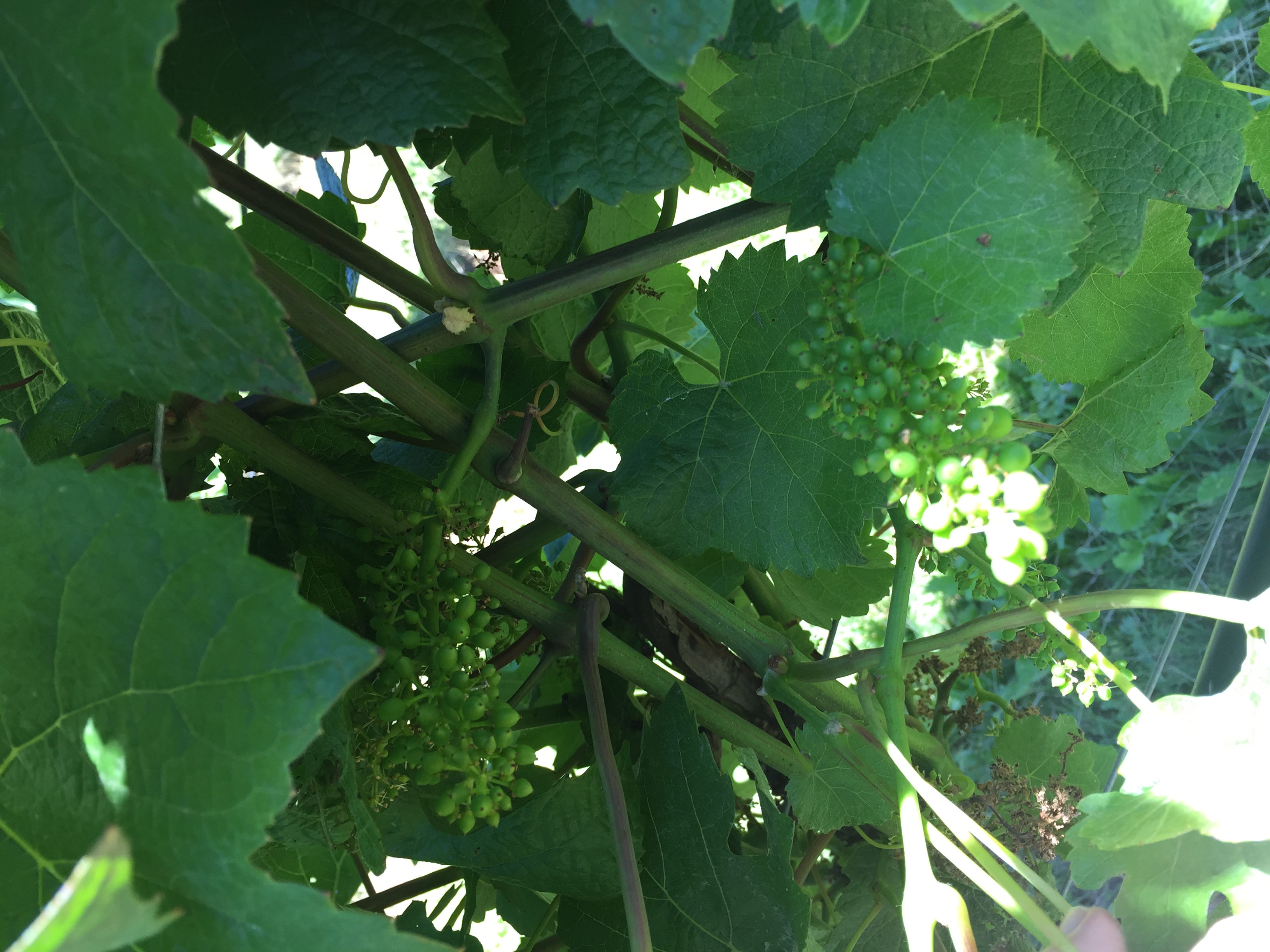 Pinot Noir and Gamay Noir combined make up our Rose, which is close to that dry Provence style that you would typically see coming from the South of France; where they undoubtedly practice what we at the 40 Knots tasting room preach "Rose all day". Our Pinot Noir on it's own though, shows beautiful signs of an absolutely elegant Burgundian version of the red wine varietal; showcasing wonderful strawberry and sour cherry aromas with a beautiful white pepper finish. Two BC wines that are recommended to have on hand coming into these Summer months.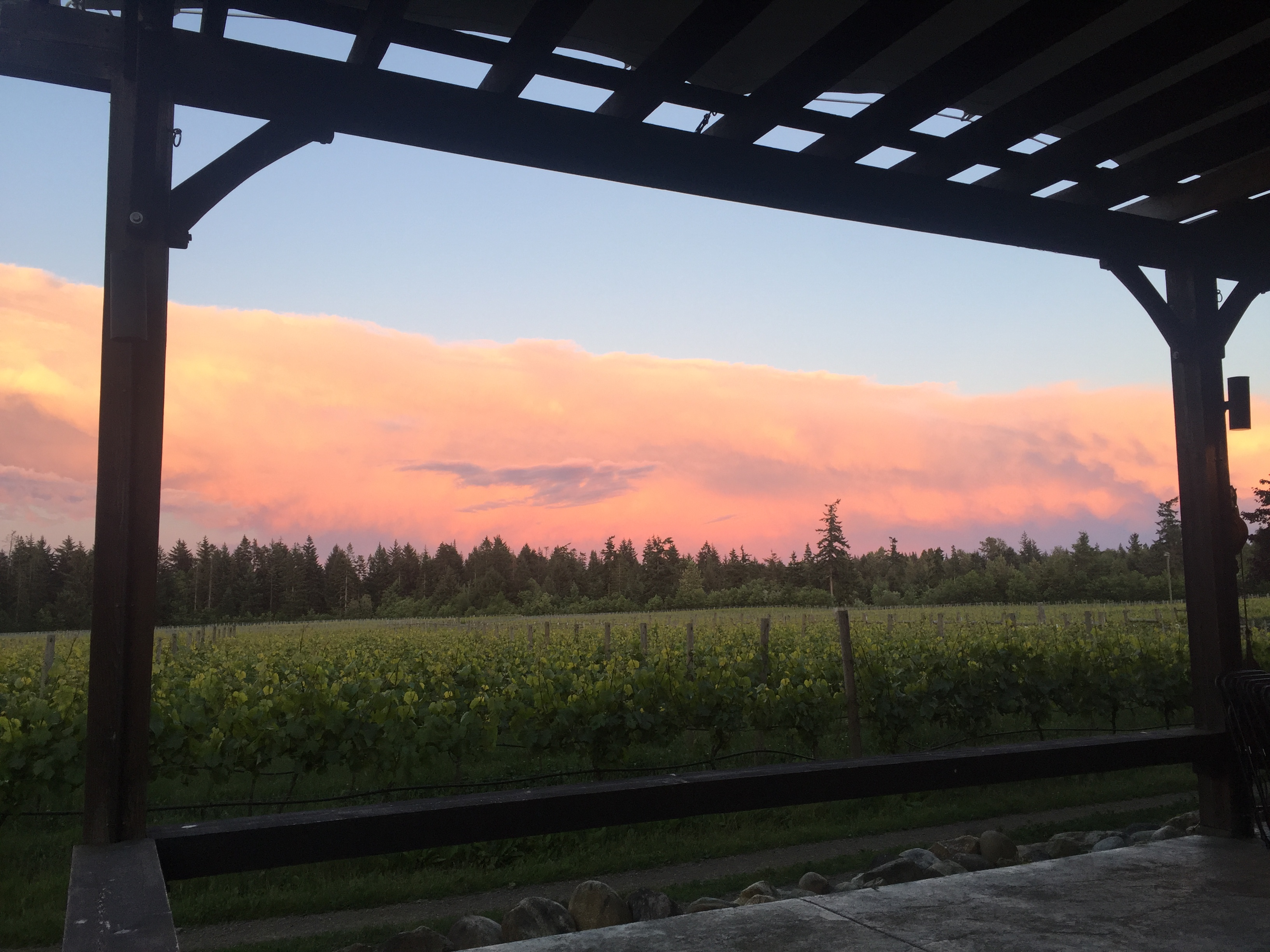 40 Knots grows and crafts high quality, ethical, clean wines that are distinct to Vancouver Island.

WINE, Wind and Sea...
with 40 Knots Winery. Located on our own little banana belt micro-climate here in the Comox Valley. I'd like to take you on a journey through each step that the Vitas vinifera vine's in our 40 Knots vineyard take to produce the fruit that creates our delicious biodynamic red and white wines. What better time to start than in the Spring with bud burst! The first stage in the growth is when our vine's come out of hibernation and start to show some green; kicking things off and preparing for the oncoming growth spurt. This is where not only the green thumbs but the local deer get excited. Good thing our fences are secure!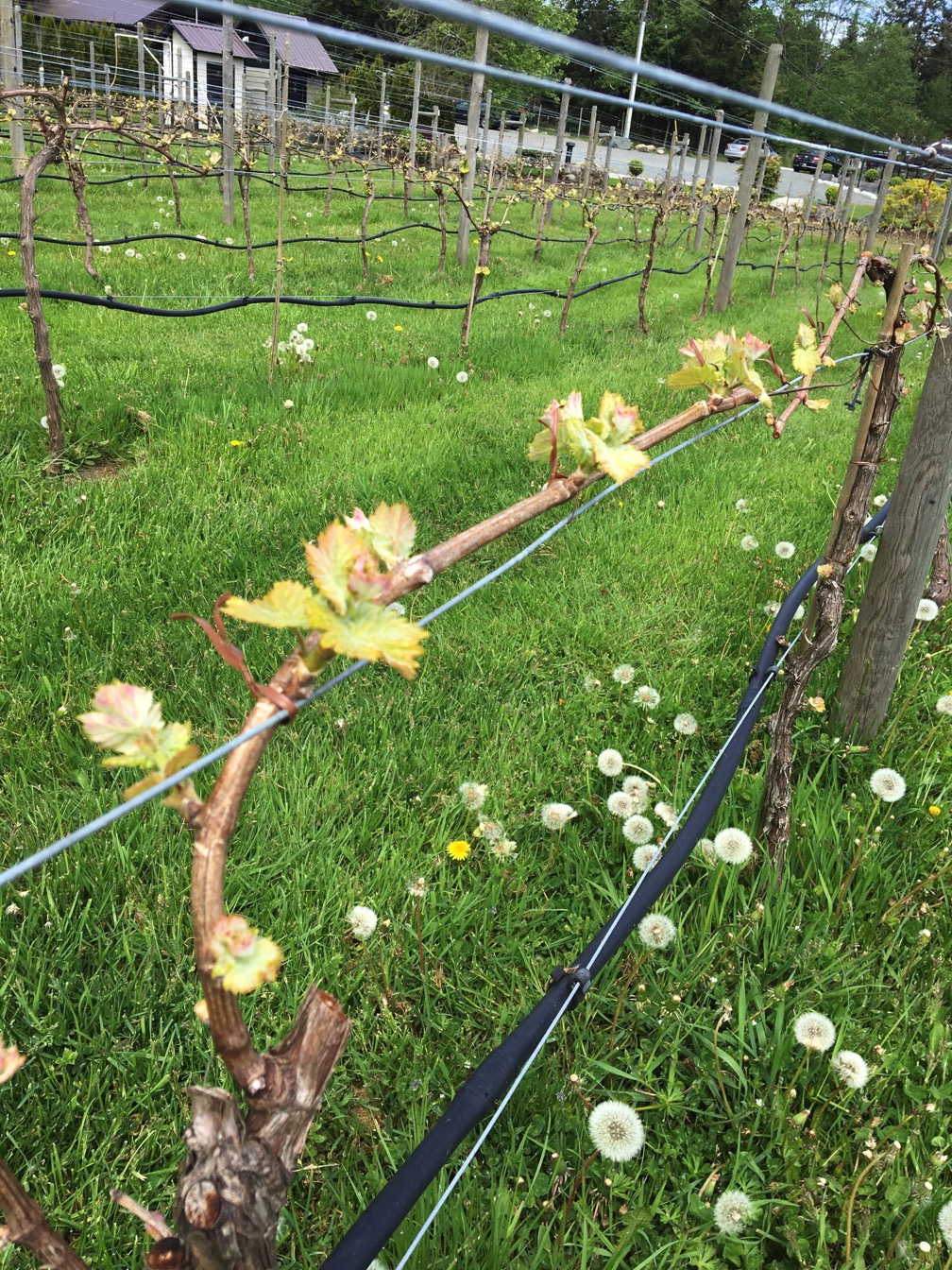 Our wonderful micro-climate here in the Comox Valley is producing some fabulous, ocean-swept wines with a lively, refreshing palate. We slow, cold ferment; bringing out the wonderful aromatics of each individual varietal. We aim to intrigue you with wine's that showcase our version of some of the best French and German grape's true fruit potential while keeping our residual sugar components relatively low. Our beautiful Chablis style Uncloaked Chardonnay, crisp refreshing Pinot Gris and light, tropical patio wine Ziggy (Siegerebe) are just a few examples of wines that really showcase our green farming and organic style.
Layne Robert-Craig, Owner "The vineyard had a slow start with a long cool spring. We completed our digs in the glacier till deposit soil to examine the roots (an annual event) and take soil samples for analysis. Worm and ladybug counts are above average and continuing to grow every year. The set of doves are back, and nesting. Our geese have hatched their eggs. And a cougar paid a visit, to the misfortune of one of our sheep. Yet, that's just a cougar, being a cougar. I wish him no harm. Moreover, a good balance is in on the vineyard for the start of the growing year. Farming is luck and karma. Let's hope for both."

The vineyard workers and tasting room associates alike have come together to prepare the vineyard for the inevitable growth period by training and tying the cordons to the trellis system. They will be steady now to hold the weight of the shoots when they grow upwards towards the sun, creating a canopy for the grapes that will eventually cultivate underneath them. We just need some of that warm weather to make it happen. So bring on the sunshine and that delicious BC wine!
40 Knots grows and crafts high quality, ethical, clean wines that are distinct to Vancouver Island.