News & Blogs you want to read!
Missing out? You keep hearing about what a great time your friends had at Wine Wednesday, the new wine class they just took, how they got to taste wine before it was released, and how they bought up the last of a vintage? Don't miss out anymore. We want you in our inner group!
Welcome to the 40 Knots Vineyard & Estate Winery blogs. Here is where we will be highlighting events and news from around the winery. Keep up to date of the latest trends, the happenings of the winery, learn how we farm and make wine, and get the inside scoop of our new releases and events.
Our Bloggers
Layne Robert Craig
Janitor & Blogger

Michael Johnson
Self-proclaimed Sipster
Vine Vigour - Look Waaaay Up!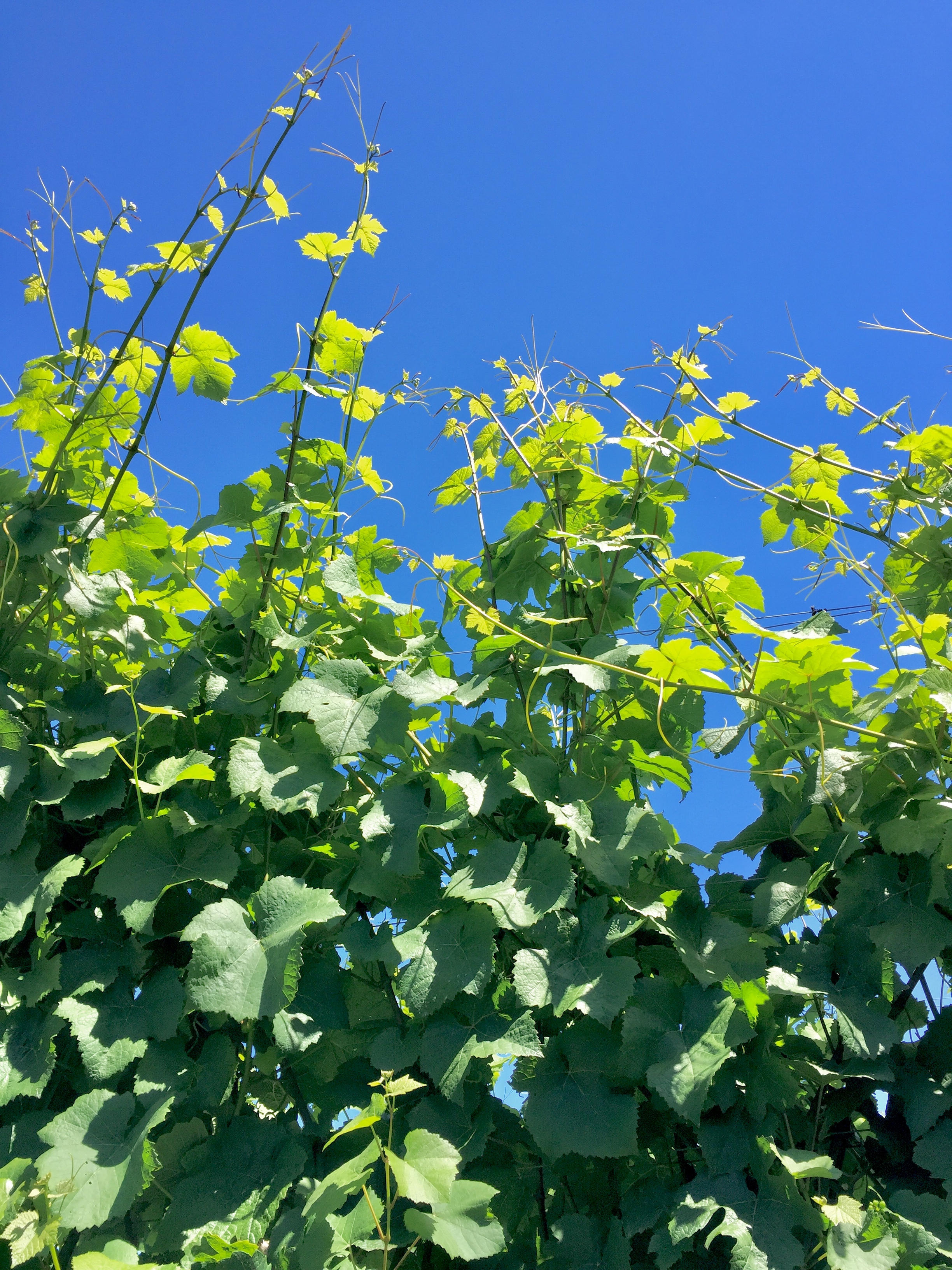 Wine, Wind and Sea.
The heat wave is upon us!! Our 40 Knots vineyard has experienced the highest heat on record since the new ownership of Layne and Brenda 4 years ago. Each vine has seen exponential growth since our cool spell in June. The crazy vine vigour has produced shoot ends 2 feet above our top wire. With this excellent level of health, we've simply got to manage the growth and keep the vines in check. The last few weeks we've been tucking and hedging. It's been all hands on deck! What's tucking and hedging you might ask? Let's delve deeper.
Tucking is the process of pulling each vine through a trellis system called vertical shoot positioning (or VSP) so that they create those neatly managed rows that you have perhaps walked through once or twice before while strolling in our Vineyard Interpretive Trail /Visit-Us/Vineyard-Tour . It's a system of 5 levels of wires where the leaves grow above and the fruit grows below at about 3 feet from the ground. We keep them neat and manicured so that they provide a perfect canopy for the grapes swelling up below them. The bottom aptly called the cordon wire, is where the fruit will grow and thrive. VSP is a good canopy management system in cool-climate viticultural parts of the world as it helps to enable buds and fruit to receive proper sunlight. Moving upwards are the movable catch wires that are clipped in to actually "catch" and train the upward growing vines. We have surpassed the "shotgun" phase, where the grapes are the size of just that.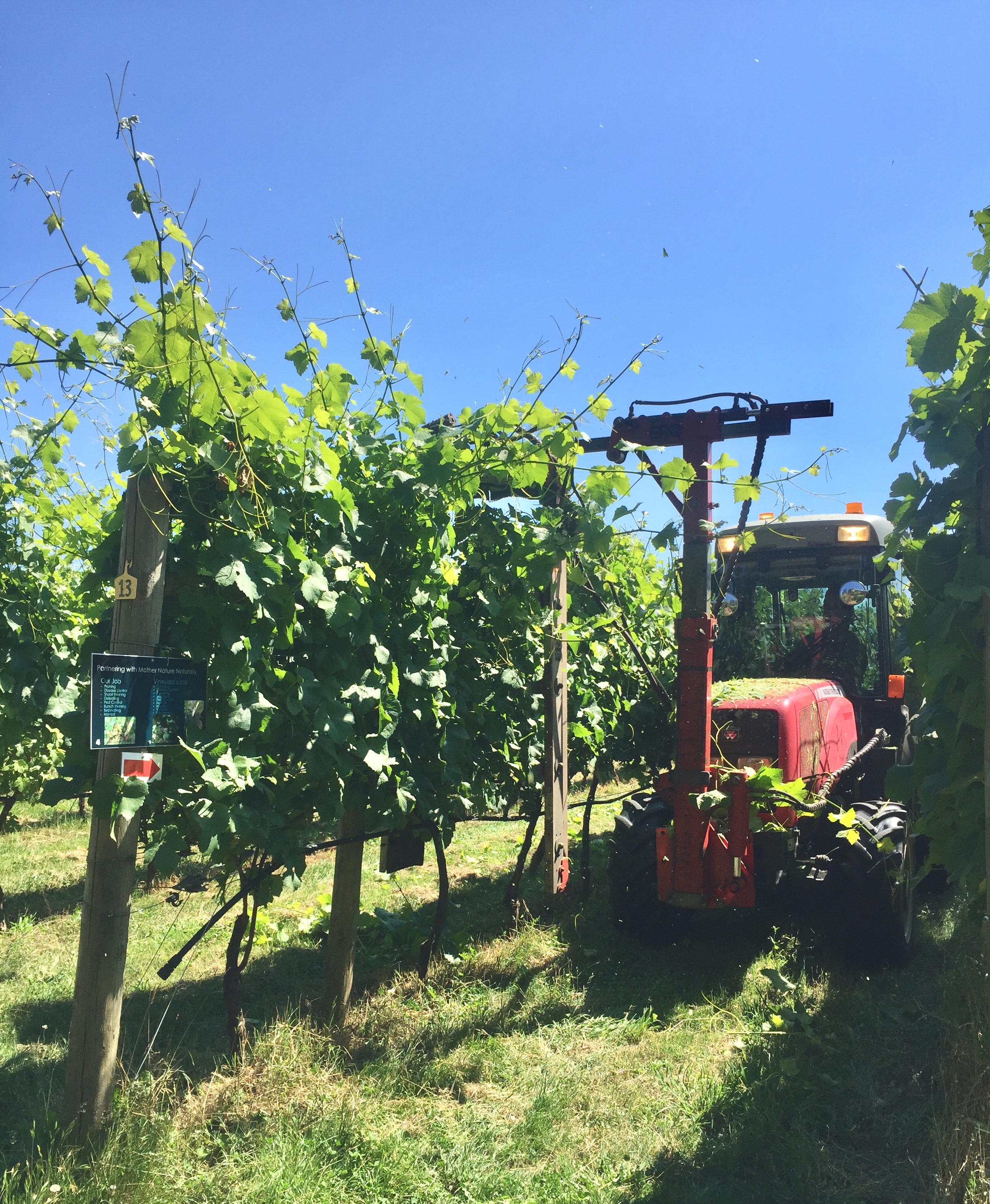 Hedging is a pruning method of removing the tops of the shoots that grow above the trellis system. It essentially depresses vine growth vigor, allowing the vines to focus on fruit ripening as opposed to leaf growth. Once they're tucked and secured with the final wire clipped in at the top, then our 6 bladed machine is driven through each row to take that manicure to the next level. Hedging is essentially giving our vines a buzz cut.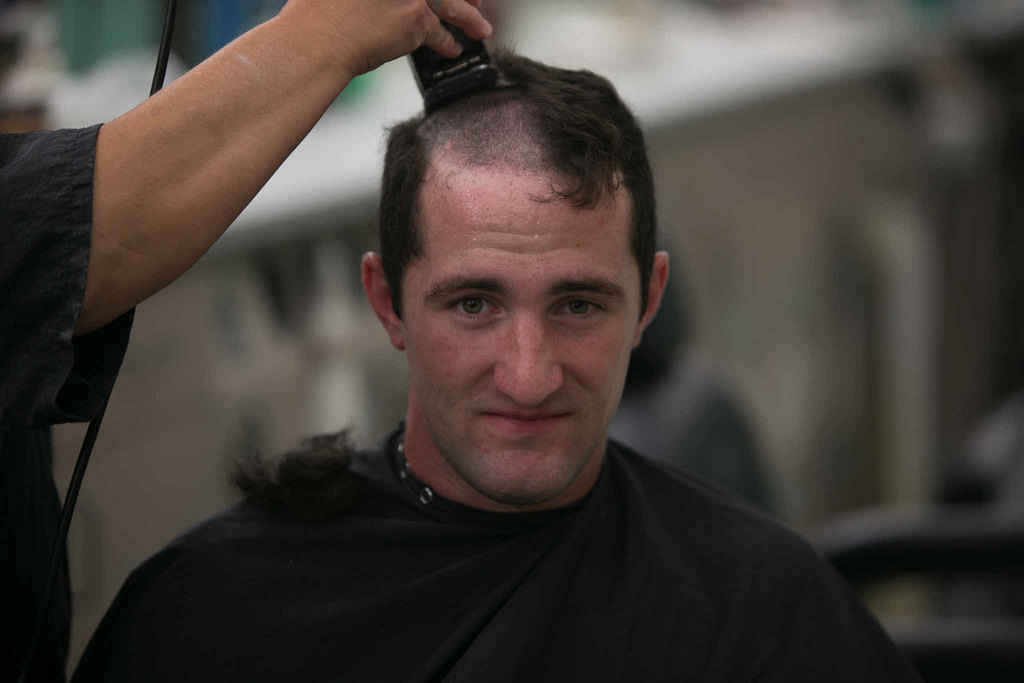 We achieve wonderful health of vines and green farming by not spraying with any pesticides whatsoever. Mustard seed oil and baking soda are all we need for a healthy environment and proper vine management. This controls disease and bugs and is completely biodynamic. Organic calcium is used for fungal spray. For fertigation, or the drip system used to insert fertilizers into the soil, we use liquid organic kelp a couple times a year and that's all it takes to keep the roots happy- a little liquid goes a long way when you've got roots this deep. We're so proud of our healthy Comox Valley vines, our methods are so natural, you could literally grab a leaf from the vine and eat it!
A wonderful slightly chilled BC red wine for the summertime is our coveted and recently bottled Gamay Noir. Beat the heat and come on by for a tasting!
*************** JUST RELEASED FOR SUMMER******************

40 Knots grows and crafts high quality, ethical, clean wines that are distinct to Vancouver Island.