The Craig Family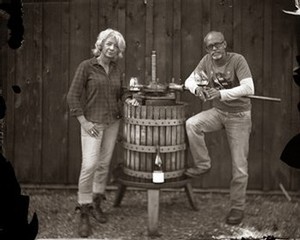 In 2014, Layne Robert Craig, was googling 40 Knots, the stall speed of his Maule STOL plane. A winery for sale in Comox appeared in the search and the rest is a beautiful history. A legacy perhaps.
When Layne and his wife, Brenda Hetman-Craig, stepped foot on the land, they both had an overwhelming feeling that they were home. In a short time, they purchased the 24 acre property with winery and home, and took the relatively unknown winery coined as a turnkey company, to 5,000 cases with award winning wines. The property is now only well known for their wine, but is also the place to be on Wine Wednesdays, adn the most beautiful place in the Valley to host a business or social event.
In 2017, their daughter, Alana and family joined 40 Knots. It was our family's dream to find joy again in our working lives, and to bring back the family farm. "I am constantly inspired by Alana's positive energy and creativity, the genuine love she has for our guests," said Brenda. "And now our granddaughters are helping out with farm duties and at some events. We are building a legacy for years to come.
Their daughter, Jessalynn, was the inspiration to farm biodynamic. In 2014, they immediately stopped conventional farming and switched to only organics and begin to rebuild the health of the land. In 2019, Jessalynn became the social media marketer.
"The grandchildren are the reason we do what we do. We involve them in the farm work and they care for the animals. As well, our entire VinoCare Skin line is named after them."
The family has a deep respect for the land and care for the community are central in their lives. "Whether our product is on someone's dinner table, or our guests are here on our land, we want to bring joy to their celebration" .