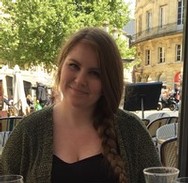 Paige
Paige is a Vancouver Island girl, who has had the opportunity to travel quite extensively. She has visited, England, Scotland, Mexico and South Africa, travelling through the Cape Winelands. She has lived in the USA and France and has now returned to the Comox Valley, bringing with her a fresh global perspective on life amongst the vines and beyond.
Her immersion into wine culture started at home, with understanding of things such as which glasses to put on the table according to which wine was to accompany dinner, and that terminology such as, approachable, harmonious and bright were as likely to represent the dinner wine as the assembled company. Forays down to the cellar were de rigueur, and competency in opening bottles of fizz, required.
Woven into this upbringing of wine culture, was extensive experience of Japanese cuisine, both as a consumer and as a work environment in the family owned restaurants. She is equally at home on a pair of skis or on horseback, and when at home in France can often be found traversing the countryside on horseback….a welcome break from the arduous task of traversing the country to hunt out and taste regional wines!
As a change from studies in Psychology, Paige is enjoying following the internationally recognized curriculum of studies in wine, the WSET (Wine and Spirits Education Trust) based in London, UK. It seems to be a pattern in the family, as Paige saw the hours of study for written and tasting exams that her mother did, so it is a familiar concept.
It is a natural extension of this upbringing and experience that finds Paige happily at home at 40 Knots Winery. Not only involved in sales and marketing, but in all aspects of the both the viticultural and vinification processes, in order to bring the wine and its story to life for your ultimate enjoyment and appreciation of 40 Knots wines.