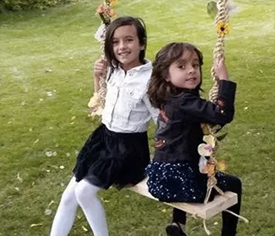 Kadence Rose & Halo Lily Blu
40 Knots Farm Girls
Hello, I'm Kadence on the left and that's Halo on the right. We are Farm Girls at 40 Knots winery. My Nana and Papa picked me and my sister to be farmers because we are caring and sweet girls. We both love animals too!
I feed the animals, give candy to the sheep and feed them clovers. The chickens get chicken scratch and leftover breads and vegetables from Nana's house. I use a cute chicken basket to collect the nice fresh eggs. Also, because the other animals eat bugs and clovers I have to help keep their water and environment clean and safe. Halo is in charge of feeding the fish twice a day and scooping out stuff that lands in their pond. She also has to give the dogs treats if they were good girls.
Sometimes Halo and I put Ziggy on her leash to introduce them to guests who are here to see my Nana and Papa's amazing work.
Nana and Papa named their Vino Care line after me and my sister. Kadence Rose products are made from the pips, skin and wine of Pinot Noir. It's scent is Rose and its great for super healing and anti ageing. Halo Lily Blu products are made from the chardonnay. It has a Lily scent and is best for sensitive skin. For now we only work in the summer but soon Mommy and Daddy will move us closer so we can be here all the time.
We love 40 Knots!