Newsletters and Blogs you want to read!
Missing out? You keep hearing about what a great time your friends had at Wine Wednesday, the new wine class they just took, how they got to taste wine before it was released, and how they bought up the last of a vintage? Don't miss out anymore. We want you in our inner group!
Sign up here for our newsletter.
Welcome to the 40 Knots Vineyard & Estate Winery blogs. Here is where we will be highlighting events and news from around the winery. Keep up to date of the latest trends, the happenings of the winery, learn how we farm and make wine, and get the inside scoop of our new releases and events.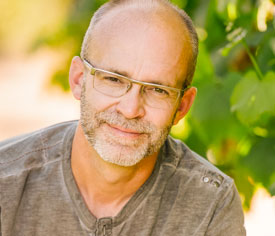 Layne Robert Craig, Janitor and Blogger
As co-owner with his wife Brenda Hetman-Craig, Layne spends his days enjoying getting back to his family roots of traditional farming. You may see Layne out in the vineyard, at charity events, delivering wine or giving guests special attention as he takes them through the cellar for an in-depth look into how 40 Knots is able to make such delicious clean wines by using traditional methods. Layne's passion for flying is evident. With the vineyard directly below planes turning final for YQQ, it does appear that indeed Layne has found his sanctuary. Contact Layne for anything vineyard or winery.
---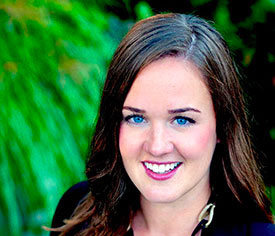 Megan Thiel, Wine Sales, Wine Teacher, Tour Guide and Blogger
Megan has a passion for all things wine- from vineyard to tank to bottle. Her passion led her to an extensive apprenticeship with a German winery where she acquired a humbled appreciation for the vines. She comes to us with her WSET 3 accreditation and a comprehensive background; including a season with an Okanagan winery. Having recently moved from Vancouver, she is excited to become a part of the Comox Valley community.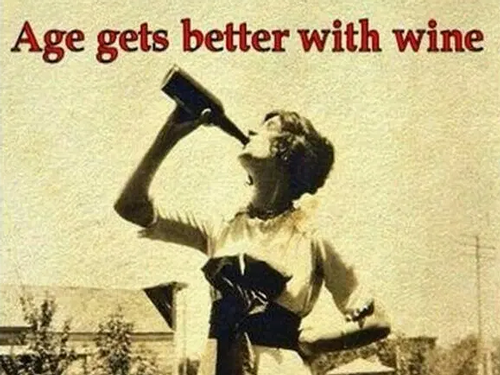 "Just like a fine wine, you keep getting better with age". We've all seen this Birthday Card for sale on the rack. The common misconception is that all wine surely does get better with age. This statement, however, is only true for a small number of wine types found around the world.
It is estimated that 90% of the wine is meant to be enjoyed within a year of production, and 99% of wine within 5 years.
For some of you, the goal is to drink wine when in the prime of its life. For most of you, it's as soon as you bring it to an awkward family dinner party. Back in the day, the Old World regions (aka. Europe) were notorious for releasing wine that demanded a minimum 5-10 year lay down (think astringent, high tannin Barolo's). Nowadays, you will find more and more European styles following New World regions (aka. anywhere that isn't Europe) with wine that is ready to drink now.
Studies have shown that the average person waits 21 minutes between purchasing and opening a bottle of wine.
With our ever-changing, fast-paced society, the insurgence of the New World creating wine drinkable earlier has the impatient wine lover saying "yippee!" and the Old World vying to catch up.

Tannin and acidity are structural elements that act as naturally occurring preservatives, allowing the wine to evolve without falling apart. Sugar and alcohol also factor in, but the body must be supported by tannin and acidity.
Because white wine grapes rarely go through skin contact after harvest, the lack of grape skin tannin is your first clue that white wine doesn't have much age-ability (with the exception of Orange Wine). Many Chardonnay's, however, have seen some barrel aging. This adds tannin from the oak barrel and creates the potential to lay that bottle down for several years. Because of current wine trends, an unoaked style of Chardonnay is quite popular in today's market.
---
40 Knots White Wine
With all of our white wine grapes grown right here on Vancouver Island, our crisp and dry style white's are a perfect pairing with anything that comes out of our local ocean.
USUALLY BEST IN THE FIRST THREE YEARS
ONE FOR YOU AND FIVE FOR THE CELLAR, ENJOYABLE EVERY YEAR FOLLOWING
---
40 Knots Red Wine
Unlike wine from warmer climate regions, our estate reds are light in body and have soft tannins and moderate acidity.
STICK THIS ONE IN YOUR CELLAR!
Drinkable now and try on each year for the next 6-8 years. Prime is expected 3-5 years after vintage year.
---
DRINK NOW OR SAVE FOR MANY, MANY YEARS.
Sparkling bubbles will become very refined and soft with a baked brioche flavour, Trie Emily will be soft and deeply luscious, drink Safe Haven in 10 years while you sink deeply into your armchair and reminisce.
---
Stall Speed Collection Red Wine
These reds boast grapes coming in from the Okanagan Valley where the climate is slightly warmer.
DRINK NOW!
At 40 Knots we have already done the aging process for you, with vintages ranging between 2008 and 2011.
---
If you DO decide to lay something down for a period of time, be sure that it is away from sunlight, vibrations, and temperature fluctuations. A cool basement emulates a cellar, so this is your best bet.
Ready to cross some Christmas gift purchases off of your "to-do" list? Visit us in the tasting room and get your custom gift basket- wrapped with your choice of goods, to your price point.
To barrel or not to barrel, to amphorae or not to amphorae: what are the different aging techniques BEFORE a wine is bottled? Stay tuned for my next blog post.

With the demand for natural consumer products on the rise, the pursuit of natural wine has become increasingly mainstream. With more and more negative effects being felt from consuming additives and unknown ingredients, the need for transparency has people delving deeper into what they are pouring into their glass.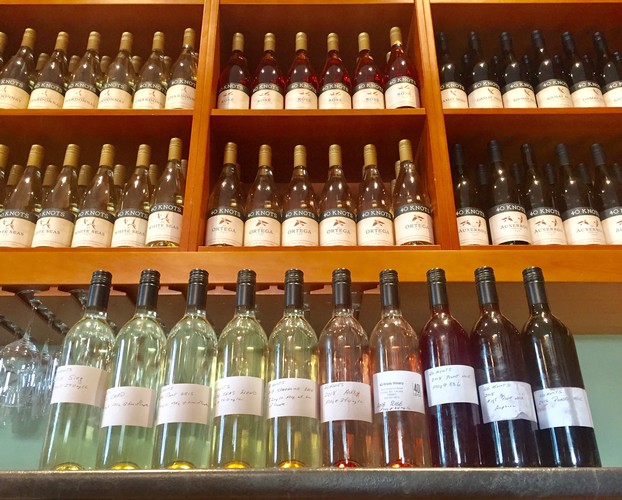 So, what is natural wine? Simply put, it is a wine that has nothing added and nothing is taken away. Our mission at 40 Knots is to follow natural winemaking techniques while continuing to meet European natural winemaking requirements. This pursuit guides us from the vineyard to the cellar and right into the bottle. The process starts in the vineyard. Natural wine is made with grapes that are organically or biodynamically grown. Our biodynamic practices help us achieve this first step. In the cellar, there must be little to no intervention. Much natural wine created will not undergo fining or filtration, leaving the wine cloudy. Some winemakers will wait until all the sediment has fallen to the bottom of the tank, barrel or amphorae. For fining in the 40 Knots cellar, organically certified bentonite or compostable filter sheets are used to produce wine with a clear, un-cloudy appearance.
In contrast, conventional farming and winemaking have only been taking place for a few decades. With the need to uphold brand loyalty through consistency, there are adjustments that can be made to create a similar tasting product vintage to vintage. While all wine naturally contains low levels of sulfites, conventional wine allows for the addition of significantly more sulfites to help preserve the wine. Conventional methods actually allow up to 72 legal additives! Organic wine can still allow the same additions as conventional methods, as long as they are certified organic. 40 Knots assures above organic standards with natural quality and minimal intervention, from every vintage to every bottle.
As winemakers forge this naturally approached path through the love of the land; this will undoubtedly become a clear road carved out for future generations. While no legal definition of a "natural wine" currently exists, as the natural product market rises, so will awareness. This will surely connect us further to our surroundings, Mother Nature and life itself.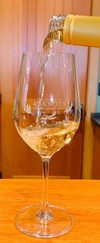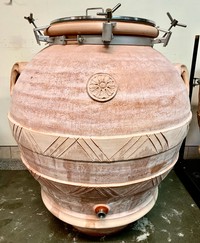 Want to impress your friends and family over this upcoming holiday season with something special!? One interesting style of trending natural wine produced at 40 Knots is the L'ORANGE. Never heard of an Orange method wine? In a nutshell, it is white wine grapes made in the style of a red. Long term skin contact and amphorae ageing with 0 grams per litre residual sugar is enough to make any Keto dieter sing. Stone fruit and orange zest on the nose yet the pallet boasts a spirit type quality. Think Grand Marnier without the sugar! Found at our cellar door during opening hours. We warmly invite you to visit us and taste.
Ever wonder how long you should cellar that bottle of vino? Or what ageing wine will do to the flavour components? Catch me next time, when I delve deeper into wine ageing techniques.
40 Knots grows and crafts high quality, ethical, clean wines that are distinct to Vancouver Island.

With harvest behind us, the 40 Knots cellar is a bustle of activity as our grapes now begin their journey to become wine. With a hands-off approach to winemaking, Layne's job is to coax natural fermentations where yeasts now convert natural sugars into alcohol.
The amount of alcohol in our wine is actually determined by the sugar levels in the grapes at the time of harvest. 40 Knots is known for the soft, easy-drinking wines with naturally lower alcohol levels, avoiding "hot" and unbalanced wine. Our styles are reminiscent of old-world natural wines. We allow a natural fermentation process converting sugars into alcohol, and finishing at the point of natural balance.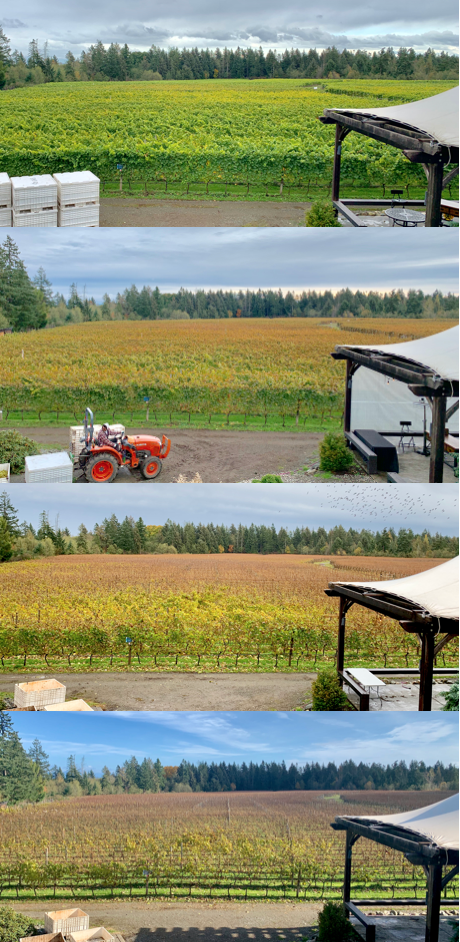 Over the last few months, I have posted about the main components found in wine – acid, tannin, sweetness and alcohol. I close off my four-part series now with Alcohol. So how do we decide on how much alcohol should go into the bottle? Well, we don't. The natural fermentation process will carry on through converting sugars into alcohol, and quit at the point of natural balance. If a winemaker so chooses, there are techniques to add alcohol, including a process called fortification*. This will create a dessert wine of high alcohol and high sugar. Fortified wine's include sherry, brandy and port*. There are also ways to reduce alcohol, such as boiling it off. This, however, will drastically reduce quality. If a winemaker decides to cultivate a wine with naturally low alcohol, the grapes can be harvested earlier when less sugar has yet to form.


So how do we test the alcohol level in our lab? Seen in the picture below is a traditional instrument, invented by the French, called an Ebulliometer. An Ebulliometer measures the current boiling point of water and then matches that with the boiling point of the wine in question. With the orbital slide calculator, you determine the % ethanol.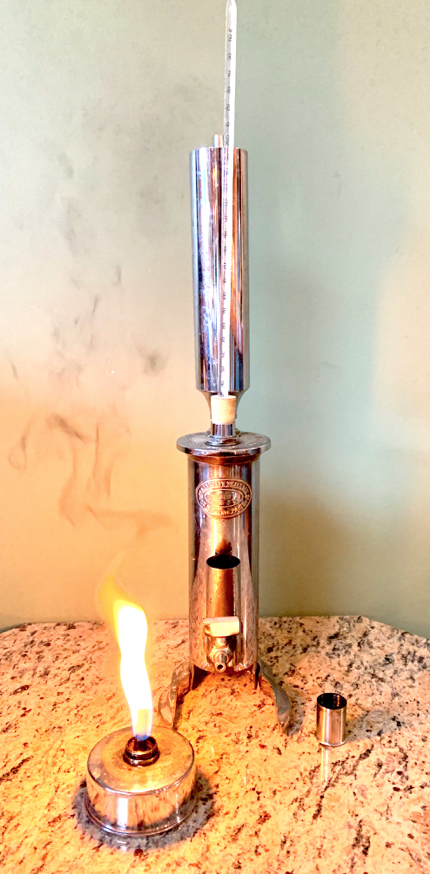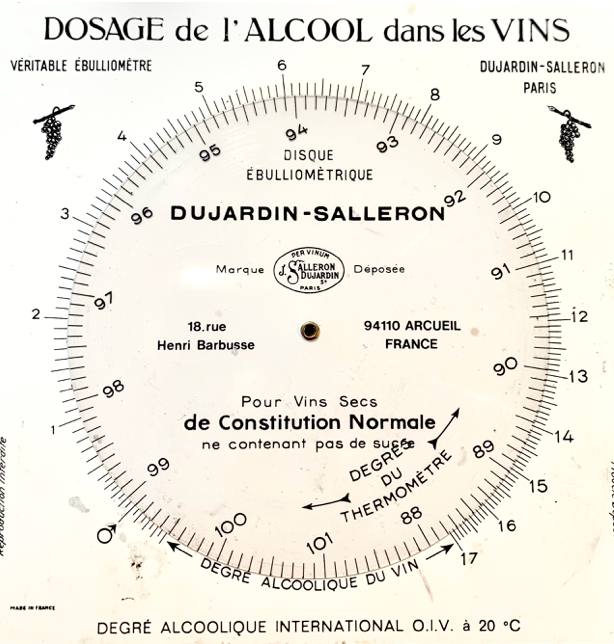 The proper alcohol percentage is essential for balance and structure of the final product. With all components in harmonious balance, you will find a wine of wonderful drinkability. At 40 Knots, we thrive upon balance both in the vineyard and the cellar. With our minimal intervention approach, we aim to craft wine of natural quality. This is our continued 40 Knots promise.

40 Knots French Traditional sparkling wines have naturally lower alcohol percentages as the grapes are harvested earlier than for still wine, with lower brix levels. With sparkling wines, this style goes through primary fermentation in a stainless steel tank and secondary fermentation in the bottle. First fermentation results in a lower alcohol, so when secondary fermentation takes place, it will not drive a high alcohol content, and thus resulting in a balanced wine. Spindrift, as an example, results in less than 10% in the primary fermentation, and finishing at a elegant 11% alcohol. Chardonnay for still wine is then harvested later in the season, with higher brix and pH which can result with the same alcohol percentage as our finished sparkling wine.


As an example, in our cool climate, a brix sugar level in our grapes of 20 will convert to just short of 11% alcohol. In a region such as California, with their big reds, where their grapes may exceed 30 brix when they harvest, this converts to an excess of 15% alcohol. Some wine in California even goes through a de-ethanization process to reduce the amount of alcohol.
In some styles of wine, usually where a very high residual sugar level is desired, such as a sweet dessert wine, the natural sugars from the grape may be retained in the bottle without adding sucrose, by stopping the fermentation early. Traditionally and today in Portugual, their port wine and our port-style, uses high percentage spirit addition that stops the yeast in the fermentation process.

*fortification is the addition of a spirit while fermenting wine is still naturally high in sugar, thus halting the fermentation process by keeping the sugar levels naturally high. Our *port style dessert wine is a delicious accompaniment to dark chocolate. But don't take my word for it, come try it out for yourself! Our 40 Knots tasting room is open all year round. Come enjoy a glass of port while taking part in our Music Trivia Nights, every Saturday night at 6:00pm.
But don't take my word for this. Check out our balanced wine for yourself! We are open all year for you to come and taste these wines for yourself, or bring your friends and join us in our Music Trivia Nights, every Saturday night at 6:00 pm.
with the growing demand for natural wine, have you ever wondered what in fact it actually is? Check out my next blog post to find out!

Wine, Wind and Sea.
With harvest well underway, the bounty of our 40 Knots vineyard is welcomed in the bucket loads, as the hard-working harvesters continue to snip our biodynamic grapes off of our naturally healthy vines.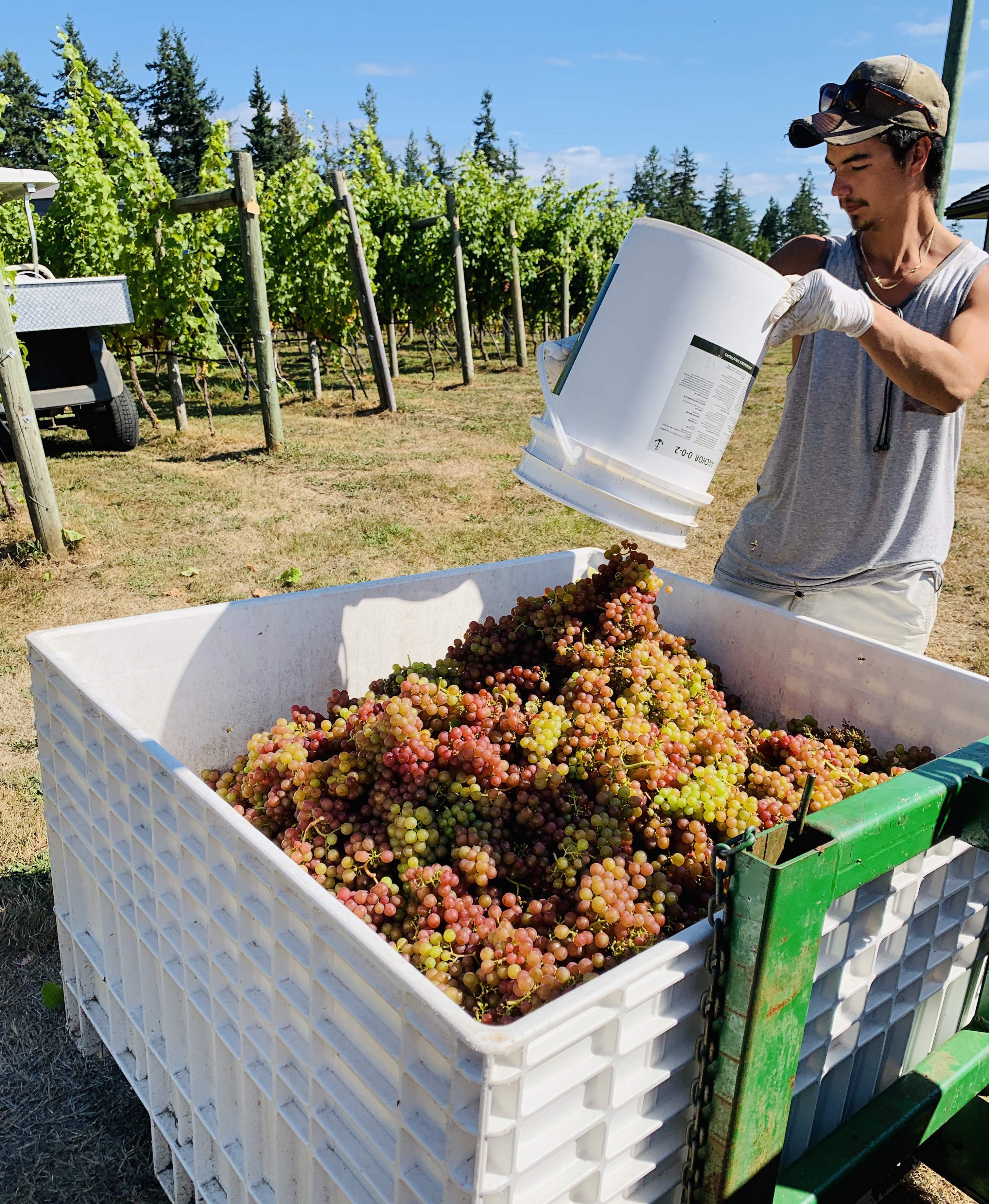 White wine grape varietals are typically put through a de-stemmer and grape press right after harvest. The ageing process for white wine generally happens in stainless steel tanks (with the exception of some Chardonnay's and our Orange style wine). Rose's are pressed after 24 hours of skin contact. Red wines, however, are not pressed for 6-8 weeks. This allows the juices to be in contact with the grape skins/stems and pips (seeds). Following this, the majority of reds are aged in amphora or oak barrels to add further tannin structure. In this vessel found below, the grape skins are floating on top of the juice where a wine cap punch down tool is used to mix up the skins with the juice, adding natural tannin structure.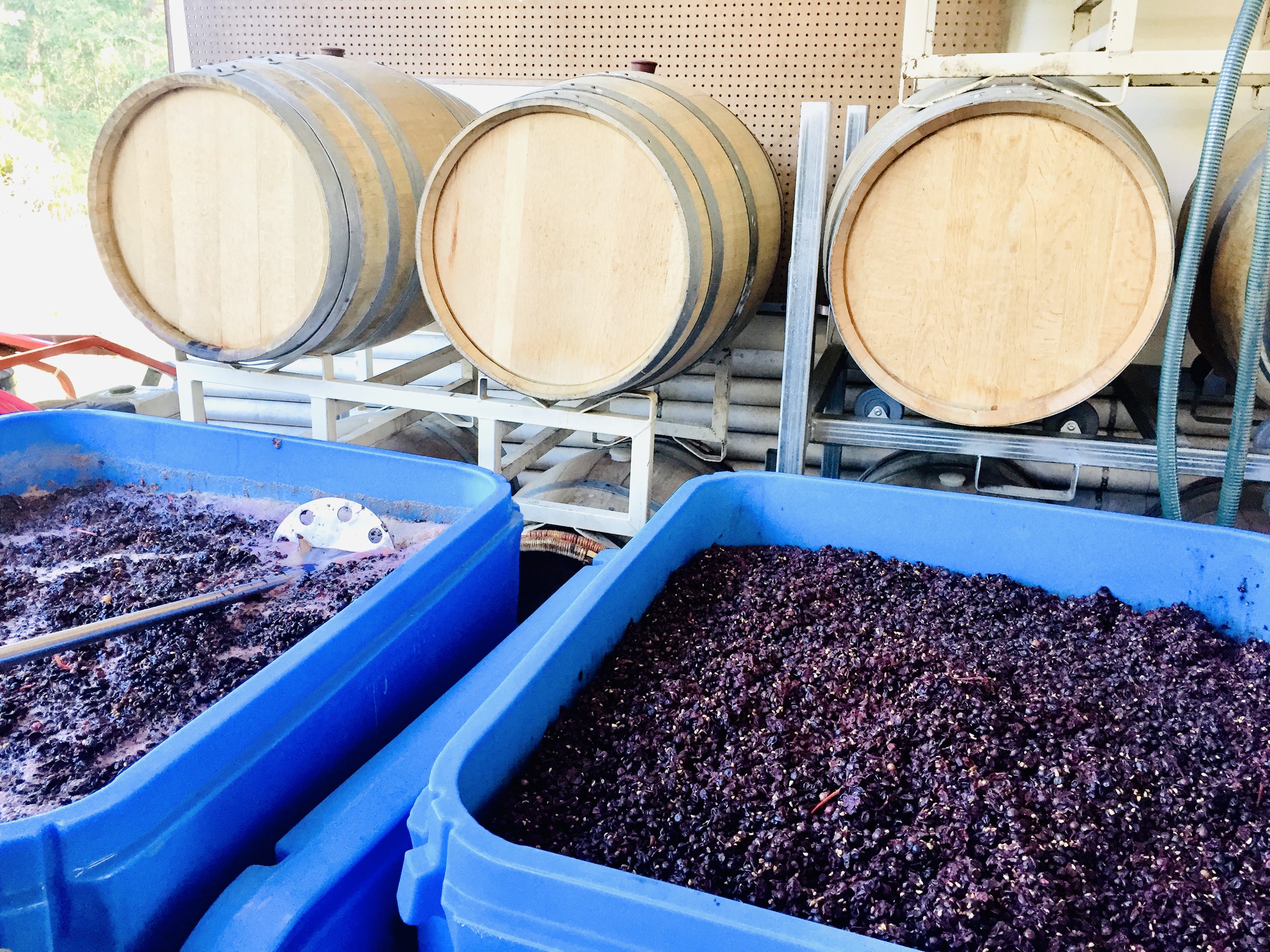 Tannin is a naturally occurring phenolic compound, which gives the feeling of astringency and bitterness. This "drying" feeling taking place on the sides of your tongue and front part of your mouth and when well balanced with sugar, acid and alcohol levels, creates a wine of quality and age-ability.

40 Knots use Burgundy oak barrels to impart tannins. Other wineries may use a more affordable approach through the addition of oak chips or staves or adding a tannin powder. Oak tannins integrate into a wine quicker than naturally occurring tannins found from the skins. So, when putting a light-bodied, naturally lower tannic red like Pinot Noir into oak, it can create a wine of overwhelming tannins, especially when young. This can be avoided by using neutral oak barrels or a vessel that doesn't impart further tannins.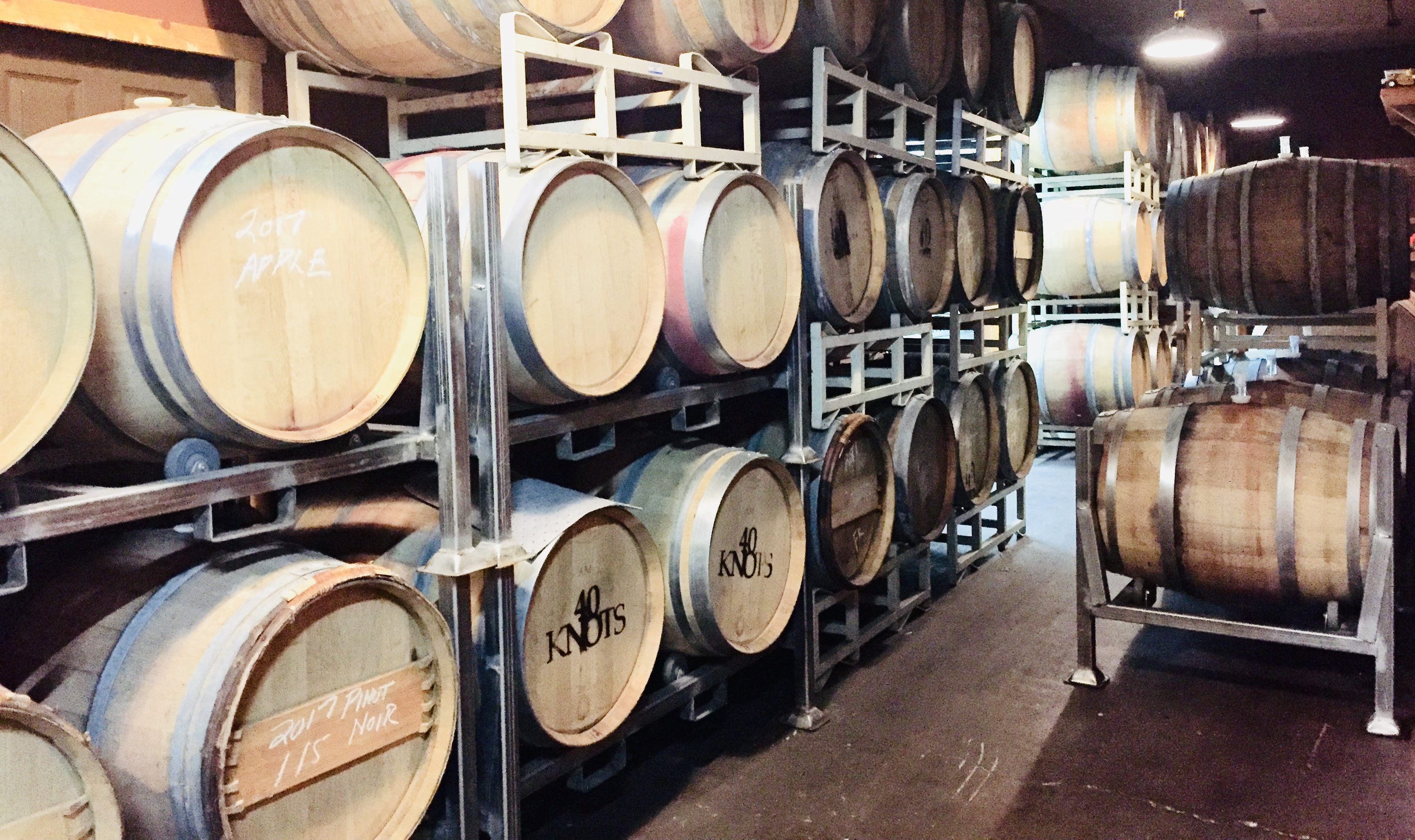 Come in to 40 Knots and try the difference. Taste our uncloaked un-oaked Chardonnay and our lightly kissed by oak Chardonnay. Try our Pinot Noir fully amphora aged next to our burgundy aged. Try our shortly aged in oak Gamay against our Carmabolage with high tannin grapes and extensive ageing in Burgundy oak.
Belong to a Wine Lover's Group? Take a couple of our Burgundy oaked reds to taste against a commercial wine that uses staves.
Do you want to learn more about wine? Practise, practise, practise. And join us for one of our classes that you can find on our events calendar.
To finish off my four part series, my next blog post will be on alcohol in wine!

Sweetness in Wine
The sweet sounds of summer are drawing to a close. The leaves are changing colour and the first day of harvest in our 40 Knots vineyard has begun in our Schoenberger block.




At this stage of the grape growing cycle, sugar levels are monitored to decide if the grapes are ready to harvest by units called Brix. The volume of sugar levels can be measured with a small contraption called a refractometer by dripping the grape juice onto its detection lens.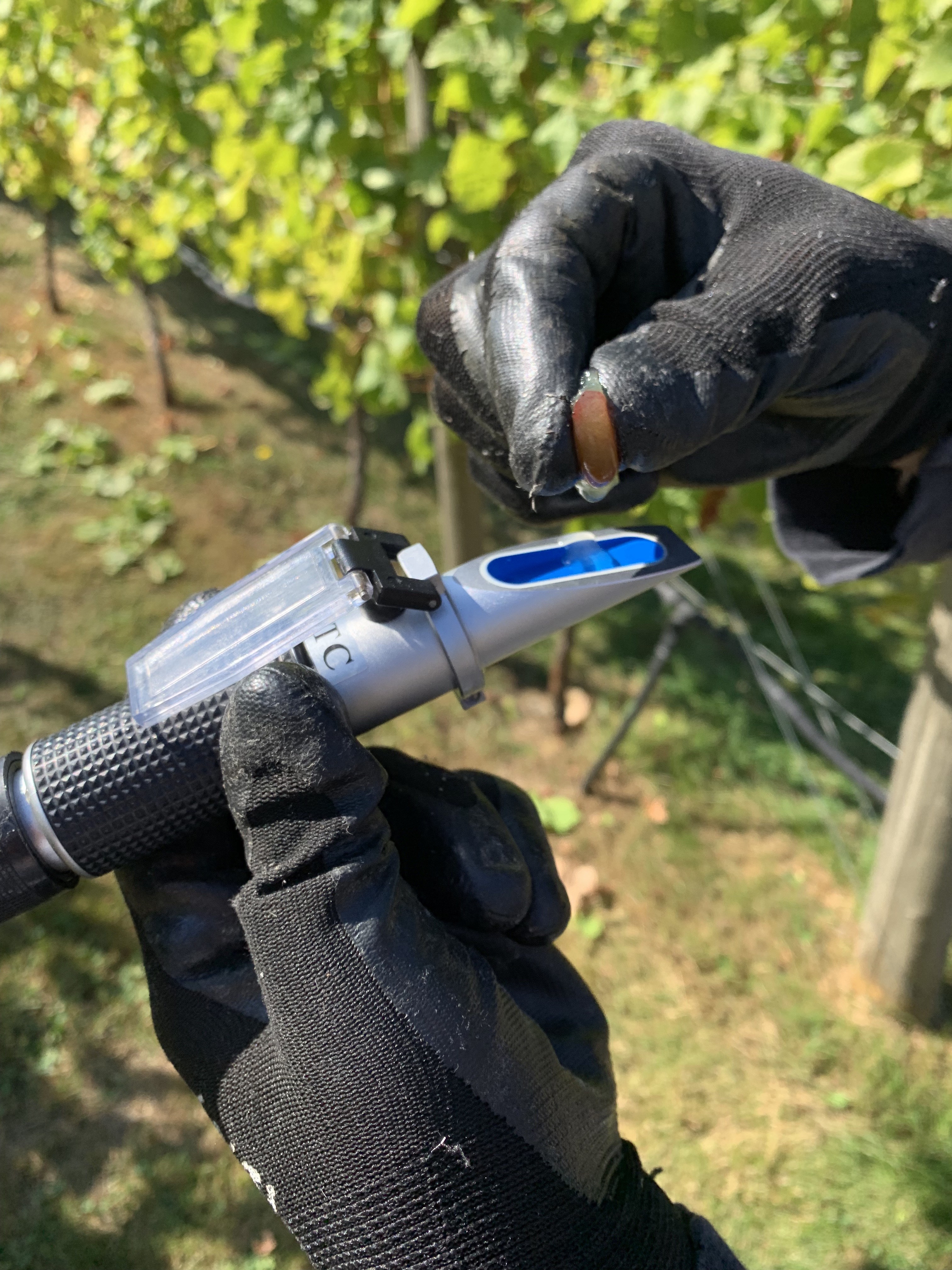 One Brix equals 1% of sugar found in a liquid solution and usually equates to half of the alcohol in the final product. This means that a grape harvested at 20 Brix should equate to roughly 10% alcohol in the bottle.


Once the grapes are harvested and the juices start to ferment, the term Brix is no longer used and the residual sugar level is the unit of measurement. As a wine ferments, the sugar levels drop and the alcohol levels rise. The term residual sugar is the sugar left over once the fermentation is complete. Wineries describe the residual sugars found in wine as grams per liter, this can be confusing as liquor retail shops use a "sweetness code" to rate the sugar levels found in wine. Here's a handy charge to help better distinguish how much sugar is actually found in finished wine: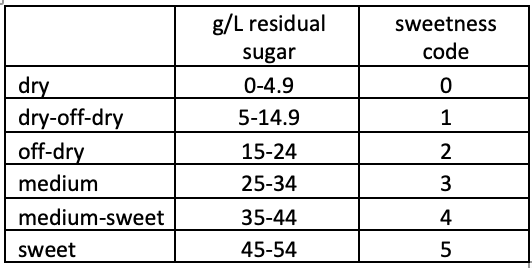 There are many different styles of sweet wine and different methods to achieve higher sugar levels if the natural sugars don't do so. Fortififying a wine is the addition of a grain or a grape spirit to halt the fermentation, keeping the natural sugar levels high, and our port style dessert wine is just that. Late harvest wine is achieved by leaving the grapes on the vine for a longer period of time to allow the grapes to bring on a good rot called botrytis. Our Trie Emily is a late harvest Sauterne style that is created with our Pinot Gris grapes.
Safe Haven Fortified/Port Style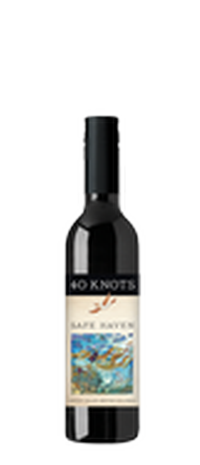 With every purchase we donate to Project Watershed
Safe Haven Fortified/Port Style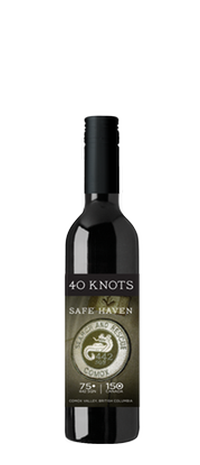 With every purchase we donate to Boomer's Legacy
Trie Emily/Botrytis/NobleRot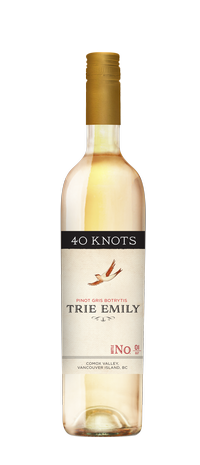 Indeed a very rare wine

Want to learn how to harvest grapes without a huge commitment? Come join me for a harvest tour! Learn about the terroir, climate and growing stages of the vineyard, join the crew for a half-hour hand harvest session, and come inside for a refreshing glass of wine and a picnic lunch!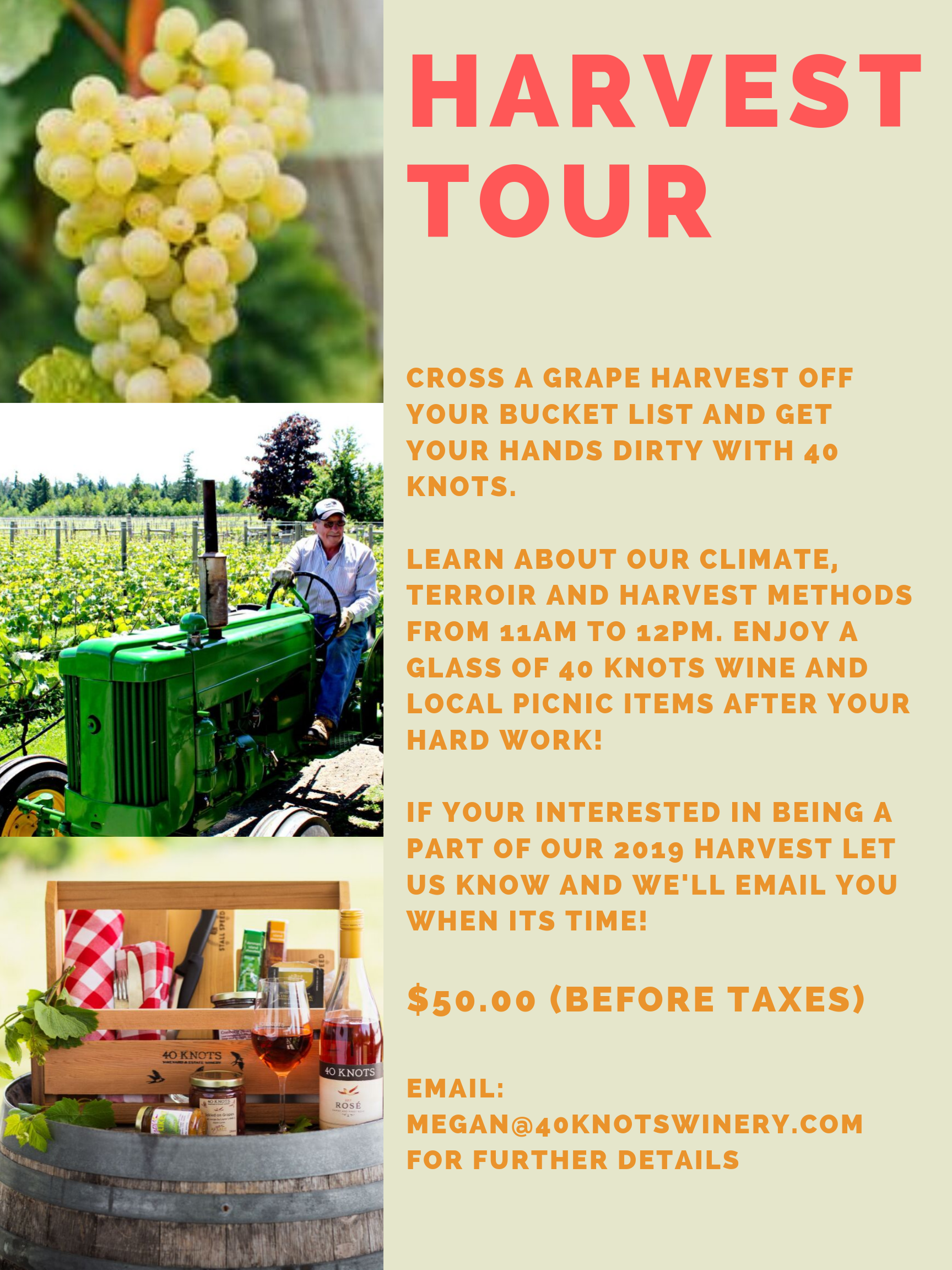 When looking at the quality of a wine, the most important step is to decipher if the wine is well balanced. Tannin, sweetness, acidity and alcohol are all key considerations. Over my next four blog posts, I will be touching on all of these components, what they mean, and how you can upgrade your palate by knowing what to look for.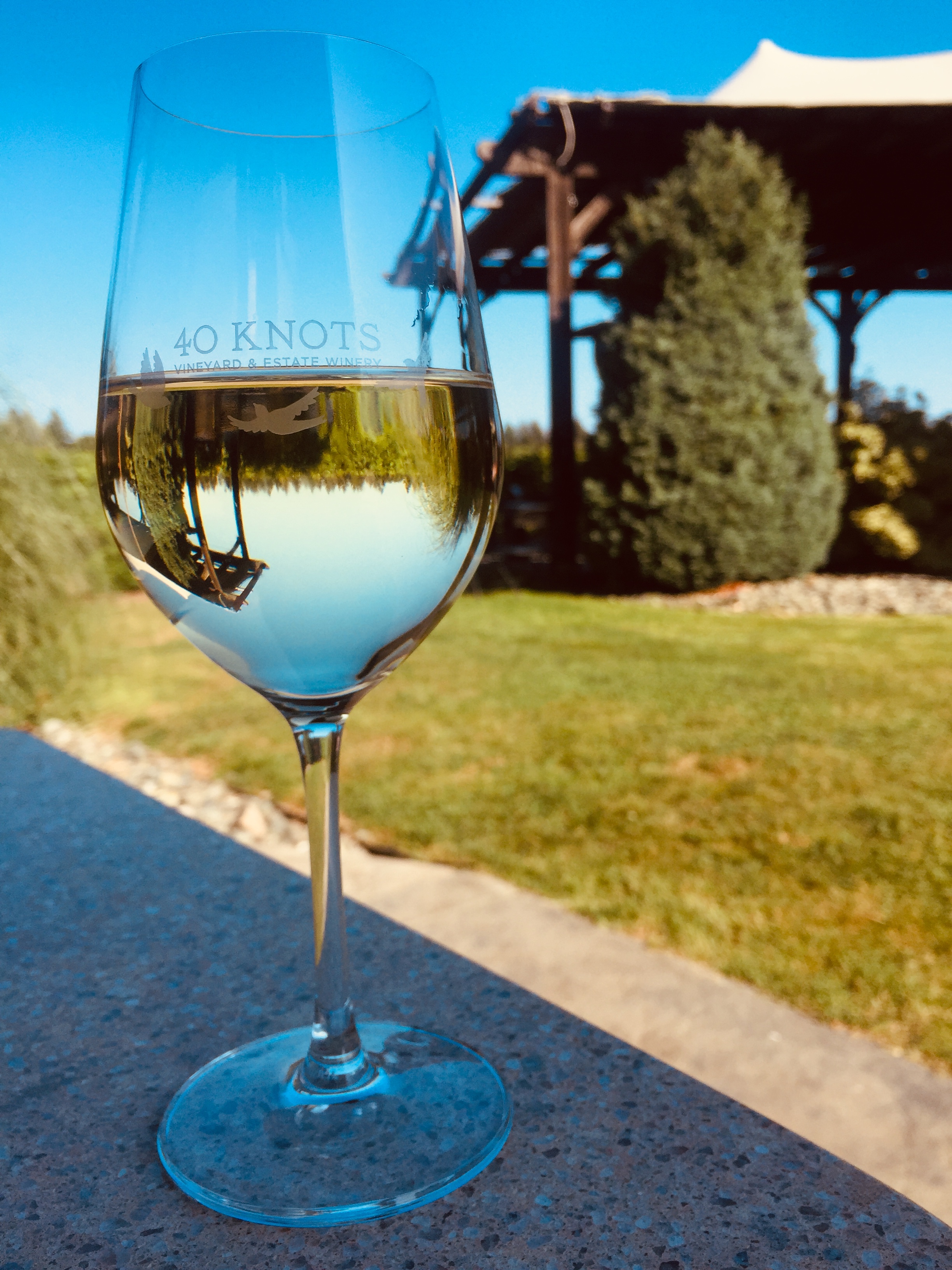 ACIDITY IN WINE
In my previous blog post, #rootedincool, we discussed climate and acidity levels. Generally speaking, cooler climate regions produce wine of higher acidity. Winemakers follow the PH levels to rate acidity levels. If a wine has a high PH, that will mean that the acidity levels are on the lower end. Red wine, for the most part, has a lower acidity than white wine. Usually, if the wine is sweeter, the acidity levels will be high to match it. Acidity can be felt on the sides of your tongue and produce a mouth-watering feel. There are three main acids found in wine:
Tartaric Acid
This is said to be the most important of the acids. Rarely found elsewhere in plant material, it hosts itself well in grapevines. It is a prominent component in maintaining chemical stability and also affects the color of the wine. Ever found small glass-like substances at the bottom of your wine glass? These "wine diamonds" are tartaric acid that has crystallized to become free-standing. Typically, winemakers will put the wine through a cold stabilization to encourage these tartrates to expel before bottling.
Citric Acid
Added during primary fermentation to increase acidity, citric acid is naturally found in very small quantities in wine grapes. The addition of citric acid in old world regions, aka. Europe is prohibited. Cooler climate regions like ours in the Comox Valley requires less addition of what is naturally occurring, allowing us to leave the addition of citric acid out of the equation.
Malic Acid
Malic acid is found in all fruits and berries. Its Latin translation is "apple" and its duty is to transport energy throughout the vine. Malic levels are at their highest just before the onset of sugars in the grape and this slowly dispels as the grape becomes riper. The trick is to harvest when the levels are just right!
If a winemaker chooses to decrease the levels of malic acid, wine can undergo a process called malolactic fermentation, or MLF, which is the conversion of malic acid to lactic acid. All of our 40 Knots red wine undergo MLF. This process in white wine is usually reserved for the Chardonnay grape. Chardonnay that does not undergo MLF would be considered a Chablis style (crisp and fresh), and our Uncloaked Chardonnay is just that.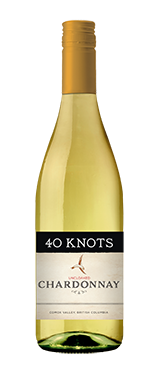 Next blog post we will discuss sweetness in wine!
Two weeks away until our 2019 harvest folks! Want to get your hands dirty and take part in our harvesting without an entire day's commitment? Join us on a harvest tour! Get picking with the rest of our harvest crew as well as learning about our terroir, climate, and then learn how to harvest the grapes, pick with our pickers for 1/2 hour and join us up by the winery for a charcuterie lunch and a glass of wine. Plan for 1 ½-2 hours. Wear proper footwear, a hat and bring gloves if possible.

Here at our 40 Knots Vineyard, located on the 49th parallel, we are #rootedincool. Our climate is similar to the Northern part of France and many of the German wine regions. The varieties proven over centuries in these areas thrive in our terroir.
With food trends moving towards more white meats, fish, vegan and vegetarian, our Estate wines naturally pair well. With wine trends moving towards lower alcohol, lower residual sugar, and higher acidity, our Estate wines are increasingly popular. Cool climate grape varietals are wonderfully suited to our location here in the Comox Valley. Pinot Gris with crisp bright green apple notes, Chablis style Chardonnay with soft hay and pineapple on the palate. White Seas, a local favorite, offers balance with juicy aromatics and mouth-watering acidity.
If you are looking for those bold reds, big tannins, high alcohol that cut through fat in a steak like no other wines, then we do have those too, under our Stall Speed brand. These grapes come from "warm climate" areas such as Naramata Bench and the Black Sage Bench in British Columbia.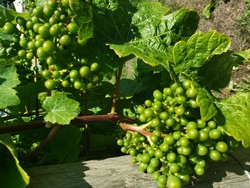 Young grapes
July 15 201920190715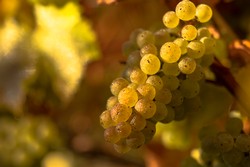 Fully ripe Chardonnay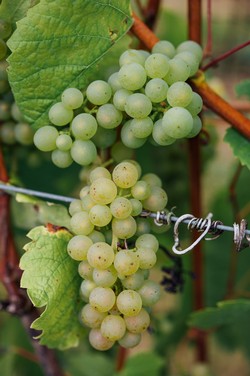 Veraison - color change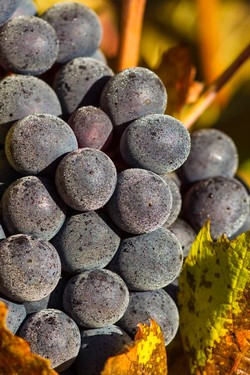 Fully ripe Pinot Noir
Balance
Balance is a term used quite frequently in the wine world. At 40 Knots, we are able to achieve perfect balance without intervention in the cellar. Each fall, each row of vines of each variety are carefully checked daily for pH and Brix (sugar level). The day of harvest for each vine is decided by these levels and the forecast. This is not the easiest harvest using this method, however, when the grapes are perfect, intervention is not necessary. This is where cool climate regions have a leg up to create the perfectly and naturally balanced wine.
Tannins
Tannins develop naturally as grapes grow in the vineyard. They begin accumulating during fruit set and continue until veraison (when the grapes change color). Different grape varieties have different levels of tannins. Tannins, in part, function as grape's sunscreen—the more light that reaches a grape's surface, the more tannins the skins produce. Light intensity is a major influence in the development of skin tannins at higher altitudes. Because light intensity is lost as light travels through the atmosphere, the light reaching higher-altitude vineyards is more intense and therefore contributes to conditions that yield more intensely tannic wines.
At 40 Knots, canopy management is important. We have the ability to influence the type and amount of tannins that develop in our grapes. It is a balance of providing protection from sunburn, allowing airflow to keep grapes dry, allowing the sun to create tannin, and avoid irrigation so grapes and small and contain more tannin.
Visit our grapes!
Want to check out for yourself what stage the tannins are at? Take a stroll in our interpretive trail and join us in guided tasting/tour:
Or... not feeling that adventurous, taste the tannins in our tasting room. Our staff will walk you through taste comparisons of tannins.
Looking for a super ripe and juicy wine that is bone dry? This week we will be releasing Sieg, just being bottled today.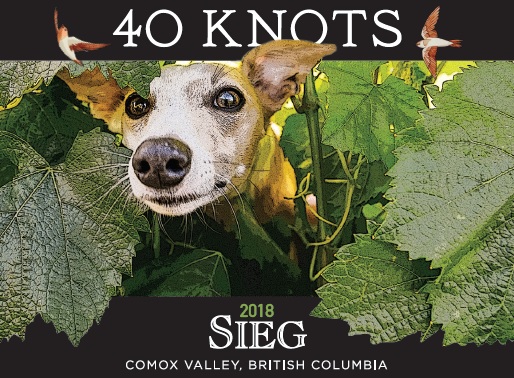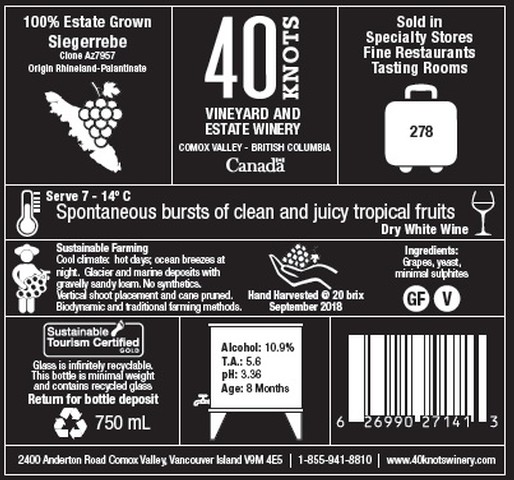 In our next blog, we will take a closer look at the naturally occurring acids in wine: tartaric acid, malic acid, and citric acid.

Excitement spurs in the Northern Hemisphere for wine geeks and nature enthusiasts alike. At 40 Knots Estate Winery in the Comox Valley, we have patiently awaited budbreak throughout the vine's swelling stage and with an earlier start than last year, we can begin countdown to harvest as we watch our new shoots grow daily. Swelling precedes budburst, and these first two stages of the vineyard bring invigoration and life to all of us.
Swelling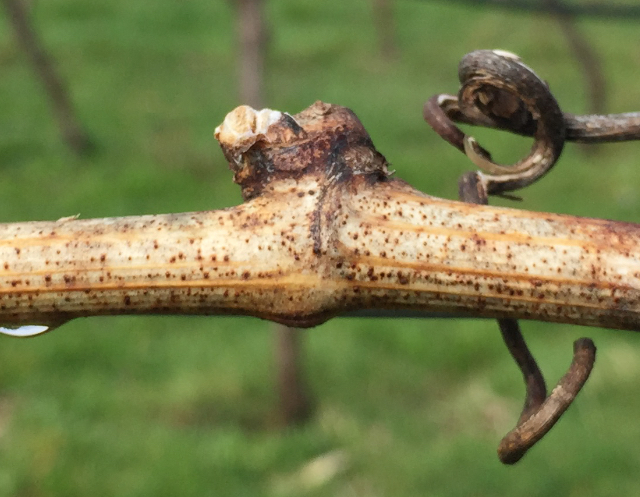 Each and every vineyard begins to show life again in the "swelling" stage. The nodes of each cane, with roughly 6 on each side, will display a soft fuzzy looking bump. Waiting for the perfect temperature to begin its new year of abundant growth, the new crop waits in the wings until the temperature is just right. When temperatures finally hang out around 10°C, the signal is given for growth to proceed.
Budburst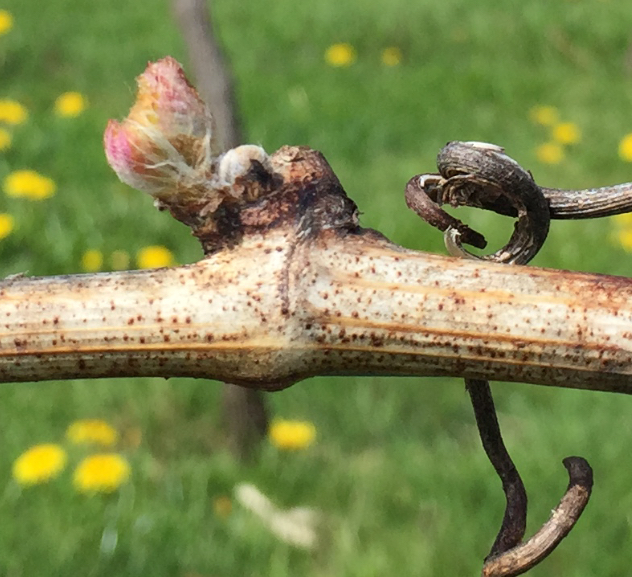 Vine growth is fueled by nitrogen and starch reserves stored in canes, trunks, and roots from the previous year. Believe it or not, compressed shoots are already formed within the winterized cane! Budburst is simply releasing what Mother Nature has already created. Within our 40 Knots Vineyard, we kick off, as always, with two German varietals – Schoenberger and Siegerebe. In this stage, we closely monitor weather patterns and pray that cold evenings do not bring frost to our delicate new growth. We "desucker" or remove shoots that will not flower. This ensures that optimal energy is reserved for eventual fruit. Shoots will reach up into the sky at a vigorous pace as we await flowering to begin.
As part of our biodynamic farming, we continue to watch the vineyard floor and follow its phases. Leaving the yellow dandelion intact to attract a variety of bees, the flower's first release of filament means we can begin to weave between rows to mow the grass. It's also the time of year that you may witness a 40 Knots employee frantically chasing deer out of the front gateway. We have not gone mad, we're just conscious of old deer-y's insatiable appetite for new growth of any kind. We have four cute little goslings on the move and have happily made space for some retired chickens that will live out the rest of their days amongst the 40 Knots vines. Sounds like a dream if you ask me!
Love being in the vineyard? Love drinking wine? Come visit us and you can do both! Vineyard Tours

Wine, Wind, Sea & the Vineyard Floor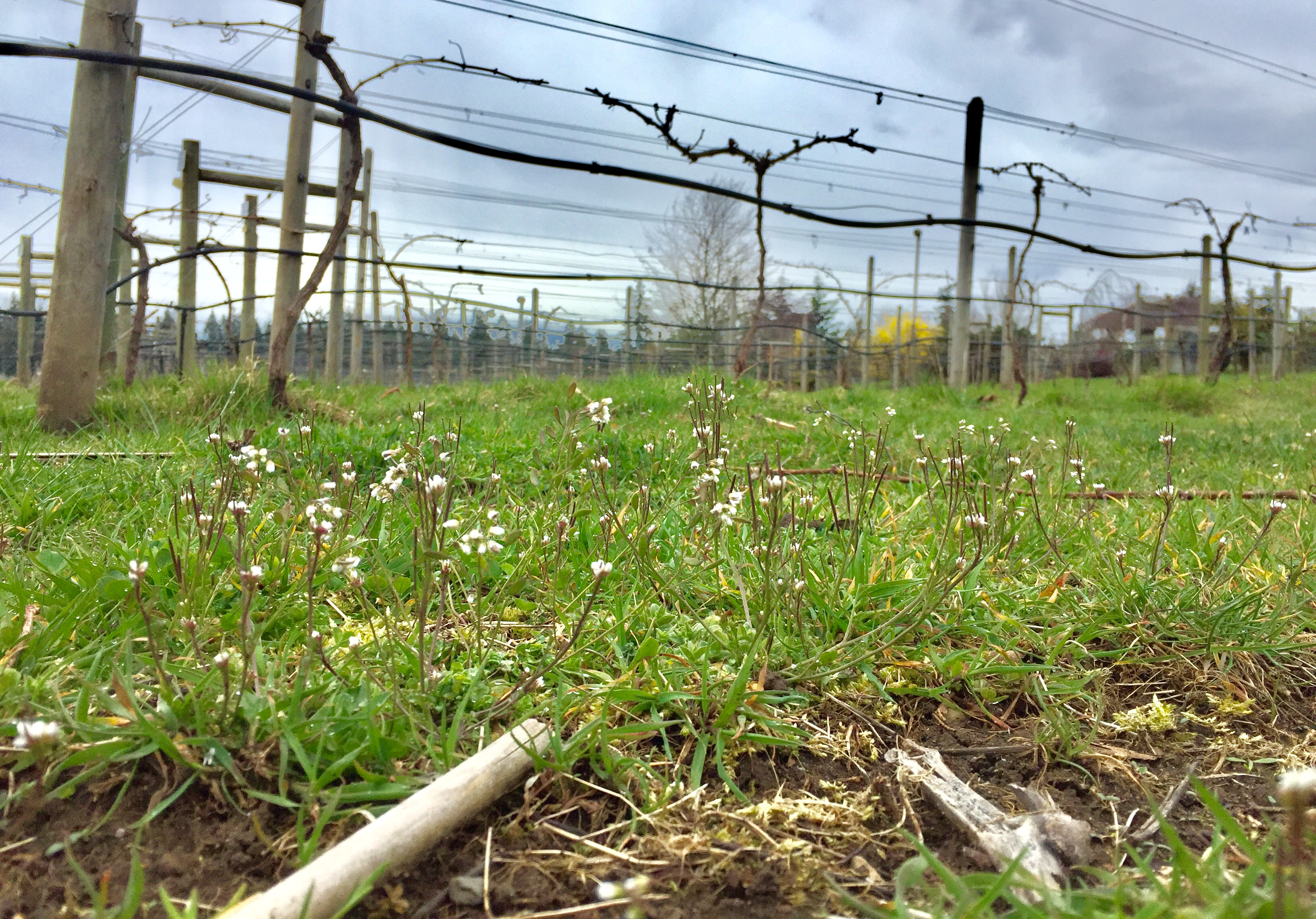 The life cycle of the grapevine can be discussed at great lengths. From budburst to harvest, the hours and energy put into vine, canopy and fruit management are extensive. Some of that attention, however, should be directed beneath our feet to the life found along the vineyard floor. This important cover crop has profound significance for the vineyard ecosystem, productivity and inevitably, wine quality. Here are just a handful of native and foreign plants, and even weeds, that help our 40 Knots Vineyard work with Mother Nature to achieve our increasing biodynamic farming practices.
White Clover (Trifolium Repens)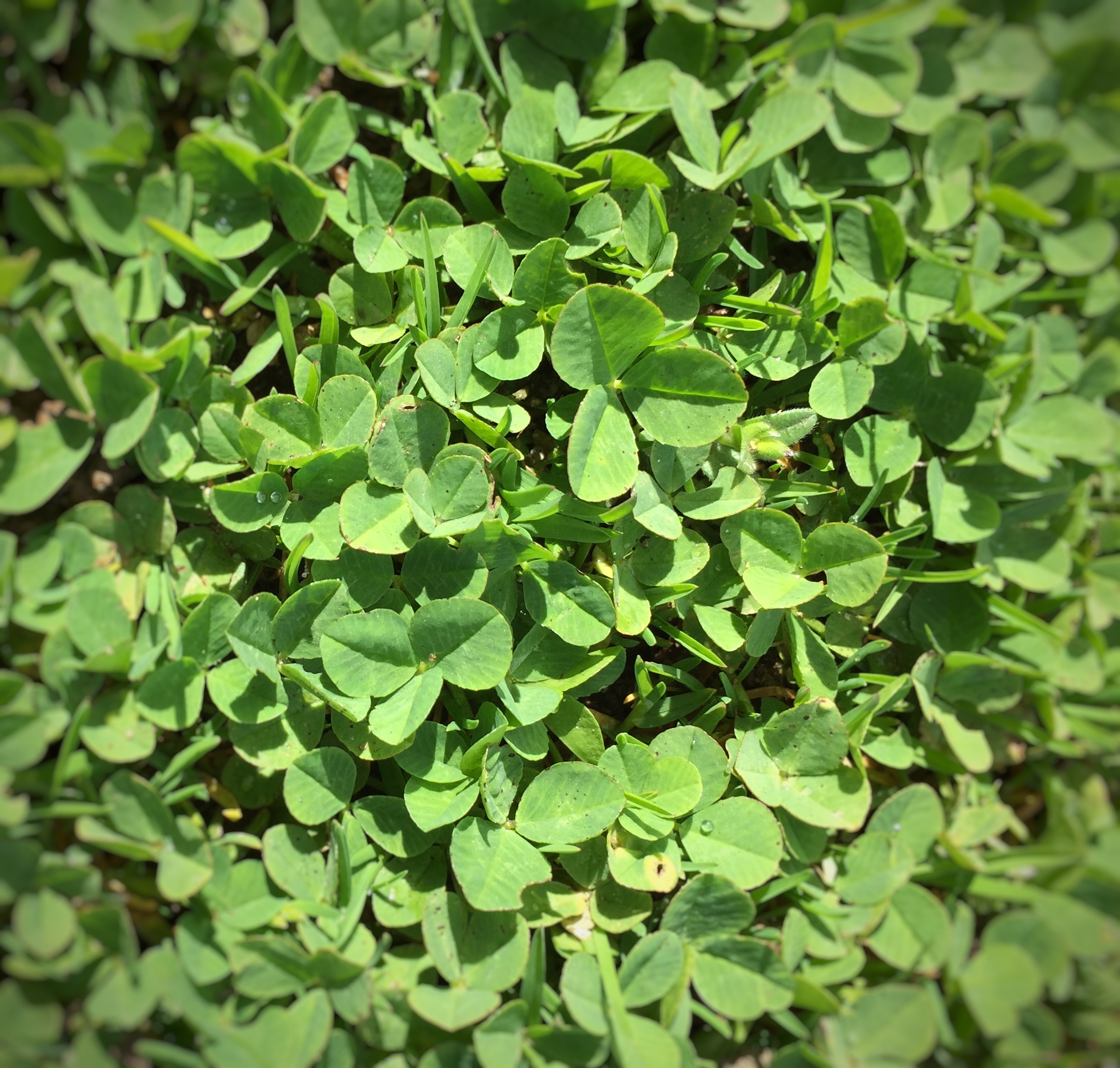 Chances are, you've seen this shamrock shape not only in a vineyard. Incredibly common in North America, this herbaceous perennial is a part of the bean family. Eventually, within its life cycle, a small white flower will draw in many bumblebee visitors, which are powerful pollinators. Into maturity, the white flower will begin to turn pink. Its ground coverage helps balance nitrogen levels and maintain soil health. If you happen upon one with four leaves instead of three, some would say you'd be blessed with the luck of the Irish!
Dandelion (Taraxacum Mongolicum)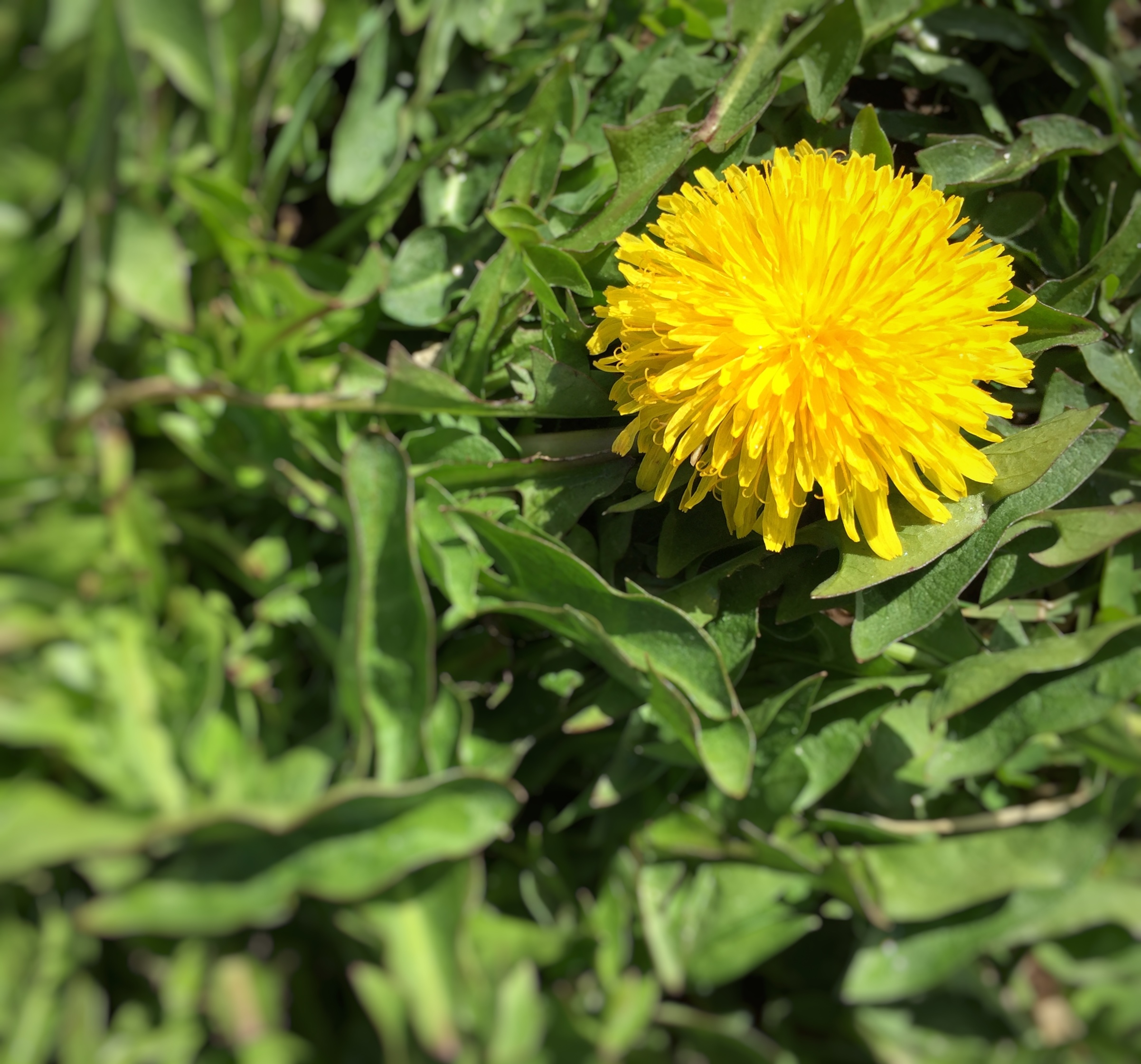 The Taraxacum Mongolicum has been used in Eastern medicine for thousands of years, providing many health benefits. When aged, how beautiful the feathery filaments appear when caught up in a summer's breeze. Kind of nostalgic, isn't it? For the vineyard though, this perennial's wide-spread root systems are amazing for loosening soil and pulling up calcium from the depths. Grape vines require proper aeration and drainage to produce quality fruit set. Less is more when it comes to water!
Hairy Bittercress (Cardamine Hirsute)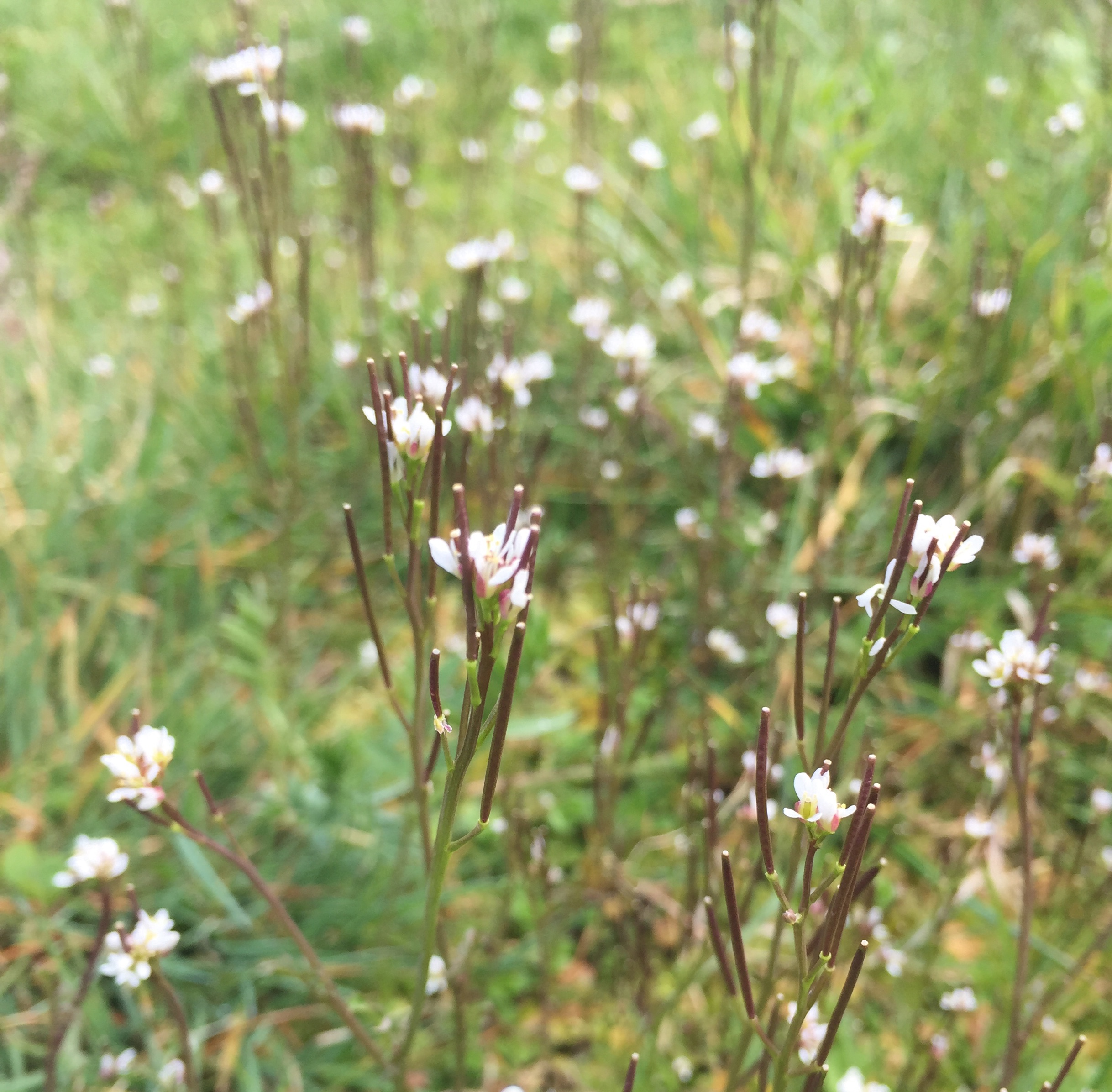 This little white flower is part of the mustard family. In this particular photo, you can see the long slender seed pods getting ready to burst and spread themselves along the vineyard floor. Flourishing in damp, sunny and loose soil conditions, the vineyard is just the spot for the annual Cardamine Hirsute to thrive. It is also edible. It can add a little zip to your salad with peppery flavours, a perfect 40 Knots Pinot Noir pairing! Just like all other types of plants within the mustard family, this one is loaded with nutrients. It's a spring weed, so as temperatures increase, the sight of them decreases.

Fescue Grass (Festuca Arundinacea)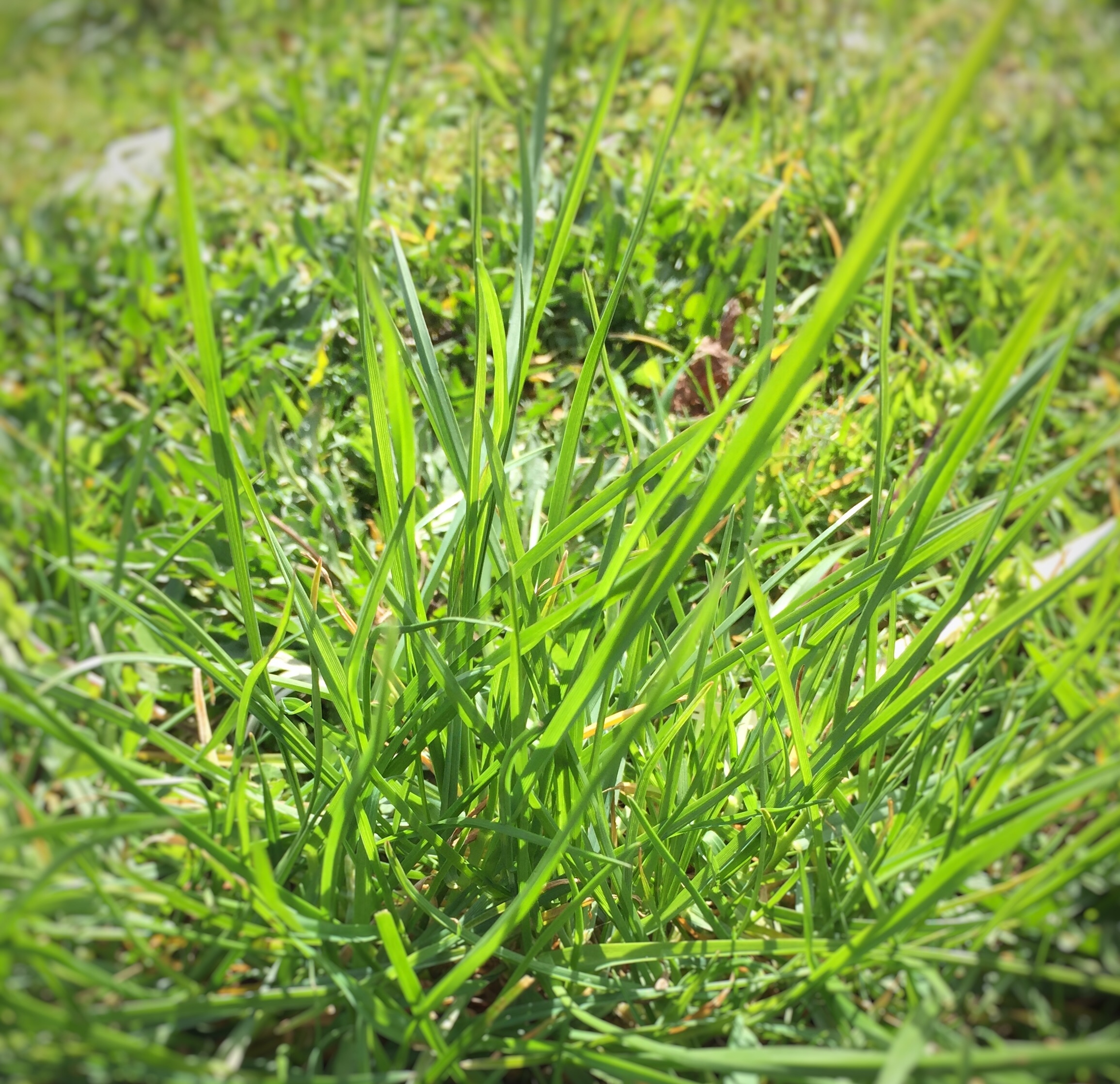 The grass is basically the bodyguard of the vineyard, its main goal is to protect. The grass' heavy root system safeguards the soil from eroding and compacting. In the heat of the summer, it will enter dormancy and turn brown. This is favourable because it no longer competes for water. It also reduces excess moisture, avoiding unwanted heavy vine vigor.
Where this foliage thrives, so do bugs that feed our vineyard animals.
Biodynamic law teaches that everything has a purpose. With the knowledge of this, we can truly revel in the bounty that is found all around us.
"Look deep into nature, and then you will understand everything better." –Albert Einstein.
With Spring upon us, we invite you to partake in one of our newly introduced guided vineyard tours. While you're sipping our 40 Knots wine amongst the vines where it all began, see if you can find some of these vineyard helpers in between your feet!
40 Knots grows and crafts high quality, ethical, clean wines that are distinct to Vancouver Island.

The Swallow
(Stelgidopteryx serripennis)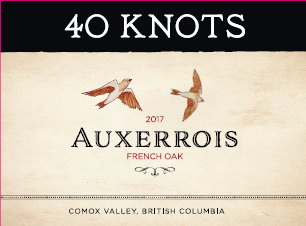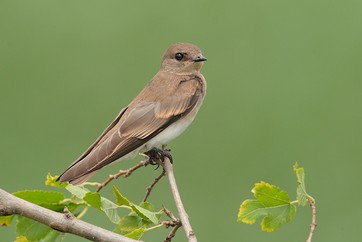 If you've ever purchased a bottle of 40 Knots wine from our cellar door, you may have noticed the Northern Rough-Winged Swallow that adorns our Estate label. These swallows are endemic to our area and frequent our vineyard. Each year we celebrate their arrival because, for us, they are not only our friends but a part of our biodynamic crew. Swallows will only live in areas that surround biodynamic balance and their presence speak volumes that our clean, green vineyard practices are working. Swallows are an excellent bug predator. Unlike other species of birds, they will never harm our grapes. 40 Knots Vineyard is surrounded by farming land and swallows always nest near other farm animals. Next time you're here, perhaps during a guided or self-guided vineyard tour, keep your eyes peeled for swallow birdhouses built to keep the birds safe and give them a home to return to every year.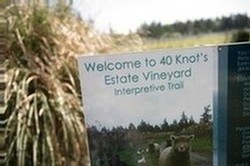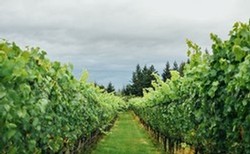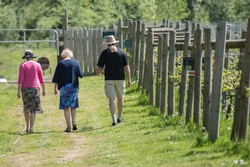 Swallows are also songbirds, and in maintaining balance it is believed that sound vibrations are important to vine health. Italy has been piping opera out into their vines for many years, and the proof shows that vines closer to the music are the healthiest in the vineyard. At 40 Knots, our version of this is offered not only to our vines but to our guests as well. If you haven't yet had a chance to partake in one of our vineyard terrace Wine Wednesday events, better book now before reservations fill up!
40 Knots is just a stone's throw away from the Salish Sea. Because our land was created by a glacier, our vines are reaching down through glacier till soil. The rich salt air flows through our vines keeping them aerated, healthy and strong, and the salt air imbeds our oak providing beautiful aging that cannot be accomplished in dry wine regions. While walking the interpretive trail or sipping on our vineyard terrace or balcony overlooking the vineyard, you can hear the swallows singing alongside the sea lion's barking at the arrival of the new day.
Swallows are an important friend of sailors and are believed to be a good omen. Sailors will often get a swallow tattoo to show off their sailing experience. According to one legend, one swallow symbolizes successful journeys adding up to 5,000 nautical miles, two swallows symbolize 10,000 nautical miles and so on. Another legend is that since swallows always return to the same land each year to mate and nest, the swallow will guarantee the sailor returns home safely. Sailors also believe that if they were to drown, the swallow will carry their soul to heaven.
40 Knots believes that all of us have the right to love and be loved. This is showcased with our gold medal winning Soleil Rose French Traditional style. The label, "Love is Love", supports the LGBTQ2 community. We believe that all are equal and we share the responsibility to support this belief. Even our swallows live with a similar motto. The female and male swallow not only look almost identical, but they also share in responsibilities of the daily chores and protecting their family. Once they mate, they mate for life. This is another quality we give great importance to. We practice loyalty to our community, our family, our friends, and our environment.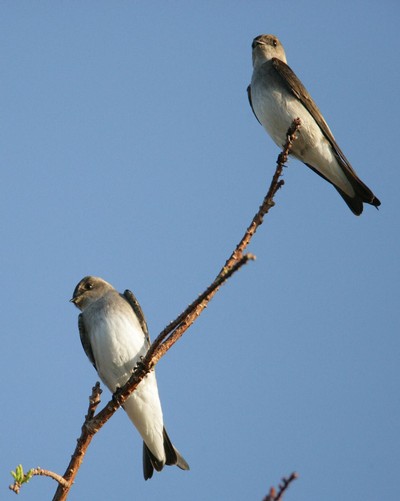 Awaiting our much-loved swallows, budburst in the near future and the days lasting a little bit longer, you better believe that we're dusting off that patio set! Come visit us Tuesday through Sunday between the hours of 11 am and 5 pm for a tasting, a glass (or bottle!) and a picnic.
#See you soon in our Vineyard Terrace!