February 22, 2020 | New Blog
Gamay Noir at 40 Knots
Gamay Noir at 40 Knots: A bit of History
Gamay Noir a Jus Blanc originates back to the 1300s, with first traces found out of the Burgundy region of France. Its DNA shows that it is indeed a descendant of the Pinot Noir noble grape.
After the Gamay grape revived the Burgundy economy during the Black Death Plague, The Duke of Burgundy "Philip the Bold", banned its production in the 1300s, citing that Pinot Noir was a more elegant and sophisticated choice. This forced the migration of Gamay to the southern French region of Beaujolais.
In the 1980s, Gamay Noir was center-stage as producers and growers alike reveled in the demand for Beaujolais Nouveau wine's, and held parties to celebrate the young wine before aging. If you haven't taken in a Beaujolais Nouveau celebration, watch for the release on the third Thursday in November every year.
Nowadays, most plantings are found in Beaujolais and the Loire valley with remnants remaining in Burgundy. In Canada, it can be found in Prince Edward County, the Niagara Peninsula, The Okanagan Valley and here on Vancouver Island.
Gamay is gaining respect and interest as a serious wine. Styles vary across wine regions in the world, as well as flavors. Some are kept in stainless steel and some are oaked. Warmer climate regions tend to produce Gamay Noir with bubblegum and cotton candy notes whereas cooler climates like ours offer a tart, red fruit component.
40 Knots Gamay
40 Knots grows the Gamay clone 509. This rootstock was purchased from France in 2007 and 2008. Although there are currently 38 Gamay clones in France, this particular 509 clone is known to produce more full-bodied, balanced and aromatic wine that some other Gamay clones. It thrives in cool climate regions like ours here in the Comox Valley, has large clusters, and is a bit less fussy to grow than Pinot Noir.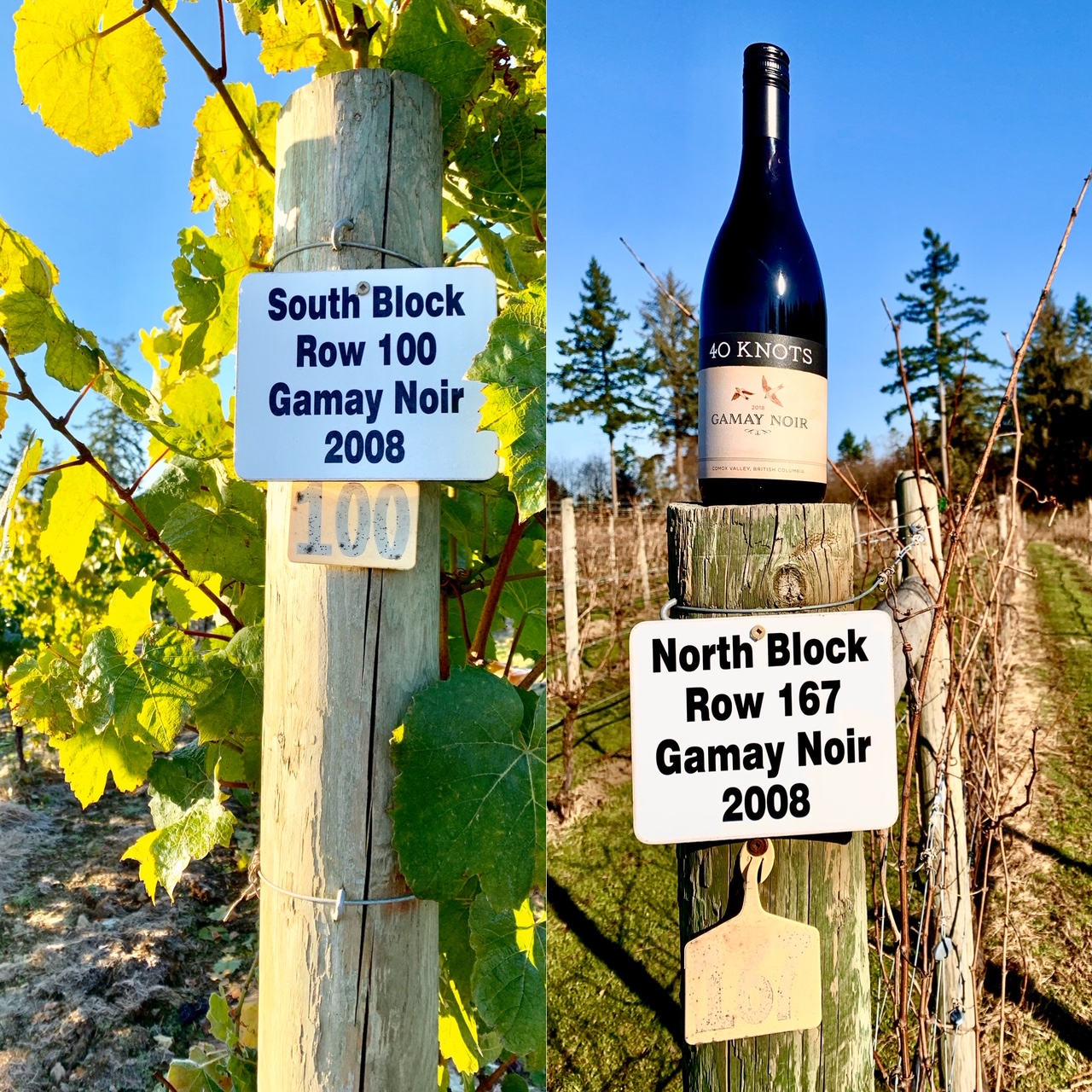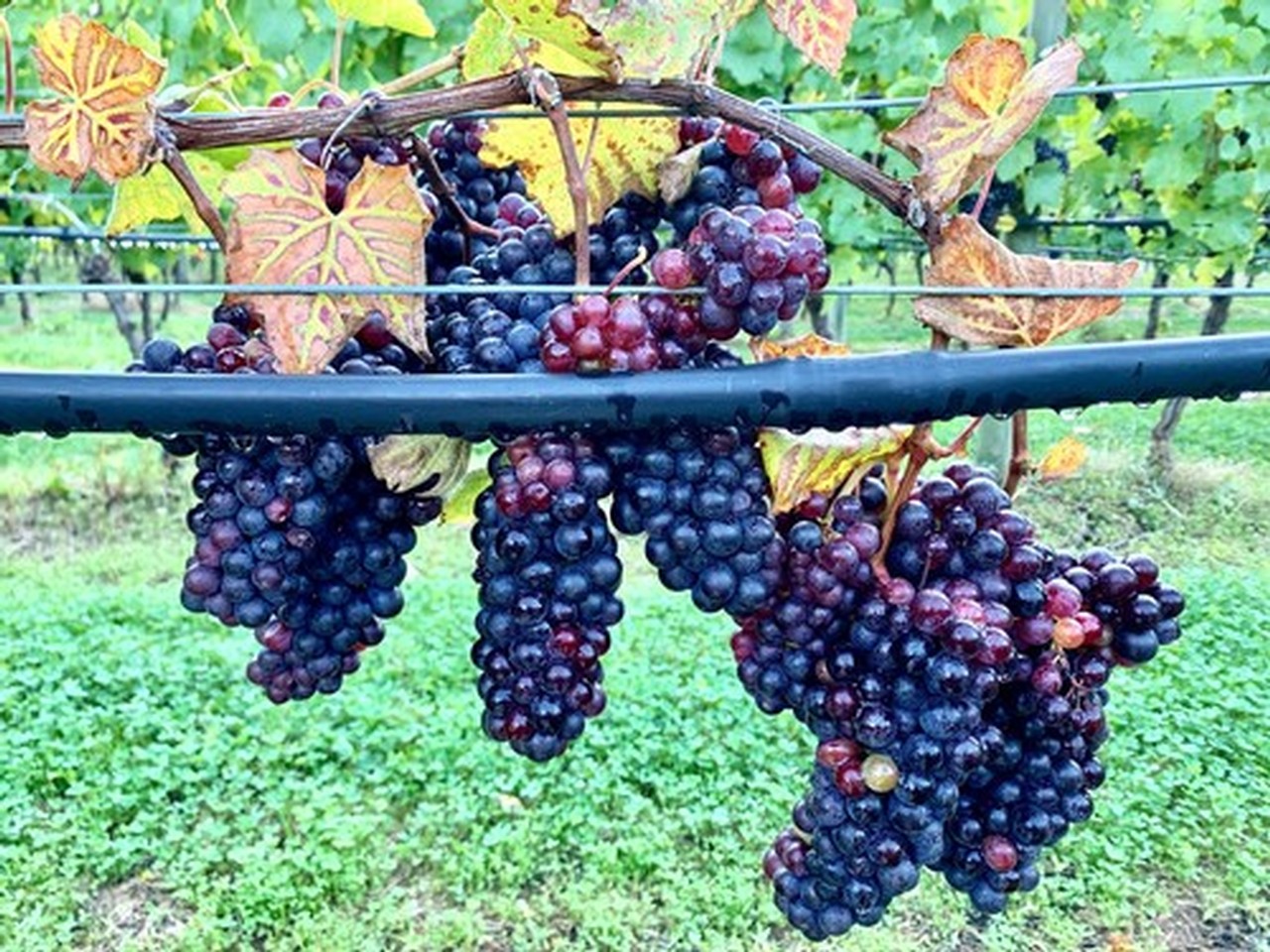 thick, juicy Gamay Noir grape clusters from the 40 Knots 2019 harvest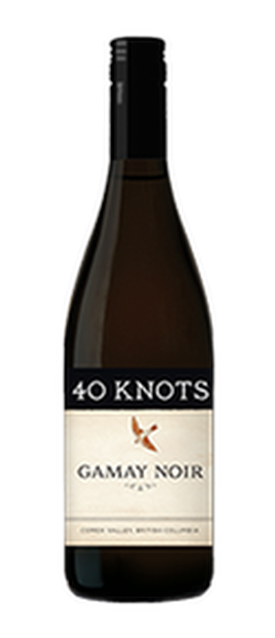 This elegant Gamay is harvested from September to October. The first fermentation is in stainless steel and then moved to neutral Burgundy oak barrels, where the wine continues to soften and age, until bottling between June and August.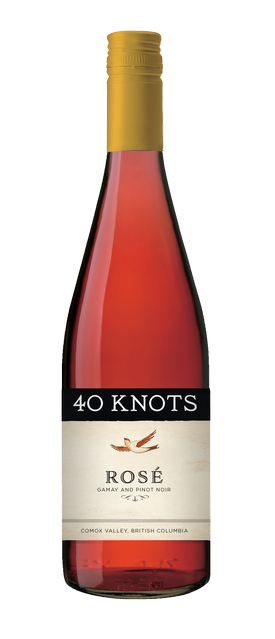 Our traditional Rosé is made of Gamay and Pinot Noir co-fermented in stainless steel. This beautiful Rosé is dry and bursting with flavors, perfect for the barbecue, brunch or sipping with friends.
At the 40 Knots cellar door, the newly released 2018 vintage has a hint of spice on the finish, something not seen in previous years. Boasting naturally acidity and uncomplicated notes of raspberry, sour cherry, and white pepper, this rustic wine is perfectly paired with a wide variety of dishes, including roast turkey and salmon and is served best with a light chill. If you like red wine but don't enjoy heavy oak and harsh tannins, this wine is most certainly for you!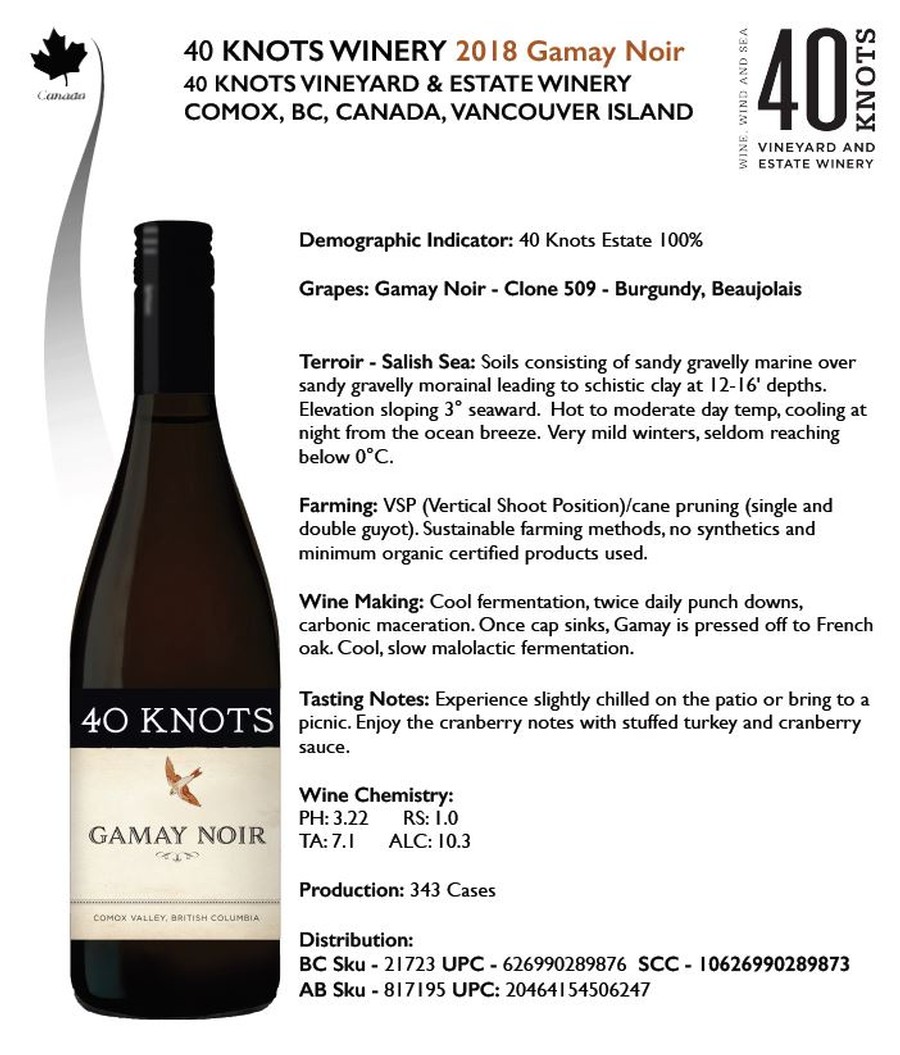 Comments
Commenting has been turned off.