June 24, 2019 | Layne Robert Craig
Good Grapes! Fruit is set at 40 Knot's Vineyard
Good Grapes! Fruit is set at 40 Knot's Vineyard
If you have strolled through our vineyard lately, you will have noticed rapid growth. If you haven't had a chance to check out the vineyard for yourself through our self-guided interpretive trail, or one of our guided tours and tastings, read on... we have some exciting progress to tell you about.
"all you need to make great wine is great grapes. Grow them well and the grapes will make the most delicious wine"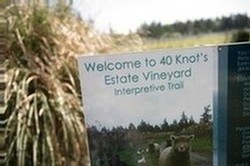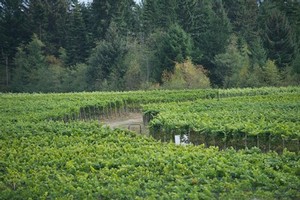 Every year is unique and therefore every vintage is unique. 2019 has indeed started out as an interesting year. 40 Knot's vineyard saw early bud break, however, vines were slow to get any height.
And then......came the heat.
We are now ahead of 2015 growing degree days. I know that a lot of Canada has been a bit cold, but not here on Vancouver Island.
40 Knot's Vineyard grapes have now completed the flowering phase and with the dry hot weather, the fruit set has been perfect.
The canes are now ready to have a final tuck in the top wire on the VSP trellis.
This vigor will soon deplete in vertical growth and energy will be focussed on fruit development.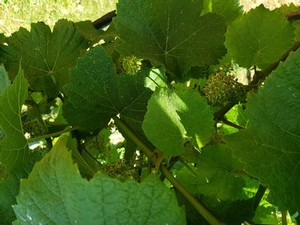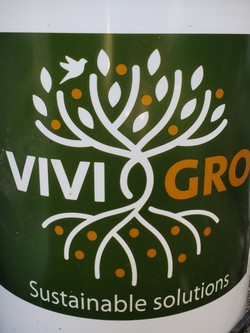 We have completed our pre and post liquid kelp application to grow our soil and provide nutrition.
The stuff smells bad... but it is an incredible product. Just two liters will cover two acres through irrigation lines (fertigation).
You can see these black irrigation/fertigation lines running through our entire vineyard. This is the most efficient means to transport the nutrients to the plant, and in turn, the grapes.
We do not irrigate after these applications. The roots are 12 to 16 feet deep and are very well established to provide energy to the vine drought condition.
Our vineyard interpretive trail is open year round, as well we have guided tastings and tours. Please give us a call when you are ready for the adventure or book on-line. With premium tastings available.
"Clean ethical wines are our promise. Great wines are not made in the tank and the barrel. Great wines come from the vineyard." Layne Robert Craig
Wine, Wind and Sea.
Comments
Commenting has been turned off.