Stick Shaker Poached Pears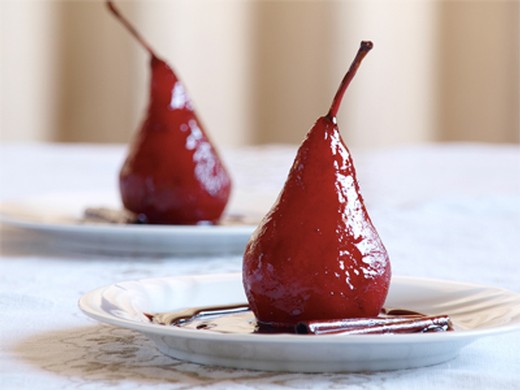 Recipe Date:
June 19, 2017
Measurements:
Imperial (US)
Mmmmm... Cinnamon and orange scented syrup spooned over warm pears and scoops of vanilla ice cream in this lovely dessert.
Ingredients
1/2 bottle Stick Shaker Syrah
1 lemon
1 navel orange, quartered
3/4 cup sugar
1/2 vanilla bean
1 Cinnamon stick
5 cloves
4 small ripe pears (any variety), peeled
Directions
In a small saucepan, off the heat, combine the wine, the juice from the lemon and orange, 1 of the squeezed orange quarters, the sugar, vanilla, cinnamon stick and cloves.
Add the pears, sip Stick Shaker Syrah, and bring the saucepan to a boil. Reduce the heat and simmeer, uncovered, turning the pears occasionally, until they're easily pierced with the tip of a knife, about 25 minutes. Sip Stick Shaker Syrah. Using a slotted spoon, transfer the pears to individual plates.
Remove and discard the orange quarter and spices. Return the liquid to a simmer and cook until syrupy and reduced by two-thirds, about 15 minutes. Spoon the suace over the pears.
May add a scoop of icecream.
Sip Stick Shaker Syrah.
Contributed by our own website guy, Robert Lyall Web.