Stall Speed Merlot Buffalo Steak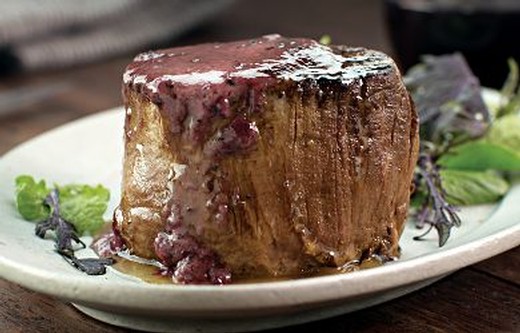 Recipe Date:
November 24, 2017
Measurements:
Imperial (US)
Buffalo meat has a much lower fat content than beef. This means that if you overcook the meat it will become dry. The best way to experience the quality of the meat is to eat the steaks either rare or medium rate. Keep an eye on the steaks as buffalo cooks faster than beef. If you have never eaten buffalo it tends to be richer and full tasting than beef and it is not at all "gamey".
Ingredients
1 1/2 cups Stall Speed Merlot
4 tbsps butter
1 1/2 tbsps olive oil
1/4 cup shallots
2 tbsps fresh tarragon, chopped
3 tbsps whipping cream
4 Buffalo steaks (6-8 oz) or baseball size
Directions
1. Heat 2 tbsp butter with oil in a saute pan over medium heat. Add the steaks when oil is hot. Brown steaks for 4-5 minutes on each side (medium rare) or until they reach desired "doneness". (Baseballs will take longer). Remove steaks from pan and set aside to rest. Keep warm.
2. Add shallots and tarragon to the pan and saute for 2-3 minutes. Add Stall Speed Merlot and stir with a wooden spoon, scraping up any bits from the bottom of the pan. Reduce to about 1/3 of a cup, then add cream and continue stirring for 2-3 minutes but do not let the sauce boil.
3. Remove from the heat and stir through the remaining butter. Serve the steaks topped with the Merlot cream sauce accompanied by new potatoes and your favorite vegetables.
CONTRIBUTED BY Troy Towsin, Cooking with BC Wine, Polygot Publishing 2005