Comox Car Crash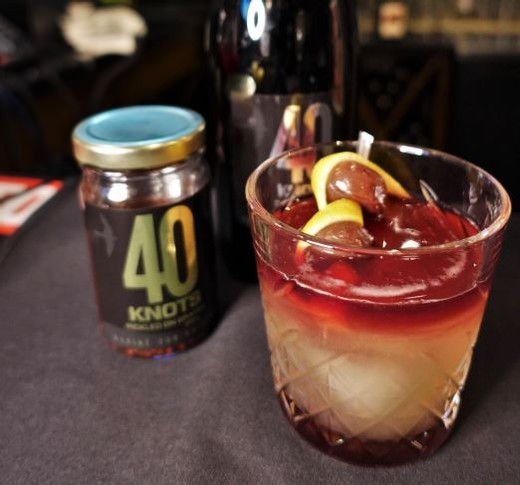 Recipe Date:
November 3, 2021
Measurements:
Imperial (US)
Ingredients
2 ozs Okanagan Distillers Georgia Straight Private Reserve Oloroso Cask Whiskey
1/2 oz Esquimalt Rosso Vermouth
1 1/2 ozs 40 Knots Carambolage
1/2 oz Garam masala and pear infused Carambolage turbinado sugar reduction***
1 oz Fresh Lemon juice
1/3 oz 2:1 Simple Syrup
4 DASHES - Rootside Aromaticish Bitters
1 oz whole milk (for clarification)
1 cup Turbinado Sugar
1 Pear, chopped
1 tbsp Garam Masala
1 cup 40 Knots Carambolage
2 40 Knots Pickled Grapes
Directions
Process
Mix the Whiskey, Vermouth, Lemon, Simple syrup, and bitters in a Yarai mixer or beaker, and
stir gently. Pour the mixture into a separate glass already containing the whole milk. Allow curdling. Secure a coffee filter over your Yarai or beaker, and slowly pour the curdled mixture into
the filter.
Allow to strain, 15 minutes approximately.
Discard the coffee filter with milk residue.
In a fresh tumbler glass, coat the bottom of the glass with the Turbinado Carambolage
reduction. Place one large (2" cube) ice in a glass. Gently pour the cocktail from the yarai/beaker
over the ice, taking care not to disturb the reduction. Carefully float the Carambolage on the
cocktail
Garnish with two skewered 40 knots pickled grapes, wrapped in a long piece of lemon rind.
Garam Masala and pear infused Carambolage Turbinado reduction
1 cup Turbinado Sugar
1 Pear, chopped.
1 Tablespoon Garam Masala
1 Cup 40 knots Carambolage
In a pan heat sugar and chopped pear over medium heat. Add Wine and Garam Masala
Whisk well until mixture is reduced to about 1⁄3 of its original volume. Strain to remove pears
Allow to cool. Should be a thick syrup consistency when cooled.