Wedding Promise Box Set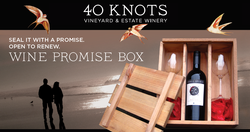 Ever lasting as your love, this French Traditional Sparkling softens and becomes more valuable with every passing year. Envelopes are in the crate so that love letters or vows may be written to each other and then sealed. These letters describe the reasons you fell in love, why you love each other and the promises you make to one another. This Promise box is to be kept in a place of honor and displayed as a reminder of commitment to ech other. Elegant 40 Knot's wine glasses are of top quality.
Should the occasion of great celebration or an occasiion of insurmountable hardships fall upon each other, as a couple, the box will be opened, the sparkling will be poured and the letters will be read to each other. By reading these love letters you will reflect upon the reasons you fell in love and chose to be together. The promise box is then to be restocked with the letter and wine, and resealed.
Soleil Rose is the wine of love, however should you choose another 40 Knot's wine to go in your crate, we are happy to do so at no extra charge.
Promise boxes are hand crafted for you at the time of ordering. Please order 4 weeks prior to the day you want to present the box to avoid disappointment.