East Coast Meets West Coast
East Coast Meets West Coast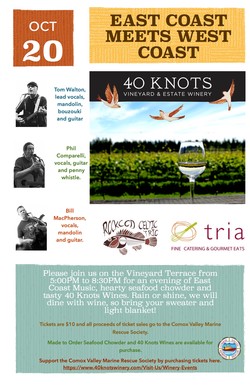 Please join us on the Vineyard Terrace from 5:00PM to 8:30PM for an evening of East Coast Music, hearty seafood chowder and tasty 40 Knots Wines. Rain or shine, we will dine with wine, so bring your sweater and light blanket!
Tickets are $10 and all proceeds of ticket sales go to the Comox Valley Marine Rescue Society.
Made to Order Seafood Chowder and 40 Knots Wines are available for purchase.
Support the Comox Valley Marine Rescue Society by purchasing tickets here.
/Visit-Us/Winery-Events
Product Reviews
Brian Ingle
(Oct 11, 2017 at 10:16 AM)
Spindrift extra brut is a magnificent sip. Clean, crisp fruit; plump, juicy grapes and crisp, tart apples. A veil of the tiniest bubbles display it's sparkling effervescence. This is a great buy..