REFRESH Halo Lily Blu Soap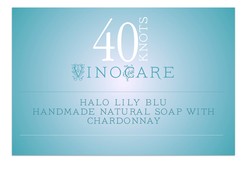 Sold out - New stock coming soon!
Made with Grapeseed, Olive and specialty oils, this wine soap is packed with antioxidants, vitamin E and linoleic acid which heals, soothes and protects the skin. Supplementing with wine adds additional antioxidants and rich nutrients, and lessens free-radical damage. It also provides anti-inflammatory and anti-fungal properties. This handmade soap will leave your skin gently cleansed, refreshed and protected.
Recommended for all skin types and particularly for those with skin sensitivities.
Net weight: 4oz/113/g
Contains: Saponified Olive, Grapeseed, Coconut & Palm (Sustainable) Oils, 40 Knots Chardonnay, Lily Fragrance Oil, Body Safe Colouring