Fling before the Ring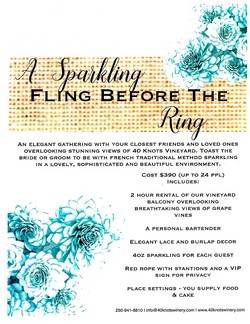 The perfect sparkling "fling before the ring" celebration. We take care of all the fine details to create an elegant gathering with sophistication yet warm and inviting ambiance.
Our vineyard balcony overlooks breathtaking views of the grape vines and is very private. It seats up to 24 guests.
A personal bartender greets each guest as they arrive with a 4 oz glass of our bubbly.
Elegant lace and burlap decor on wine barrels surrounded by comfortable full-size tall chairs.
Your balcony is private complete with the entrance corded off with a VIP on red silk ropes attached to silver stantions.
We will have your place settings set with your requested cutlery and plates.
You supply the invitations and bring or have delivered some delicious eats and sweets for your guests.
We've got the rest covered!