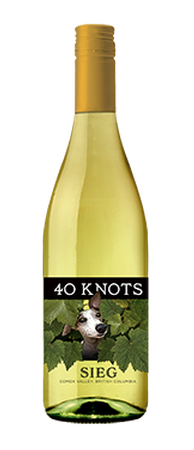 Grown on the edge of the Salish Sea in Coastal Cool Climate glacial till soils without the use of synthetic chemicals, fertilizers or sprays. Brought to full ripeness and perfect balance.
Juicy and grippy wine with aromas of ripe tropical fruits, reflecting our terroir and natural wine making approach. Pairs well with smiles, grins, laughter and sly smirks.

Wine Specs
Varietal
Siegerrebe ZIGGY
Appellation
British Columbia
Harvest Date
September 24 2017
Bottling Date
February 2016
Wine Profile
Tasting Notes
John Schreiner says this: 40 Knots Ziggy Siegerrebe 2016 ($22.90). Siegerrebe, an under-appreciated white variety, is a godsend for the cooler vineyards on Vancouver Island and the Fraser Valley. An early ripening aromatic grape, Siegerrebe invariably delivers exuberant tropical aromas and flavours. This wine is an example: aromas and flavours of spice, grapefruit and lime with a crisp, dry finish. 90.
Awards
Silver in Northwest Wine Summit 2016 Finalist in Lieutenant Governor's Wine Awards 2016
Production Notes
316 cases
Winemaker Notes
Gently pressed to tank resulting in an exceptionally balanced and dry West Coast Specialty.
Food Pairing Notes
Pairs well with Asian Food. Or just pair it on the patio with smiles, grins, laughter and sly smirks.
Product Reviews
Ann chriss
(Aug 9, 2017 at 12:25 AM)
Great blended white for easy drinking and pairing with food. Smell nice but driest at 40 knots. We both like it.. Good body. Should try with blue cheese n honey. https://www.fastcustomessaywriting.com/
Claudia
(Nov 13, 2017 at 12:13 PM)
Absolutely love this easy drinker. Can pair with food or open and enjoy on its own. Great in summer or winter!
Debbie Haynes
(Nov 15, 2017 at 6:20 AM)
A flavour worth savouring in any season!
Chettie Macdonald
(Nov 28, 2017 at 12:54 PM)
Crisp and delicious. Pairs nicely with just about everything. Who doesn't love Ziggy?
Carey
(Nov 28, 2017 at 7:42 PM)
This wine is so refreshing and leaves the tongue tingling for more! It's great to enjoy on a summers evening or anytime really!
Craig rautenberg
(Jul 12, 2018 at 2:57 PM)
Excellent