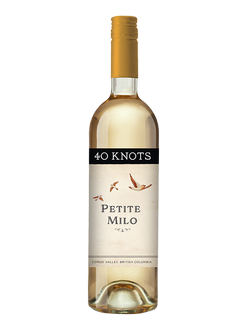 A welcomed coastal grown white grape, with light pink skin that promotes a subtle fruit forward, soft yet refreshing appeal.
Made in a medium off-dry style, honey notes intermingle with stone fruits. A rich style to be enjoyed with fruits/cheeses or on its own.

Wine Specs
Appellation
British Columbia
Vineyard Designation
Vancouver Island
Wine Profile
Tasting Notes
Experience this delicious wine with a day off from the kitchen and some Asian cuisine. Honey notes that intermingle with tropical fruits. A rich style.
Vineyard Notes
The perfect vineyard on Vancouver Island for this variety of grape. 40 Knots patiently waiting for these grapes to reach perfect pH not harvesting until the end of September.
Production Notes
100 cases
Winemaker Notes
Stainless steel driven to retain the ripe tropical fruit flavors.
Food Pairing Notes
This off-dry wine goes well with fruit, cheeses, Asian cuisine and everything else that comes out of your kitchen.
Product Reviews
Melissa
(Nov 13, 2017 at 12:32 PM)
The Ortega is a must with a charcuterie board or even on its own! Delicious!
Maureen Parish
(Nov 14, 2017 at 10:19 AM)
This wine is beautiful chilled in the summer on the deck or on a rainy night paired with fresh Alaskan crab legs! Never a good reason not to drink it!
Annette Girardin
(Nov 14, 2017 at 3:11 PM)
Just got back home from tasting the new Ortega. Fruity yet dry. Left with 2 bottles. I have a feeling this one will sell out fast.
Dawn Frisch
(Nov 28, 2017 at 1:17 PM)
This wine is great with a charcuterie board but it's also enjoyable on its own. It has a dry but fruity taste that begs a second glass!
Avery Schihl
(Dec 28, 2019 at 1:26 PM)
Enjoyed a wine tasting with family this afternoon. Highly recommend, friendly, knowledgeable and every wine was delicious, hard to pick a favourite, . We will be joining the wine club!